Running low on cash – and on time?
Hey we have all been there, one time or another. It's not the end of the world – so relax.
And here's the good news. These days you don't have to rob a bank to make money fast.
In fact there are several perfectly legitimate ways out there to raise some quick cash, not millions of dollars, mind you, but enough to keep you afloat when times are bad and money is hard to come by.
So here's the lowdown on 70 great ideas that combine the best Online (the internet is also a great tool to make money, folks) and Offline ways to make a fast buck. Buckle up and read on…
Ways to Make Money Fast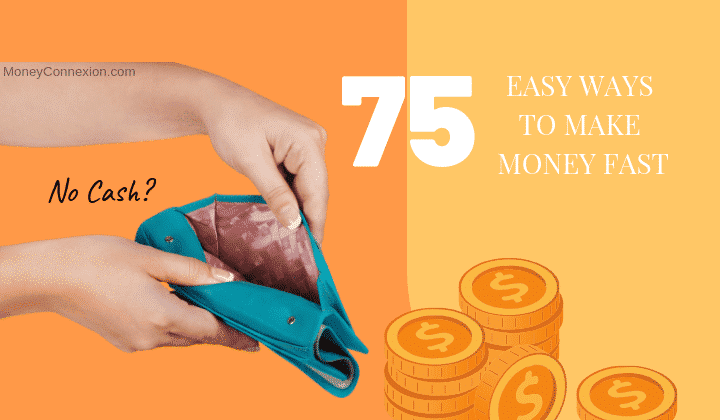 I have been making money online for last 15 years and I know almost all the methods one can make quick cash either online or offline.
I will show you some of the most recommended way that can give you $100 to $200 fast. There are, in fact many ways where you can make $100 to $200 per day.
So keep on reading with some of my favorite ways
1. Make Money with Blogging
If someone is looking for fast, stable and continuous way of making money than I highly recommend blogging.
I started blogging in 2009. I make 5 figure income through blogging. I have purchased home, offices and recently my dream car BMW 520d from blogging.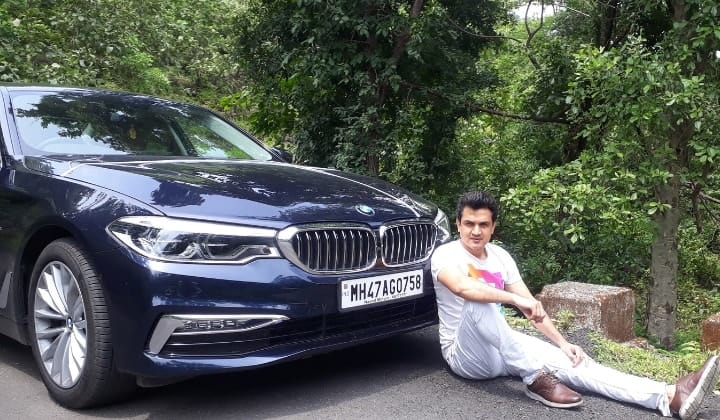 First, you need to create your blog, write some useful information on regular basis, promote it online and once you receive good traffic on your blog, you make money with Google AdSense, affiliate marketing and many other ways.
If done properly, you can fast make $100-$200 per day through blogging.
2. Swagbucks & ClixSense
Another best way to make quick cash is Swagbucks, ClixSense and other similar sites that provides multiple ways to make money.
I make almost $3000+ from these 2 sites. I don't spend more than 30 minutes per day on these sites.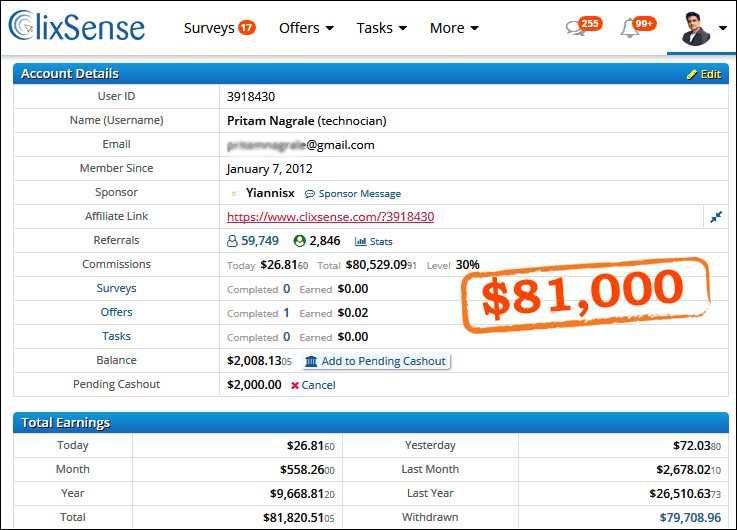 You can signup Swagbucks & Clixsense and make money by completing surveys and many other short tasks like watching videos, downloading apps etc.
3. Drive for Uber or Lyft
You can make money fast by driving for Uber or Lyft during free time daily. A research by loan company Earnest, reveals median earnings of a Lyft driver are US $210 per month.
The highest was recorded at average US$377 per month. Uber drivers make about US$155 per month on average, with highest averaging US$364. These figures may vary according to your location and hours spent as cabbie.
4. Sell Old Stuff
Selling old stuff can help you make lots of money fast. There are two ways to sell old stuff. Empty out your closets and storerooms for stuff you are no longer using or lying redundant.
There are always takers for such old stuff that could be lying unused at your home.
The other is buying old stuff from people in your locality and community, refurbishing it and putting up for sale.
Other than Craigslist, there are several excellent other websites where you can sell old stuff. Try LetGo and OfferUp. Also, post this stuff on Poshmark, ThreadUp and TheRealReal.
A feature on CNBC Money news website carries some excellent tips on how to go about selling old stuff and make money fast.
5. Make Money with YouTube
If you need quick money & fame then YouTube is a great platform. You can make money by uploading interesting videos on YouTube.
It's much easier than before to start your own YouTube channel and make fast money with this. You need a good quality camera, a video editing software and a mic to create videos.
There are so many YouTube video ideas for your channel. You need to promote your YouTube videos to get views and subscribers. You make more money if you get lots of video views and more subscribers to your channel.
Even one single viral video can make you rich.
6. Pet Sitting
Most people have a passion for keeping pets – but they also have to work to make a living. This often leaves them in a bind – where do they leave their pets when they leave for work?
You could provide them with a solution to this problem by starting a pet sitting service.
It's like a crèche for pets – where you will look after the pooches, cats (and maybe the odd turtle) while their owners are out. No big investment needed for this.
The only thing you might need is a fairly large house and a love for animals. If you're feeling adventurous – dog walking – is another service which could make you some extra dough.
7. Do Tasks with TaskRabbit
Are you willing to perform odd tasks and errands to make money fast?
Register with TaskRabbit.
This website helps people find help for almost any task such as cleaning houses, sweeping stairs, mowing lawn, delivering stuff fast or even rushing passports to travelers that forgot to carry them to airport.
You can earn between $20 to $40 per hour, depending upon the task. However, if you can gather a team and offer services as contractor, it is possible to make $7,000 to $10,000 per month through TaskRabbit.
8. Affiliate Marketing
There is huge potential of making money with affiliate marketing. If your goal is $100 to $200 per day then I will highly recommend this.
There are thousands of online companies that provide affiliate program. You can join their affiliate program and promote it on internet to make money.
I promote more than 20 affiliate programs through my blog MoneyConnexion. Affiliate program is not my main source of income but still I make $5000+ every month with affiliate marketing.
Here are the exact steps you need to make money with affiliate marketing-
Find the best affiliate programs that you can promote.
Join it
Promote it on your blog, social sites, through newsletter or other methods
When someone makes a purchase or even signup on merchant sites, you get paid.
9. Start a Home-based Business
One of the more popular choices. All you need to do is identify a particular skill or talent of yours that could be monetized. Could be anything from cooking, writing, baking, singing or even party planning.
It's a cool way of making money by doing something you love to do. For those who are afraid to get started – there are several sites online that help home entrepreneurs set up their home based business.
10. Network Marketing
Network marketing is a legit way to make money fast. There are several reputed network marketing companies including Avon cosmetics, Cutco cutlery and Tupperware among others that offer excellent commissions for their network marketing associates.
Network marketing is also called Multilevel Marketing (MLM). You will promote exclusive products of these companies within your social circle to make a lot of money fast.
You can make money fast by marketing these products on social media such as Facebook Marketplace or through an online account with Shopify.
There are dozens of well established companies with whom you can sign-up as network marketer.
11. Become a Mystery Shopper
Mystery shoppers are also called ghost shoppers. This does not mean you look for mysteries or spooks. Instead, mystery shoppers are hired by market research companies to visit stores or online retailers.
They act as regular shoppers while keeping an eye on detail such as customer service, array of merchandise sold, labeling, pricing, ease of use and various other parameters that are vital to running a successful business.
Mystery shopping companies pay you well for this trip to a store and the shopping. You have to write an honest review about your experience. Often, these companies allow you to retain the shopped stuff.
12. Article Writing
Article writing is also called Content Writing. If you are passionate about something, go ahead and begin writing about it. Unlike journalism, article writing or content writing does not involve following complex style guides.
Instead, you can express yourself freely in the language of your choice. Of course, you cannot use foul language. Good quality articles or content are in demand by companies for their websites and bloggers.
You can get paid to write articles about anything- from latest movies to fashion, cooking, politics or even something as complex as searching for extraterrestrial intelligence.
13. Buy/Sell Cryptocurrency
This one is listed last because there is an element of risk attached to doing this. Cryptocurrency is virtual money which is traded online.
Guess you must have heard of Bitcoins right? There are thousands of cryptocurrencies out there but only a handful which are coveted and bring in the big bucks.
If you have the right kind, they could be worth hundreds of dollars each. But beware they tend to be volatile (in value terms) and are in fact considered illegal in many countries.
But if you want to get in on the buzz surrounding them you can checkout online sites like Coinbase, for example, which buy and sell digital currency and then take a call.
14. Part Time Jobs
Part time jobs are the safest and most legit ways to make money fast. You can search for jobs that match your skill on reputed websites such as Indeed or Upwork.
Further, most recruitment portals also carry advertisements for part-time workers in almost every sector. Utilize some of your free time daily to indulge in moonlighting.
It allows you to upgrade skills required to retain that professional edge while earning you extra money fast.
15. Donate Plasma
It is possible to make a quick $20 to $50 every time you donate plasma. Under existing Food and Drug Administration laws, a healthy female or male can donate plasma only twice a week.
Plasma collection centers will draw your blood, separate the plasma and transfuse the remaining portion of the blood back into your body. The process can take as much as an hour.
There are very strict guidelines for plasma donors and collection companies. Above all, it requires excellent health to make money fast in this manner.
16. Enlist for Online Surveys
If you have time to spare, you could register with genuine online survey sites which will pay you decent money to fill out online survey questionnaires. They are very easy to do and should not take you more than a few minutes to complete.
All you need to do is register with tried-and-tested survey sites like Opinion Outpost, Survey Junkie or Swagbucks Surveys and start answering questions for big brands looking to gather some useful market intel.
Then there are some other companies which will pay you only for playing an online game or installing an app.
17. mTurk / Clickworker
Clickworker is an online resource that provides companies and individuals with freelance or part-time workers to perform small online tasks.
Such work includes translations, writing, editing, researching and data processing, among others. The official website of Clickworker claims its members make average $9 per hour.
Another excellent way to earn money through online work is Amazon mTurk, which provides its merchants with a huge pool of skilled manpower for digital work.
As member of Amazon mTurk, you will be responsible for various tasks such as checking content posted by a seller for wrong pictures or text, duplicate content, incorrect pricing and other details.
Amazon mTurk enables merchants to find people to complete tasks that require human intelligence.
18. Take a Personal Loan
Taking a personal loan in the US or anywhere in the world is no easy task. It involves fine scrutiny of your income sources and credit scores. However, if you qualify, take a personal loan.
We do not recommend taking a personal loan for spending or splurging on luxury: they come with very high interest rates. Instead, invest money from a personal loan in some very attractive and legit schemes.
This will make your money grow while buffering the interest you pay. Take a personal loan only if you are fully confident of repaying it on time.
A personal loan can mar your credit ratings. Defaulting on installments can land you in serious legal trouble.
19. Provide Answer with JustAnswer
Should you be a professional or expert in some very specialized field like law, medicine, engineering, graphic design, stock trading or business analysis, it is possible to make a lot of money on JustAnswer.
This website is a forum where you get paid for answering questions asked by people from around the world. This is also an ideal job for work-from-home moms and women that are looking for a side hustle.
Women get several gender specific questions, especially pertaining to law, healthcare and raising children, among others.
20. Buy and Sell Domain Names
With e-commerce on the upswing, companies small, event management companies, movie producers, bloggers and many more people are vying to make significant presence online.
They want to get online to promote their brand, event, upcoming releases, political agenda and myriad other stuff. Hence, they look for domain names that aptly reflect their brand or activities.
Studying nitty-gritties of this intricate but very profitable business to make money fast during spare time. It requires some investment and sound knowledge of how to select domain names, buying and selling.
21. Buy and Sell Websites
Buying and selling websites is somewhat similar to the domain business mentioned above. In this business, you will buy old and expired websites from their owners.
Some people also sell running websites that have excellent names but do not receive much traffic or hits due to any reason. Buying websites has some inherent advantages.
Since the website is already up and running, it would be hosted on some server. Additionally, a website will also have some Google rankings.
Whoever buys it from you can be assured of getting traffic since the website is already known. All it would require is excellent content and search engine optimization (SEO) to bring it on top of Google search.
22. Become a Freelance Proofreader
Are you an English-language expert with a serious eye for typos and a grammar Nazi to boot? Do you aim for perfection every time you write or read something? If yes, you have some serious skills to make money on the side as a proofreader.
Some online sites pay as much as 35 cents/per page for freelance proofreaders. Even at an average pace of reading around 50 pages per hour – you could make as much as $18 – per hour.
23. Or A Virtual Assistant
If writing or editing is not your 'thing', you could consider becoming a Virtual Assistant. In the digital age, many companies have resorted to using a VA for data-related, administrative tasks like making travel bookings, answering mail, updating social media accounts and so on.
As per online data, the average North American VA earns anywhere $35-50 per hour. You also get to choose the companies you want to work with and the fees you want to charge as well. The more value you provide, the better the money you make.
24. Paid for Searching the Web
If you are looking at making money by searching the web, Qmee makes it possible. This is a fun website to use, especially for shopping online.
When you register on Qmee and search for stuff you wish to buy, the website will display price comparisons and provide coupons to make purchasing cheaper.
Additionally, you get opportunities to influence other shoppers by writing reviews about your experiences with a brand, product or online retailer.
Qmee also offers paid surveys where you can earn rewards in the form of cash and shopping vouchers. The best feature of Qmee being, there is no waiting period to receive your earnings.
You actually get paid for searching the web for variety of products and services.
25. Housecleaning
Housecleaning is a very highly paid job that you can take in spare hours to make money fast. The national average in the US for house cleaners ranges between $50 and $90 per hour, depending upon location and time of the year.
There are two ways to make money as housecleaner. One is by working with a cleaning company that takes regular contracts or by working individually. Advertise your services on a local classifieds website and Craigslist.
26. Watch Videos & Get Paid
If you're into watching celebrity videos, movie previews and stuff why not make some money out of it?
Most of you might be already familiar with InboxDollars, but did you also know that it will also pay you to watch videos?
There are many other sites where you can get paid to watch videos. But do remember you will need to watch all the videos from a custom playlist to be paid.
Duration could range from a few minutes to about 30 minutes, subject to availability. But yes, you could make approx. $200-250 per month – in addition to the signing up bonus on many sites.
27. Get Cashback on your Shopping
As competition between online retailers and brick-and-mortar stores gets hotter, every player in any segment offers attractive schemes to woo shoppers. Among these offers is cashback on your spending.
This means, you get back small portion of the money you spend in the form of points. You can exchange or sell these points to avail free stuff from the retailer.
Additionally credit cards and debit card issuers also offer cashback rewards to their customers. Some brick-and-mortar retailers run loyalty programs to retain customers.
One among them is US retail major Walmart while such offers are also made by the world's largest online store, Amazon. Use these points to make money fast.
28. Become Instagram Influencer
Instagram, the photo and video sharing platform offered by social media giant is fast emerging as major resource for influencing customers. You can become an Instagram influencer by exerting extra efforts and monetizing your skill.
To become an Instagram influencer, you will first require an account on this website. Upon registering, create an excellent biography that speaks about your passion, experience and skills.
The next step is identifying a niche that would find countless followers. Instagram has some 800 million registered users. Hence, finding a niche that appeals to a lot of people is not difficult, provided you engage in some research.
Once you have identified the niche that is in line with your passion, start sharing interesting stories, pictures and videos.
For example, you can upload stories, pictures and videos about some places and influence people to visit that destination.
If you enjoy dining out, you can influence people to visit various restaurants and try specific dishes. Possibilities are endless and so is the money you can make as influencer for a brand, country or personality, among others.
29. Monetize Your Twitch Channel
For the uninitiated, Twitch is a live video streaming and sharing platform owned by the world's largest online retailer, Amazon.
You can open a channel free on Twitch TV. After registering, start posting videos and especially live streams of various games, events and other happenings.
This will give you a sizeable number of subscribers. It is possible to monetize your Twitch channel in several ways. You can provide live streaming services to small businesses and other organizations that want to reach distant audiences.
You can also use Twitch for fundraising, creating awareness, advertising and various other purposes that require video streaming and sharing.
A large number of religious organizations look at Twitch channel owners to stream their events and pay well. This is because they want coverage that appears independent.
30. Influence Through Pinterest
Influencing audiences through Pinterest can be very interesting and profitable. Here too, you need to open a free account. Pinterest allows you to share pictures and graphics under countless themes.
Once you begin posting these visuals on your 'board', followers will find your content every time they search with proper keywords.
You can influence people to patronize a specific brand, visit a particular destination, subscribe to some political ideology or even receive donations for some worthy cause as Pinterest influencer.
Companies will pay you for promoting their content.
31. Online Market Trading
Using an online app like Etoro and others, you can make money fast by trading on equities, derivatives and commodities online.
The stock market is a sure way to become rich provided you invest adequate money and have enough knowledge about trading.
Buying and selling company stocks and commodities is possible online. You can make quick money with online trading provided you are aware about stock and commodities movements and other essentials of this business.
32. Dog Walking
Walking dogs is the surest way to make money for anyone- from students to housewives, senior citizens and just about anyone that needs extra cash.
Dog walking can be very profitable. Depending upon where you live, it is possible to earn between US$20 and US$25 per dog for a 30 minute walk daily.
If an owner has more dogs, you get an additional US$5 to $10 per pet. Dog walkers charge on a daily basis. You can take several dogs for walk at the same time.
However, you need to have a way with pets. Also, ensure you pick after dogs: failure to clean up can attract stiff fines.
33. Car Wrap
Car wrapping means, you allow companies, businesses, brands, clinics and other organizations or individuals to advertise on your car. There are several companies that will happily register your vehicle for car wrapping.
In simpler terms, car wrapping involves the company painting your car with an advertisement. It pays you $300 to $500 per month for advertising on your car, depending upon the location, make of the vehicle and other factors.
Your vehicle serves as an advertising medium for the business. Also, the business pays for 'wrapping' your car, which saves costs on painting. There are more ways to make money with your car.
34. Get Paid to Look
Want to make money fast simply for looking at something? Register yourself on Wegolook. This is a rather unique website. All you need is a smartphone to start looking.
Upon registering, you will get assignments to look at stuff such as vehicles, jewelry, machinery, houses and property, documents and places.
Actually, you will look at these things to assist buyers and companies make decisions whether or not to proceed with purchase or deal. You will receive details about specific features or qualities to look for in something.
Upon completing this inspection, you need to file a detailed report of what you saw and found. Wegolook pays between $15 and $30 for a routine inspection.
But if you have to spend a lot of time and file very detailed reports, it is possible to earn as high as $100 to $200 per look. This website is ideal for professionals in various fields that can provide astute reports of what they see in something.
35. Find Tasks with Zaarly
Zaarly.com is an online platform that enables companies to hire local talent to perform various tasks on part-time or short-term contract basis.
You can make money through Zaarly by offering your expertise in any field needed by a business house. Interestingly, Zaarly hires all sorts of talent- from experienced housecleaners to professional accountants and engineers.
Whatever your skill, offer it on part-time basis to a company through Zaarly.
36. Make money on Fiverr
No matter what you are good at, chances are you will find someone ready to pay for your expertise on Fiverr – the world's largest freelance services marketplace for lean entrepreneurs.
Having expanded beyond the old $5-per-gig platform with Fiverr Pro, this online platform attracts some of the best talents from fields as diverse as writing & editing, graphic design, sound editing and even culinary arts.
Depending on your skill and level of expertise, you stand to make some serious money here.
37. Accept Bitcoin Payments
You might be surprised at this information: There are several people worldwide that will pay you in Bitcoin, the world's most popular crypto-currency for providing a variety of services.
Understandably, these services are discreet. They may involve booking escort services in your country, hotel rooms or making travel arrangements or even buying extremely expensive stuff on their behalf.
You can sell any service that requires high level of anonymity but is legitimate and accept Bitcoin payments. Of course, you might not earn a full Bitcoin due to high cost of this crypto-currency.
But you will definitely get paid in Satoshi, or fraction of the Bitcoin. There are various websites where you can offer services in exchange of Bitcoin or even other crypto-currencies.
You will need a Bitcoin wallet that can be downloaded free on a smartphone or on computer. To receive Bitcoin or crypto-currency payments, such wallets are necessary.
38. Sell Other People's Stuff on Craigslist
Most people are saddled with stuff they will never use. They will also have things that are lying unused in home basements or furniture that requires repair and is lying unused.
Let people in your vicinity know they you can sell this stuff on their behalf. You can also buy the stuff and store at home, your garage or a warehouse.
Regardless where the stuff is located, take excellent pictures, write a brief yet great description and post it for sale on Cragislist and similar sites. You also need to specify terms and conditions for payment, shipping and returns, if any.
All you need is a Craigslist registration, PayPal account and camera to take pictures of the stuff. Money you make from such sales is paid to sellers while you retain a good commission.
If you have bought the stuff, it is possible to up the price and sell through Craigslist.
39. Search for Odd-Jobs on Craigslist
Need cash today? Checking out the odd jobs section of sites like Craigslist or TaskRabbit online could be a great place to start.
You could find yourself a gig cleaning lawns, washing cars, doing the laundry or even going grocery shopping for someone who is ready to pay you cash for your time and service.
The good thing here is most jobs listed typically take only a few hours to complete and pay decent money. Which means you should be back home well in time with some handy extra cash in your wallet.
40. Become a Private Tutor
Private tutors are required for a variety of things. They are needed by children that lag behind in studies and school, people that want to learn new skills or upgrade existing ones, women who wish to learn excellent cooking, those who wish to converse fluently in a foreign language as well as fitness freaks who want to exercise at home or perform Yoga and aerobics.
It is possible to work as private tutor from the comfort of your home by providing online lessons. Alternatively, you can visit people's homes and provide the necessary coaching.
Third is by opening a coaching class at your home or a rented premises. Some private tutors also work for educational institutes and provide online coaching on their behalf. This is an excellent, time tested and proven way to make money fast.
41. Sell Used Books
There are scores of websites where you can sell used books. This can be a very profitable business provided you spend time buying used books. You can find several sellers within your neighborhood.
Also approach schools, colleges and universities that wish to get rid of old books from their libraries. It is possible to buy and sell used books on Craigslist.
Some excellent websites where you can sell used books include Powell's Books, Amazon, Halfpricebooks and Bookscouter, among others.
42. Sell Stuff Online
If you are a graphic designer or commercial artist you can design custom logos, trendy designs and inspirational quotes and showcase them on sites like CafePress and Etsy which will sell them for you, for a share in the profits.
Of course you need to be creatively inclined and great at coming up with awesome ideas consistently to make good money, but that's where the real pros' come in, right?
43. Pawn Your Valuables
Pawning your valuables such as jewelry, an expensive watch or even electronic items is not exactly a way to make money fast. This is because pawnshops will pay fraction of the market value for your precious stuff.
Further, they charge a heavy interest should you wish to redeem the valuable at a later date. Failing to repay means the pawnshop forfeits your valuable and can legally sell it to any customer, after completing legal formalities.
Pawning your valuables is an ideal way to make money fast if you are confronted by some emergency and desperately need funds.
Before entering a pawnshop, find its reputation in the market. Pawning can be a fairly shady business and you could get much lesser money for your valuables.
44. Wash / Wax / Detail a Car
Washing, waxing and detailing a car helps make money fast. As the term implies, this task involves thoroughly washing a car. This is followed by a full waxing of its exteriors and interiors to give it a spanking new and bright look.
Generally, car detailing is a job that is in much demand from dealers of used automobiles or people that wish to sell their vehicle.
While the engine and electronics would require skilled technicians, it is possible for anyone to wash, wax and detail a car.
You can make an average $100 daily per vehicle by providing car detailing services. Income also depends upon the type and make of cars. Larger cars usually fetch you more money.
45. Get Tax Refund (for students)
America's Internal Revenue Service- the authority responsible for collecting taxes, offers a special service for students. If you are studying in the US, it is possible to get refunds on certain types of taxes that you have paid.
These tax refunds are available on education loans for higher studies at universities and various other facilities that students require.
The facility is provided to take financial burden off students and their parents encumbered with high education costs. If you are a student, visit the IRS website and find the type of taxes that you can get refunds for.
File for these returns at the earliest to make money fast.
46. Claim Lost Money
The US government and its various agencies have laws that render possible for you to claim lost and unclaimed money.
This money could be in form of excess service fees you have paid a bank, insurance on loan or mortgage or fees paid wrongly to the government as well as cash deposited in defunct bank accounts.
It is also possible to claim money left by deceased parents and relatives, if they have died intestate or without bequeathing the wealth to anyone.
Claiming lost money is very simple. You can file a claim online. If searching for money left by dead relatives, you will need proof of their identity, social security number and some details of their bank accounts or transactions.
You can obtain them legally through Department of Justice or other organizations of the US department. Several private attorneys also offer this service for a fee.
47. Online Tutoring
Always wanted to become a teacher but never got the opportunity. Well here is one. And you don't need any teaching experience or a fancy degree to grab it either. It's a cool sidekick to a fulltime job and you get to choose when you want to do it too.
What's more you also get the opportunity to make some decent cash. Some online tutoring pros' are already making around $20-25 per 40 minute class – so why not you. Checkout online options with sites like Skooli and/or Tutor for this one.
48. Foap
Foap is a very reputed crowdsourcing platform that brings together graphic designers, creative artists, photographers, visualizers and other experts in the field of visual arts and advertising.
If you have these skills and qualifications, register on Foap. You get an opportunity to work on crowdsourced projects of major global brands.
Tasks involve creating brand image and advertising campaigns, designing logos and other creative work that goes into marketing products and services from highly respected companies of the world.
49. Sell Handmade Items on Etsy
Etsy is a website that specializes where people can shop for handcrafted, unique, antique, vintage or custom made products. Etsy charges a fee from sellers.
However, if you are adept at some craft and can make excellent, unique handmade items, put them on sale at Etsy. Items that are in great demand include handmade jewelry, exquisite dresses, statues and figurines carved by hand, unique paintings and lots more.
Put your skills to great use and create handmade items for sale on Etsy. This is not only a way to make money fast but selling on Etsy can help you develop a great reputation in the market for exclusive, handmade stuff.
50. Get Your Cash Back
You have probably heard about sites like Ebates which help you get cash back for online purchase. But did you know of apps like – Dosh – which extends the same benefits for your in-store purchases as well?
And it's surprisingly simple. You just need to link your credit/debit cards to the app and voila, the next time you go shopping to the local mall – you will get anywhere upto 10 percent of the amount back in your Dosh wallet.
The cherry on this cake? You make an extra $5 for every friend who signs up and gets their cards linked to the app.
51. Babysitting
Goes without saying that you need to have a way with kids to go ahead with his one. Daycare costs can be absurdly expensive for a lot of parents. This is where you get to step in –with a high quality yet much cheaper option.
A decent-sized house or apartment with lots of space within in a secure environment is what you will need to begin with. If you have kids of your own – all the better.
Start with a couple of kids from the neighborhood and take it from there, or simply register with sites like care.com and Urbansitter which connect mothers with babysitters. Average hourly rates range from $11-16 per child.
52. Try your hand at Transcription
Transcription involves listening to a recording and typing the contents up into a document, which is then returned to the client. And the demand for this service is growing.
For rookies, there are sites like TranscribeMe and Rev.com who have no problems hiring freshers.
Payment rates are usually decided by the quality and adherence to deadlines. This means the more files you transcribe – the more money you make. Sweet.
53. Rent Out Your Car Parking Space
Having extra car parking space at home, rent it out and make money fast. It is very easy to rent out your car parking space because several websites offer the facility.
All you need to do is register on these websites and provide exact details about the location of your house or garage. If your personal car is out during the day or night, you can rent the parking space during these hours and make money.
This facility is required by visitors that drive into your city from elsewhere and need parking space for their cars. You can also find customers within your city who need the facility of a safe car park nearer office or home.
54. Rent Your Surplus Stuff
Got stuff lying around your house that you rarely use, but don't want to sell either? Then why don't you simply rent it out and make some good money in the bargain?
There are several people out there willing to pay you good money for renting your old handy cam or electric saw – simply because they can't afford to buy a new one.
All you need to do is make sure it's in good working condition and then list it on sites like KitSplit and Sailo (if you have a sailboat too) and you're in business.
55. Review Music
Addicted to music and would like to help budding singers and artists? This is possible through various websites such as Research FM, Unique Rewards, Music XRay, Radio Loyalty and SlicethePie among others.
Upon registering on these websites, you will receive links to various music clips by email. Your job is listening to this music and writing honest reviews.
Renowned market research firm, Neilsen also offers this service. For every review submitted, these websites reward you with cash and shopping vouchers.
You also get to review radio stations, live audio streams from various sources and voiceovers for videos.
56. List a Spare Room on Airbnb
Got a room to spare? Why not list it on Airbnb and make some extra cash. In fact if your home is in a desirable location and the room spacious and comfortable you could even make thousands of dollars by simply renting it out on this popular homestay website.
The perks? Airbnb will cover you with a $1,000,000 host guarantee and penalty-free cancellations (if you are not ok with a reservation). And all you need to have besides the locational advantages is the grace and effervescence of being a good host/hostess.
57. Sell Your Unused Gift Cards
Do you have a growing collection of unused gift cards that you have no intention of ever using? Wait, don't just throw them into the rubbish. Did you know there are a ton of places online where you can sell them for good money?
Checkout sites like CardPool for the best prices for your set of cards – you might even bag a bonus if you agree to an Amazon gift card in exchange.
You could also try Coinstar machines – which will scan your gift cards and make you an instant cash offer.
58. Sell Your Old Movies/CDs
Need instant cash? Well bring out all your old movies and CDs from the attic (or wherever else you might have put them) and sell them to DeCluttr. Yes, this site will buy all your old electronic clutter – CDs, DVDs, video games, Blu-Rays.
They even buy old hardware like tablets, cell phones, iPods and game consoles – so check if you have any of those lying around. Just download their free-to-use app, scan the barcodes on your stuff and get immediate quotes.
Payment are zippy – usually within a couple of days. If you're really lucky you might even earn a $5 bonus when you send in your stuff.
59. Start Trading in Realty
No. You don't need a ton of money to invest to do this. All you'll be really doing is flipping realty contracts without taking possession of the property. In other words, bagging a contract and then reselling it to an interested buyer.
This can be done with just a few hundred dollars or an escrow account. Companies like REWW can also teach you how to go about it. It has all the markings of a good short and long term plan financially.
60. Alcohol Delivery
Running out of alcohol is something very common during parties, events or even among people who drink heavily. Unable to venture out, they look for persons that can deliver alcohol to their premises quickly.
Nowadays, there are several websites that offer exactly this service. People can order liquor of their choice and have it doorstep delivered. You can make very decent money working as courier for these alcohol delivery companies.
Generally, these companies pay a flat rate of $5 per delivery or more depending upon the distance. You can also get tips from customers and if lucky, your employer to.
61. Get Paid to Test Websites
One of the more fun ways to earn some quick cash. Owners of websites are often on the lookout for unbiased and credible user reviews – to weed out any glitches and improve the overall look and feel of the website.
As a website tester you get to record your opinion of a website in terms of its usability and design – and get paid for it as well.
The money is pretty good too. Sites like UserTesting pay around $10 for a user review per website. A task which should not take you more than 20 minutes tops.
Payments are routed via PayPal around a week after you complete your first review.
62. Become a Part-time Bookkeeper
Does earning $60 an hour sound like music to your ears? How about the flexibility to work from home as well? Sounds too good to be true.
But it is yes. As a part time bookkeeper you not only get to make this kind of money but also help small business owners in the process.
And no, you don't need to be a CPA either. All it takes is some decent computer skills, a head for numbers and drive to earn good money. It's ideal for stay-at-home moms and teenagers fresh out of college.
63. Try Your Hand at Photography
Are you any good with a camera? If the answer is yes, you could make decent money clicking pictures and then selling these photos to photo-sharing sites like Getty and Shutterstock online.
It's a cool way to generate a steady passive income and have loads of fun at the same time.
Once you gain some confidence you could also try covering events, weddings and corporate events as a professional photographer.
64. Become a Personal Trainer
If fitness is your thing and you have a good physique to boot, this could be a great avenue for you to earn quick money. People are more than willing to pay good money to hire the services of a fitness trainer and you could be that person.
If this idea appeals to you, you could also scout for clients in your local gym. A good way to begin would be to get some sort of certification and then using a site like FitnessTrainer to promote your services.
65. Flip Real Estate Contracts
Flipping real estate contracts is the surest way to make money fast. To enter this trade, you will need excellent knowledge about real estate market.
Flipping real estate contracts means, you will look for potential investors in a plot of land or house or any other property, when market prices drop drastically in some state or city.
You exchange this contract with a real estate agent for cash or for other contracts for one or more properties. The value of your sale will be higher than the price paid.
66. Deliver for Postmates
Postmates calls itself an urban logistics platform that connects sellers with people across the US that can deliver anything from a snack to expensive stuff.
Should you have a vehicle, work part-time as Postmates courier to make money. Postmates pays you up to 80 percent of the delivery fee they charge from local businesses or customers.
Additionally, you have flexible hours to work for Postmates. Delivery fee starts from $5 depending upon the distance and can go as high as $25.
The more you deliver, higher your earnings. Register online on Postmates and get assignments to deliver stuff within your city.
67. Sell Through ClickBank
With more than six million clients, ClickBank is fast emerging as a leading retailer of physical and digital goods online. ClickBank's stated mission is to provide the much needed link between affiliate marketers and vendors.
With some basic knowledge about affiliate marketing, you can become a seller on ClickBank. You do not have to buy or stock products.
Instead, you choose a particular range of products from leading online stores like Amazon and eBay and promote them through affiliate marketing links on ClickBank.
68. Host a Garage Sale
If you have a lot of rarely used stuffs lying around your home that you don't use anymore, hosting a garage sale in your backyard could be a great idea for two reasons.
One, it will help clear your house of all the unwanted clutter and two, it could also be a cool way of raising cash quickly.
So gather all your old stuff and price it reasonably – remember we don't want to scare away the buyers. Weekends are usually the best days to host a garage sale – since most people are at home.
Do remember to display your stuff well and in an organized way making it easy for people to browse and buy.
69. Start a Food Delivery Biz
With people leading such busy lives, you could consider starting a food and grocery delivery service on the lines of JustEat and Uber. What you will need is a car or if that's not possible, even a two-wheeler like a bike or scooter will do.
This way you don't have to drive people around but you still get to make some quick cash by providing a handy service which looks set to grow as demand soars.
Signing up with major food delivery service providers like Doordash or UberEats would be a good way to get the ball rolling.
70. Create & Sell – How To – Courses
If you have gained expertise in a certain area or acquired a level of proficiency with a skill, you can package your knowledge and sell it online as a – How To – course. This is a tried-and-tested revenue generating idea followed by several online entrepreneurs.
All you need to do is the upfront work of creating the course and then marketing it. Then just sit back and enjoy getting paid over and over again for your one time efforts.
71. Invest your Loose Change
We all have loose change lying around our home – could be from your last shopping trip or that cosy dinner for two you went to last week. Why not invest it to make some extra money?
Yes, for real. There are micro-investment sites like Stockpile and Acorns who can do that for you. And as an added bonus you get to make $5 just for signing up. How's that for a cool incentive?
73. Rent Out Your Clothes
Everyone wants to look and feel good, but not many have great taste in clothes or know the latest fashion trends. If your one of those who is always complemented for your innate sense of style and the clothes you love to flaunt – its time you made some cash out of it.
Sites like StyleLend will pay you to rent your high-fashion clothes, bags, shoes and other accessories online. There are many other similar sites as well but do check the fine print.
While some don't charge a cent, you might have to pay a hefty rental commission to others – so you will have to price your stuff accordingly.
74. Write a Listicle, Pocket $100
If you love to write – not the run-of-the-mill stuff mind you, but unique facts in a quirky way you can make a ton of cash. Listverse, is a popular online site that features hundreds of list articles.
If you have what it takes to write a Listicle. If approved, they will pay you $100 straight into your PayPal account.
You don't need to be an English-language expert to accomplish this. All you need is a passion for writing, a quirky sense of humor and a love for digging out unusual and/or interesting facts.
75. Get Into Web-Designing
It's one of the most sought-after talents these days and why not since websites today are a must for every business.
So if you know your way around technology and computers and also possess a keen eye for design – you could easily make $1,000-plus per month by building websites for small and medium businesses.
And this is just the tip of the proverbial iceberg – there is in fact serious money to be made as a freelance web designer.
Thousands of people use one or more ways from this huge list of make money ideas to earn quickly. I am sure, you will make your first $100 in next few days.