Have you ever heard about a car detailing business? Maybe not. But let me assure you that it's one of the fastest and legit ways to make money either full-time or a side gig. That's because car detailing is a very special task for very special vehicles.
In this article, I'll discuss how to start a car detailing business and how you can make a lot of money from this.
So let's begin by understanding what car detailing is all about.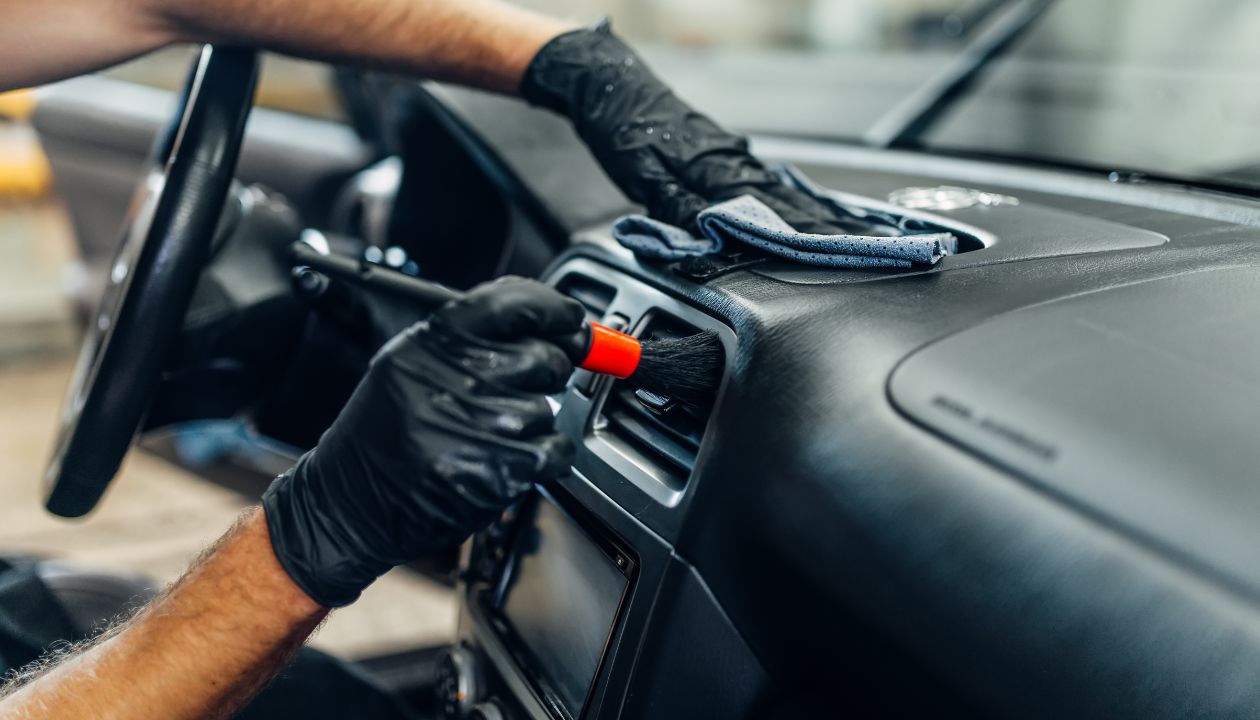 Table of Contents
Understanding Car Detailing
Everyone wants a sparking, clean car that appears spanking new. More so, if it's an expensive car or some regular automobile that's very dear to you.
Usually, all of us will take our vehicle to a carwash or clean its interiors and exteriors at home. However, we're not professionals in this business. A carwash nowadays is an automated affair where you drive the car through its regimen of washing, soaping, shampooing, and drying, all done by a giant, drive-through machine.
Some carwashes provide that additional service of dusting the interiors and spraying car gloss, for an extra fee or sometimes, free.
That's exactly where the difference comes in.
Car detailing means cleaning and polishing the car to its minutest detail. This includes a lot of extra work such as removing those almost invisible deposits of dust, smoking, and pet odors and waste, eliminating scratches, small bumps, and dents, and washing the engine with diesel or another solvent.
In brief, car detailing means giving the automobile a total facelift to an extent that it looks as good as new.
Reasons for Car Detailing
That's why there're compelling reasons why a lot of people opt for details. It's a sheer myth that only the wealthy or those owning very expensive cars opt for detailing. Here're some topmost reasons.
Eliminating Infection & Contagion Risks
The Covid-19 pandemic exposed the fact that viruses and other microbes can survive on surfaces of all sorts of material, give the right conditions. And car interiors just about provide the perfect conditions for the dreaded Severe Acute Respiratory Syndrome Coronavirus Disease-2019 or Covid-19 to survive and spread.
A complete advisory on how to prevent your car from becoming a breeding zone for Covid-19 and other microbes was put out by Kids-And-Cars, an American organization that focuses on child safety during vehicle rides. The advisory suggests that car detailing with disinfecting and decontamination techniques can help reduce or eliminate the Covod-19 risks from your car.
Clean Car Benefits Mental Health
Studies in America and elsewhere in the world prove that clean cars are good for your mental health too. That's because a cleaner car removes a lot of stress from driving itself since the interiors and exteriors are pleasant. It's well known that smells, messes, and clutter lead to negative emotions. Therefore, a lot of people opt for car detailing too.
Furthermore, a clean and sparkling car works wonders on your self-confidence. You don't have to worry about giving someone a ride and the impression they'll get about your car. Nor do you need to bother about people commenting on the looks of your car when they observe you on roads or parking areas.
Newer Looking Cars Fetch Higher Value
And if you or someone else plans on selling the car for any reason, car detailing proves very useful. The better looking and cleaner the vehicle, the higher the chances of customers buying it for a good price. It also saves a lot of hassle for a used vehicle dealership on doing car detailing to ramp up its resale value.
It's well-known fact that people buying used cars look for those in superb mechanical condition as well as amazing interiors and exteriors. In fact, a car owner would spend $100 or a little more on complete car detailing. However, the price of such a car in the used vehicles market would rise by $500 to $1,000 or even more.
And then there's also a reason such as wealthy folk going for car detailing for their very expensive vehicles and teenager that get their first car wanting to impress their friends with a superb looking one.
Due to these reasons, car detailing is a very profitable business. If you wish to do this business, follow my simple steps.
Starting a Car Detailing Business
If you've some work experience at a carwash center or automobile service center, most likely you'll have adequate knowledge about car detailing. But if you're a fresher and wish to start this business, there's absolutely nothing to worry about.
Follow my simple steps to start a car detailing business.
Learn About Car Detailing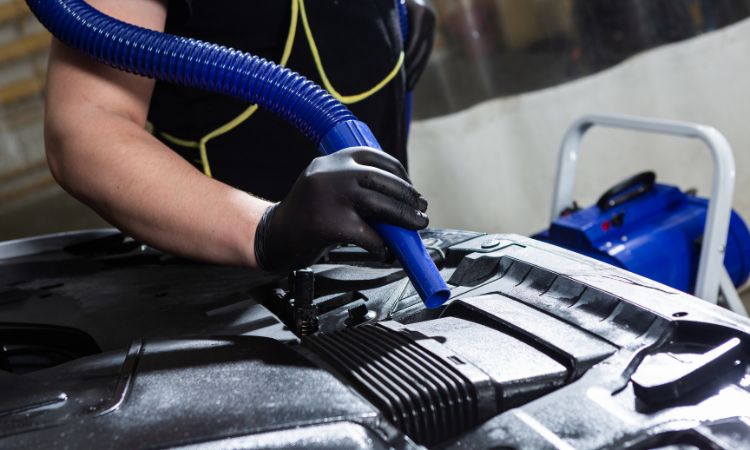 The very first step to starting a car detailing business is to learn what it's all about. Here I recommend you read this excellent book titled: "Automotive Detailing: A Complete Car Guide for Auto Enthusiasts and Detailing Professionals."
This book by author Don Taylor made its appearance in 2012 and even after eight years is helping beginners to enter the car detailing business. This is a complete guide on car detailing and would prove useful even after you've had enough experience.
I suggest you also read a little about car detailing and what're the things you need to do from some good websites. This will give a fair idea of the business.
Practice As You Go
Merely reading books and online articles isn't really going to make you an excellent car detailer. Practice is much more important. The best way to practice car detailing is with your own vehicle or with someone in your household, that doesn't use it much. Or you can ask a neighbor or friend if they wish to get their car detailed from you.
Whether or not to charge your friend or neighbor is your decision. In any case, you'll need to buy a car detailing kit and the materials necessary for the job. I suggest you shop online for a complete car care kit for starters. It might not contain some of the stuff the book mentions. Buy those separately if necessary.
Practice on the vehicle till you're happy with the results. And invite a friend, relative or family member to give you an honest review about your work. This helps understand gray areas and strengths. Work to eliminate any gray areas and develop strengths further.
Here I would recommend you detail at least two to three cars, for free if possible, to get enough experience in the trade.
Advertise Your Car Detailing Business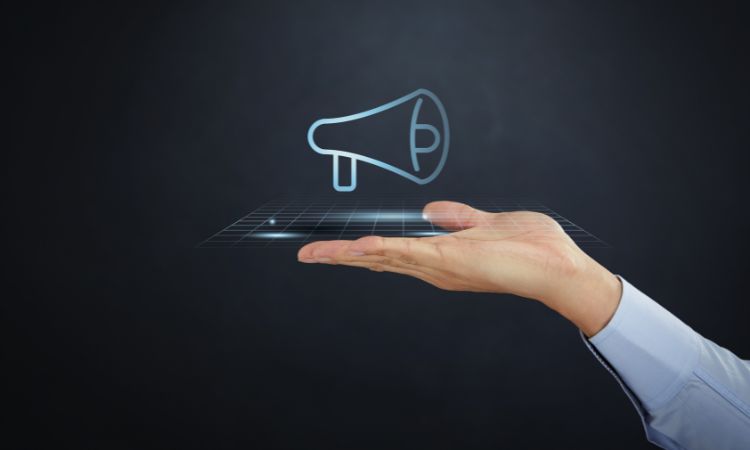 Now comes the trickiest part. And that's getting real customers for your business. As you would know, every business needs some advertising to create awareness among people. A newspaper ad or jingle on local radio and TV channels can cost a lot of money. Therefore, I suggest you go for online advertising.
The first choice is Craigslist. There're countless services that you can list for free on Craigslist. Depending upon your location, post classifieds on Craigslist under the Automotive Services section of the website. This helps car owners in your area search for your business and make contact.
The other superb alternative is Facebook Marketplace. It's possible to advertise your business for free and get inquiries for car detailing services from Facebook Marketplace. All you need to do is set up the free marketplace using your Facebook account, post excellent pictures of the car detailing jobs you did while learning, and give an estimated cost. Don't forget to provide the contact details of your car detailing business.
Attract Customers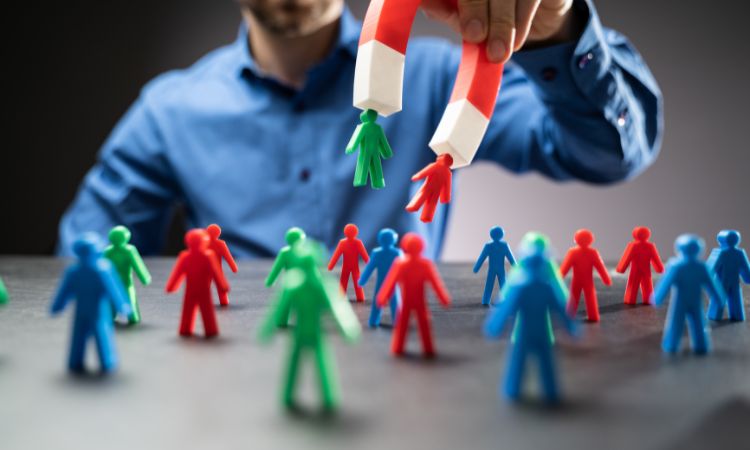 Once you begin advertising the car detailing business, it's going to be some time before leads actually convert into customers. Now converting those leads is an art you need to learn. For example, you could launch special offers and promos for a limited period. Or provide add-ons at discounts.
It's also possible to divide your services into two broad categories: classic and premium. The premium service that comes at a higher price could be exclusively for owners that want their cars detailed faster or own expensive vehicles. Use your creativity to attract customers.
Making Money from Car Detailing
This is a special tip I'm giving. To make really good money from the car detailing business, offer different service packages for individuals, families, companies, and fleet owners. Such packages or annual or bi-annual plans help develop loyalty among customers and ensure a steady income.
At this point, you'll have to invest a bit in car detailing material, including premium quality stuff to provide high-end clients. Remember, people are willing to pay a little extra money if you can provide some exclusive service. That's because most people are willing to avail something better for a slightly higher price.
In Conclusion
Now that you know how to start a car detailing business, it's easier to take the necessary steps and launch at the earliest. Before I conclude, here's a small suggestion. Make sure you pick the right time of the year to open your car detailing business. This is because there's a huge seasonal demand too that occurs during festival times. Choosing the right time means you can bag more customers to make more money. And more satisfied customers means better word-of-the-mouth publicity for your car detailing business.
FAQ
How to start a car detail business?
Starting a car detailing business requires careful planning and preparation, including conducting market research, developing a business plan, obtaining necessary licenses and permits, purchasing equipment and supplies, building a website and social media presence, developing a marketing strategy, hiring employees, offering additional services and continuously improving your services and customer service to build a reputation for high-quality services and excellent customer service.
How much profit is the in car detailing?
The profit potential for a car detailing business can vary but on average can generate a profit margin of 20-30%, meaning for every dollar earned in revenue, the business owner can expect to retain 20-30 cents in profit. Factors that affect profit include pricing strategy, cost of goods, labor, and operating expenses such as rent, utilities, insurance, and employee wages. Additionally, offering additional services like detailing for boats, RVs, and motorcycles, as well as detailing for commercial fleets, can help increase revenue and profit.
Is it worth starting a detailing business?
Starting a detailing business can be a profitable venture, but it's important to consider market demand, competition, start-up costs, potential revenue, your passion for the industry, and your skills and experience before making a decision. It's also important to have a passion for the industry and enjoy the work as starting and running a business requires a lot of time and effort.
What equipment do I need to start a car detailing business?
To start a car detailing business, you will need essential equipment such as a pressure washer, detailing brushes, vacuum, microfiber towels, car-specific cleaning products, polisher/buffer, portable power generator, automotive detailing cart, protective gear, and reliable transportation (van or truck) to transport equipment and use as a mobile detailing service. Depending on the services you plan to offer, you may also want to invest in additional equipment such as a clay bar, detailing clay, and paint sealant.
How to start a car detailing business from home?
Starting a car detailing business from home requires careful planning and preparation, including conducting market research, developing a business plan, obtaining necessary licenses and permits, purchasing equipment and supplies, building a website and social media presence, developing a marketing strategy, setting up a dedicated workspace, offering additional services, and continuously improving your services and customer service to build a reputation for high-quality services and excellent customer service. It's important to note that you may face certain limitations and challenges as a home-based business, such as limited space, limited resources, and zoning regulations, so it's important to be aware of these potential issues before starting your business.