From a college student's point of view, college life is as much about academics as it is about a substantial increase in expenses.
Travel, eating out, buying stuff related to your studies, the occasional outings with friends – it all costs money, and in most cases a lot more than what your meagre allowance can cover.
This is where a good credit card comes in handy. Not only to meet all these extra expenses but also to establish a good credit history – for meeting future needs like renting an apartment, access to low insurance premiums and getting loans at favourable rates.
But getting a student credit card is not easy – especially when you have no previous credit history. In such cases the best option is to go for a – secured credit card.
These prepaid cards require you to furnish a cash deposit which in this case is also your credit limit. In case of any repayment difficulties, the pending amount is deducted from this deposit by the card issuer – leaving the cardholder in the clear.
If you're a parent or a college student on the lookout for a new credit card to fund your journey through college, here's a close look at some of the best credit cards for students on offer presently which you can consider.
Best Credit Cards for Students with No Credit History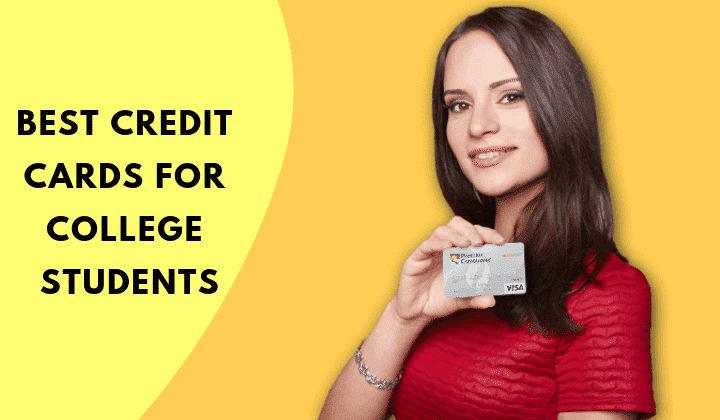 As explained earlier in the article getting secured credit cards for students makes a lot of sense for a number of reasons.
With the Capital One Secured MasterCard, a student can pay a refundable $49/99/200 security deposit, to begin with, and use the card like any other credit card.
A $49 security deposit gets you a credit limit of $200, so the bigger your deposit, the more you get to spend using your card.  You also qualify for a credit limit hike, without paying an additional security deposit, if you pay your first five bills on time.
As a Capital One customer, you will also get free access to a credit monitoring service to track your credit history.
Also Read: Tips for First Time Credit Users
Are you a foreign student currently in the US to finish your college? If so then this student credit card could be an excellent pick for you. Why? Because it's meant for students, who have a non-existent credit history and no social security number either.
But yes, it does need you to be an enrolled student at a legitimate college/institution across the US. In return, you get a 1% cash back on all your purchases and also get reimbursed for an Amazon Prime Student subscription up to $59.
Capital One launches another top-rated credit cards for college students.
This credit card rewards students for their excellent credit habits. Plus you get 1% back on all your purchases. If you manage to pay back your first five bills on time, you also stand a chance of getting your credit limit raised.
If you qualify for this credit card, you are eligible for a credit limit of $300 – which might seem a trifle low – but is, in fact, ideal for learning how to manage a credit flow responsibly.
As a student, you can earn a decent 3% cash back on all your gas, grocery and drugstore purchase – for the first six months – using the Wells Fargo Cash Back Card. This is in addition to the 1% cash back on all your other purchases.
You also have the option of automatically crediting all your rewards to your Wells Fargo savings account (in $25 increments) as a statement credit or via a paper check sent to you.
Else you can opt to redeem your accumulated rewards in the form of gift cards, travel vouchers and other options.
Also Read: Credit Card Frauds and How to Protect Yourself
Made for hardcore socializers who love to party and organize fun outings, this student credit card by Citibank can earn you two points for every dollar you spend on eating out and entertainment purchases.
Plus you can also make an additional one point for your purchases in other categories and a 2,500 points bonus if you spend $500 within the first three months of opening your account. Points can be redeemed later for tickets to Live Nation events, gift cards or credit in your next bill.
This is the best credit card for students in the US who want to study abroad or just like to travel to different parts of the world.
Launched by Bank of America, you will earn approx. 1.5 points for every dollar that you spend, which can be redeemed later on things like flight or hotel bookings or a gift card. There is also no transaction fee applicable if swiped abroad either which is an added bonus.
Last but not the least, you stand to earn a whopping 20,000 point bonus if you manage to spend at least $1,000 within 90 days of opening your account.
This is an excellent choice of a credit card for students who want a card with zero annual fees and which can offer you a 1.5% cashback on all your purchases as well. You also get to redeem cash, sans any minimum amount and qualify for a tidy signing bonus as well.
And if you happen to run up a bill of $500 within the free three months – you get a $150 bonus. Cardholders also get to track their credit history with free weekly updates. On the flipside, this card levies a 3% fee for foreign transactions, so you may need to leave it behind when travelling abroad.
This is another good option if you're looking specifically for a student credit card with zero annual fees. Also if your credit score is less than perfect, you can still apply for this one.
You also get rewarded with one reward point for every $2 that you spend making a purchase, and 3 points (per $1) spent paying insurance premium payments up to a maximum permissible limit of $4,000/per year.
The points you earn can be exchanged later for travel discounts, gift cards and merchandise or to pay for State Farm products that you buy. On the downside, there is a 3% fee for all foreign transactions.
This is a good credit card for students who have never used a card before but want the maximum cashback rewards. If you're in this category, you can earn as much as 5% back on $1,500-worth of combined purchases in rotating quarterly categories.
Creditworthiness is in addition to the 1% cash back you get to the pocket on your other purchases as well. Students who crack their GPA with a score of 3.0 (or higher) for five consecutive years, after applying for the card are also rewarded with a nearly $20 statement credit.
On the downside, however, this card is not that widely accepted since it's not a Visa or a Mastercard.
Other Key Points You Need to Consider
Now that you know which are the best student credit cards out there when it comes to choosing a particular credit card for a college student, here are a few other important points that you need to consider as well.
Annual Percentage Rate (APR): Low introductory APR rate is good, but make it a point to check their trajectory regularly.
Additional fees: Annual fees, transaction fees – can cost you a bit, so make sure you get the best deal.
Fraud protection: Most credit cards these days offer this as a fail-safe mechanism in case the card is stolen or gets misplaced. Make sure yours does too.
Automated payment reminders: Again a standard service offered by leading banks and card-issuing companies, but an important one to pay your bills on time, every time.
Foreign Transaction Fees: While some cards have a zero fee for using the card abroad, others do charge a fixed percentage of the transaction. Choosing a card which doesn't cost you can make a substantial difference to your monthly outgo, especially if you're a foreign student in the US on a tight budget.
In Conclusion
While there is no dearth of options when it comes to choosing a student credit card which is just right for you, it all boils down to your expense priorities, preferences and your appetite for repayment.
For example, if building a good credit history and earning generous rewards is a priority there are credit cards which match these specific requirements.
What you need to focus on however is learning to use your card carefully and responsibly. This involves making timely repayments (in full), maintaining a low balance, building a good credit history and using your rewards judiciously.
For students who are new to all this and don't quite qualify for a regular credit card, it's always safer to opt for a secured credit card with a fixed spending limit.
And here's a final tip for you. If you really want to improve your creditworthiness, try and keep your credit utilization as low as possible – at least 30% below your credit limit.