Making money on the side has become important nowadays. Cost of living is zooming upwards while incomes have remained stagnant. There are also growing demands from the family while you need to upgrade own lifestyle.
You may find it difficult to meet all these demands from a single source of income. Therefore, you need to find sources of money that can help meet expenses and help save some money.
25 Smart Side Jobs for Making Extra Money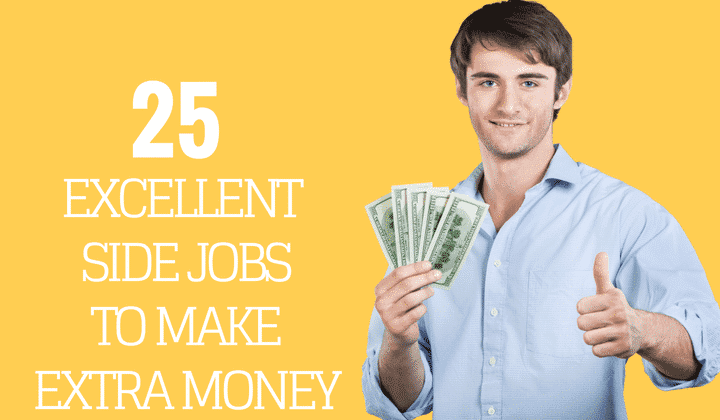 Let us take a look at some of the ways that will help you make extra money on the side.
1. Make Extra Money with Online Jobs
Online jobs are considered the excellent way to make extra money on the side. There are hundreds of ways to make money online but some of the online jobs listed here are very simple for making extra income.
You can work on one or more online jobs as per the available time and skills. Millions of people make $1000 or more with these side jobs. You just need a PC and internet connection at home.
2. Counter Sales Staff
You can easily find a side job as counter sales staff. A lot of stores remain open 24/7. Hence, they need staff to handle customers. You can easily find such a job in your neighborhood. Usually, stores display any such vacancies on their displays.
3. Restaurant Crew
One more way to make extra money on the side is by working as part-time restaurant crew. During peak hours for breakfast and lunchtime, restaurants witness customer rush. They need extra crew for serving customers in these hours. You will earn decent money as wages and tips by working at a restaurant during peak hours. You might also get lucky to grab a free meal daily at the end of work.
4. Side Job as Bartender
Do you have skills to mix alcoholic drinks and prepare exotic cocktails? Then work as a bartender at any upscale bar in town. Event management companies and party hosts also need good bartenders. If you already have a job but want to use spare hours in the evening, look for a bartender's job to make money on the side.
5. Manicure & Pedicure
Doing manicure and pedicure is one more way to earn money on the side. Also, this side job is ideal for women and men. Nowadays, men also utilize services of a manicurist and pedicurist to stay well groomed. You can give this business a try if you have excellent skills in shaping and trimming nails, applying nail polish and other procedures.
6. Customer Care
Customer service is now possible round the clock, thanks to mobile phones and Internet. Tasks involve listening to customers and answering their questions. Try for customer service jobs in your spare time: they pay very well. Usually, customer service jobs are at call centers. But you can work from home too.
7. Estate Broker
Negotiating deals for property including rentals and sale will get you really good money on the side. It is a practical and legit way to make money on the side. Opening a real estate agency may be expensive. But you can always tie-up with a large agency to work as sub-broker.
8. Fitness Instructor
Fitness instructors make a lot of money on the side. They work as personal trainers for fitness aficionados and especially for people that want to exercise at home. Schools and gyms also look for part-time fitness instructors. If you have served the military and have good idea of fitness standards and practices, this is an excellent way to make money on the side.
9. Cabbie
Taxi aggregators like Uber look for part-timers to work as cabbies. You can earn a lot of money on the side by working with Uber or other companies as part-time cabby. If you use own vehicle, your income will be higher. Alternatively, you can also obtain a license to work as private cabbie from the local transport office.
10. Web Designer
If you know how to design websites, advertize your services as web designer. Setting up a website is cheap nowadays. Hence many people invest a few hundred Dollars in making a website for their business or personal use as blog. Since everybody wants a great looking website, you can sell your talent to make enough money on the side.
11. Yoga/ Aerobics Trainer
Yoga and aerobics are very specialized techniques for overall wellness and beauty. Hence, a lot of people want to learn Yoga or aerobics at home. Get yourself certified as Yoga or aerobics instructor and offer home coaching. This is a perfect way for women to make money on the side.
12. Body & Beauty Therapist
Not everyone likes to drive down to a beauty parlor and take commercially available treatments. There are lots of women who want personal body and beauty therapists. Should you know some excellent non-traditional body and beauty treatments and therapies use these skills to earn some money. There is a huge demand for homemade body and beauty products. Hence, you can also sell your range of cosmetics.
13. Translator
Translate documents, articles, notices and other stuff into English or a foreign language. You get paid for every single word that is translated. However, to make money on the side as translator, you need expert level skills in these languages. Translations are in great demand and can be done online too.
14. Selling Breast Milk
This is not a perverted way to make extra money, as you may imagine. There are several women that cannot breastfeed their newborn child due to medical conditions or other reasons. Hence, several nursing homes and clinics buy surplus human milk from healthy women. Since this is a humanitarian type of work, you cannot expect large amount of money. But income can be quite decent.
15. Task Rabbit
Offer services in your neighborhood a handyman, porter, plumber, electrician, furniture repairman and motley other works through Task Rabbit. Do make money on the side with Task Rabbit, you have to register on the website and provide contact details. Income depends upon how much you quote for a specific task.
16. Fiverr
Whatever your talents, it is possible to sell them through Fiverr. You are assured of a minimum income of US$5. But that is not all. You can charge extra for additional services. Fiverr is helping millions of people worldwide to make good money on the side.
17. Etsy
If you can make something exclusive that will attract buyers, give a try to Etsy. It is a marketplace where craftsmen display and sell their unique creations online. Etsy lists only unique stuff and hence your creations have to be rare and appealing. Express your skills and make big money on the side through Etsy.
18. Sports Coach
Make your hobby into a money spinner. Coach school students in playing the sport of your choice and make extra money on the side. Further, sports clubs for juniors also take part-time coaches to train students. Swimming coaches are especially in demand.
19. Salesperson
Salespersons are always in demand. Especially small businesses look for part-time salespersons. You will have to knock on doors and make sales calls. There are two ways you earn as salesperson: one by getting commissions for anything you sell and another by working on fixed salary. This is a way to make money on the side since you will work in spare time only.
20. MLM
MLM or Multi Level Marketing is a sure shot way to make money on the side. Register yourself as MLM associate with any top MLM company like Avon Cosmetics, Cutco cutlery, Tupperware and others to make a decent amount of money on the side. You will market products of these companies to your social network and friends. It is very easy to make a lot of money with MLM if you exert some extra time and effort outside work hours daily.
21. Mystery Shopper
Get paid for shopping at high-end stores, supermarkets and malls. Market research companies look for mystery shoppers at almost every location. Your job is to visit the specific store to buy something. You have to observe the shop's ambience, friendliness of staff, ease of shopping and other elements in the store. After completing the purchase, you will have to come home and write a review or answer questions provided by the mystery shopping company.
22. Rent a Friend
Would you believe people are willing to pay for your friendship? This is a fact. People who relocate to your area or arrive there for short durations look for friendship. We mean pure friendship and not amorous or intimate relations. And they are willing to pay you for companionship. A lot of people are wary of strangers and strange places. Hence, they will hire friends at a distant destination. Love to socialize? Try renting your friendship to make extra money on the side.
23. Rent your clothes
This sounds strange but people are willing to take your clothes on rent. This is an ideal way to make money on the side for women who have a closet full of branded and exclusive clothes. You can simply advertize on Facebook Marketplace or Craigslist that your dresses are available on rent. Put some excellent pictures of your dresses and write a brief description to attract customers.
24. Selling Mobile Pictures
You can actually make a lot of money on the side with pictures you click with your mobile phone. There are two types of pictures that sell. The first category is of live happenings such as accidents and sports. Others are the one you take specifically for sale. You can sell photos of accidents, defining moments in sports and other happenings to news providers. Pictures of landscapes, nature, monuments, celebrities etc can be sold as stock photos on any reputed website.
25. Micro-tasking
Micro-tasking is very simple. The work involves reading proofs of various documents such as advertisements, invitations, announcements, notices and other stuff before they go for print. You can easily take some micro-tasking jobs during spare time to make extra money on the side.
In Conclusion
As we can see, not everyone needs to go online to make money on the side. In case you need to market or advertize your products online, there are several free resources including Facebook Business, Facebook Marketplace and Shopify. Their basic services are free. Craigslist also provides free listings if you are selling skill-based work. Some of these ways to make money on the side can also help you set up a full-fledged business in future.