Gift cards have always been a popular gifting option – especially around the holiday season. They also make for a safe bet when you're confused about what to buy for the other person.
But for the many who get such gift cards every season, it becomes a tad difficult – more so when the cards are not exactly in sync with their tastes and when they would prefer to have got cash instead.
So what do you do in a situation like this?
Well, you could consider selling or trading your unwanted gift cards – for cold hard cash – instead. Surprised? Well, don't be. It's very much possible to convert gift cards into cash.
And to make it even easier, we have listed the 17 best places to sell gift cards online, which will give you some instant cash. You can even sell your gift cards at a gift card exchange kiosk near you. Take a look.
17 Best Places to Sell Gift Cards For Cash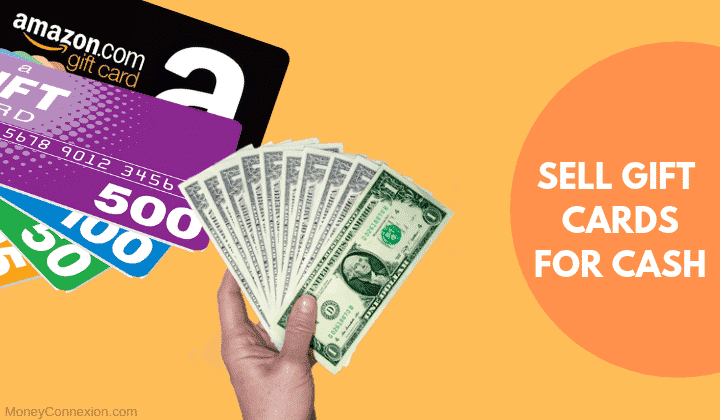 1. 
GiftCardBin
Sellers here have the option of either selling gift cards online or in-store for instant cash by visiting any of their 400 partner locations in the US & Canada.
Those choosing the online option must first create an account and share the card information to receive an offer.
Once accepted, the sender is required to send the gift card and a copy of the email containing the transaction number back to the company.
Upon verification, the payment is credited to your PayPal account.
Also Read: 28 Best Apps & Websites to Sell Stuff Locally
It is a Michigan-based online marketplace to sell gift cards for cash. It offers gift card buyers and sellers a common platform to safely buy and sell your gift cards.
QuickcashMI buys discounted gift cards from the sellers directly, verifies each gift card's authenticity and balance, and then holds them until a buyer is found.
Sellers receive a check in the mail within a couple of days of their gift cards being verified and their card balance confirmed by the company.
Another best place to sell gift cards for cash online is Monstergiftcard. MGC accepts gift cards with a value between $10-200 only.
Sellers must first register online and match their card with the online price. If accepted, the card and a unique bar code (emailed to the seller) are sent to the MGC.
Upon successful verification, the payment check is dispatched within 3-5 business days or credited instantly using Dwolla.
Also Read: 33 Best Places to Sell Clothes Online for Extra Cash
4. 
Raise
Raise is an online marketplace to sell and trade gift cards for cash that allows you to list your unwanted gift cards – for sale – for a price of your choosing.
Once the card finds a buyer, you get paid via check or direct credit to your bank or PayPal account.
Another very popular online website for people looking to sell gift cards for cash.
It allows sellers to choose from multiple options, namely.
They can list the gift card and choose the best offer – to make instant cash online.
List their card online with the price they want – it might take longer to sell, but you could make more money.
Exchange your existing card for a gift card you actually want – by choosing from a list of reputed retailers.
6. 
CardKangaroo
Users of this online platform are required to mail their surplus gift cards for verification and payment after accepting the cash offer made for them by CardKangaroo.
Payments are then dispatched via check sent by mail (which may take up to a week) or an instant credit using PayPal – as per your preference.
7. 
SellMeGiftCard
One of the most popular websites to exchange gift cards for cash is SellMeGiftCard.
The website describes itself as the world's biggest Amazon gift card exchange site – so this one is only for those who want to flip an Amazon gift card. It works when the seller enters all the basic card information to receive an offer for his card(s).
If ok, he needs to enter other info such as the claim code, card balance, PayPal email, & email address. Once the balance is confirmed by SellMeGiftCard, the money is credited into your PayPal account.
Also Read: Sell Your Photos Online: $100 & More per Image
This site allows you to choose the specific gift card you wish to sell from their exhaustive list of major brand stores and food chains. Next, you enter the balance dollar amount on the card to instantly receive a purchase offer.
If you're ok with the offer price, you must enter the card number and pin – associated with the correct card value. Register and login into your account and enter your PayPal email address to receive the cash.
Here it's the seller who fixes the price for the gift card(s) he wants to sell by filling in an online form. The website reverts with a confirmation or a counter offer. If the seller agrees, he must upload his ID & credit card details, and card information within 24 hours.
Once the personal and card information is verified – the payment is processed almost instantly.
One of the most trusted online gift card exchange platforms. You can sell gift cards here to earn upto 92% of their value (depending on the brand) back in cash.
All you need to do is share the card details online for verification to get instant cash. If acceptable, you will be asked to send your gift card to Cardpool.
Upon receipt, you will be paid via check- usually within 1-2 business days.
One of the easiest ways to get instant cash for your gift cards. Just enter your card details on their site, and they make you an offer after confirming your card.
If you're lucky – you could end up making up to 92% of the card value. Payments are made via check or direct credit to your PayPal account, usually within a couple of days.
You can also trade your card for a brand new one from their list of available brands.
A website popular among Canadians to sell gift cards for cash. Sellers stand to make 92% and more of the value of their unused/partially used gift cards.
The site lists the card on their website for buyers interested in acquiring them.
Buyers who use CardSwap to buy gift cards also stand to earn SwapPoints – a unique rewards program that enables them to redeem points for gift cards or cash.
13. 
ABCgiftcards.com
Here you can buy and sell gift cards online, just like some other sites mentioned earlier. In case of a sale, the seller needs to enter his gift card details on their site, post which he is mailed their best offer.
For some of the more in-demand gift cards, a seller can make upto 90 percent of the face value of the card itself. The website also allows you to exchange your existing card for a new one from their list of options.
Payments are dispersed via check or PayPal credit within a couple of days once the transaction is completed.
You can also convert gift cards to cash via selling them on eBay if you're desperate. But first, check the prices of similar cards sold on this auction site first.
Also, check the recent sale listings for the specific brand of gift cards that you want to sell online.
This way, you will know both the prices they sold for and their demand. Most popular cards usually sell for about 60%-80% of their face value.
They don't have a specific category for gift cards. Hence you will have to post it in the closest relevant category. For example, if you have a gift card from American Eagle or the Banana Republic, you might try posting it in the clothing category.
People browsing this website usually look for a discount – so do price your cards accordingly. Start with about 90% of their value and drop further if they don't sell within a few days.
Also, it's much safer to conclude the actual transaction in a public place, where the buyer can verify the card, and you have cameras recording the sale, lest something goes wrong.
Also Read: How to Make Money with Craigslist? 5 Excellent Ways
If you're on the lookout for an option to sell gift cards in person, a visit to the nearest PLS store may be worth your while. They buy new or partially used gift cards (with a balance above $20 and below $400).
All you need to do is drop in at the store, flash a valid state-issued ID and debit or credit card to get a free quote on your gift cards.
If acceptable, you can then have the money credited to your card or handed over to you in cash – to spend it as you may.
17.
Host a Garage Sale
For those of you who think listing a gift card online or visiting an offline store is too much work, you can also sell your gift cards from home – by hosting a garage sale.
Of course, you may not get as good a price – since it all depends on the level of interest from the prospective shoppers who drop in – but you never know.
Do encourage the buyer to call the 1-800 number listed behind every card to verify the balance before buying the card.
In Conclusion
Always remember that gift card exchange kiosks tend to lower the exchange values post the holiday season – so don't wait too long to sell . Also, the longer you keep them with you, the more likely you are to forget about using them or exchanging them for cash.
Last but not least, in case you opt for another gift card (instead of cash), make sure you check the balance before closing the deal.