Not very long ago, surveys were boring. Indeed, we all have shunned those pretty-looking college students who would pester us to take a survey.
Over the past two decades, these charming faces with imploring mouths were replaced by something rather ubiquitous- the computer & smartphones.
Thanks to the Internet, small and large companies now conduct surveys online.
What's better…they pay you for it. Some pay in cash, others with the merchandise. Yet others give away gift coupons and vouchers that can be redeemed for anything from daily groceries to designer jewelry.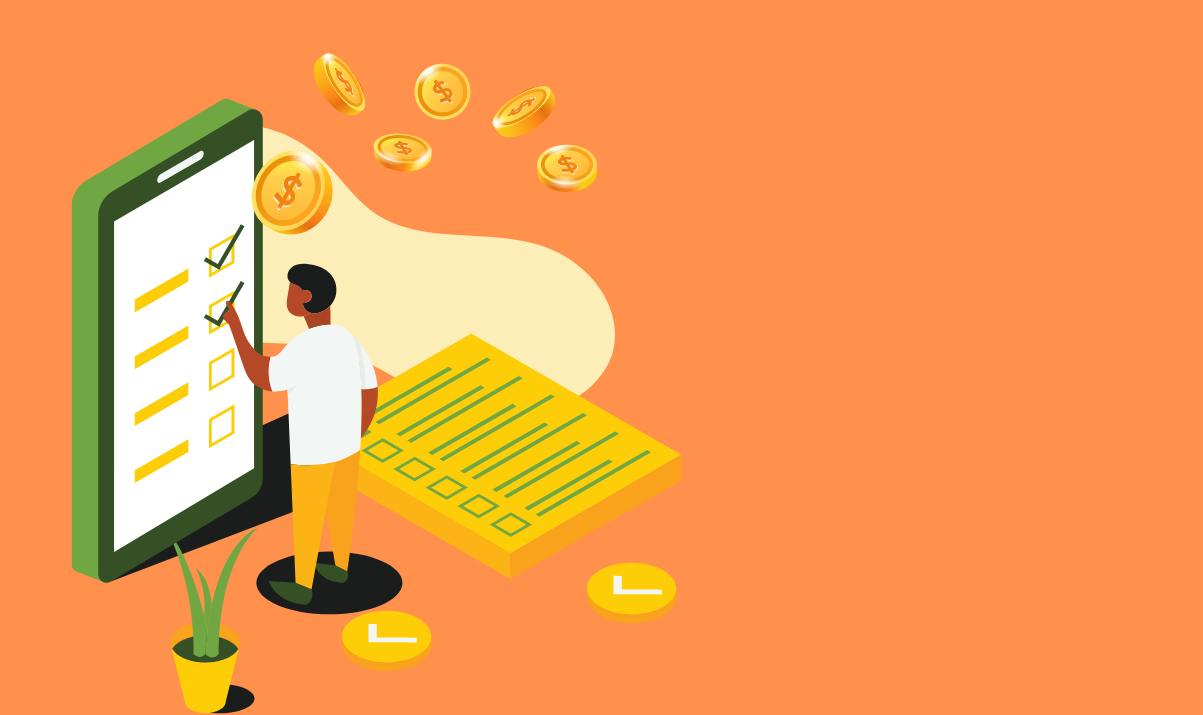 Thousands of people in the US are making a living by merely taking online surveys. Others have gotten rich quickly.
Moreover, millions of people worldwide are saving thousands of dollars on routine expenses by simply taking a few online surveys daily for money & cash.
Online Surveys for Money with 24 Best Websites
There may be hundreds of sites that offer paid online surveys for money to Americans, but most of them are not legit.
However, we list here the 24 best survey websites where people from the USA and other countries like the UK, Canada, Australia, Singapore etc. can signup and earn regular extra income by completing paid surveys in part-time.
Note: You can signup for these sites only if you live in the USA. You can refer to this Survey site's link if you live in other countries.
1. ySense: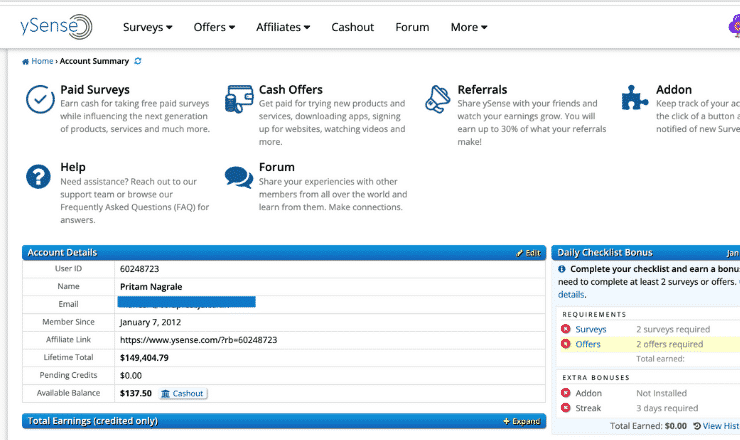 ySense is one of the best survey sites for money, with many surveys for people living in the USA. I have worked on this site for the last seven years and made $149,000+ from this single survey site.
You can do regular surveys daily and get paid $1 to $10 for each survey.
There are many other fun ways to make money from ySense. You can easily earn $300 to $1000 per month with ClixSense alone.
I have written a detailed post on ySense here that will guide you on making good money with surveys and other simple ways with ClixSense.
2. Swagbucks:
Swagbucks says, "put cash in your wallet."  All you have to do is take online surveys. The best part is that you get bonus points here even if you don't qualify for a survey. Get an instant $10 bonus as you sign up. It is one of the best survey sites, with over 20 million members. They have paid more than 663 million USD to date. Also, they give out 7000 gift cards every day! 
You'll earn points, called SB points, where 100 SB is USD 1, and you can redeem as low as $3. Apart from surveys, you earn money while you:
Watch entertaining videos
Discover offers
Play games
Search the web
Shop online
Scan receipts for cashback
Enter swagtakes where you get a chance to win laptops, gaming consoles, etc.
3. Survey Voices:
This is a little different from the one above. Instead of conducting its own surveys, It directs you to the various sites with a variety of surveys matching your profile. It acts as a middleman between you and the research companies.
If you work 40 hrs a week, making $3/hr, you wind up with $300+ a month! Anyone and everyone can take up as many surveys as they want.
You can redeem your points for gift cards or cash. You're also suggested with insurance, free samples, work opportunities, and clinical trials.
Join Survey Voices
4. Make Survey Money
Registering takes a little longer than on other sites, but you get a $2 reward for signing up. Here, you'll have options of live surveys, and daily surveys, and offer walls and emails to make money.
It clearly shows you the time needed and the money you'll receive from a survey. You schedule your payments and either get a PayPal credit gift card or have a check mailed to you. Receive members-only discounts and cashback online shopping offers.
You can win $100 by participating in their daily poll and get bonus sweepstake entries by completing your surveys.
5. Zen Surveys
Zen surveys is a global website that is open to users worldwide. It has a reliable privacy policy, so you know that your information is safe with the company.
It sources surveys from other sites to find a survey that perfectly matches your profile. You might earn as much as $30 – $50 for completing a 30 min-1hr long survey. One of the cons here is the limited customer support provided by the company, but again, free money feels good!
6. Pinecone Research
Pinecone Research is owned by a market research company, Nielsen company, and this survey site is legit. They pay a minimum of 300 points ($3.00) per survey, and survey time usually lasts about 10-20 mins.
One of the perks here includes prior information about new products that hit the market. You influence choosing the products that reach the stores as they seek your input to develop new products.
They have a long list of FAQs that answer most of your queries. You can also choose between redeeming your points for either cash or exciting prizes.
7. Opinion Bureau
Opinion Bureau is a fast way to make money online. You've already earned $5  the moment you join, and you get a dollar for each verified referral. You could earn upto $10 for completing a survey and redeem as low as $10 in your account.
It's completely free with no hidden costs and offers 24×7 help desk support. Surveys are divided into 11 broad categories: governance, sanitation, lifestyle, fashion, technology, gadgets, etc. They guarantee your privacy, so you know your data isn't used to sell your products.
8. Survey Roundtable
Launched in 2013, they have completed more than 3 million surveys. The surveys are fun and cool and mostly pay you 1000 SRT points. The joining bonus is 3000 SRT points which are halfway to receiving your first reward!
Most reviews say that after you've answered the questions for 15-20 mins, the surveys are usually rejected, thus disqualifying you for compensation. You get a lot of points for joining and referring to the site, and your gifts can be chosen from 150+ popular national brands.
9. Life Points
Life Point is the world's largest custom research provider. They have paid 22 million dollars to the community in the last year alone. You can begin by earning ten life points as a joining reward, and occasionally, you get a chance to win smart T.V., phones, and tablets!
Their surveys are available in 45 countries and in 26 different languages. Apart from the surveys you can earn through games and quick polls. Their surveys cover a wide range of topics including vehicles, clothing brands, social developments, advertisements, etc.
10. iSurveyWorld
On average, they pay you $1 – $2  for a 10 – 15 min survey. So you can earn around $8 per hour. Rewards are measured in cash, and payments are made with PayPal.
There's a signup bonus of $5, and the minimum cash out is $25. Your rewards stay in the account for 12 months. The time you'll need to complete a survey is shown upfront. Their surveys are also available in Spanish so even non-English speakers can share their opinion about the products and services they use.
11. ZoomBucks
You can easily save and make some bucks here! Members are earning upto 20000 points in a day, and the most loyal ones make $500+ in a month by simply completing surveys. If you doubt it, they have a leaderboard and live feed, so you get an idea of how much users earn.
They have the most extensive catalog of gift cards and free cash rewards to choose from. There's something for everyone. You can encash $5  in your PayPal or save up to redeem $200 gift cards; the choice is yours!
In-game currency reward options such as Microsoft rewards, Roblox gift cards, steam gift cards, and more can be all yours.
Join ZoomBucks
12. Survey Junkie
One of the most popular websites on the net! Survey Junkie has a community of over 10 million members. They guarantee your privacy and are available on almost all devices. It's rated 4.5 on Trustpilot and is entirely legitimate.
You can choose to participate in one or both of their communities.
SJ opinion profile: You share your opinion via surveys in exchange for rewards. Here are three steps:-

Create your profile → Complete the survey → Earn points

.
SJ pulse download: Over here, you automatically share digital browsing behavior in exchange for rewards.

Download SJ pulse app → Stay active for a month → Qualify for exclusive surveys and prizes

.
You can earn $1 – $3 on average with surveys and redeem the amount after it reaches $5. With every 100 points, you earn a dollar. You won't get rich here but can certainly make some extra cash. Apart from this, you can participate in paid focus groups where one can earn upto $150 in just one hour!
13. InboxDollars
Collect your $5 bonus for just signing up! Inboxdollars stand out because you don't earn points. Instead, they pay you in real cash.  $50 million have been given away to its happy customers since 2000. Most surveys are priced between 0.5 – 5 USD, but some pay $10 – $20 or even more.
Apart from surveys, you can earn by watching videos, playing games, reading emails, shopping online, and receiving coupon cash rewards. It partners with popular brands like Netflix, Target, Walmart, and H&R block.
14. Branded Surveys
Branded Surveys is a legit company with over 2 million members and has paid close to 23 million dollars altogether to their community. While signing up, you have to answer a few questions, and you will receive email notifications for the surveys you qualify for.
Once you collect 500 points, you can choose your gift cards or get the cashout. Spread the word between your friends and family to get the referral bonus.
All you have to do is 1. Signup & Register → 2. Start Survey → 3. Complete Survey → 4. Get Your Cash.
15. Toluna
This an exciting page where you can answer paid surveys and create your own! You're welcomed with 500 signup points, additional 1000 points for completing your first survey, and earn 50 – 50000 points with completion of each survey, depending on its length.
You can create your own polls for a topic you want to post a "thumbs it"  where people can show a thumbs up or a thumbs down, or you can create a battle to compare two things and let the community make their choice.
Your answers can influence brands like Kellogg's, Coca-Cola, L'oreal, Fiat, Amazon, and Expedia.
16. Inboxpays
Perhaps the only site that post mails your reward check. They pay you hard cash for completing surveys and reading emails. More than $2 million are earned by their community to date.
You enjoy coupons, discounts, giveaways, and some extra points as a referral bonus. You get paid by the 1st and 15th of every month via post mail or electronic payment with PayPal.
17. Mypoints
The site is raining discounts and points! Members get upto 40% off at every purchase with 2000 top retailers like home depot, best buy, Walmart, and Amazon.
With a $10 joining bonus, it makes a decent first impression. Later on, you earn between 50 – 600 points for completing a survey, 5 points for every ten profile questions, upto 25 points in a day for not qualifying in research, and another 25 points for referring it to friends.
Earn points with every purchase you make by following the links they provide for shopping. You get alerts in your browser for point-earning opportunities and coupon codes as you shop online. Get discounts with Amazon, Starbucks, Walmart, and Target.
18. Nielsen Computer Panel
As soon as you sign up, you're rewarded with a $5 bonus. Nielsen combines your unique internet usage with people like you to understand internet behavior. You can help to improve the products and services you're using online by participating in these surveys.
The company gives out gifts worth $10000 a month,upto $50 in points for gift cards, and so much more.
It's been in the field for over 90 years in over 100 countries. This is one of the most prestigious companies for online surveys.
19. Ipsos i-Say
Founded in Paris in 1975, " i-say surveys"  is one of the best sites to get handsome rewards. Most surveys give you 45-90 i-say points, but some could reward as much as 300 or even 500 points. You get 5 points for simply trying and 100 for referring it to people you know when you don't qualify.
Apart from this, there are frequent contests with 10,000 winners and a daily prize wheel with 100 winners every day!
You can redeem the points to PayPal or get gift cards from Amazon, Walmart, Burger King, Sephora, home depot, or the i-say market.
20. Our free Rewards
This less popular site can prove to be a boon for you! Yaa, you read it right! You can qualify for many surveys with few people to the crowd here, and they won't get full within a few minutes.
You can earn upto a $100 gift card for Target as you answer their questions about baby, beauty, health, household, etc.
21. NCP Mobile: shopping rewards
This is a grocery shopping app where you take surveys to convey your purchase information. A mobile app where you scan barcodes of the items you shop for and enjoy cashbacks, gift cards, or reward points.
It's rated 4.3 stars on google play. Your rewards can be redeemed with brands like iTunes, Google Play, Amazon, Groupon, etc.
22. Survey Soda
This is a newbie. It offers you refreshingly fun and engaging surveys. You will be periodically notified about available services. The site introduces you to products not commonly found on other sites.
It partners with the top survey companies like Ipsos, Nielsen, Opinion Outpost, and Harris Interactive.
23. Product Report Card
As the name suggests, the site asks for your reviews on different products. You can state your review on products related to Kitchen, Bed, and Bath or Fitness and Sport.
They have a high survey payout, but reviews state that you won't qualify for many surveys. You need a minimum of $25 before you can cash out.
24. Surveys2Cash
Another site that'll direct you to the surveys best suited for you. This site began as a paid one but now gives you a free membership. It pays in cash and not with points.
A regular user can earn upto $200-$300 per month by spending 1hr per day. On average, it pays $1 to $5 for each survey you take. You can encash your points via PayPal or get gift cards from amazon.
Conclusion:
These are 24 excellent surveys for money websites. You can get paid around $500+ monthly to take online surveys if you work 30 minutes daily on a few sites.