There is no doubt craigslist is one of the biggest classified website on internet. I am personally using it for years for variety of reasons other than buying and selling. One of the other reason is making  money with Craigslist.
Recently I tried to sell some of my old stuff  but unable to find good buyer on craigslist so I started to look for other sites like Craigslist. To my surprise, I sold my stuff at higher price on one of such classified website.
As I used to sell my old stuff frequently, I tried to test other Craigslist alternative and I found many of such alternatives better than Craigslist.
One of the main reasons can be competition. There are millions of buyers and seller on craigslist so sometime its difficult to get good response on craisglist.
In that case, you can try other sites like craigslist.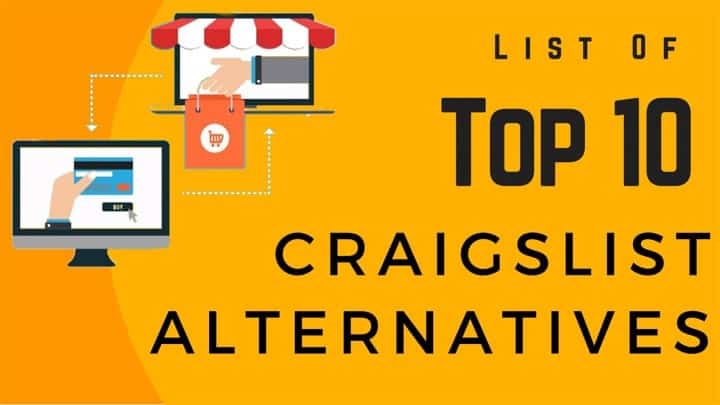 11 Best Sites like Craigslist
All websites listed have very strict policies about content you can post. Any post deemed objectionable, obscene, vulgar or violating laws, website rules and regulations will be barred.
Users posting such content will be blocked from using these sites. Violators are also liable to face criminal action for any posts that contravene laws.
All websites reserve the right to deny posting any content it deems unfit, sans assigning any reasons.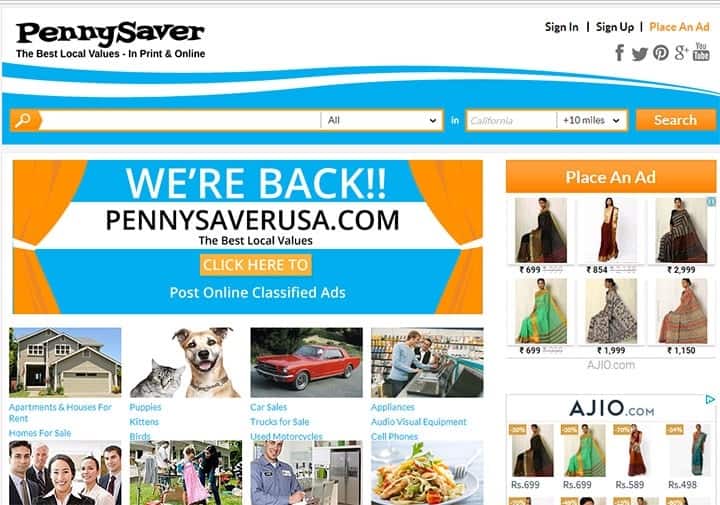 True to its name, Penny Saver actually allows you to save money. It is perhaps the top craigslist alternative and oldest community in the US for free classifieds.
PennySaver has been serving local communities for over 50 years.
"PennySaver is in the business of helping local businesses thrive through effective hyper-local marketing products and services. We are read weekly in print by California households and 24/7 across the United States on PennySaverUSA.com," says their website.
Placing adverts here is charged and payments are made through credit/ debit cards.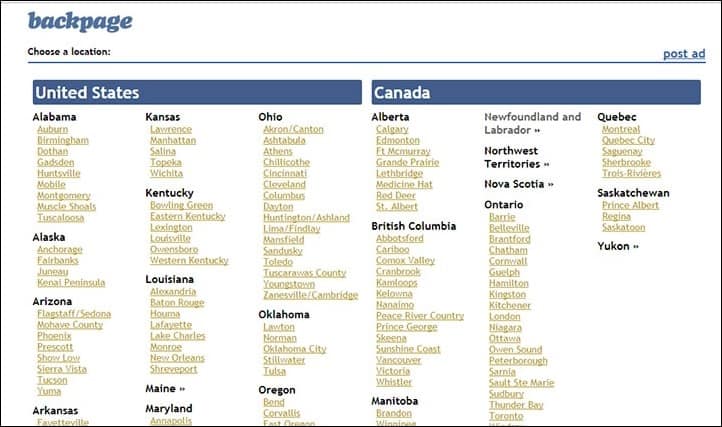 Naturally, you would want to get a first hand view of the product you are buying. BackPage make this possible: Indeed, it is a rare website that also allows you to post video classifieds, absolutely free.
Meaning, you can take a video of whatever you wish to advertize, such as a car or apartment for rent and upload on BackPage. Buy anything from anyone located anywhere.
This is also how this craigslist alternative functions. It features classifieds from some 50 plus countries worldwide.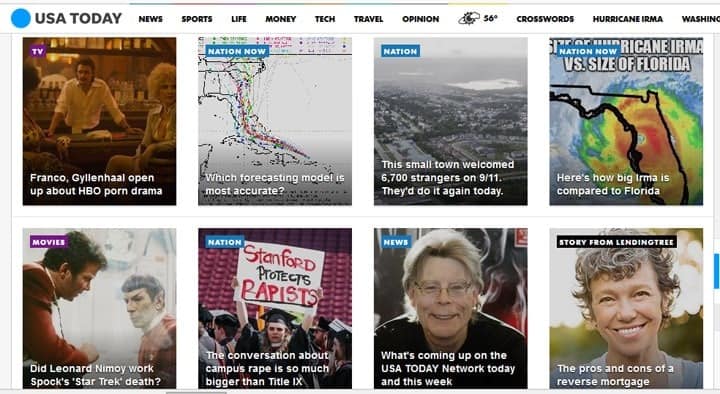 USA Today is a globally renowned newspaper & an excellent craigslist alternative. Indeed, it is the newspaper of choice for people of all nationalities.
The popularity of USA Today can be gauged from the fact that the print edition is given complementary to passengers of almost every major airline of the world.
USA Today's eponymous website is also one of the topmost worldwide. Consequently, it has an excellent classifieds section that is available online.
Indeed, a lot of stuff from foreign countries is available on USA Today classifieds.
The media house charges a nominal fee for its classifieds but if you are looking for the most superior coverage for your advertisement, USA Today is the right place.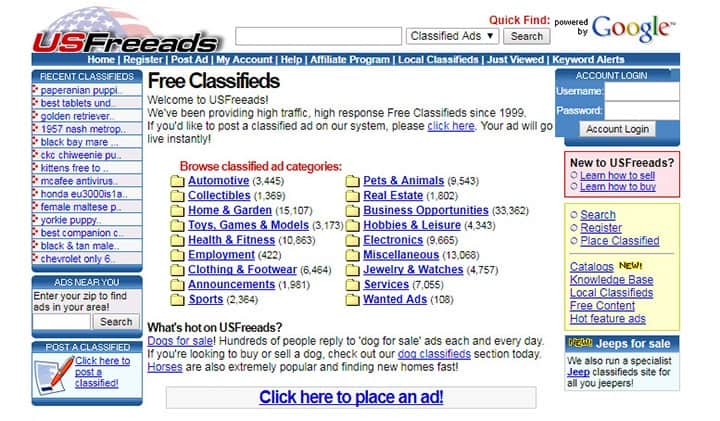 USFreeAds is another top site like craigslist in USA. It offers you three types of membership levels: Free, Premium and Gold. As a Gold member, you can post ads for only US$ 10 per year.
USFreeAds allows you to post advertisements in various categories such as seeking jobs or hiring, stuff for sale, automobiles, dating and community resources.
Additionally, you can also look for accommodation, which is a great resource for those relocating to other cities in the US.
USFreeAds also has an affiliate marketing program. For every person you introduce to this portal, you are offered an incentive.
The website claims, its affiliate marketers can earn up to US$ 1,500 per year through its referral and affiliate marketing program.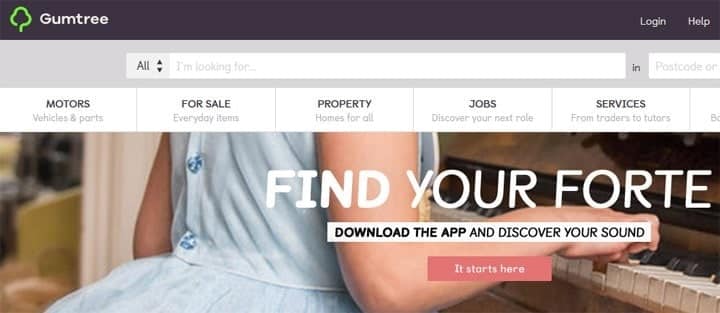 Gumtree.com is one of the leading classifieds websites like craigslist. It was founded in the UK but over the last 17 years, it has spread its wings to USA, Australia, South Africa, New Zealand and Singapore.
Plans are also afoot to open dedicated Gumtree websites for other countries and regions of the world. Gumtree's UK site is the most famous.
It claims to receive some 10 million visitors every month and has over 2.5 million products listed. You can buy anything at Gumtree, from cars and other automobiles to old books, mobile phones and furniture.
Additionally, Gumtree offers classifieds for home rentals and job listings too.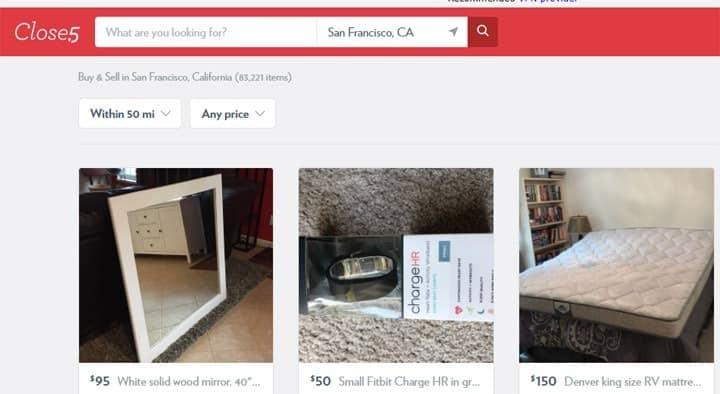 Actually, Close5 is a giant of the classifieds website community. It is owned by the e-commerce bigwig, eBay. This Craigslist alternative is available primarily for US users only, due to export regulations.
However, this is a great website if you are looking at selling of buying pre-owned stuff of any sort. Close5 is rather unique because it offers an app.
You can use this app to advertize your wares, arrange meet-ups and broadcast messages within a group or community.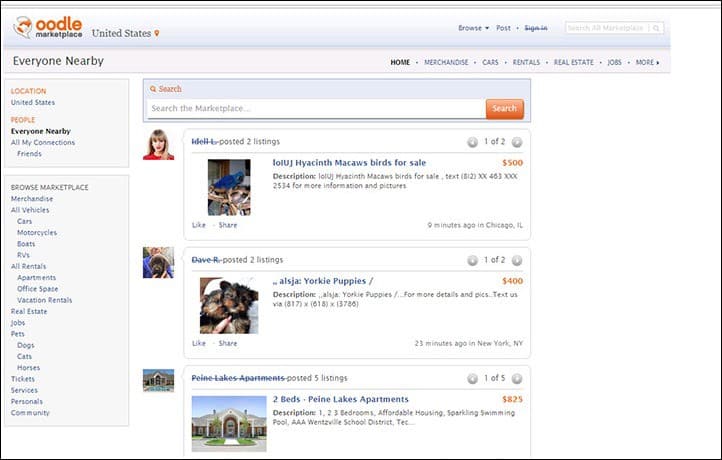 Also called the Oodle Marketplace, this web portal combines the features of a website and social media platforms to ensure you get the highest possible reach.
Oodle operates in various countries and membership is free. Oodle boasts of having some 15 million unique visitors to its web portal every month.
Here, you can buy and sell automobiles, look for jobs of various types, search for services and find some of the best deals in the marketplace.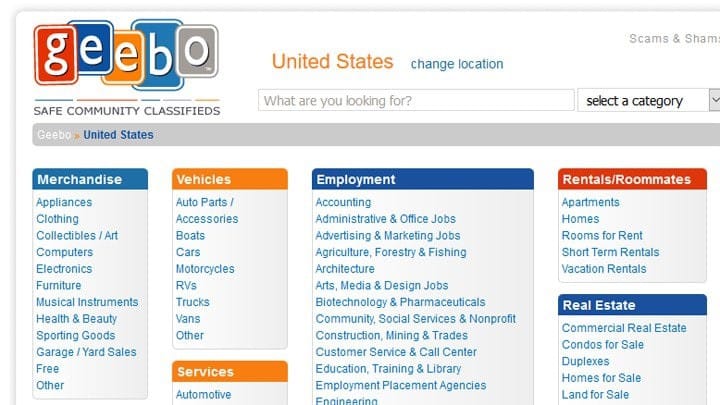 Geebo is a place for people in America to buy and sell used items as well as post job announcements.
"Beyond the online classifieds, however, Geebo created a sense of community for all who visited through their clean design, open forums and genuine interest in their visitors.
People shared their experiences and knowledge, asking questions, getting answers and being truly connected to others in their area.
Geebo succeeded in connecting individuals in a medium based upon disconnection," says its website.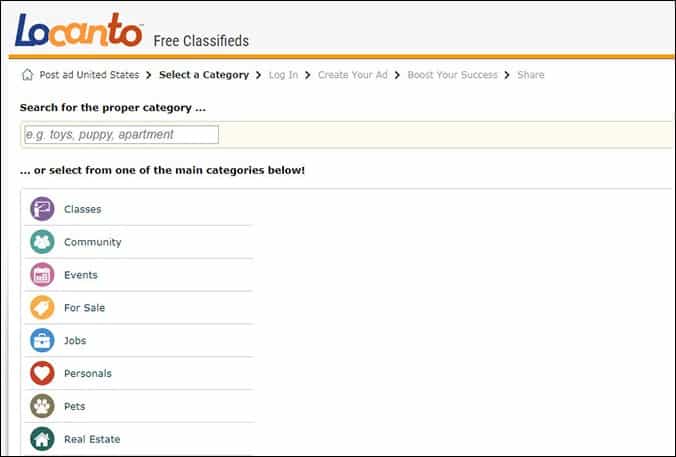 Another popular US classified website like Craigslist. Registration and access to classifieds here is free.
However, you need to pay a small fee for your posts if you wish to target them to a specific audience or want a premium service such as topmost position in the list.
At Locanto, you can do several things. Posting classifieds on Locanto is very easy. You need to register by providing some basic details to become a member.
Classifieds you post on Locanto are retained for 60 days. However, you have the option of posting the same advertisement again, after this period has passed.
Locanto also allows you to post pictures and provide a hyperlink to your website or social media page.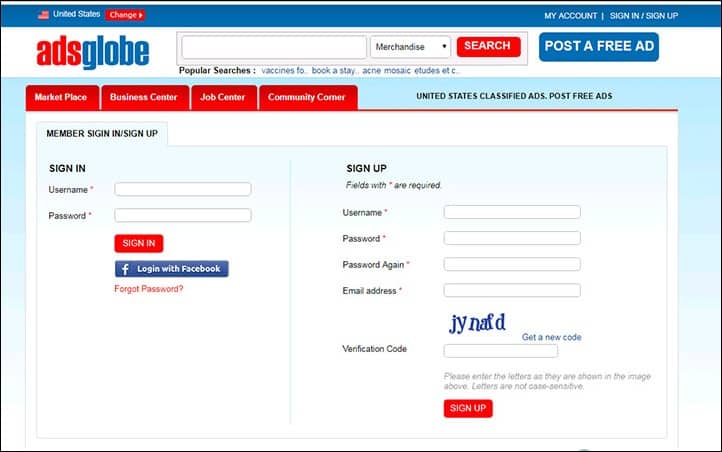 The name clearly indicates what this web portal does. It facilitates buyers and sellers located in 150 countries to interact, sell and buy directly.
You may be selling some household stuff or some industrial equipment made by your firm. Everything sells and can be bought at Ads Globe.
There are no dues or fees for registering at Ads Globe. Premium services for businesses however attract a nominal fee.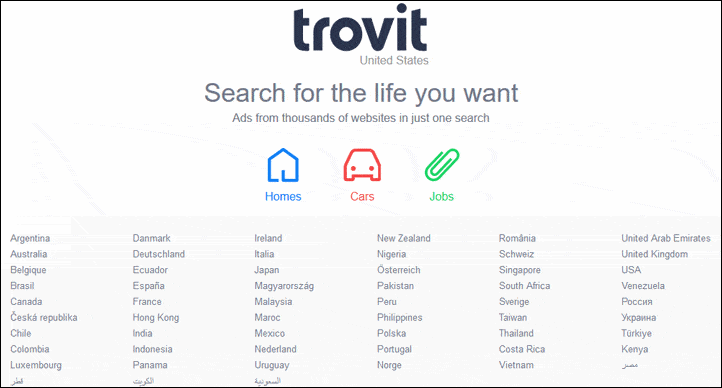 One of the most popular classified sites all over the world & an excellent alternative to craigslist in USA.
One can find 3 main categories at Trovit: properties, cars & jobs. You can post regular as well as premium ads on this classified website.
Trovit is equally popular in 50 other countries including UK, Canada, South Africa etc.
Before you advertize online
Understandably, there are several precautions you need to observe before you advertize online. There are instances where people selling perfectly legitimate products have had their ads taken off.
Worse, their membership was abrogated, causing minor financial losses too.
Before you post any advertisement on craigslist or other websites like craigslist, determine whether it is permitted by the owning company.
For example, some American states have relaxed gun laws while in others, buying a firearm off the shelves is impossible.
Remember, people post almost everything for sale online. There are also instances where people have offered themselves as slaves. Young women have sold their virginity online.
Yet others were found soliciting clients for their vital organs including kidney and liver parts.
What can be legal in your country can be illegal elsewhere. Before you sell or buy anything on any classifieds platform, ensure you are in compliance with local and international laws.
Failing to do so can land you in serious trouble with national and international laws.
Beware of frauds
Frauds and cheating is rife on websites for classified ads. For example, you may end up giving your credit card number and personal details to some unscrupulous person masquerading as a genuine seller.
Or you may end up buying something that appeared great on the website but got cheated when the item was delivered.
Indubitably, craigslist or its alternative sites are here to stay. The net worth of this industry runs into billions of dollars. Understandably, cheaters and fraudsters will want to cash in on this rather vulnerable e-commerce platform.