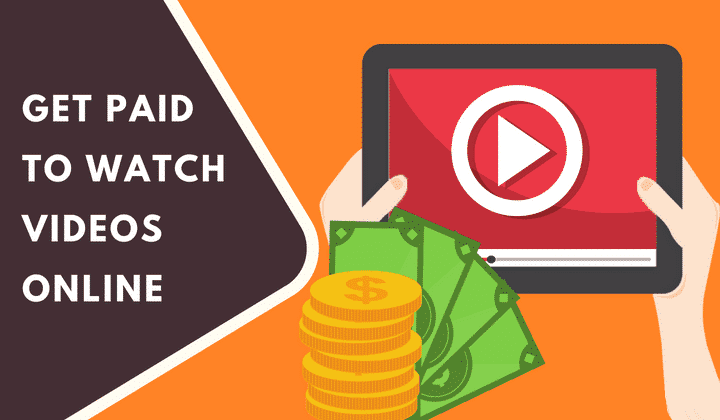 We all love watching TV and movies – many of us are addicted to watching online videos. But what if I told you that there are ways you could make easy money for this fetish of yours?
Sounds crazy, right.
But it's true! You can get paid by watching videos – the more you do, the more you will earn.
Still, sounds too good to be true?
While, for the most part, this is considered as one of the best part-time jobs online to earn some extra cash, there are opportunities online that pay a lot better – which you could consider doing for longer hours or even full time.
Below is a curated list of 21 apps and websites where you can get paid in cash or gift cards.
So go ahead and take your pick & get ready to earn some handy $$$, lying horizontal on your favorite couch.
21 Apps or Websites Sites to Get Paid to Watch Videos
Netflix is one of the best ways of getting paid to watch movies and other videos online.
This popular video streaming service hires people referred to as taggers to keep its programming cutting-edge. Their only job – as the title suggests – is to watch Netflix shows, specials, and movies and make money online by tagging them suitably with accurate metadata.
These tags make it easier for Netflix viewers to search for specific content based on their favorite categories or stuff they may have seen and liked before.
Mind you, positions in this category are extremely rare and posted on the Netflix job board as and when they are available. But if you like to binge-watch Netflix content and know what looks great together – it might just be the right job for you.
One of the easiest ways to earn money by watching videos is by Nielsen.
This well-known media company has its eye on what Americans watch on their computers and mobile devices. Nielsen Digital Voice gives US families the chance to tell the world about their viewing habits – by downloading the Nielsen app.
So not only do they get to watch their favorite shows to their heart's content – but they also get paid for it with monthly cash prizes.
Interestingly, there is no formal application process, and most families get selected at random. So keep your fingers crossed and your hand on the mailbox – because you just might be receiving your invitation in the mail.
Also Read: How To Make Money ON YouTube- An Ultimate Guide
Another video application to get paid to watch videos online is with National Consumer Panel/Cross-media.
These organizations are also known to occasionally hire people to watch videos and television – to track the average media usage via their mobile app. Companies then use the data to adjust their marketing strategy wherever necessary.
The payout doesn't usually exceed a couple of hundred dollars per year, but the work is exciting and lets you make some good money in your bank account at the end of the day.
Available on both Google Play and the App Store, this app awards you points for watching various movies, promos, videos, and music videos – which can then be redeemed for either cash or gift cards.
This is one of the excellent ways to get paid to watch movies, Ads, and many other types of videos.
It's a unique way of knowing about the latest releases – even before they release – and you can do it from anywhere using your Android/IOS device.
Another better option to watch videos and earn money online quickly is with Perk TV.
At the onset, there are different apps on offer here. Users get to earn – Perk Points – by watching videos, TV clips, taking quizzes, and a lot more. You can also make a small bonus by watching promotional ads or specific videos.
Once you have a tidy collection of Perk points to your credit, you can get them exchanged for cash or a gift voucher.
FusionCash allows you to get paid to watch videos in movies, Ads, trailers, and many more. For starters, you get a straight $5 – just for signing up. You also get paid for clicking ads, listening to music, and referring your pals.
You need a minimum of $25 to your credit before you can cash out, but with a plethora of offers for new joiners that should be a cakewalk.
Available on both the App Store and Google Play store, the MyPoints app is used to watch videos to earn gift cards and cashback from retail brands.
However, you can also earn by watching fun videos (500 points per day) and playing online games (gain 10 points per dollar). There is also a chance to win an incredible $10 bonus on reaching your first $20.
Payouts are in the form of gift cards and PayPal cash.
This is one of the most popular money-making apps due to its sheer versatility. Not only do you get a chance to win cash by watching online videos, but you can also make money by taking surveys. Also, you earn money by playing games and even shopping online.
Every task that you complete earns you points that can be redeemed for cash prizes, earn PayPal money, or a gift card of your choice.
If you're in the mood to make a $5 sign-up bonus and earn some easy cash by watching videos, then this is an excellent choice.
Mind you, you can also earn rewards by completing other simple tasks like – taking surveys, reading emails, and trying out free-trail offers, among others.
Reading emails and watching videos online is recommended to make the most money from this rewards site. Try it and see how it works for you.
It would help if you were at least 13-years old to be eligible to join this site for free, and preferably from the US. But they also accept people from other English-speaking countries as well.
Referrals are the best way to make money by watching videos; you get 20% of what your referrals make on this site. Watching videos regularly can also net you a cool $20-50 extra per month.
Payments are made automatically, usually at the start of every month and mid-month.
11.
EarningStation
It's best known for its referral programs, where members get to keep about 10% of the cash made by their friends – for life.
Wait, there is more; you also get to pocket another $5 if your friends make $5 – in the same month itself, and there is that extra $10-bonus if you sign up for any 5 of their partner sites.
Plus, you get paid by watching videos, playing games online, taking surveys and shopping online
This free-to-use app works on a points and cash payout system. But while you can exchange cash for points, vice-versa is not permitted.
Moreover, points can only be redeemed for a $50 Amazon gift card (currently available for US members) or products available on the Amazon website.
While it may not pay as well as some of the other sites on this list, you can still earn by watching videos online a decent $20-30 per month. You will also be credited a bonus of 250 points (worth $2.50) on signing up.
Do you enjoy watching videos, completing surveys, shopping online, or merely browsing the Net? If so, you stand a chance to win points by downloading this app and doing just that.
In return, the site pays you with e-gift cards (choose from 350+ gift cards) and e-checks (presently available via email to members from the US, Australia, Canada, and the UK) and PayPal reward redemptions (for Canada, UK & US).
You also stand to receive a bonus of 10 points for each valid and confirmed referral signup from the U, UK, Australia, or Canada.
This site is a free loyalty program open only to US, UK, and Canada residents. The site features multiple ways to earn money by watching videos, completing surveys, indulging in online shopping, and playing games online
In keeping with its name, the site claims to process PayPal payments for as little as a penny within 72 hours or gift cards starting at $5 within a week.
This site offers its worldwide members the chance to win unique virtual currency or Hulk Coins by simply answering surveys; you even get paid to play games, watch videos, and browse the Net.
Members can also earn a bonus of 5000 Hulk Coins for bringing in new members. Also, an additional 5% from their earnings when they win Hulk Coins by completing offer walls, offers, surveys, and GiftHulk TV.
Coins can be redeemed for gift cards from top retailers like Walmart, Amazon, Macy's, Lowe, and Steam or PayPal cash.
With one of the most extensive rewards programs, this free mobile app rewards you with points for completing simple tasks. It is an excellent opportunity to get paid to watch videos take surveys even refer your friends.
Upon registering, you have the option of entering an invite code – if you do – you will be credited with 500 points instantly. Want to earn more points? Check out their download apps section – it tends to pay a lot more.
You can use these points to redeem lots of awesome rewards in the form of gift cards and cashback. This includes a selection of 100s of gift cards, or you can opt for a cash output via PayPal.
In Conclusion
For people who spend a large part of their day online, registering with these apps to watch visual content can be a great idea – to make some extra cash.
Not only watching videos, but you also get paid for completing surveys, reading emails, or simply downloading apps
However, the best part is that there is no limit to the number of apps you can register on, which translates into a lucrative earning opportunity even for those with a regular job.