Every craftsperson wants to showcase and sell their creations to a niche group of people that love unique stuff. The same holds true for people that like to buy unique things either for self or as gifts. Then we also have sellers and buyers for vintage and other rare things.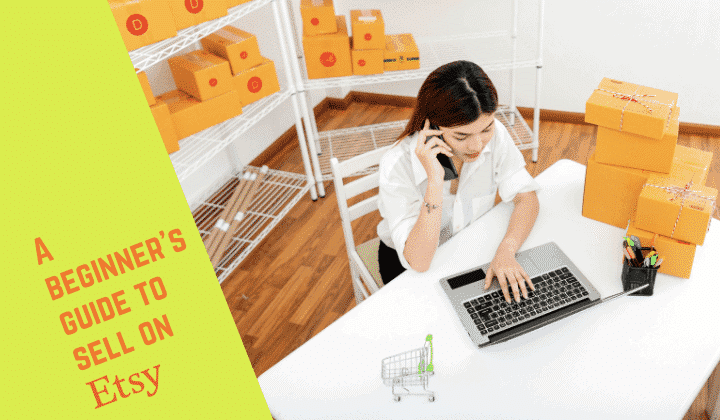 For such persons, Etsy provides the best meeting point. Because Etsy is a marketplace where people can sell and buy unique, rare antique and vintage things as well as handcrafted products. And get the money they deserve for such stuff.
Therefore, let's understand a little more about Etsy.
Basics of Etsy
The best description of Etsy comes from the company's own website. It say: "Etsy is a global marketplace for creative goods. It is home to a universe of special, extraordinary items, from handcrafted pieces to vintage treasures."
Etsy is indeed unique. It has over 2.5 million sellers and cater to 39.4 million buyers from 200 countries, says European statistics portal, Statista.com.
By the June 2019, some 62 percent of all sellers were from the US followed at second position by the UK at 13 percent. Canada and Australia also have significant number of sellers on Etsy, according to Statista figures.
In 2019, Etsy accounted for $4.97 billion worth sales worldwide, netting the eponymous company, Etsy Inc., a total revenue of $275 million.
Though these figures might sound trivial compared over those of other online sellers such as Amazon, it's worth remembering two points. Firstly, Etsy doesn't sell anything directly: instead, it provides only a paid marketplace for craftsperson and owners of vintage stuff to display and sell the stuff.
Secondly, Etsy caters to a very niche market, unlike common, online retailers. Hence, buyers on Etsy are generally people that're looking for unique stuff instead of the typical run-of-the-mill products.
If you're a craftsperson or have vintage stuff, Etsy allows you to sell at your price. There're no lower or upper limits for pricing your stuff. Furthermore, Etsy also enables a craftsperson to get orders from clients who require things made to their individual specifications for uniqueness.
In fact, countless people from around the world that've no other source of income are making lots of money selling homemade and handcrafted goods on Etsy.
If you're also a craftsperson or have something that's rare or antique or vintage, you too can make a lot of profits by selling on Etsy.
Selling on Etsy
This brings us to the million Dollar question about how to sell on Etsy? In this article, I will discuss all the nitty-gritties that go into opening a successful Etsy marketplace, regardless where you live.
Research Etsy Handmade Sellers 
Research various sellers on Etsy, if you're selling handcrafted goods. You'll find marketplaces on Etsy that either go by a brand-name given by the owner or on the name of the craftsperson.
This gives you a good picture of the price that you can sell your handmade items. Observe closely, how these sellers are pitching their products. And also study marketplaces selling made-to-order stuff.
The knowledge you get from this research would help you select the type of niche, marketplace, pricing and other essentials, which I will discuss further in this article.
Curate Your Antiques & Vintage Stuff
And if you'll be selling antiques or vintage items, get the stuff curated and evaluated. This can cost some money. That's because curators aren't easy to find and the people in this profession get lucrative salaries.
Hence, this step can prove a bit difficult to some people, if they have no clues about the market value of their stuff or haven't used curatorial services earlier.
There're two excellent ways to get your antiques or vintage things curated. One is by hiring a professional freelancer by posting assignments on portals such as Upwork and FlexJobs.com.
The other is by asking for a curator from nearby antiques store to assess and evaluate your vintage and antique stuff. However, you'll have to pay for both services since curation is a very fine art by itself.
 Get Your Pricing Right
For antiques and vintage goods sellers, the pricing would be more or less depend upon the assessment of a curator.
This depends upon several factor such as overall condition of an antique or vintage artefact, furniture or other product, year of manufacture, brand value and rarity, among others.
However, for a craftsperson selling homemade or handcrafted item, the pricing works in an altogether different way. Remember there're no upper or lower price limits. Nor would you have much of guidance except for what you've seen while doing research over Etsy marketplaces.
Pricing Your Wares on Etsy
For a craftsperson selling handmade, homemade goods, fixing the price of your wares can prove tricky. Therefore, I suggest you to use the following formula.
Calculate the cost of the raw materials. Add to this, the number of hours you're spending on making an item. Then add the costs of listing on Etsy and service fees to get your money from Etsy account as well as other fees that come with the marketplace.
Let's assume your raw materials cost is $100. And you've spent 16 hours on creating something. If you would get $19 per hour, multiply that by 16 hours. We come to the figure of $404, including the raw materials.
Now add the $0.20 per product listing fees, five percent sale fee and five percent fee for transferring your money from Etsy to PayPal. The amount would work to a staggering average of $450 per item.
Obviously, few sellers would be willing to pay $450 for something simple as a handwoven quilt. Therefore, we need to fix the price more rationally.
You can arrive at a proper cost by calculating the cost of the material, $100. Pay yourself for creating that item- say $25 and add the $0.20 Etsy listing fee, five percent sales charges and five percent Etsy to PayPal commissions.
The cost comes to just about $150 or one-third lower than the earlier calculation. 
If you're selling from outside the US or if you're an American seller who gets foreign customers, Etsy charges an additional 2.5 percent of your sale price as Currency Conversion Fees.
You can also opt to sell in retail or wholesale. If you're selling as wholesaler of quilts for example, you can fix a slightly lower price since the raw material would have cost lesser.
Superb Name for Your Marketplace
What's in a name, as the old question goes? A lot, in fact. Before you open a marketplace on Etsy, think about a superb name.
The name of your marketplace matters a lot when people search online for goods. As a rule, people won't be coming rushing to your online store to buy something. 
The Etsy marketplace name becomes your personal brand. Hence, think of a good name that's catchy, creative, signifies what you're selling. Remember, the name needn't really be easy to remember. 
Instead, it should aptly portray your personality. One of my favorite marketplaces has a very unambiguous name. It is known as Rose Hill Design Studio and operated by American illustrator and author, Heather Stillufsen.
Though Heather Stillufsen doesn't rank as the topmost seller on Etsy, her designs have a very niche following.
Create PayPal Account
I'm assuming you don't have a PayPal account. Therefore, before creating an online marketplace on Etsy, you'll need to create a PayPal account.
This is very simple. All you need to do is visit the PayPal website. PayPal has two main kinds of accounts. One is the Individual Account while the other, Business Account.
Open a Business account since you'll also be receiving payments from the US and abroad. You'll need proper documentation to open a PayPal account such as identity proof and tax number or Internal Revenue Code from Internal Revenue Service (IRS).
This is compulsory for opening a PayPal account that you can link to an Etsy marketplace. 
To get payments, the best thing is linking your PayPal account with your bank account. That way, the money directly goes to your bank. If you lose access to a PayPal account for any reason temporarily, you'll still have the money intact on your bank account.
Licenses for Antiques & Vintage Products
This isn't strictly a rule, but export of certain antiques and vintage products from the US or any other country requires clearances from concerned authorities.
That's because the antique could be of national importance or its export or import may be banned. Therefore, enquire with the local Customs authorities as well as antique dealers for accurate information.
Unless you have such clearances, selling an antique or vintage item to a local or foreign buyer is impossible. Worse, you might end up with charges of trying to sell antiques of historical, cultural or religious importance to a country or community.
Selling antiques made with parts of endangered animals, including ivory and shark-teeth, feathers and other stuff is also prohibited without due clearances.
Make Your Own Returns Policy
What happens if a customer is unhappy with the stuff you've sold? Like all online stores and marketplaces, the customer has a right to demand their money back or ask for replacements. Therefore, you'll also require a proper Returns Policy that takes care of the buyer's and your rights.
Etsy specifies that each online shop on its platforms is responsible for its own Returns Policy. Etsy doesn't have a blanket Returns Policy, which makes it very important to have your own and display properly on your marketplace.
That's because an unhappy customer can file a case against your online store with Etsy. Or they can also seek redress through legal channels, which could cost you a lot of money.
Create an Etsy Marketplace
Upon arming yourself with the price of your goods and a good brand name, the next obvious step is to open an Etsy marketplace. There're two ways to do so. The first is opening a free marketplace on Etsy.
This is known as Etsy Standard. It entitles you to certain free, basic services while those such as Etsy Ads, Etsy Patterns and Etsy Labels come at a nominal fee.
The other is Etsy Plus which comes at a subscription of $10 per month. This gives you 20 free listing credits, $5 Etsy ads credits and a few other benefits. For example, clients can request restocking, custom web address through Hover and advanced shop customization, among others.
The decision to go for an Etsy Standard or Etsy Plus account is your discretion. Both have own advantages. However, as a rule, most first time sellers on Etsy opt for the Etsy Standard plan while upgrading to Etsy Plus when the really need to propel the store to make massive profits.
What You Can or Can't Sell
There're no set rules about what you can or cannot sell on Etsy. That's because Etsy marketplaces have to comply with local laws, rules and regulations in force.
Some of the bestsellers on Etsy includes home décor, personalized clothing and gifts, graphic arts and paintings, ethnic showpieces, craft kits and art sets, crochet items, antique furniture and vintage art, unique gift items and handcrafted gold, silver, platinum or costume jewelry.
In compliance with American and other laws, sale of tobacco products, weed and other narcotics and psychotropic substances, Shamanic or non-traditional medicines, pictures depicting porn or vulgar nudity, liquor and books or literature deemed objectionable in any manner, explosives and fireworks aren't allowed. Check the local laws for sale of such items.
There're also some restrictions on promoting Multilevel Marketing (MLM) or direct marketing products from an Etsy marketplace. That's because most MLM companies don't encourage online sales.
However, this clause is a bit ambiguous: during the Covid-19 pandemic, MLM companies were forced to allow their associates to use online marketplaces due to need for self-isolation and social distancing. 
However, as a rule, Etsy doesn't allow MLM products for sale because they're not handcrafted.
Tie-up for Inexpensive Shipping
Generally, the buyer pays for shipping when they buy stuff over Etsy. However, every buyer generally looks for economical shipping rates. Like any other online shopper, paying for the delivery is a major concern.
Hence, the best thing to do is tie-up with a shipper, where possible. As online retailer, you can get preferential rates from various courier companies.
While selecting and finalizing the shipper is purely your choice, you'll find rates provided by the United States Postal Services (USPS) very attractive. For parcels, they have various options that you could consider.
They also offer special rates for bulk shippers, in order to encourage business. And advantage with USPS: they're cheaper and deliver across all US ZIP codes as well as abroad. Additionally, you have the advantage of online shipping too.
Use Free & Paid Apps for Marketplace
Before or even after you open an online marketplace on Etsy, use some of the superb free and paid apps. These apps help to automate the entire inventory, selling, tracking and accounting processes, editing of picture, data analysis and much more.
In fact, investing on some of these apps would create a pleasurable shopping experience for the seller and save you lots of hassles that come with running an online marketplace.
SEO for Your Etsy Marketplace
Search Engine Optimization (SEO) of your Etsy store helps to increase its visibility and get more clients. Follow some of the superb SEO tips such as inserting proper keywords in description of your store and products as well as picture captions. 
Finding a good theme to create the Etsy store combined with SEO and other digital marketing techniques such as Social Media Marketing and email marketing helps you to sell better on Etsy.
If you're unable to perform SEO process by own, you could enlist the assistance of a freelancer for limited periods only.
Create a Blog
You might wonder why I'm suggesting you open a blog for selling on Etsy. Research indicates that 70 percent of consumers in America place their trust in blogs compared over advertisements by companies.
Additionally, between 60 percent and 80 percent consumers read blogs during the early phases of buying something, before taking a final decision. These figures properly highlight the importance of a blog for any online business, including an Etsy marketplace.
Blogging isn't complicated or the proverbial rocket science. You can learn blogging by reading any good online tutorial. In fact, blogging on its own merit, helps you make money too.
Go Social on Facebook
Almost every seller on Etsy has a superb presence on Facebook. There're several reasons to advertise your store through Facebook.
You can use the free resource known as Facebook Marketplace which displays your ads within a radius of 80km from your location. Or you could opt for the paid, Facebook Business pages. 
Going social on Facebook has several advantages. You can promote posts of your products for fraction of the cost of conventional advertising.
And Facebook posts are easy to share- meaning, people will share them with relatives and friend, if they're relevant and attractive. You can also sell through a Facebook Marketplace that complements your online Etsy store or through Facebook Business.
Create Killer Profile on LinkedIn
Create a killer LinkedIn profile for yourself as craftsperson or antique seller as well as your Etsy marketplace. This helps to reach more and more people while taking your Etsy marketplace to a newer, higher level. 
On your personal LinkedIn profile, clearly mention your credentials as a craftsperson, including relevant educational qualifications if any, work experience and other important details. 
And for your store, create a LinkedIn profile that describes what your Etsy marketplace is all about. And get some testimonials from satisfied customers. Also create short posts about your products and upload them with proper pictures on your and the store's LinkedIn profiles.
Provide Affiliate Marketing
One of the best ways to promote your Etsy marketplace is by offering affiliate marketing. This means, offering a small incentive as commissions to bloggers who will write superb reviews about your products and sell them through affiliate links.
Affiliate marketing ranks as a superb channel to promote your products for free. Because, you'll pay only when the sale is successful. Furthermore, affiliate marketing opens up numerous sales and promotion outlets for your Etsy shop.
Creating Ads & Special Offers
Etsy provides the facility of creating ads and special offers. They give $5 worth credit for Etsy Ads if you're subscribing to Etsy Plus. They provide all subscribers- Etsy Standard and Etsy Plus a dashboard where you can create such ads and post.
You'll have to activate this feature and use their dashboard to make such ads for regular use and campaigns. You can decide on the frequency of these ads and how much you wish to spend on such campaigns for promoting and selling from your Etsy marketplace.
Email Marketing
While many digital marketers falsely believe that email marketing is something old and irrelevant, successful stores and businesses use it as a superb resource to promote their products and brands. 
In fact, email marketing is very economical and helps you target specific audiences only. 
Get visitors to your online store to sign-up for a newsletter or a product update. Inform these visitors and clients every time you have something new on your Etsy marketplace or launch special offers. 
Regular Market Research
Online surveys or market research helps you understand what people love to buy or what they'd like to see on your Etsy marketplace. Therefore, add market research on your schedule of posting products and content on your Etsy marketplace.
It helps you better understand customers. And clients get the opportunity to express their opinion or inform what they want from your store.
Wrap Up
Before concluding, I'll add that running an Etsy marketplace can prove to be a very enjoyable experience if you use the right resources and offer things that're in demand. Generally, most sellers stock seasonal as well as year-round favorites on the Etsy marketplaces. This ensures them a steady income all through the year. You too can become a successful seller on Etsy.