Over the years, PayPal has emerged as the preferred payment app and website for sending or receiving money locally or internationally. More than 286 million individuals and businesses use PayPal, which continues to grow.
However, for some reason, you might wish to have alternatives to PayPal. This can be for several reasons. If that's your case, try any of these best PayPal alternatives available worldwide.
At the same time, it's better to look for certain features while using a PayPal alternative. I'm listing these below.
Checklist for PayPal Alternatives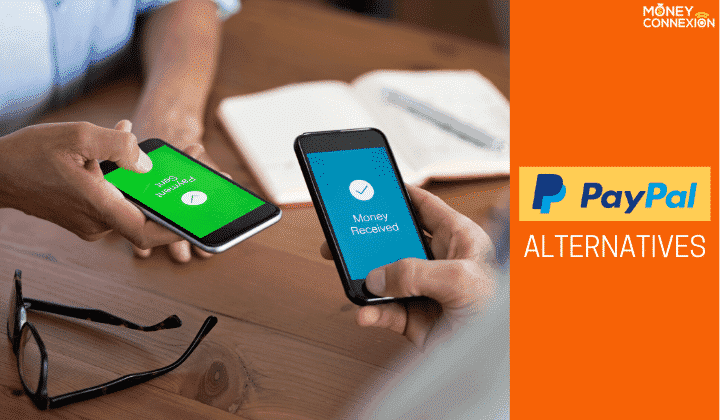 Ease of use is the main feature of PayPal that attracts people to this online payment system. If you're looking for the best alternatives to PayPal, use the following checklist before signing up for any of them.
Global acceptance: Not every PayPal alternative has global acceptance. They might not work in certain countries.
Transaction fees: PayPal charges 0.25 percent to five percent of the transfer amount as a transaction fee. The rate depends upon the nature of the transaction and the country. Check out transaction fees applicable in your country since these can affect your income or spending.
Minimum transfers: There're no lower or upper limits on the money you can send with PayPal. However, some PayPal alternatives don't allow you to send anything below a certain amount.
Remittance Speed: Usually, transactions by PayPal are completed immediately or within 48 hours, depending on where the money comes from and where it's going. PayPal alternatives might take as long as one week to complete the transaction.
Debit Card: PayPal offers virtual and physical debit cards in America and certain other countries. This is a MasterCard-branded debit card and can be very useful if you're using PayPal a lot. Check if PayPal alternatives also offer such a facility.
Usually, most people that have a PayPal account look for alternatives because they need a secondary online payment system. If you're one of these, check for the best PayPal alternatives I'm writing about now.
Best PayPal Alternatives
The features of each PayPal alternative vary. Therefore, I again suggest you read the various features before using any of these.
1. Google Pay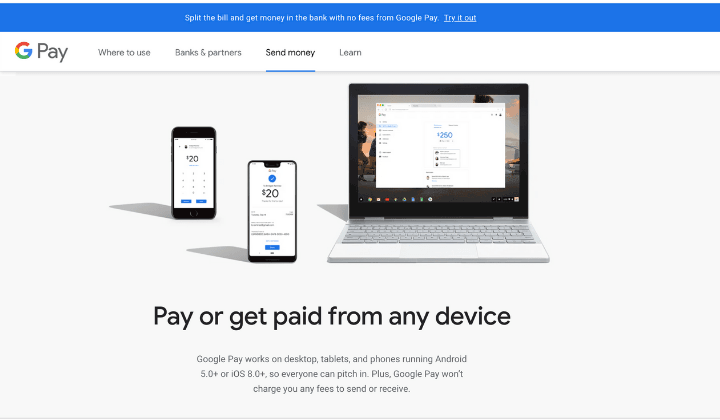 Google Pay is an excellent way to send and receive money. Currently, the cash remittance services on Google Pay is available only in USA and India.
Google is rolling out the service in other countries too. However, depending on where you live, Google Pay can prove useful while buying on Google Play store and other platforms.
Useful for in-store and online payments. It eliminates the hassles of storing passwords since Google Pay also has a fingerprint login. Integrates well with all online stores, PayPal, and its alternatives for seamless money transfer.
Pricing: Free to send & receive.
2. Skrill
Skrill allows you to send and receive money anywhere in the world. You can link a bank account and store debit card information, billers and other details for swifter payments.
Login is with your email ID and Skrill password. Skrill Wallet facility is also available at 1.45 percent, charged based on your monthly transactions.
The Skrill Wallet also allows storing money in any primary world currency for faster international payments. The flipside is Skrill charges.
Pricing: Skrill has various levels of charges for using its different features.
3. Payoneer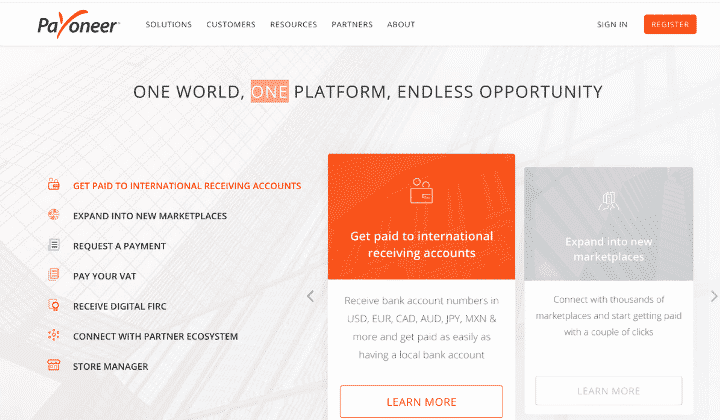 Payoneer is preferred by several buyers & sellers of freelance services, businesspeople, and merchants worldwide due to their relatively lower service fees.
Again, the rates can differ according to every country, but they don't exceed 2.5 percent of the transaction value. Payoneer, too works well in most countries of the world and provides easy connectivity to bank accounts.
Payoneer has close to 4.5 million users around the world. However, the features available depend on the country and its local laws.
Once you complete your first $100 transaction with Payoneer, then you will receive a bonus of $25. There is no signup fee.
Pricing: Payoneer has lovely pricing plans. You can check them here, according to your location and need.
4. Amazon Pay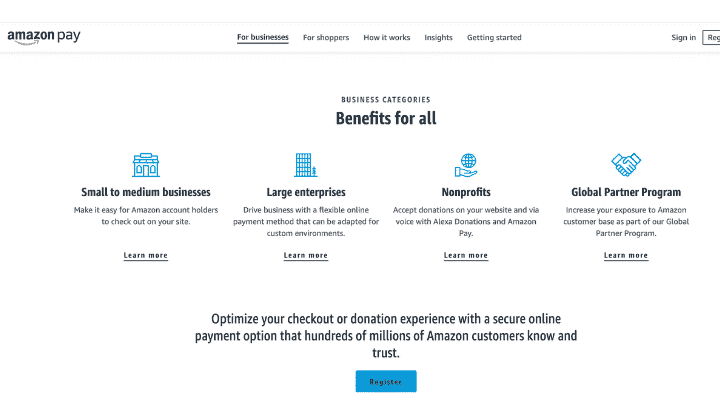 Amazon Pay is a relatively newer entrant on the scene. Despite this, it's fast-growing as the best PayPal alternative for several reasons.
Amazon Pay offers a host of features. This includes scan-and-pay using personal QR Codes, online payment, and in-store payments for merchants using the platform.
Amazon Pay is useful for merchants, charities, and shoppers. It integrates well with most ecommerce websites and dropshipping platforms. It's one of the few PayPal alternatives that use the web, mobile, and voice-activated payments.
Pricing: For US transactions: 2.9 percent of the transaction value plus three Cents. International transactions: 3.9 percent value of transactions. Disputed payment fees: $20 per transaction.
5. Dwolla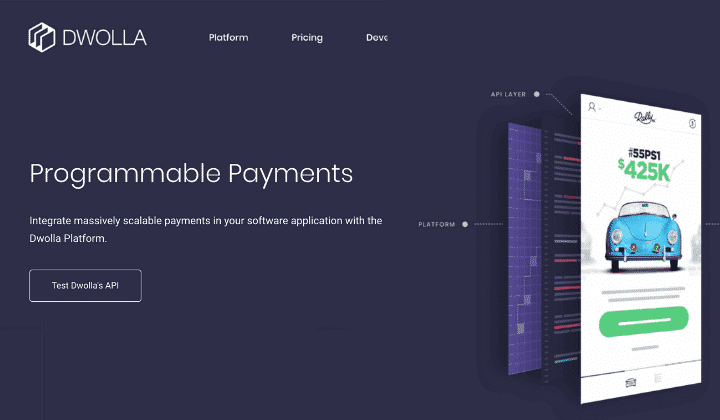 Currently, Dwolla works only in the USA and is fast emerging as the best alternative to PayPal among freelancers and merchants. Dwolla integrates well with all Verisign-certified payment systems and hence is very safe.
Dwolla offers the choice to make payments through web, app, wallet, and bank-to-bank or bank-to-seller, customer-to-seller and seller-to-buyer payments. Dwolla allows automation to send up to 5,000 payments simultaneously, which is a useful feature for dropshipping.
Pricing: Dwolla Basic plan is free of cost. Small businesses charge $2,000 per month, and larger enterprises charge $10,000 per month. Customized pricing plans are also available.
6. Facebook Pay
This might come as a surprise to many. However, Facebook Pay is now one of the best PayPal alternatives that you can find. That's because Facebook has over 2.49 billion users. Facebook Pay integrates well with every other payment app or website.
Merchants, individuals and freelancers can send and receive money on Facebook Messenger, WhatsApp, Instagram, and Facebook itself.
Ideal for all users, you'll need to connect it to your bank account or debit card to send and receive payments.
Pricing: Free of cost.
7. Truecaller Money Transfer
Truecaller, as we all know, began as a handy application that allows us to identify a caller. Thanks to its widespread popularity, Truecaller now offers Truecaller Money Transfer in the USA, India, and other countries.
Connecting multiple bank accounts with Truecaller Money Transfer is possible to send and receive money for individuals and businesses. It also integrates with Google Pay. If your buyer doesn't have Truecaller Money Transfer, they can still send money using Google Pay.
All you require is the telephone number of the person or business sending or getting your money. If they too, have a Truecaller Money Transfer account, you can remit or get money within seconds.
Pricing: Free of cost.
8. Neteller
Another excellent PayPal alternative is Neteller. In fact, Neteller has been around for quite a few years and is a fabulous website and app for sending and receiving money.
You can use it for getting or sending money anywhere in the world to other Neteller users. Their cash transfer and receiving fees are fairly low, depending on where you live.
Major companies worldwide use Neteller to send refunds of returns, pay cashback, and remit money to suppliers. It's also popular among smaller enterprises, freelancers and dropshippers.
You can send and receive money from businesses and individuals that don't have a Neteller account. However, Neteller doesn't serve as a wallet; the money is immediately deposited or withdrawn from your bank account.
Pricing: Free of cost.
9. Stripe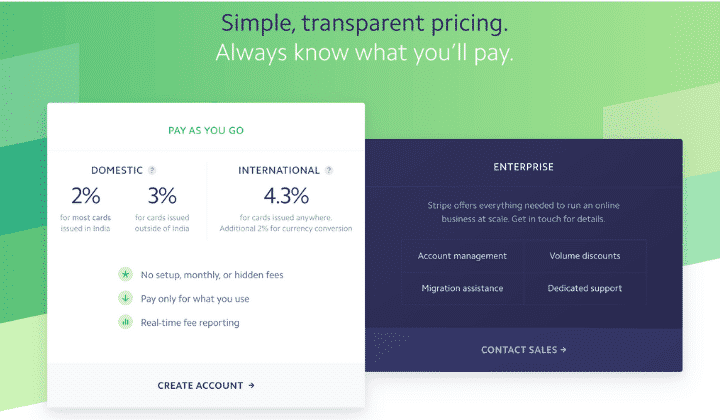 With over a million online stores and millions of individuals connected, Stripe is also a fantastic alternative to PayPal.
Stripe is fast becoming popular worldwide as e-commerce continues to flourish and more people look for online payment platforms, especially during the Covid-19 pandemic.
Stripe integrates very well with every other payment system and can be easily incorporated for online payments on ecommerce websites. They have solutions for small and large businesses, individuals, and large, global enterprises.
Pricing: The integrated platform costs 2.9 percent of the transaction charge plus 30 Cents under the 'Pay As You Go' plan. For customized solutions, prices are available on request.
10. WePay
WePay prides itself in being a payment system that matches well with the scales of JP Morgan Chase bank, its owners. It offers many solutions for merchants, small businesses, and individuals too.
However, WePay doesn't have a standard pricing policy. Therefore, you'll need to order a customized WePay payments system. It connects over four million Small and Medium Businesses (SMBs) across the USA.
Pricing: Customized according to every need.
11. CheckOut
Available for transactions in 87 currencies, subject to currency conversion fees. It processes multiple shoppers from various locations simultaneously, regardless of their payment systems. Pricing depends on your location and specific needs.
12. Authorize.net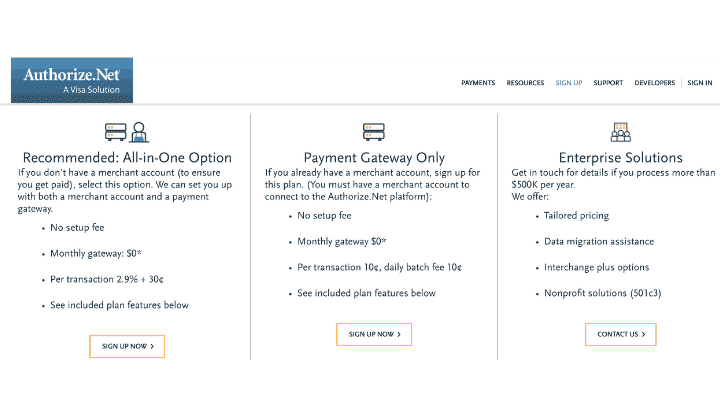 Authorize.net comes from Visa International. Accepts credit card, debit card, online & mobile wallet payments from around the world. You can select the pricing plan to suit the needs of the business.
You can set up both a merchant account and payment gateway with Authorize.net and there is no setup fee for businesses with less than $500K transactions.
More Alternatives to PayPal
In addition the above, there're also five more best PayPal alternatives that you might consider.
In Conclusion
Before concluding, here's a warning. Countless online payment systems failed over the years, though their websites remain online. Therefore, check whether any alternatives to PayPal is functional before you sign up. But the list that I mentioned here for PayPal alternatives are into existence for last few years.