Email marketing has grown in leaps and bounds. It doesn't matter if you are an average Joe in blogging or running a Fortune 500 company. You need to know email marketing.
So, what is email marketing all about?
Email marketing … as the name goes, is all about using email to your advantage. This means that you're going to market your products, sell your products and sending out vital information using this electronic mail.
What makes it so important is the fact that for every email you send out, it will be the deciding factor whether you are able to pull the customer or reader back for more (and probably, closing a sale).
What do you 'make' a killer email marketing strategy?
Here are 9 tips that will make a killer email marketing strategy.
1. Choose the ideal email marketing provider
You may have a killer plan or maybe a proven strategy that will work. However, you are not going anywhere without the right email marketing service.
For me, an email marketing service is more than just a tool. It is supposed to be your partner in crime when it comes to email delivery.
With so many different email marketing services available, here are some guidelines for you. A good email marketing service should have these features:
Auto responder
Split testing
Spam control
Easy to configure and integration of forms
Good customer support
Price matters
I am using AWeber from the last 10 years because you can find all these features in AWeber email marketing tool. I have close to a millions subscribers & I am paying very high price for this.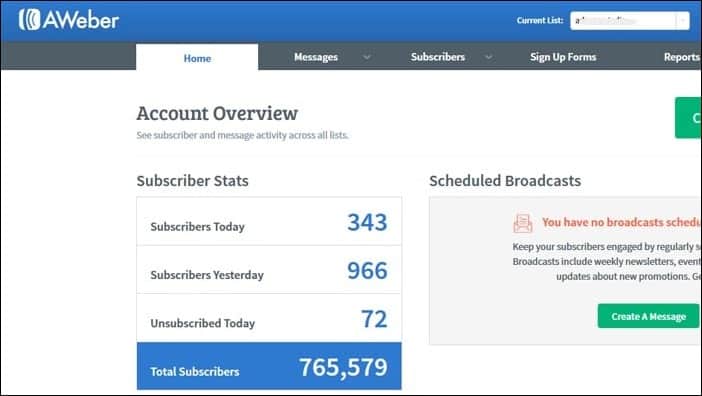 2. Knowing your (potential) readers is crucial
When it comes to email marketing, it is a no brainer that every email send out is accounted for. This means that you need to make sure that your email goes to the right people … yes those people who are willing to do two things; Open the email and read the content.
If you are not able to achieve both of them, you basically wasted your effort. Let's take an example of WP Beginner. They have a very different sign up option which offers subscribers to sign up for only newsletters they would want to.
So, what does this means?
Reducing the number of emails being deleted before opening
Increasing the open rate and as well as click through rate
Ensuring that the right email goes to the right reader
The most basic lesson for email marketing is you need to know the reasons behind your readers' sign up. Once you are able to figure that out, you'll be able to skyrocket your email marketing success rate.
3. Start thinking out of the box
Ask yourself the reason(s) you do email marketing. Don't worry, I'll wait.
…
…
…
Now that you figured it out, could the reasons be either sending newsletters, sales pages or maybe keeping your readers up to date with the latest scoop of your website?
The above are pretty common and we are in a market where we can't afford to make our readers feeling bored. So, put on your thinking hat and start thinking out of the box … YES, NOW!
You want your followers to be 'always on their toes' waiting for your mail. So, don't make it just another email. Make it unique!
4. Killer titles will increase email open rates
Yes mate! You want to make sure your readers are opening all the emails they received from you and everything goes harder with the new Gmail tabs.
Oh c'mon! Admit it!
You need more than just a great title … you need a KILLER title for God's sake!
When a reader receives an email, he or she would have less than 5 seconds to decide if the email is worth opening. With a killer title, you are going to increase chances of email open rate.
Furthermore, what's the point of email marketing if you are getting 0% open rate right?
5. Split testing is a must for email marketing
When it comes to email marketing, there is nothing better than split testing. So, what is split testing all about?
Split testing is also known as A/B testing. It means putting your readers, followers and everyone on your mailing list as test subjects … literally!
This is an experiment done to measure on the open rate and click through rates (CTR). Data obtained from split testings will determine which method, word, sentences or even colour that produces better results. You can find a detailed write up on split testing posted on HubSpot here.
6. Timing is all that matters
Have you ever experienced receiving tons of email marketing when you are asleep? Those annoying notifications etc? Well, I personally experienced this recently and trust me when I tell you that it is no fun at all.
Therefore, if you are doing email marketing, make sure you are sending out those emails at the right time!
I scheduled all my emails to be send out on specific days and time. Why?
Here's my concept: Most of your readers are working adults (let's assume). Obviously, you don't want to send an email to them during morning meetings etc. That will be so … awkward right?
7. Readers are skimmers, so think like them!
You decided on a killer title which will create more than 85% click through rate.
So, what's next?
The next rule is to convince your readers to read and instead of just skimming through.
Skimming is a process where readers will basically read the headlines in the article (if any) instead of the whole email content itself.
Now, you need to write subheadings that are:
Compelling with proper heading size
Able to 'convince' readers to read the whole text instead
Boost reader's reply rate and create anxiety
The concept here is rather simple. For each point you have, make them as subheading with different sizes and probably colour. The longer the reader is reading your email, the better the chance you will get the click rates (if you are an affiliate marketer) and possibly sales.
So, if you want to use email marketing effectively, think like a reader.
8. Don't be shy to ask for feedback
If you want to perform great in email marketing, you should not just think about marketing. Instead, you should take the opportunity to get engaged with your followers with the newsletters.
Ask them questions, feedbacks and even surveys to understand what they really looking for in an email.
It is always easier to exceed a customer's expectations if you know what the expectations are. if you are sending out emails with the hope that at least 'some' will be happy with it, I would consider that … chicken running without head.
Here's a few questions which you can ask your readers:
What they like … ?
What they dislike … ?
What they expect … ?
What they suggest … ?
9. Provide special information or invitations in your email
What's the point of subscribing to your emails or newsletters if your readers could get the same information on your website?
Convince your reader that you are providing that extra bit of information only through your emails. You want to create urgency, complexity and superiority when it comes subscribing to your emails.
You have to create the moment where your readers are waiting patiently for your emails or newsletters to arrive. Provide your readers with out-of-the-world content, tips and strategies where others would drool all over just to get the same information.
Yes! Do that and you've got yourself a winner!
Tell your readers that the time spent reading your emails are worth more than the lust of the cold hard cash. You got make them feel worth it … every time they click on your email.
Back to you
I truly hope you enjoyed these 9 tips & it will help you in creating a world class email marketing strategy. These are very actionable tips and strategies which I used nearly every day in my blogging life.
Wait! That's not all!
I want to know what you think about this and yes, I really mean it! Write a comment and tell me what you think. I would love to discuss and even learn from you!