Covid-19 has changed our behaviour forever. We are not living in the same world we used to live in just a few weeks back.
People used to meet each other and travel frequently from one place to another at their will. However, after Covid-19 this has become a taboo. Individuals are avoiding human contact as much as they can.  
It is not just people's personal life that has been affected but also their professional life. More and more companies are laying off their employees and even if they are retaining them then they are asking them to work from home.
Working remotely from home is the new reality in this post Covid-19 world.
If you have been fired from a company and looking for a job then freelancing is the way to go.
Freelancers across industries can find high-paying jobs online and work remotely from their homes. There are many freelancing websites that can help you to start a new career as a freelancer.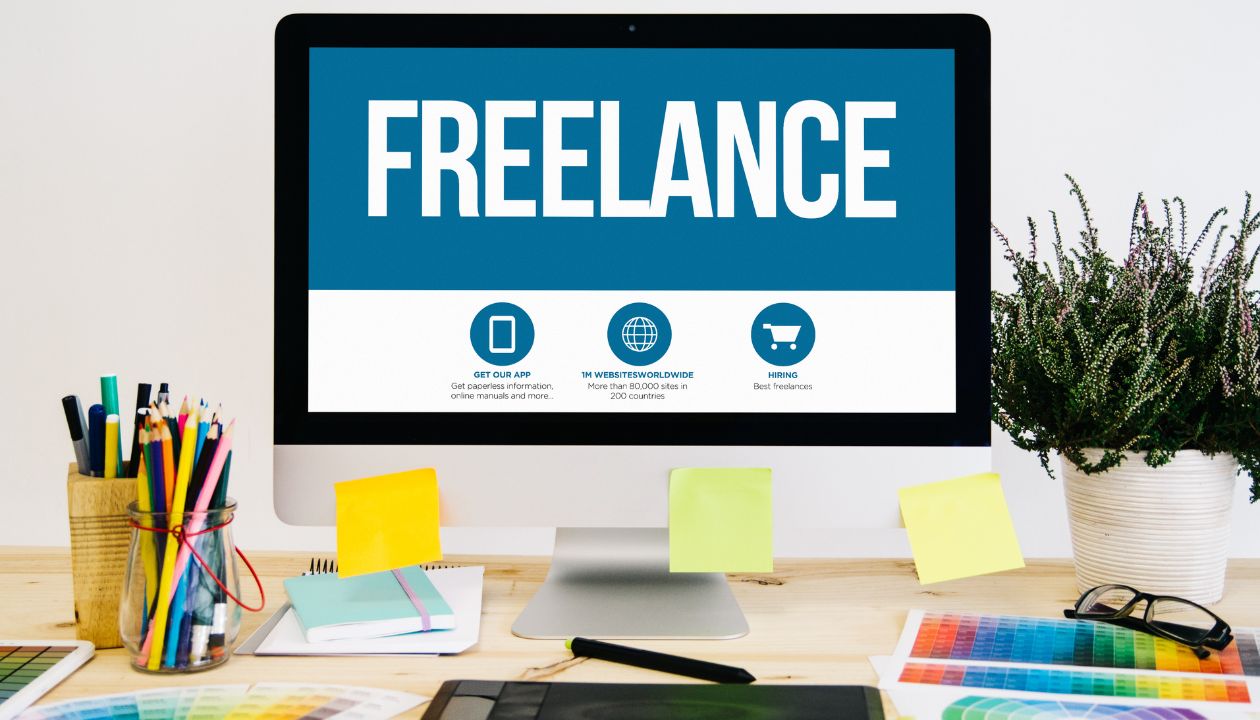 28 Best Freelance Websites
I have more than 10 years of experience on many of the best freelance websites. You can find all types of freelance jobs and gigs including freelance writing jobs, editing & proofreading, web designing, digital marketing and various others.
1. Fiverr.com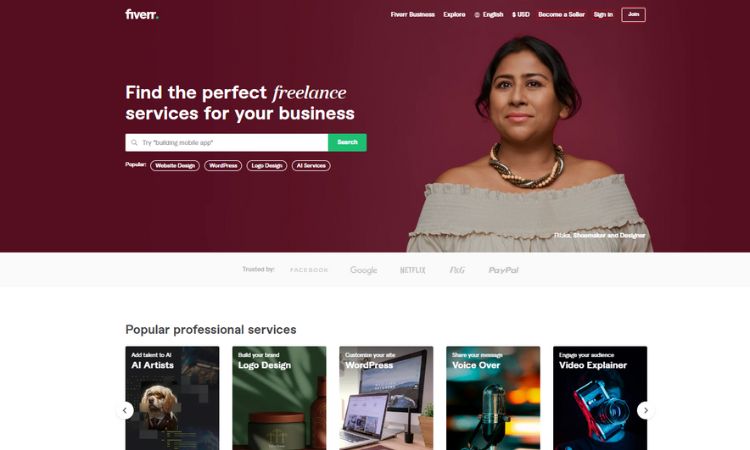 Fiverr is one of my favourite freelance websites. You can find literally any kind of freelance job here. Here are some of the key features of Fiverr.
Create your account with Fiverr, deliver your service and Get paid
Free to join, no subscription or fees are required to list your services.
At Fiverr there is a new Gig in every 4 seconds
Freelancers can earn anything between $5 – $10,000
50M+ transactions between seller and clients
200+ Categories you can browse to get ideas for selling
Freelancers can offer their services for $5-$995
On-Demand Professional courses by the world's leading experts to train freelancers who are new to Fiverr.
However, Fiverr charges 20% for each transaction/billed work.
Money is transferred directly to your account. No need to wait!
You can also check more sites like Fiverr.
2. UpWork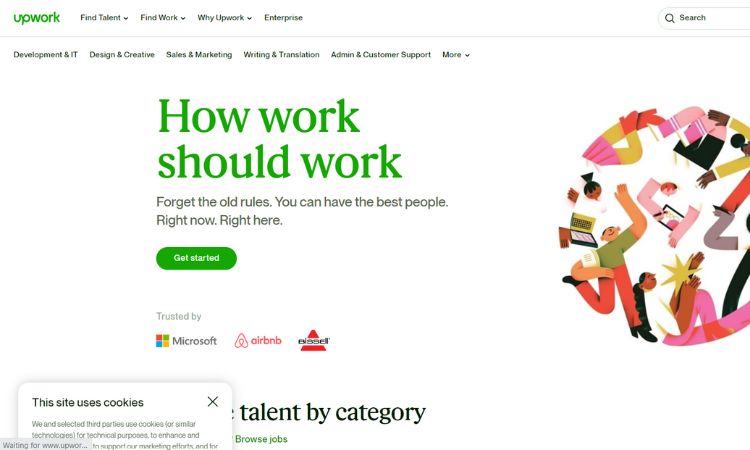 This is one of the topmost freelance websites on the internet. You can find lots of high-paying freelance jobs here.
UpWork gives Freelancers the freedom to work on ideal projects.
5M+ businesses use Upwork, freelancers with 5000+ different skills across 70 categories in 170 different countries
More than 60K jobs are posted on Upwork every week. Popular niches are software Dev, IT, Networking, Writing, Design & Creative, and Legal.
User-friendly platform, share files, track your work and get paid.
For Hourly projects – Download the app on your Desktop to track your work, take screenshots of every 10 mins of work and give proof of your hard work while billing
For Fixed Price projects – Set milestones and deadlines with your clients.
Hourly rates for Freelancers are $10/hr, $10 – $30/hour, $30 – $60/hour and $60/hour and above.
The mode of payment is Direct Deposit, PayPal, or Wire Transfer
UpWork charges are 20% for the first $500 earned, 10% for income between $500 and $10,000, 5% for $10,000+ and also a payment processing fee of 3% is required
At Upwork there is a greater rate of success for projects, get hired quickly, get the top ratings and enjoy higher visibility.
95% of freelancers are being rehired at UpWork.
3. Toptal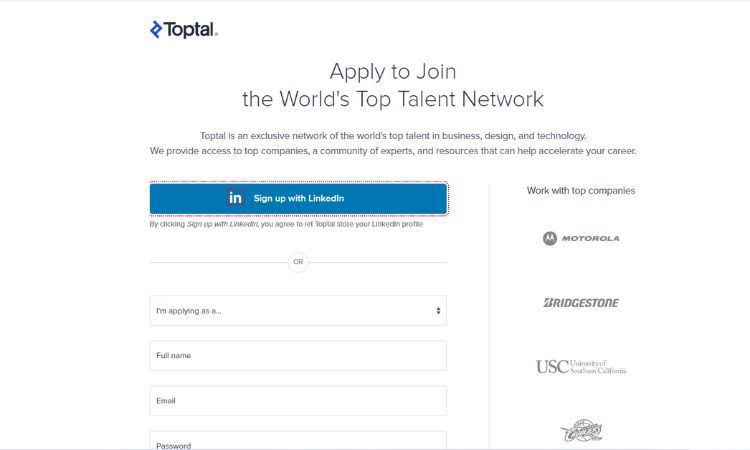 10,000+ clients, 500+ Employees, 100+ countries
Popular niches for freelancers are Developers, Designers, Finance Experts, Project Managers, Project Managers
Get hired on an hourly, Part-Time and Full-Time basis. Competitive Rates – Set rates you deserve and get paid every time.
Toptal Payment on Hourly basis is $60 – $200+/hour, on Part time basis – $1000 – $3000+/week, for Full Time – $2000 – $6000+/week
Steady Income – You stay hired longer because the average length of a project is 4 months longer.
Top Clients – Get the top clients. Become the top freelancer.
Enjoy access to over 600 events a year where you network and learn new skills
Easy sign-up process however once hired you have to deposit/pay $500 to Toptal.
4. People Per Hour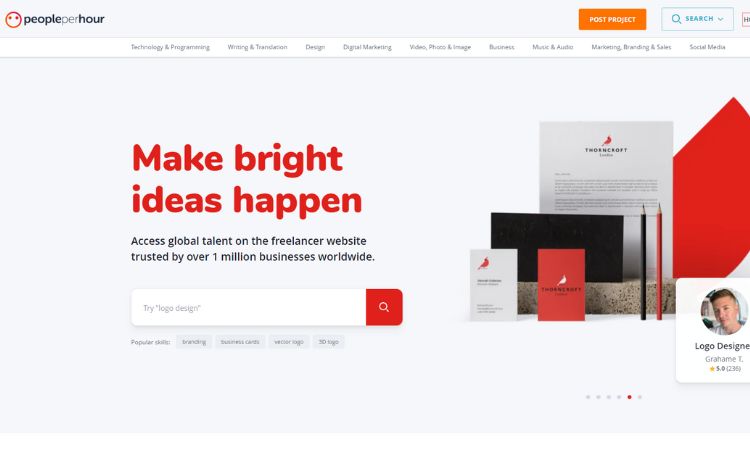 EASY 5-step signing process for this freelance site.
100,0000+ clients to work with, 2.9 Million+ Freelancers have earned $175 Million with PeoplePerHour till now
Popular Categories are UI/UX Designers, Mobile Websites, Blockchain Developers, Editors, Music Producers etc
Quicker Response Once You Post Projects
Send 15 Proposals Per Month for free. You can buy additional credit if you want to quote more projects.
PeoplePerHour various fees are Service Fees, Extra Proposal Credit, Withdrawal Fees and Feature Offer Fees.
PeoplePerHour charges on every freelance earning is 20% for the least amount and 3.5% for the maximum earning.
There is a degree of financial security as client makes initial deposit to an escrow account.
You can offer your skills with self-tailored offers. Create Offers if you don't fit any category
Project Streams Features allow you to keep collaboration during projects and gather feedback in one place.
5. 99 Designs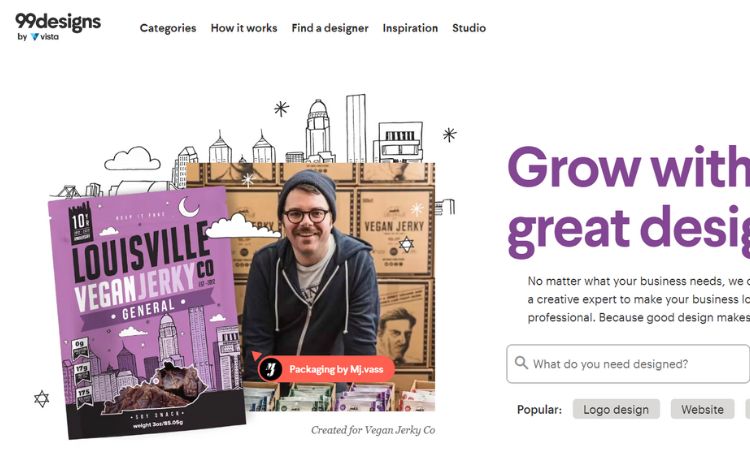 99 Designs is for designer community.
Logo Design pricing for freelancers – $299 to $1299 and Web page design – $559 – $2499
1 to 1 Projects for repeat rewards and building client relationship. No flat fee because fees are structured, client introduction fee is 20% for first $500, platform fees is 5% for top level designers, 10% for mid-level designers, 15% for entry level designers. Work directly with clients and enjoy more benefits. Set your own pricing and get paid upfront.
$100 Introduction fee when you start working with the client
Designer profile of 99 Designs have great features like Profile Cover Image, Branded Avatar, Great Portfolio etc
Brand Guide Certification – Badge shown on a designer's profile.
Logo and Brand guide contest allows you to win high prize contest
Compete with the community. Win contests and build your client base, every day 1500 open contests  
Mode of receiving payment is PayPal and Payoneer. Threshold income for a payout is $25
6. Designhill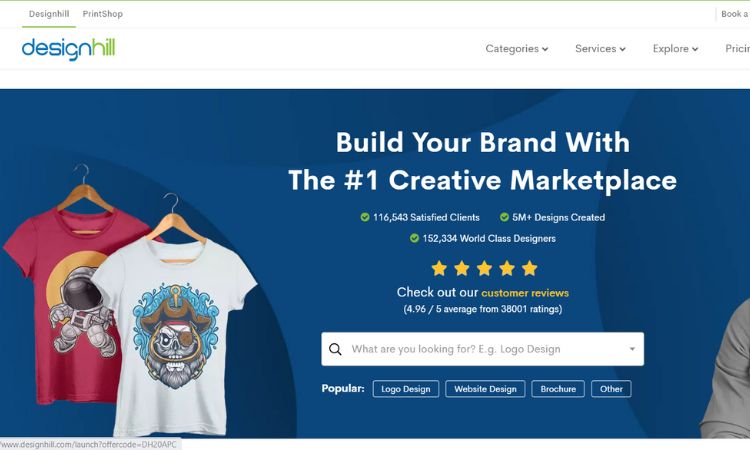 World's #1 graphic design site. Freelancers can sell Logo,s Websites & T Shirts for 35 different categories
Network of Over 100,000+ Buyers, 70,000+ fellow Professional Designers. 150,000+ world class designers, 5 Million design created.  
Set Price from $5 to any amount of your finished product.
Earn up to 90% on each sale
No Exclusivity Lock-In. You can sell your products anywhere else you want.
Participate in designer contest and try to win the contest.
Once you complete the buyer's order, money is transferred to your e wallet on Designhill and then you can withdraw to your account.
Exclusive to top 5% designers and artists. Customer services to pre-approved designers who can sell quality services. 
For contest prize money, PayPal and Payoneer are used for payouts. Minimum threshold income for payout is $50
7. Freelancer.com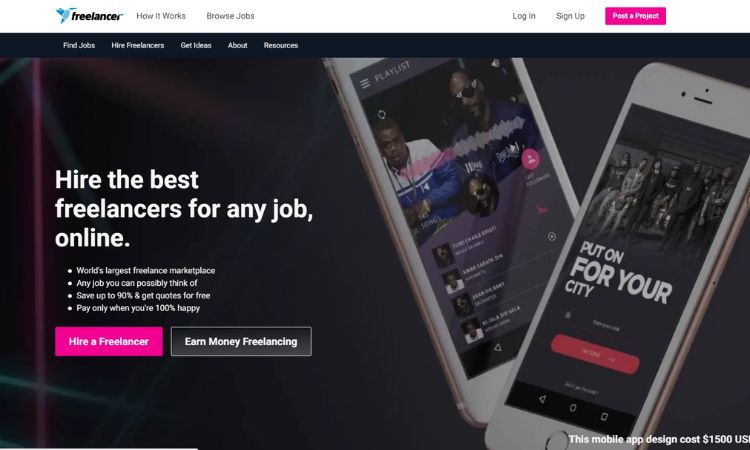 Over 1350 Different Categories, from Article to Website Designing, From Logo Design to Logistics
Over 43 Million Freelancers are associated with Freelancer.com
Hourly rate for freelancers can be categorized in < less than $10/hour, $10 – $20/hour, $20 – $30/hour, $30 – $40/hour and > $40/hour
To stand out from the rest become a Preferred Freelancer by joining Preferred Freelancer Program to get exclusive projects and making your profile stand out.
Freelancer Membership Plan – Basic $5/Month, $53 annual, Plus – $10/month, $108/annually, Professional – $30/month, $600/annual, 100+ jobs per month, increased chances of winning projects, daily withdrawal requests, other rewards.
Preferential fee payment plan. Only pay commission once when the milestone is achieved.
100+ Projects Daily. Opportunity Grow your earnings in 6 months by $1000. Win Projects that worth $2000. Apply for businesses that can pay up to $6000.
Payment Method via Visa, Mastercard  and PayPal
8. Guru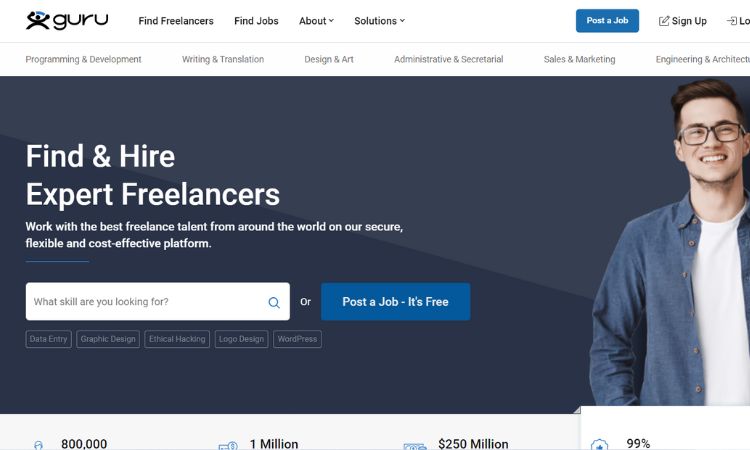 Over 1 Million Jobs Completed.
Lowest transaction fees, they charge 5% job fee for highest paid members.
Membership Plan Monthly – Basic Free, Basic+ $12, Professional $22, Business $34, Executive $50
Membership plan Yearly – Basic+ $9, Professional $16, Business $25, Executive $4
Some paid membership pricing and benefits are send premium quotes and make your quotes stand out when you bid a job.
Get More Bids – Receive up to 600 bids with an annual roll over of 300 bids and send direct messages to potential employers. Bid rollover 100 to 300 jobs
Job Fee between 5% to 9%. 5% for executive members and 9% for free and basic+ members.
Get Premium quotes as it helps to stand out your profile and rank higher on search results.
9. Hireable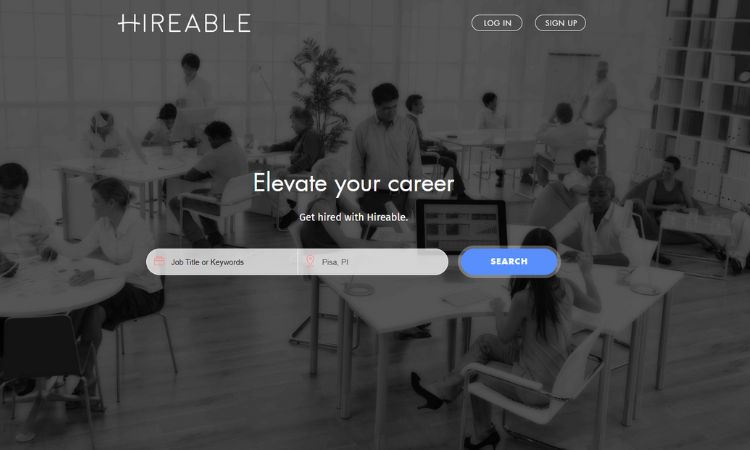 A great job site to search for various freelancing jobs, Hireable is basically a job search engine. Very different than other websites in the list
Great for creating customized job alerts. Create job alerts, job search capability and recommended Jobs
Hireable allows employers to post jobs and employees/freelancers to use them for free.
Freelancers can create accounts without worrying about any enterprise plans.
Signing up process is not smooth especially when choosing password. They need to upgrade their website.
When you click on a job posting it takes to other third-party sites. Listing is not of great quality.
Freelancers better go for other websites. So stay away.
10. Roberthalf.com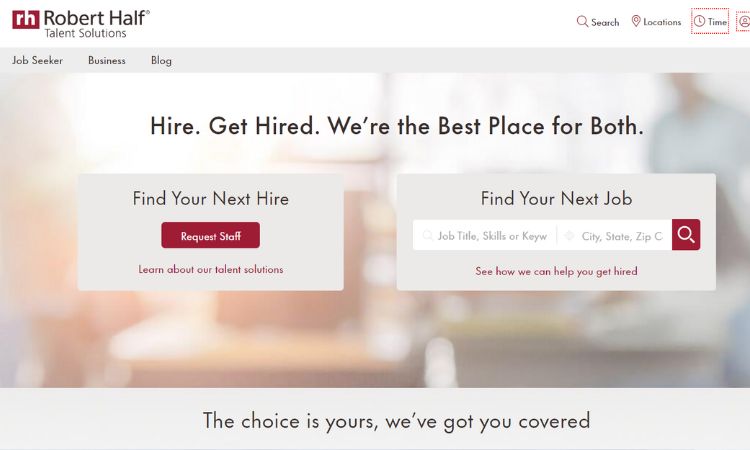 Roberthalf is mainly for freelancers who are in Accounting and Finance, #1 freelancing site for them.
Site is for both freelancers as well as full time workers.
Freelancers or Job Seekers can apply for temporary and full-time remote job positions
Best part is you can find jobs in local companies. They give ability to search jobs near where you live. Special category for remote job search.
One on One communication with local hiring managers through Robert Half Direct, an online hiring platform.
Choose the way you want to work – Remote, Full Time, Temporary or Salaried Professional.
There are no charges for freelancers, you can search jobs and upload your resumes for free.
I recommend limited Options for freelancers. Not a conventional freelancing site. Joining is free with no pricing model.
11. Cloudpeeps.com
Freelancers are called Peeps at Couldpeeps.
Cloudpeeps has 20,000 clients and freelancers from only 25 countries can find job here.
Popular niches for freelancers are Digital Marketing, Marketing and Designing
Paid Feature for freelancers – Standard = $9/month, Plus = $29/month
Features are Promoted profile for Plus members only. It gives you 33% approval rate when apply for a freelance job.  
Number of proposals for standard members are 5 and Plus 15.
Rates freelancers can offer for their services are $30 – $80/hour, Pro peep = $60 – 150/hour.
Freelancer can charge for one time jobs at Peep = $100/post- $1000/post, Pro at $250 – $10,000/post
Transaction fees is flat 1% and processing fees are also flat for everybody at 2.9% + $.30
Great customer support. You can start chatting with their staff if you have any doubts.
12. Servicescape.com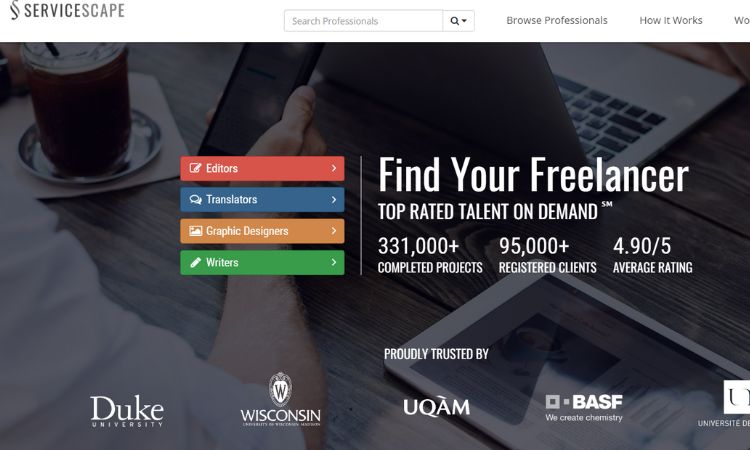 Freelancers can find jobs for four main categories – Editors, Translators, Graphic Designers and Writers.
They have 292,000+ completed project and 86,000+ clients
Servicescape features are profile settings have several buttons that allows you to interact with your clients. You can send a message and even set up a teleconference call. Not all freelancing site allows this.
There is a freelance directory where clients are going to look for you. You can become an Elite Editor, Translator, Designer or a writer.
You too can set up a project.
You can determine prices of your services, individual quotes for custom projects. You get to change the pricing of default pricing structure of certain predefined services
Commission that Sevicescape charges from Freelancers are editors 50%, translators 50%, graphic designers 50%, writers 50% This is really bad. 50% of your hard-earned money is taken by Servicescape.com. Better choose other freelancing platforms.
13. Behance.net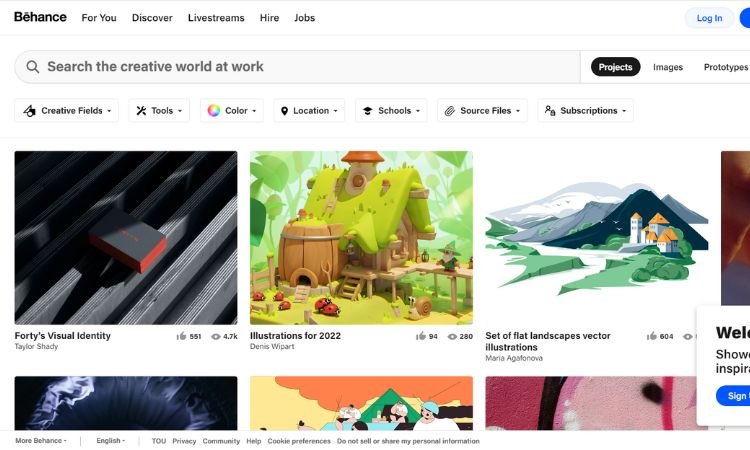 Behance is a platform where creative professionals share their work and also look for jobs.
Popular categories are Graphics, photography, illustration, cartooning, web design etc
2 Million+ members and over 5 Million+ projects posted on Behance.
Joining the site is free and members are not charged to post their work. No fee to search and apply for jobs.
Moreover, Behance doesn't take any percentage from the payments you receive from the work you just completed 
Behance gives feelancers and their work a great exposure. You cget over 50 million views for a project in just 30 days.
Work with major companies like Adobe, Apple, Capital One, Sony.
However not a traditional freelancing site. You can't find a job easily. Behance is not for job seekers but it's for creative people.
14. Contently.com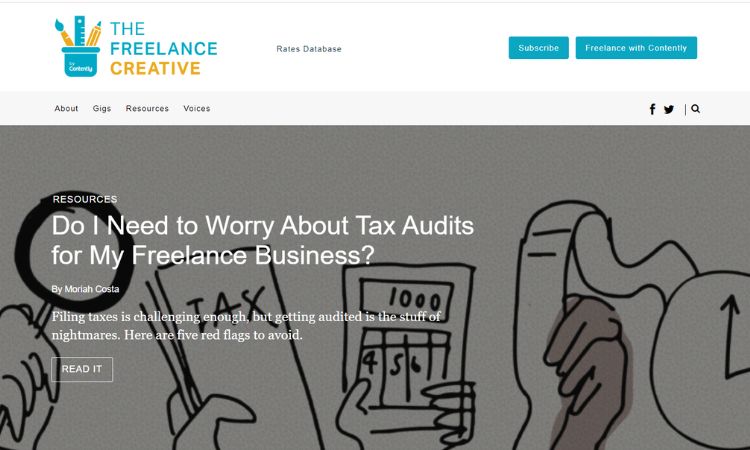 Freelancers who are Content writers and content marketers can find various freelance writing jobs.
Over 140,000+ writers, filmmakers, designers are associated with Contently
Till date they have paid $40 Million to freelancers.
Freelancers get an opportunity to create content for world's biggest brands.
Contently is mainly great for freelancers who are content writer and write articles for marketing, finance and tech. For one 1000 words article you can earn $10 to $500 depending upon the publication you are writing for.
UI is not that great especially while managing calendar and campaign pages. And also, not for analytics like tracking views and engagement rates for your articles.
15. Dribble.com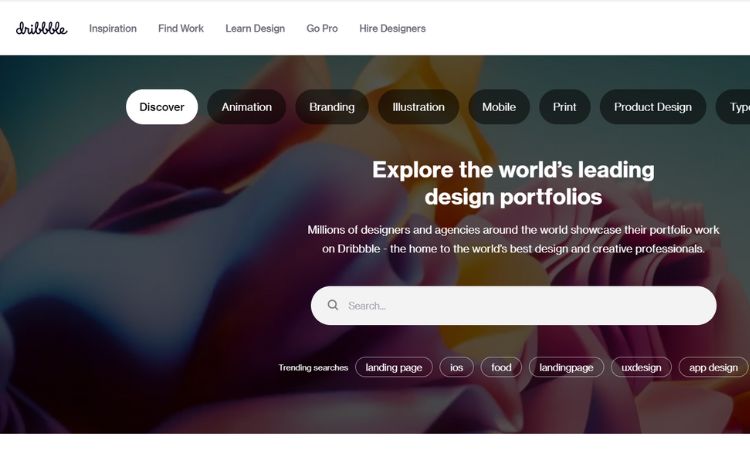 Dribble is for freelancers who are designers. Some of the popular jobs are design jobs, graphic designing, graphic artist, product designing, UI/UX Designing etc
Over 60K companies have hired freelance designers from Dribble.
70,000 designers have uploaded well over 1.4 million shots, that got more than 40 million likes and 1+ million comments.
Monthly Fee for freelancers – $12 for Pro and $20 for Pro Business, Yearly Fee – Pro is $5/month and Pro Business is $15
You get features like your work appears in the search and popular feed, enhanced exposure, sell goods, create instant creative portfolio, exclusive designer deals, advanced Stats and access to freelance projects board.
16. Artwanted.com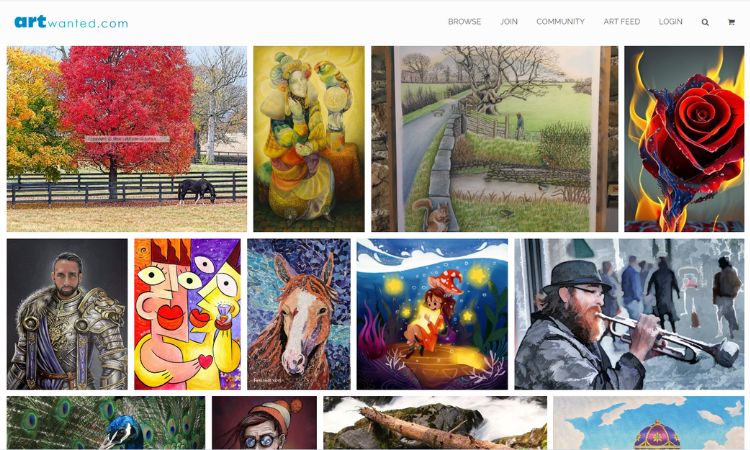 Artwanted is for artists and photographers who want to join as freelancers.
Artwanted has over 66,122 artists, 50,000 artist portfolios, 827+ art group and 864,600+ images.
Freelancers get to create their personal ArtWanted Portfolio Website where they can display their artwork and photography.
The best part is ArtWanted doesn't charge any fee or commission from Freelancers when sales comes through the website. You earn 100% of the sales.
ArtWanted Statistics Report User Interface is much better than other freelancing sites. You get to see detailed reports.
Easy PayPal integration. You can integrate to your portfolio and receive the full amount.
ArtWanted also offers Premium Membership with advanced features like uploading unlimited images, pricing discounts, upload your artwork to private galleries, enhanced stats etc.
Fees are $5/month, $12 for every 3 months and $39 yearly.  
17. Designcrowd.com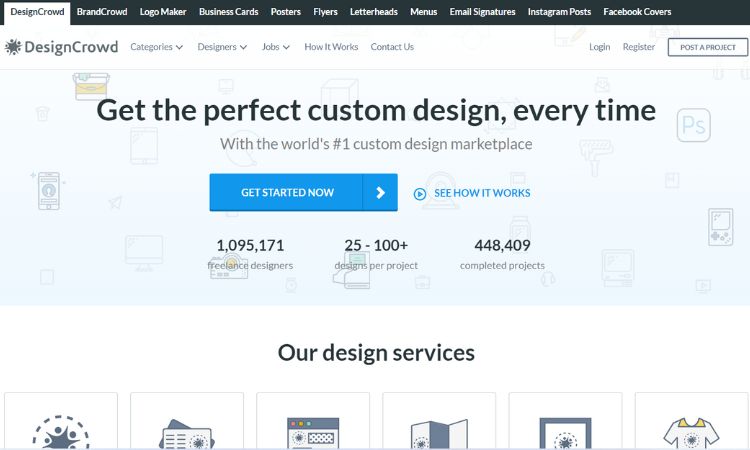 DesignCrowd is world's no. 1 custom design marketplace.
It's for Freelancers who design logo, business card, web and flyer, graphic.
It has got 814, 447 freelance designers, 25-100+ designs per project, 362,000+ completed projects and 100,000+ businesses.
Freelancers earn through selling their design, participating contests and paid invites.
Once Freelancers are invited for a project the customer pays him/her the Participation Money. Make sure you just complete and submit the work in accordance to customer's requirements.
DesignCrowd takes 15% commission on all payments that Freelancers receive. You also have to pay transfer and conversion fees.
Your Receive Payment either by PayPal or Payoneer.
18. Envato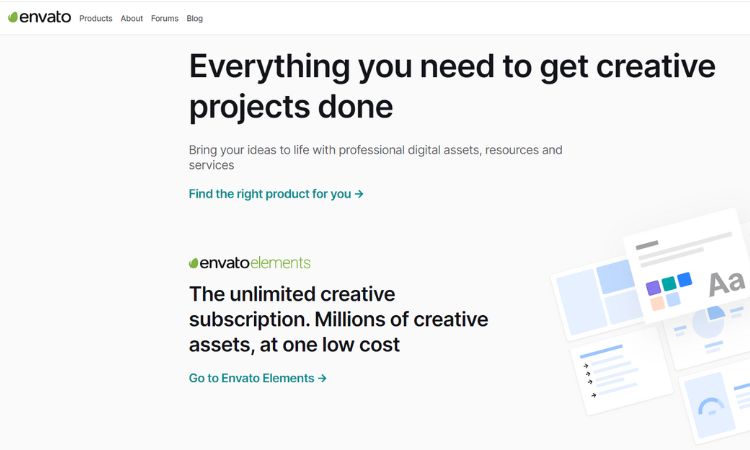 Envato is for freelance designers and developers. Their popular freelancing niche is design & graphics, Logo design, Website & app design, WordPress, online marketing.
Till date Envato has paid over $250 million to freelancers. One of highest amount paid by a designing freelancing site.  
Envato has separate registration process for each graphic designers, web developers, audio services and other services freelancers.
Freelancers can choose how much they are going to charge for their services within a range set by Envato.
Envato charges a whopping platform fee which is 30% of amount you get from your finished work. They keep 30% when you complete a job and give to your client. This is too much.
You are paid either through PayPal or Payoneer.  The threshold income is $50.
19. Coroflot.com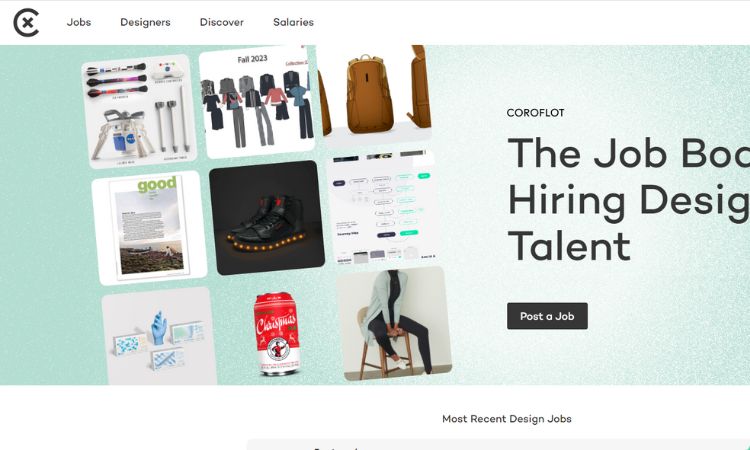 Coroflot is exclusive to professionals from design and creative background. Freelancers who are graphic designer, UI/UX designer, illustration, 3D can apply for Coroflot.
It hosts 2 million images with over 150,000 new projects published every month.
To join the Coroflot community and become a freelancer you have to submit an initial application which includes your information and sample of your highest quality professional work.
If your application is rejected then you can't join Coroflot. You need to reapply.
Coroflot is more suited for businesses and not freelancers.
20. Gun.io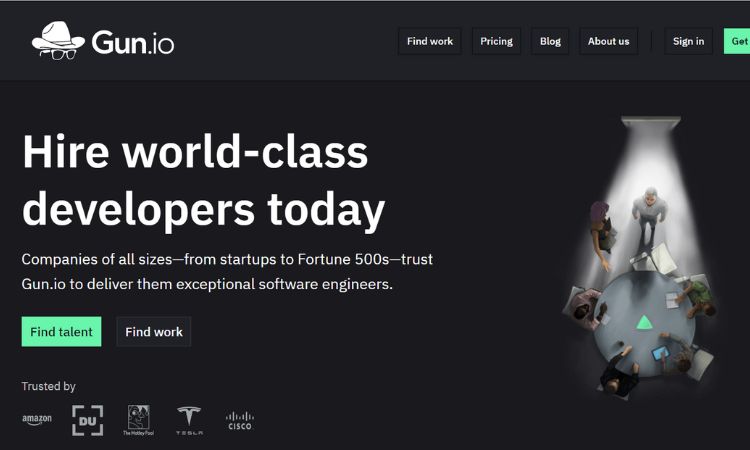 Gun.io is a freelancing site for software engineers who can develop web and mobile apps. Freelancers who love coding can join Gun.io
One unique aspect of Gun.io is that it focusses on freelancers in USA. 90% of freelancers are from USA. They have around 25,000+ engineers working as a freelancer.  
As a freelancer you can work on hourly base, part time basis and full-time engagement.
To be eligible for work you have to work at least 20 hours per week for clients.
Freelancers can set their own hourly rates, maximum you can work is for 40 hours a week. which can pay you on an average $75 – $150/hour.
You will choose a package of hours which means how many hours you can work each week. You have to pay a fee according to package. More number of hours you work more you pay as a fee.
Packages ranges from 1 month to 1 year.
Paid members also receive notification when companies are looking for freelancers and earn first dibs at job opportunities.
One unique aspect is Gun.io will match your skills with a new job whenever it is being posted. You have to turn your job match notification on and receive in your email. You can't directly search for jobs.
21. Truelancer.com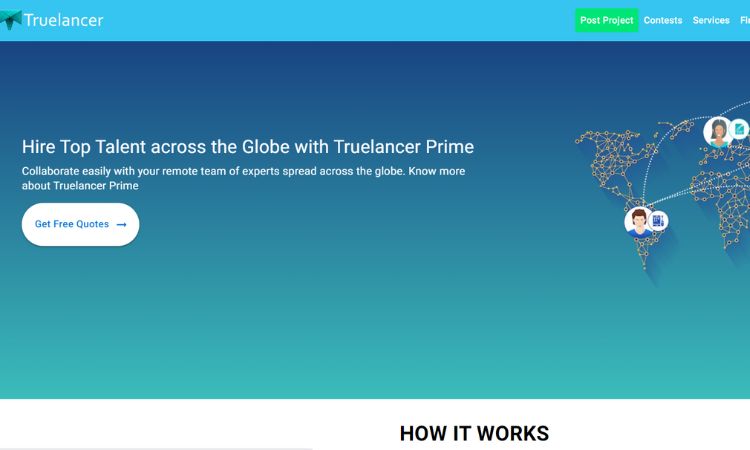 Truelancer is an Indian based freelancing site mainly for content writers, digital marketers and developers.
They have got over 1 million freelancers, over 500,000 finished projects and 25,000+ gigs.
Membership plans – For Basic $5/month, Pro $10/month and Plus $50/month.
With Plus membership you get more proposals, portfolio slots and a reduced service fee.
Truelancer charges a service fee of 8% to 10% on all billed works. Mode of payment is direct bank transfer (in India), PayPal and Payoneer. For direct bank transfer in India there are no charges.
To buy extra proposal (up to 20 proposals it's free) you have to pay extra money. For 5 proposal $4 and for 1000 $20.
There is also a feature fee if a freelancer wants to get more work. Good for freelancers in India!
22. Codeable.io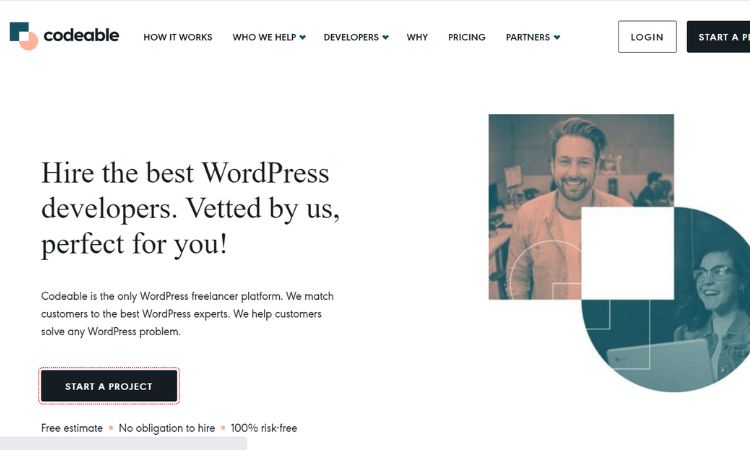 Codeable is dedicated to only one type of freelancers and that is WordPress Developers. Experienced WordPress developers with more than 5 years of experience can find freelancing gigs at Codeable.
Codeable claims to have 500+ experts from 60 different countries. With 2000+ projects delivered every month.
Codeable is a premium service for businesses hence the guaranteed minimum rate for freelancers is $70 – $120/hour.
23. Kolabtree.com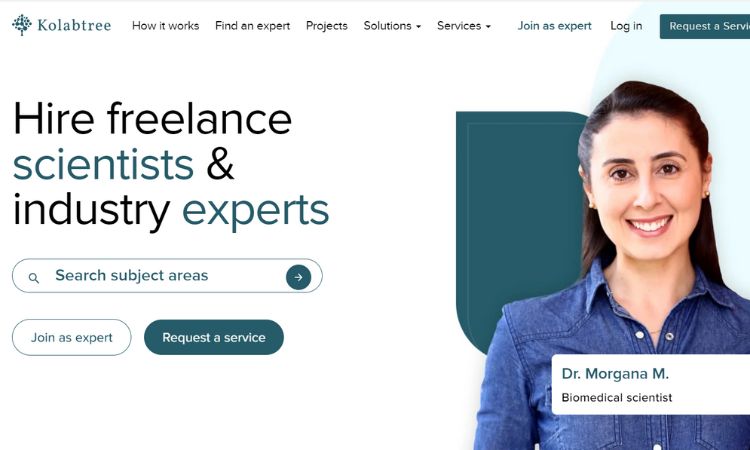 Kolabtree freelancing site is one of its own kind. It is #1 freelancing site for scientists and researchers. Freelancers can offer services like medical writing, scientific writing, consulting, literature research, secondary research, analysis etc.
10,000+ scientists & academics are associated with Kolabtree, over 2000 scientific disciplines and projects worth $9 million have been posted till date.
Just create an account with them and get started as an expert. You have to submit proposals for the project. Either you will be selected by the clients directly or Kolabtree team will invite you for the projects.
As soon as project is awarded clients pays you into a holding account with kolabtree. You don't have to worry about the money.
However, Kolabtree deducts 20% of the total amount (billed work) as their commission.
24. Remotive.io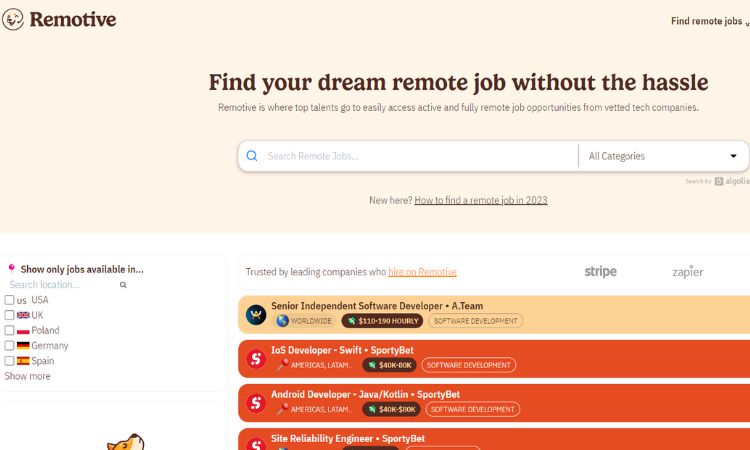 Remotive offers remote work to freelancers in technology niche like Software development, Customer Support, Design and Marketing.
Remotive has over 2500+ companies who are hiring freelancers remotely in 2020. They post 400 – 500 remote jobs every month on an average.
Freelancers who want to learn more can join Remotive Slack Community which has 1300+ remote professionals. You can get feedback from them and discover exclusive content.
To join the Slack community you have to pay a fee of $75 for lifetime, no recurring charges.
Members share exclusive remote jobs within the community. Slack Community membership is the best to find remote jobs on Remotive. 
25. Fancyhands.com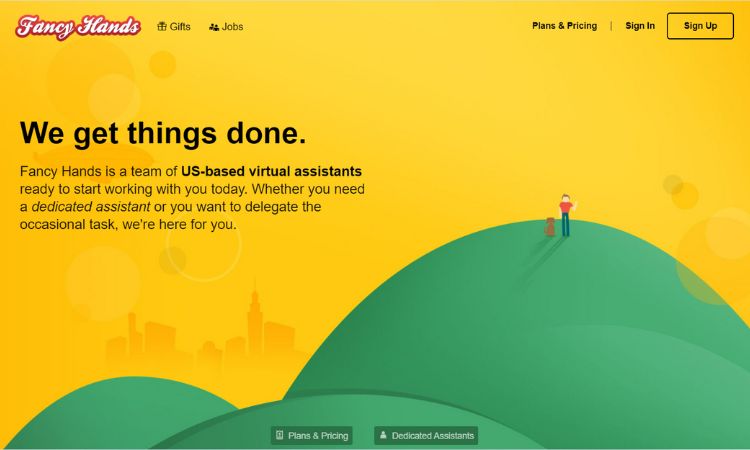 Fancy Hands is a team of virtual assistants who are ready to give services to their clients. Freelancers who are virtual assistant can look out for opportunities at Fancy Hands.
Freelance virtual assistants at Fancy Hands have to take care of clients scheduling, purchase of items, research, make phone calls and deal with customer services.
To work with Fancy Hands you have to sign up and then you will be tested for verbal communication skills and ability to complete a task.
Freelance virtual assistant can earn $3 to $7 per task. Mode of payment is through Dwolla on every Tuesdays.
Fancy Hands is good for businesses who want to hire virtual assistants and not for virtual assistants who want to work as freelancers.
26. Belaysolutions.com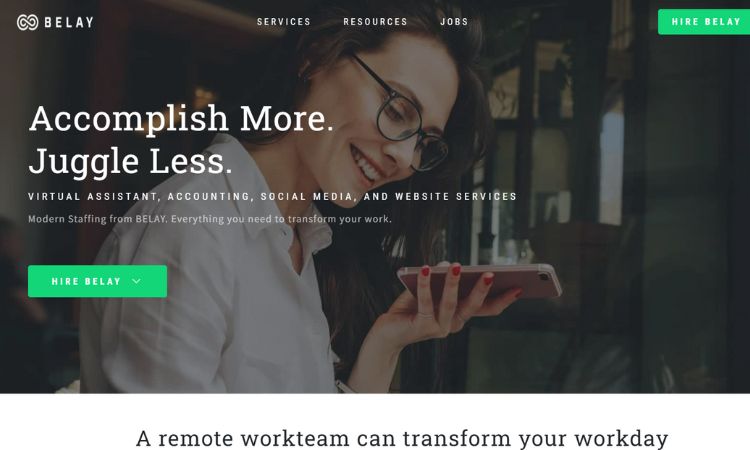 Belay offers 3 kinds of freelancing services to their clients – Virtual Assistant, Virtual Bookkeepers and Website specialist.
Freelancers who want to work with Belay must have work experience of minimum 5 years.
Hourly rates of Belay ranges from $40 – $45 for their clients. Hence it means they are hiring experienced freelancers and paying them at least $15 – $20/hour.
27. VirtualVocations.com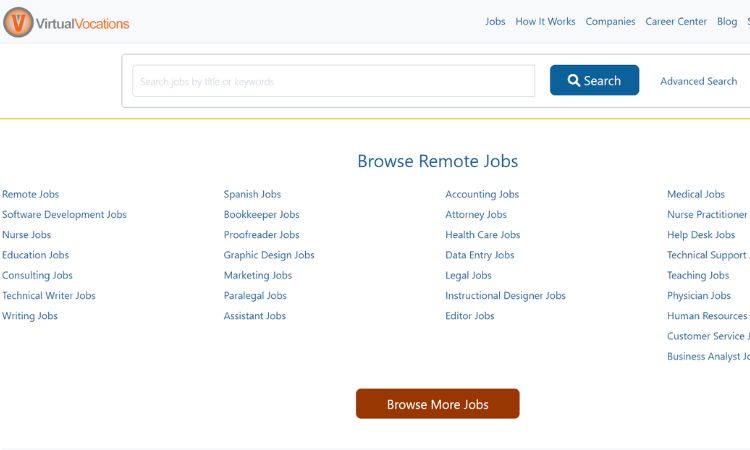 Virtual Vocations is more of a job listing site where jobseekers can find all kinds of telecommuting or virtual work.
There are over 18910 listed telecommuting jobs, 21, 836 company profile and 3671 employer partners.
To get full access to telecommuting jobs database and other features you can buy their paid membership. It costs $16/monthly, $40/3 Months, $60/6 Months.
28. Productionhub.com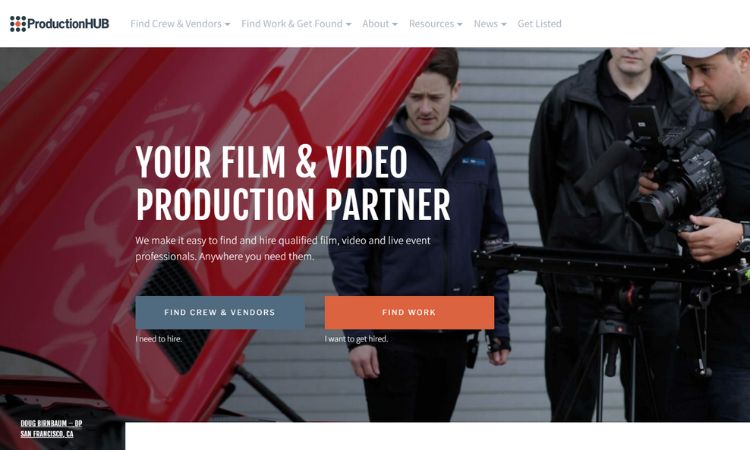 Freelancers who are looking for film and production jobs must visit Productionhub.
3000+ project leads per year, $118 million made from project leads, 3.3 million profile views per year, 3.6 million category searches per year.
3 ways to find jobs – Get listed, respond to leads and apply for jobs.
You can create your profile and get started. Basic profile is free. For Featured profile you have to pay $69/month and Featured+ profile $139/month.
Featured profile gives freelancer unlimited access to project and guaranteed placement at the top of the search results.
There are many other freelance websites like YouTeam, JournalismJobs, ValueCoders, Craigslist and many other where you can find hundreds of different & best freelance jobs.
These are the best freelance websites for freelancers across the world. You can work with one or more freelancing sites at a time depending upon the commission they charge you and how well their clients pay you.
So, start early as a freelancer, create a solid profile/portfolio and offer your services to clients online.
FAQ
A freelancing website is a platform that connects freelancers (independent contractors) with clients who need their services. Freelancers can sign up and create a profile, listing their skills and services, and clients can browse and hire freelancers for specific projects or tasks. The freelancing website typically handles payments, project management, and dispute resolution, making it easier for both parties to work together remotely. Examples of popular freelancing websites include Upwork, Fiverr, and Freelancer.
Which is the best freelancing site?
The best freelancing site depends on individual needs, but the most popular and widely used platforms are Upwork, Fiverr, Freelancer, PeoplePerHour, and Guru. These platforms offer a wide range of projects in different categories such as design, writing, web development, and more. The best choice depends on the type of work and clients you're looking for, so it's recommended to try out a few platforms to see which one works best for you.
Which is the best freelancing website for beginners?
The best freelancing websites for beginners include Fiverr, Upwork, Freelancer, PeoplePerHour, and Guru. Fiverr and Upwork offer a user-friendly interface, while Freelancer and PeoplePerHour offer a wide range of projects. Guru offers a platform to showcase skills and connect with clients. The best option depends on individual skills, experience, and desired project type.
Which is the best freelancing site in India?
The best freelancing sites in India are considered to be Upwork and Fiverr. Upwork offers a vast pool of freelancers and job postings, while Fiverr has a gig-based approach, making it easy for clients to find the right freelancer for their projects. Both platforms have a large user base, established reputation, and user-friendly interface.
How to start freelancing?
Starting a freelancing career requires identifying your skills, researching the market, creating a portfolio, establishing a professional online presence, building a network, setting your rates, promoting your services, and creating a contract. Make sure to research and understand the industry, network with other professionals, and set clear terms with clients before beginning work. With preparation and hard work, freelancing can lead to a fulfilling and profitable career.