Facebook makes money. Certainly, this is an undeniable fact. Facebook, the world's largest and free social networking platform operates in every country on Planet Earth.
And this costs money.
But have you ever wondered how Facebook makes money?
How it can offer such an excellent, worldwide platform entirely free to users like us? Thought over how Facebook cover its operating costs and makes money?
Why investors worldwide look at buying Facebook stocks for their portfolio? Or what makes Facebook founder, Mark Zuckerberg, one of the top 10 wealthiest men in the world?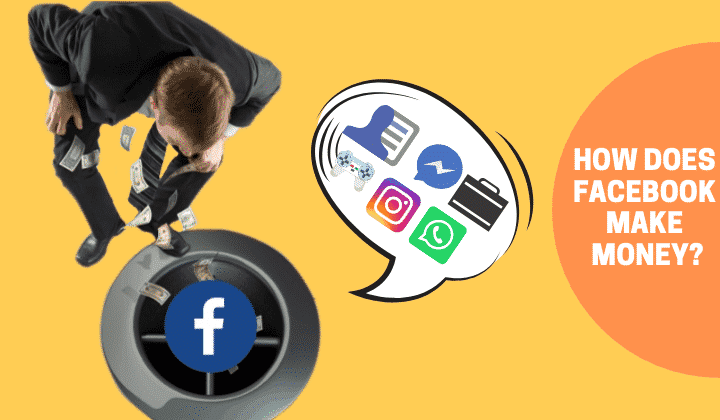 Facebook Facts & Figures
Facebook revenues stood at a staggering $55.838 billion at the end of December 2018. By February 2019, the Facebook stock was trading at nearly $168 per share, despite a fall of about 4.5 percent, due to market conditions and other reasons.
Facebook ranks 76 on the Fortune 500 list of most precious companies of the world for 2018, far ahead of companies like Oracle and Coca Cola and global defence giants, Raytheon and Northrop Grumman.
Mark Zuckerberg's personal net worth stands well above $53 billion making him one of the top 10 richest persons in the world.
So, if these mind-boggling figures are amazing, you might be interested in knowing how Facebook keeps making a few billion Dollars extra every year.
Here we look at some of the ways how does Facebook make money.
How does Facebook Make Money?
Here are some known ways of how Facebook makes money. Some of them may not sound as appealing if you are a Facebook user. Yet, these are facts disclosed by Facebook CEO and Founder, Mark Zuckerberg and other reliable sources.
Advertising is the biggest revenue earner for Facebook. According to the latest statistics, over six million advertisers worldwide and the number is growing steadily.
Facebook Business is especially for entrepreneurs, small businesses and companies that wish to reach out to the maximum number of people worldwide.
This feature allows you to create ads instantly and post on Facebook or its supported apps. Facebook charges a fee for some of these ads.
1. Facebook Uses Your Personal Data
Yes, it does. Facebook indeed uses your personal data to make cash. This revelation came from its founder and CEO Mark Zuckerberg during the US Senate's Commerce and Judiciary Committees in April 2018.
Zuckerberg had to testify about what Facebook does with user data post-Cambridge Analytica data leak scandal.
In Zuckerberg's own words, advertisers approach Facebook to target specific types of users. Facebook then targets their advertisements towards these users. The advertiser pays Facebook for this targeted advertising.
Denying that Facebook sells user data to advertisers, Zuckerberg says his company only helps their advertisements reach select, intended audiences.
How Facebook identifies these users? Of course, by keeping tabs on what you post, profiles of your Facebook friends, geographic location and lots more.
They do not have people monitoring your posts: instead, Facebook deploys robots or bots or crawlers that creep into your Facebook profile.
Once inside, they gather and store information relevant for advertisers that want to target you through Facebook.
2. Dynamic Ads/ Self-Serve Advertising
Dynamic Ads is a feature from Facebook. It allows advertisers to create content based on gender, location, likes, religious inclination, age and other specifics of your profile.
It is part of Facebook Business, where commercial users can create and post ads on your Facebook profiles. The feature is also called Self-Serve Advertising.
Additionally, Dynamic Ads also allows advertisers to send you a full brochure of their products or services. When you click on this ad, the advertiser offers a facility to download a brochure in PDF or other formats.
Exact details about how much money Facebook makes from Dynamic Ads is not known.
3. Facebook Audience Networks
This is a relatively new feature on Facebook for video developers and advertisers. It allows them to stream live videos and recordings to users like us. The type of videos is again decided by your user profile details.
Facebook Audience Networks also allows companies to monetize their videos. They can sell live videos or recordings to an audience and make money through advertisers or paid content.
Part of this revenue goes into the Facebook kitty. As Facebook Audience Networks is fast gaining ground worldwide, it is a major source of revenue for Facebook.
4. WhatsApp
Facebook bought a popular instant messaging application, WhatsApp for close to $20 billion in 2014. By April 2018, WhatsApp was earning some revenues for Facebook.
Though these revenues are yet to pick up, industry experts believe WhatsApp will become a major contributor to Facebook coffers.
WhatsApp's main strength lies in instant messaging- a feature much sought by advertisers. It allows instant multimedia messages and the facility to send files.
Already, Singapore Airlines has tied up with Facebook and WhatsApp. Under this deal, Singapore Airlines provides real-time updates about flight arrivals, departures and other details to registered users on Facebook Messenger and WhatsApp.
Since mid-2018, WhatsApp has a deal with Unified Payments Interface operated by the National Payments Corporation of India (NCPI). Under this deal, WhatsApp users in India can send and receive money using the UPI system.
Sending money through WhatsApp is a feature that is likely to be marketed worldwide by Facebook to step up its income.
5. Instagram
Facebook also owns Instagram. Instagram, the pictures and video sharing network recorded revenues in excess of $6.84 billion by the end of December 2018.
It has over one billion Monthly Active Users (MAU). Instagram is fast emerging as a major source of revenue for Facebook.
With over a billion subscribers, Instagram continues to attract advertisers to post content. They pay Instagram for these advertisements, contributing to Facebook revenues.
Instagram also has other variants that are specially oriented at professionals and businesses.
6. Games on Facebook
Fond of playing games like Farmville and others on Facebook? Then you are also helping Facebook to make money. How? Most developers that wish to popularize their latest release, push the game over Facebook.
And why not? With over 2.32 billion Monthly Average Users (MAU), Facebook provides an ideal platform to test and popularize the game.
Major developers pay Facebook to push the game to users like us. Depending upon how badly they want to promote the game, Facebook charges a fee.
This can range from anything like 0.5 cents per download to as high as $1- which is paid by the game developer.
7. Facebook Messenger
Facebook Messenger is yet another avenue how Facebook makes money. It has over two billion MAUs, according to latest estimates.
Facebook Messenger is now actively promoted by Facebook as an attractive advertising vehicle to companies. Messenger is a smartphone based app. Facebook estimates, over 78 percent of mobile users would this app by the end of December 2018.
Further, advertisers are also eyeing Facebook Messenger to get their messages and advertisements across rapidly to the increasing flock of smartphone users.
While Facebook charges companies for advertising on Facebook Messenger, it also provides a host of free benefits that advertisers can utilize to spread their word.
More? Facebook Messenger now offers a facility to send and receive cash instantly. This facility is currently available worldwide, except in certain countries like India where the government restricts or monitors money transfers from abroad.
8. Facebook Marketing Consultant
Facebook provides a franchise of sorts to entrepreneurs that wish to conduct courses on marketing on this largest social media platform of the world. It is open to entrepreneurs around the world.
To become a Facebook Marketing Consultant, you have to register online with Facebook Business.
A Facebook Marketing Consultant is usually an expert that can maximize Facebook marketing techniques for clients.
This is a paid course. While the Facebook Marketing Consultant charges a fee from learners, Facebook levies a small charge for providing the service.
---
Wrap Up
In the past, Facebook stood accused of allowing app developers to access user data. This led to scandals like Cambridge Analytica.
Further, there are also accusations that Facebook takes money from political parties to swing elections in their favour by targeting specific users.
Facebook continues to refute these charges. However, it is a well-known fact that Facebook definitely uses the personal information you provide.
On the other hand, Facebook needs to generate revenues for its operations. The company is also responsible for its stockholders spread across the globe.
Hence, Facebook will continue finding newer avenues to boost its income. Whether or not it will affect our privacy as Facebook users remain to be seen.