Online shopping and food orders are something that are growing in the US, almost by the hour. As a result, there's a huge demand for persons that can deliver orders to customers, either to homes, offices or other locations.
Perhaps, you've also ordered something online such as groceries or food or sent flowers and chocolate to someone. These were also delivered by someone. This shows the importance of delivery jobs in our life.
Understandably, there're plans by large corporations such as Amazon to provide deliveries with drones and other high-tech equipment to customers. These plans are yet in their earlier stages. And when drone-based deliveries do start, there're no guarantees that such flying machines can reach everywhere. This directly means that humans or persons like you and me would definitely be necessary to deliver orders to their customers.
These facts clearly point out that delivery jobs will be around for at least the next ten years, if not longer.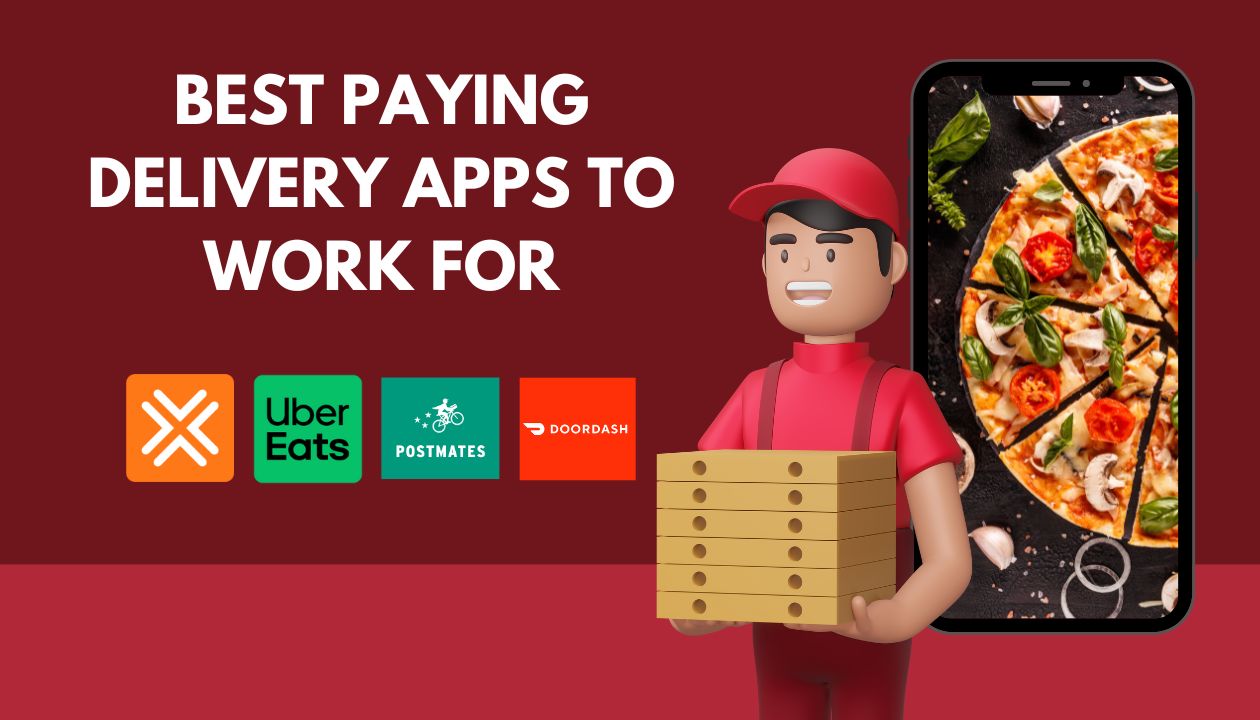 Table of Contents
Reasons to Take Delivery Jobs
The fact that delivery jobs are here to stay is proven by the fact that drones and unmanned vehicles can't really reach everywhere. Despite the latest technologies, it's impossible to use such vehicles in quite a lot of areas.  This means delivery agents will be around for at least the next 10 to 20 years.
Secondly, delivery jobs don't really require any educational qualifications. A school graduate or a high school graduate can easily perform these tasks. Furthermore, even seniors, to some extent, can take delivery jobs that are fairly easier.
And finally, delivery jobs can be taken on a full-time basis or even a part-time basis, depending on how much money you wish to earn. These jobs come with flexible working hours, except in some cases. That means you can select the time of the day that you wish to do these delivery jobs.
We're aware that the Covid-19 pandemic has left several Americans jobless. Millions of families are struggling with finances even as their savings were wiped out due to higher living costs and the loss of jobs in 2020 and 2022. Therefore, 2023 is a good year to cover up these financial losses by taking a superb delivery job, either part-time or even full-time, if necessary.
13 Best Paying Delivery Apps To Work For
Therefore, if you wish to take a delivery job, the best time is now, in 2023. That's because the US online shopping and food ordering market is booming in the post-pandemic era. With people now more open to online purchases, there's a surge in businesses for all online retailers and restaurants.
Another advantage with delivery jobs is that you could make them your profession and even earn your monthly income in the form of payments from the company and tips. Most of these jobs don't come with contracts. That means you aren't tied down to any company and have the flexibility to change jobs anytime.
Therefore, here's my curated list of the 13 best delivery apps for jobs and work in 2023.
1. Amazon Flex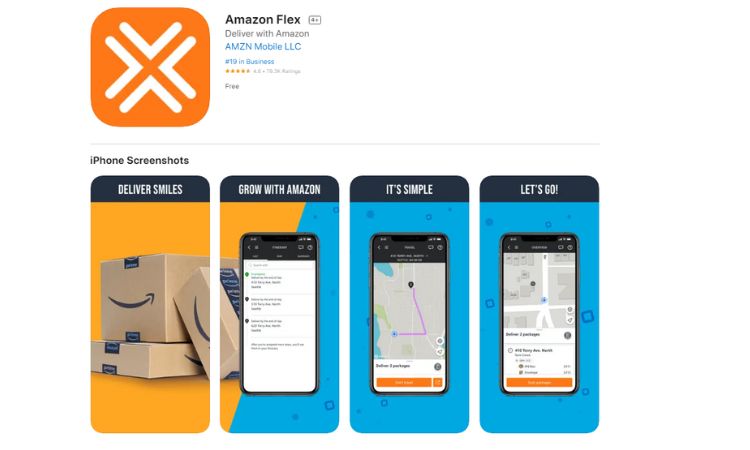 Since its launch about four years ago, Amazon Flex has become the topmost app for persons in the USA and elsewhere in the world to find delivery jobs. It is one of the best ways to make money on Amazon, as you would know, is the largest online store in the world. You can deliver orders for Amazon and make up to $25 per hour. More, if you get tips. All you need to do is download the app, register and give your details. If accepted, you can select from the four-hour delivery slots and start your work. Amazon conducts background checks for all its Amazon Flex applicants before confirming them as delivery agents on a freelance basis.
2. Uber Eats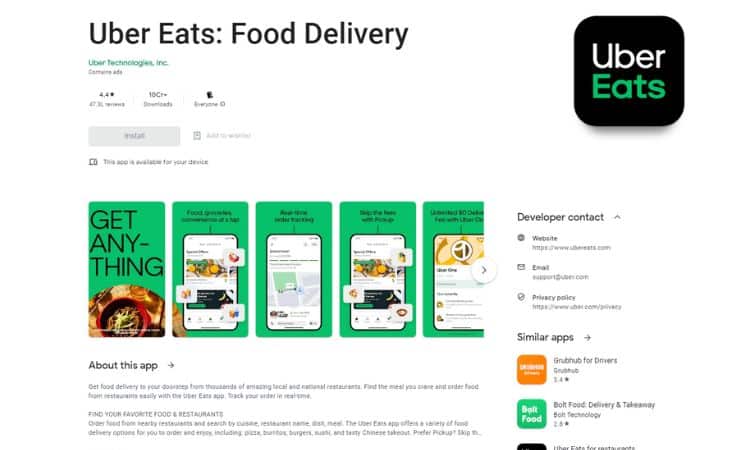 Uber is the largest cab aggregator in the US, as you might know. The good news is that Uber also has a food delivery division known as Uber Eats. That means people can order food from Uber Eats and get it delivered to their homes, offices or other locations.
Uber Eats is the best food delivery service to work for, and you needn't be an Uber taxi driver to work for Uber Eats. Simply download their app, register and once successful, start delivering for Uber Eats in your city. They have a list of restaurants in the city from where you have to pick up the food.
However, customers also have the option of choosing places outside that list. It is one of the easy and proven ways to make money fast.
3. Postmates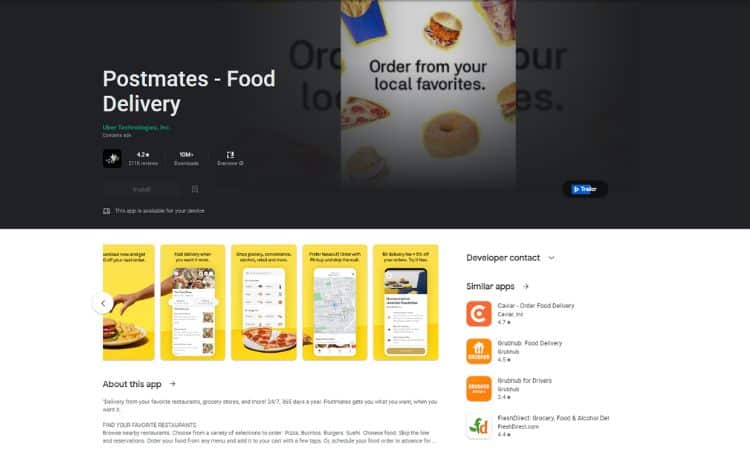 Without any doubt, the largest food delivery service in the US is operated by Postmates. You can earn as much as $15 per hour or even per delivery, depending upon the time taken to ride or drive from a restaurant to the customer's location. In some cases, you can also get tips from happy customers. Download the Postmates app and join the Postmates Fleet of delivery agents across the USA. Postmates has a tier system that allows you to earn more money as you grow in that job as a delivery agent.
4. Door Dash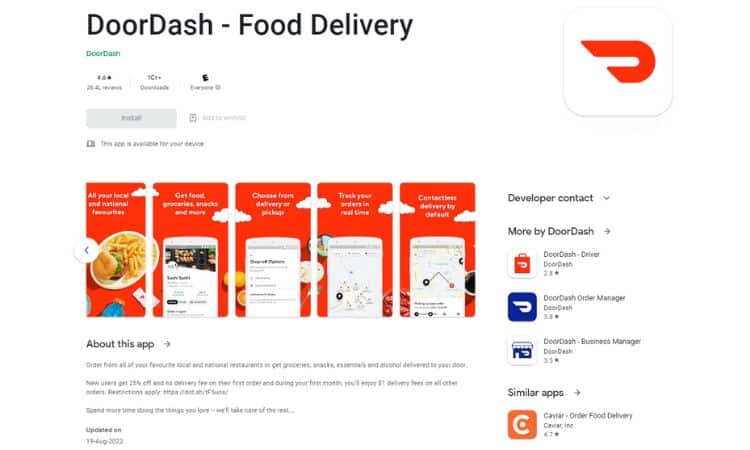 Door Dash also ranks as one of the highest-paying delivery-driving job apps in the US. You can make up to $15 per hour on Door Dash by delivering food in your area. There're no time limits on how much you can deliver on any given day. Therefore, if you wish, it's possible to work for Door Dash for as many as eight hours a day and earn a living.
In addition to food takeaways and deliveries, Door Dash also provides grocery shopping and deliveries. Door Dash is liberal with its perks. The more you work for Door Dash, the more you have a chance of getting these perks.
5. Grubhub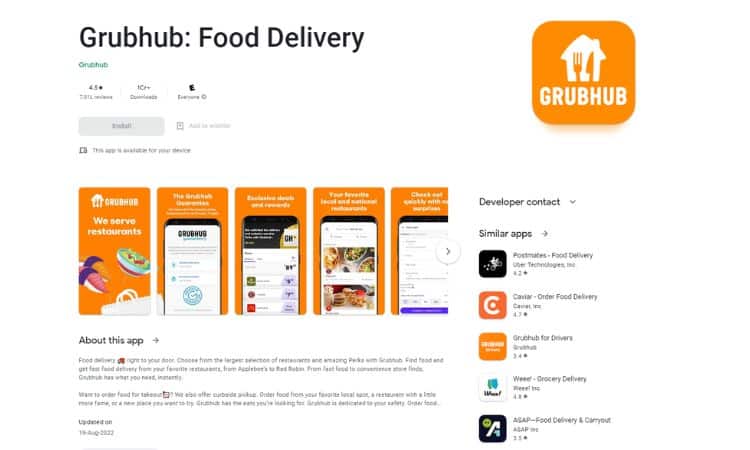 Ranking at No-5 on my list of best apps for delivery jobs is Grubhub. They pay between $10 and $15 per hour, which works up to quite a large amount if you consider an eight-hour day schedule.
Grubhub also operates around the US and hence, you could find a job or deliveries in your city. They also pay more for deliveries during odd hours. Grubhub operates round the clock because hunger can strike anytime. They have wonderful perks for consistent deliveries. Customers can leave you a tip on GrubHub and rate your delivery service too.
6. Instacart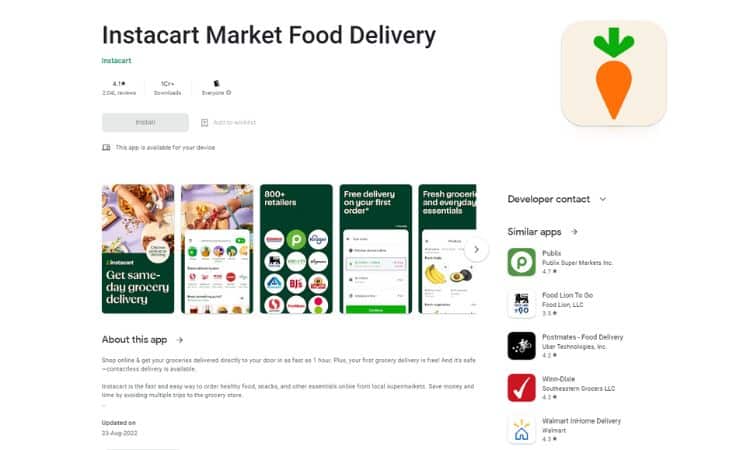 Who hasn't heard of Instacart? It's one of the best online grocery shopping stores in the USA and has the largest door delivery service for shoppers. Every time you wish to buy large quantities of groceries for cheap, do that through Instacart. Their app features online grocery stores too.
But above all, they have personal shoppers and delivery crews that deliver these groceries to buyers. Instacart also pays these personal shoppers for walking. This job can also get you some tips. Other than groceries, Instacart also provides for shopping and deliveries of medicines and other urgent supplies, if necessary.
7. Shipt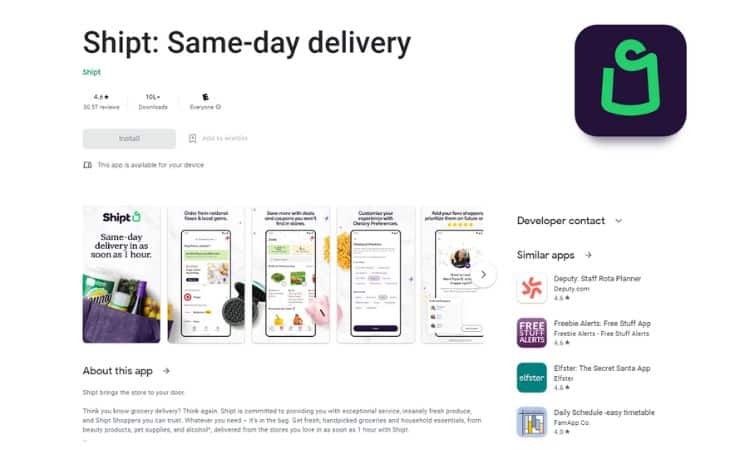 Shipt is a wonderful app if you love shopping for groceries. That's because you will shop groceries for people and deliver it to their locations such as homes or offices, among others. Customers place orders at superstores and other retailers.
You have to fetch these orders and deliver. Alternatively, you can get a shopping list from a customer that you have to buy with their Shipt card and deliver to the customer.
8. Eaze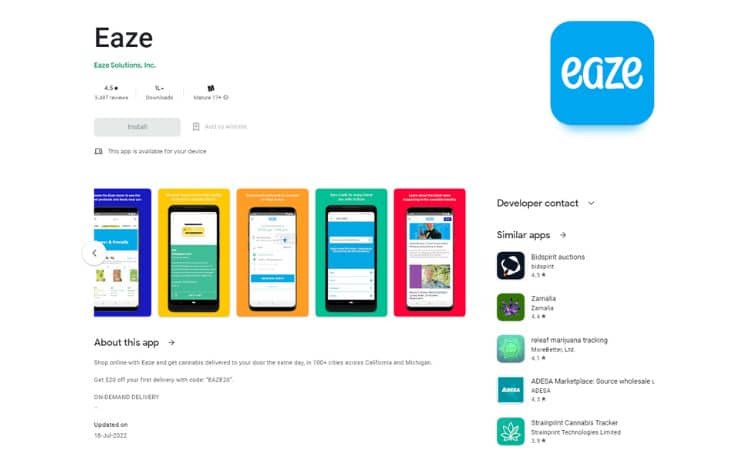 Not many of you may know about this amazing delivery app that provides jobs. It's called Eaze. At the moment, Eaze is limited to a few states in the US. That's because Eaze is an app where you can find jobs to deliver marijuana.
You can earn between $15 and $20 per hour with Eaze. Tips from satisfied customers can also increase your income. They pay twice a week. However, to qualify for Eaze isn't easy since they require some stringent checks of your background.
9. Caviar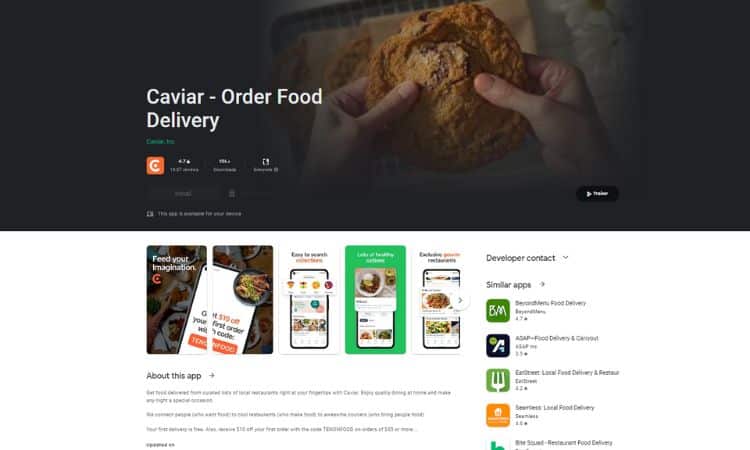 Caviar is a food and drinks delivery app that comes from Door Dash. However, Caviar is different because it takes orders for only the best and topmost or exclusive restaurants in town that are quite expensive for most Americans. They pay between $15 and $20 per hour.
However, being an exclusive and higher-end service, you would have to qualify to deliver for Caviar and have certain personality traits and appearance. You might not get many orders while working for Caviar. Hence, you can also work for another app on the sidelines.
10. Saucey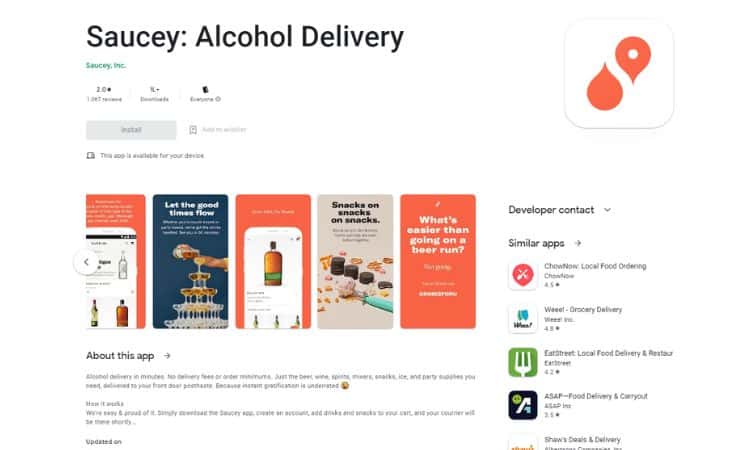 Saucey is the largest booze or alcohol delivery app in the US. To work for Saucey, you have to qualify. Meaning that you should be above the minimum age requirements of your state for buying, consuming and handling alcohol. That's because alcohol sellers will not hand over a bottle to an underage delivery agent.
Furthermore, you have to handle the alcohol with utmost care and ensure the bottles reach safely. They pay $15 per hour. You could also get some tips from happy drinkers.
11. Lyft Delivery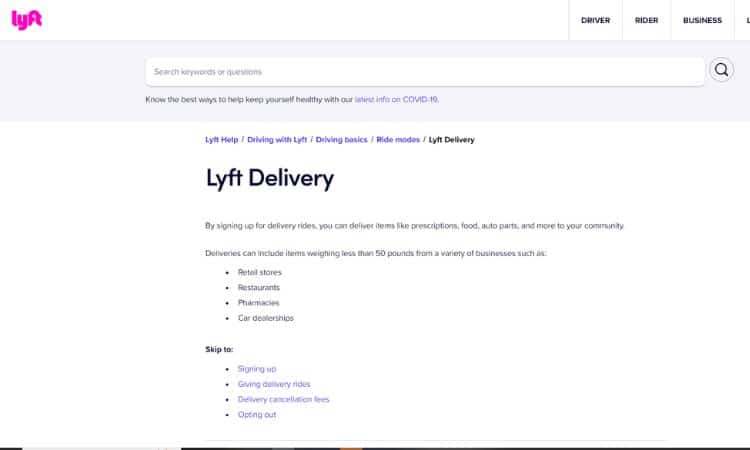 Lyft Delivery is operated by the large cab aggregator Lyft. Their drivers deliver a variety of stuff, including food, groceries, medicines and other stuff. You needn't be a Lyft driver to qualify for Lyft Delivery. However, you would need your own vehicle, as with other apps.
This app is best if you're living in large cities because they get the highest number of orders. You can get money per order or on an hourly basis. The minimum you can earn is $12 per hour, and tips, if any. If you're already a Lyft driver, you can boost earnings with this service and app.
12. Go Puff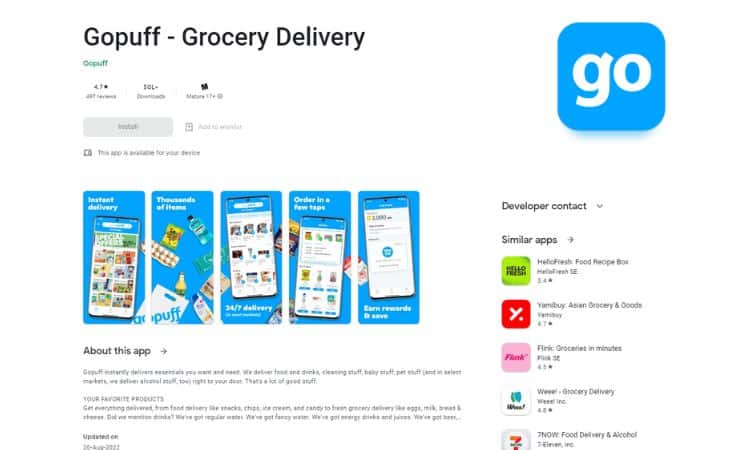 Go Puff is a wonderful app that also gives you delivery jobs of all kinds. Once you sign up successfully on Go Puff, you will have to pick up and deliver all kinds of orders, including food, medicine, booze in some cases, groceries and other stuff.
Go Puff fleet members, as they're known, can earn up to $15 per hour and more, depending on the locations, pick up and delivery addresses. They always welcome newcomers. Go Puff is fast becoming famous in the USA. You can try for delivery jobs at your location with this app.
13. TaskRabbit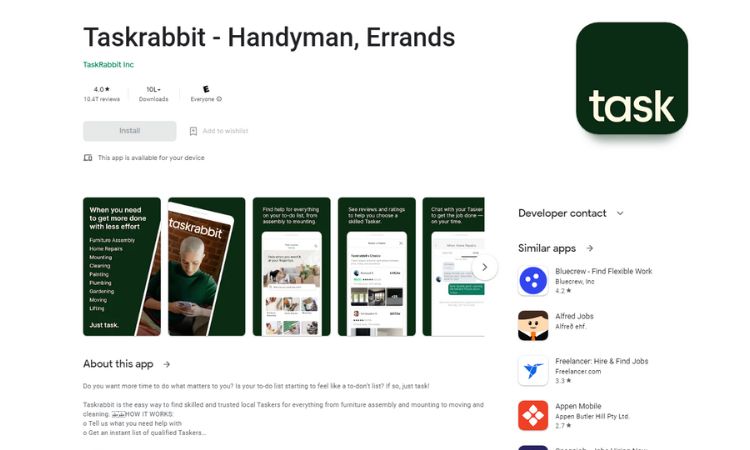 Strictly speaking, TaskRabbit isn't an exclusive app for deliveries of foods, orders, groceries, booze or any other stuff. Instead, it's an app that provides handyperson services to people. However, TaskRabbit gets plenty of handyperson requests for personal deliveries.
That means, if someone wants to send a package or letter to anyone, they hire a handyperson as their delivery agent or representative. The pay is decided by the client. You can take these jobs in your spare time.
Also read: Proven Ways to Make 200$ in One Day
Requirements for Delivery Jobs
Generally, there're no major requirements to qualify for a delivery job. However, in some cases, the company that owns the app could require a background screening. Amazon Flex, for example, screens all applicants for its program.
Other than that, you will require your own vehicle and a valid driving license, preferably with an accident-free record.
Most delivery services require that you possess a pleasant personality and are people-friendly. Some have policies where you need to disclose whether you're carrying pets in your vehicle or would there be pets at the time of deliveries. This policy is mainly to protect customers that could be allergic to pet hair.
Most apps will provide you with delivery jobs that are to be completed only between 8 am and 8 pm and in some cases, as late as 11 pm. However, food delivery apps may require you to be on call even during late hours or after midnight.
In most cases, the app will give you a payments card to pay for the food, groceries or medicines and other stuff. The amount of your purchase is prepaid on the card. This means you don't need to spend from your pocket to buy stuff and deliver.
Wrap Up
Delivery jobs through these apps are the best in the US for 2023. Not only do they pay you well, but they also offer perks and other benefits, such as higher positions after you complete several tasks consistently.
These are legit apps, and hence, you can find full-time or part-time delivery jobs with these apps almost instantly. These jobs are relatively safe as well, though, in rare instances, the delivery crew has been targeted by angry customers. Delivery jobs can help you get the much-needed extra money or cash for your routine household expenses.
FAQ
Which delivery app pays the most?
DoorDash is the delivery app that pays the most to its drivers, with an average hourly wage of $18.62. Other popular apps like Uber Eats and Grubhub pay less on average. However, the pay can vary depending on location and other factors.
What's the best food delivery app to work for?
The best food delivery app to work for would-be Uber Eats, Grubhub, and DoorDash for their market coverage, pay, and driver support. It's best to research and compare multiple options.
Which delivery app has the most users?
The most widely used delivery app globally is Grubhub; with a large market share and presence in over 3,000 cities in the US, it also owns other apps like Seamless, Eat24, and Allmenus.
Which are the top 3 food delivery apps?
The top 3 food delivery apps are Grubhub, Uber Eats, and DoorDash. They all offer a wide selection of restaurants, fast delivery times, and loyalty programs. These apps are widely used and accepted by consumers.