This is a common situation we face sometime or the other: we require money but don't wish to borrow from relatives or friends. Nor do we have enough bank balance and payday is still a few days away.
What could be do?
Most of us might feel hopeless in such situations. Unless, we know how to make 200 dollars in one day.
Surely you'll wonder whether it's possible to make $200 in one day. Because it means you can earn as much as $6000 per month, by working 30 days.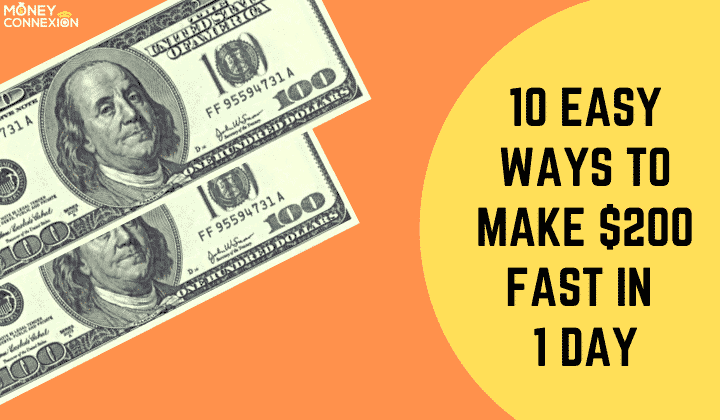 Actually, it's fairly easy and quick to make $200 in one day, if you're willing to exert some extra efforts. Millions of people across America actually earn 200 dollars in one day doing odd tasks and jobs.
How to make $200 in one day? Here're 10 legit ways to make quick money-
Legit & Proven Ways to Make 200 Dollars in One Day
Finding skills and types of jobs you can do is the best way to go about making $200 in a day. Because some skills and work can get you a lot of money for working just a few hours.
I'm listing some websites where you can find work to make $200 in one day. And some tasks you can easily find in your area.
1. TaskRabbit
TaskRabbit.com is my favourite website to make $200 or more in a single day. I'm sure you'll find it helpful too. Getting started is simple: download their app from Google Play or App Store and register yourself.
You'll have to provide some references or credentials for background check, since TaskRabbit.com gives work where you'll come in direct contact with the employer.
After successful registration, you'll be known as 'Tasker'. You can select the work on your app and upon getting confirmation, go to the address to finish the work.
Gardening, moving furniture and certain other work gets you as much as $80 per hour. You'll have to submit an invoice for your work using the app to get the money.
2. Etsy
Making money on Etsy.com isn't easy. But there're countless real-life success stories that prove you can make 200 dollars or more in one day through Etsy.
How's that? Etsy is a popular website for people that want to buy exclusive handmade stuff such as paintings, sculptures, handicrafts, costume jewellery and other things.
You can open a free marketplace on Etsy on a trial basis. And start selling any handmade or exclusive things you have.
In fact, you can also open a paid marketplace on Etsy and sell anything that you can make such as embroidery, paintings and also handmade jams, pickles and spices. The money from buyers goes immediately to your bank account or debit card.
3. Thumbtack
If you've not heard about Thumbtack, then it's high time to learn about it. Thumbtack is an excellent app where you can make $200 or much more in a day.
However, you'll require some special skills to get small tasks from Thumbtack. Usually, this app provides motley jobs for software and IT professionals or those having the necessary skills.
Getting started is easy. Download the Thumbtack app and register yourself. Select the skills you can offer. You'll be amazed by the number of individuals and businesses that require your work.
Most jobs will fetch you at least $50 per hour while some can get you whopping $100 per hour. I suggest you visit their website and read details carefully to make quick and fast money with Thumbtack.
4. PostMates
PostMates operates across America. And they deliver food from various restaurants to customers. And this food delivery is done by people like you and I. For doing a few deliveries for PostMates, you can earn $25 per hour.
Meaning, you'll have to work for eight hours and deliver food in your area. This means you'll pick up food packages from restaurants and deliver to customers.
Often, customers pay a small tip when you deliver for PostMates. This isn't a rule. A few customers are grateful and they are generous enough to reward your efforts. You get the full tip amount.
That means, you can make $200 in one day without actually delivering food for eight hours or so. However, I suggest you read all the terms and conditions of PostMates before registering.
5. MicroWorkers
MicroWorkers.com is a crowdsourcing website that has over 1.5 million members. The website is the largest of its kind in the world. You can get all sorts of micro tasks on MicroWorkers.com.
And minimum payment for a task starts from $5. However, some tasks on Microworkers.com also pay as much as $100 per hour, for specialized skills and urgency.
Register on Microworkers.com to start. You can take tasks their website displays. Upon completing these tasks successfully, you can check how much money you have made.
And ask for payment of $200 immediately. They pay the money by PayPal, Payoneer and other platforms. The money goes to your bank account directly.
Refer:- Best micro jobs to make $500 extra.
6. Proofreading Tasks
You can earn up to $50 per hour simply by proofreading documents. However, you'll require excellent grammatical skills to make $200 in one day by proofreading. The good news: it's not difficult and there're plenty of tasks you can find online.
If you can proofread legal documents, tax papers and other complex stuff, you can make as much as $50 per hour. Otherwise, you can get at least $20 per hour for proofreading general documents.
Manuscripts of books are most valuable: you can earn up to $100 per hour if your services are taken by some top publishing house for proofreading a book before it's printing.
7. Paid Friendship
This might sound a bit absurd, but you can actually sell your friendship to lonely people and travellers. This isn't something like a sugar baby. Far from it.
Travelers require someone to guide them around your town or city. And they prefer a local that would know the place and sometimes, the right people to connect with for some work.
And often, lonely folk are willing to pay as much as $25 per hour only to spend time with you as a friend. It gets better too: these lonely people will buy you a nice lunch or dinner or even take you for a drive around the city, even as your money clocks upwards to $200 per day.
8. Work as MC
Do you have that special way with guests and know how to manage parties? Then you're sitting on that gold mine you've always wanted. An MC gets as much as $100 to $150 per hour at small parties.
If you'll work as MC for a large party of a large organization, it's possible to make up to $500 per hour. But this job requires special skills and hence the pay is very high.
Maybe you have the skills to work as MC but have never tried earlier. If so, give it a try and you could open up a treasure trove. Most parties require an MC for two to three hours. And usually during the evenings. That's when you can make $200 in a day very easily.
9. Handyman Services
All of us have needed a handyman at some point of our life. And paid for the service too. Nowadays, a handyman makes anything between $60 and $85 per hour, depending upon the task.
Complex work that requires special skills can fetch you $100 per hour too. These special skills include handling high voltage electrical circuits, security fencing for houses and packing fragile stuff for movers, among others.
You can find handyman work on Handyman app. This is a simple app to use. You'll need to switch on the location finder on your smartphone while using this app.
The location service will help you get jobs within your vicinity. If you wish to take the task, you've to bid for it. And once your bid is successful, go to the location to complete the task.
10. Party Mascot
Working as party mascot is a fun job. All you need to do is wear a costume and play with kids. You've to keep children engaged during the party and conduct games, crack jokes and do all sorts of other gimmicks to entertain them.
This isn't an easy job by any measure. But it pays up to $80 per hour or even more. That depends upon the size of the party and the mascot role you'll play.
Local halls, party requirement stores and community organisations are your best bet to find work as a party mascot. However, the work is very enjoyable and you won't regret making $200 in a day as party mascot.
Read a bit about what party mascots are expected to do and practice a lot. Once you get it right, you can easily make $200 in one day or even more.
Closing Thoughts
The above 10 ways to make 200 dollars in one day are legit and workable. While some would allow you to get quick cash the same day, you might have to wait for payday for others. To make the best of these ways, find what skills you can offer and select the proper place to sell these skills for money.