Amazon Flex is one of the best side jobs to make a lot of extra money during your spare time. Indeed, Amazon flex-pay anything between $18 and $25 per hour. And it doesn't need any special qualifications.
Sounds interesting? Then read my complete guide on how to make money with Amazon Flex jobs.
Making Money with Amazon Flex Jobs
Making money through Amazon Flex jobs is very simple. All you need to do is download the Amazon flex app in your mobile, register yourself and await their response.
However, here're some basic things that you should know about how to make money with Amazon Flex. These details might help you to make the best use of spare time and earn more money.
Working for Amazon Flex
Working for Amazon Flex means you'll deliver packages to customers on behalf of Amazon. That's all.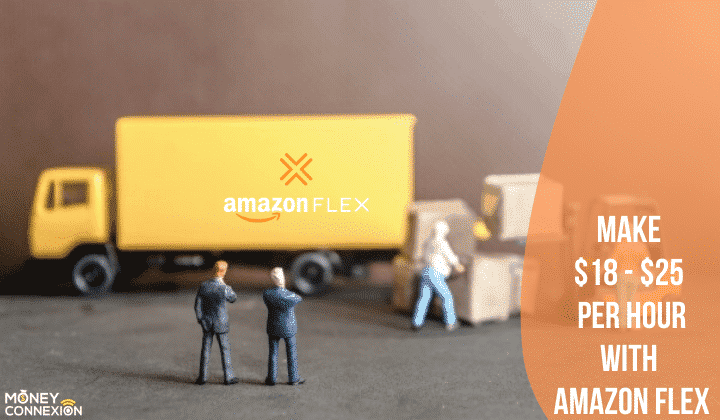 Actually, working with Amazon Flex isn't really a job. Instead, you're an independent contractor providing a service to Amazon. And to do so, you need to be eligible to work with Amazon Flex.
How do I Become Amazon Flex Driver?
In order, to get started you have to download the amazon flex app and register yourself. While you are registering yourself you should satisfy these basic criteria,
You have to be 21 years or older.
Have a valid driving license.
Own or possess a vehicle that qualifies to Amazon standards.
Have valid insurance for self and vehicle.
Getting Work Is Difficult
Getting work with Amazon Flex can prove extremely difficult. As I mentioned earlier, Amazon flex pay between $18 to $25 per hour. And that's fairly good money by any standards. Therefore, there're thousands of people awaiting their turn for Amazon Flex jobs.
Amazon Flex operates across USA. Despite, there's quite a long waiting list. However, if you're residing in a place where Amazon requires delivery agents urgently, you might get lucky.
Therefore, I would recommend you enroll right now by downloading the Amazon Flex app. Fill up all the necessary details and await a response. Remember, the queue's getting longer even as you're reading my article.
1. Choosing Your Delivery Blocks
You can't deliver packages throughout the day and whenever you want with Amazon Flex. That's because Amazon wants to give everyone an equal opportunity to make money with this program. Therefore, Amazon Flex uses a system known as 'Delivery Blocks.'
In simple terms, a Delivery Block is a sort of timetable for deliveries. It will show on your Amazon Flex app once your application is successful. You can view the available Delivery Blocks and swipe on the app to accept work during that time.
You can also cancel a Delivery Block you choose by simply swiping on the app, at least 45 minutes before your time begins.
And if you need to cancel in a hurry- Amazon Flex allows you a window of five minutes before your Delivery Block starts. In such cases, your Delivery Block will be known as 'Missed Delivery Block'.
This can be a bit tricky. Canceling or missing a certain number of Delivery Blocks can disqualify you to work as Amazon Flex driver.
I'll describe different types of Delivery Blocks to help you better understand how it works.
Types of Delivery Blocks: If you've ever bought anything from Amazon, you'll be aware of their various plans. And Amazon Flex Delivery Blocks are designed to suit these plans. In most cases, you'll have to pick up packages from an Amazon Delivery Station.
1. Amazon Prime Now
Delivery Blocks for Amazon Prime Now packages will display on your app just an hour before they start. That's because Amazon Prime Now offers faster delivery. This means you'll have to check your Amazon Flex app for any upcoming Amazon 'Prime Now' Delivery Blocks quite frequently.
2. Amazon Fresh
Select Amazon Fresh Delivery Block only if you have a vehicle that allows you to carry heavier stuff. Because AmazonFresh involves delivering groceries.
You'll have to pick up groceries from the Amazon Fresh sites or local grocery stores. These stores have a tie-up with Amazon.
And hand them over to the buyer at their given address. Usually, your Amazon Flex app will display the time when a customer is available at the delivery address.
3. Amazon.com
These are the simplest and hence, most Delivery Blocks would be for Amazon.com orders. In such cases, you'll have to pick up packages from Amazon Delivery Station.
These packages come from Amazon Fulfilment Centers across the USA and some of their member retailers. Hence, you can expect most Delivery Blocks for Amazon.com orders.
4. Local Store Deliveries for Amazon
Amazon also allows third-party sellers to advertise and sell stuff. Therefore, you can also select a Local Store Delivery Block with Amazon Flex. This means you'll visit these stores in your city or area, pick up packages and deliver to customers.
The third-party seller is expected to keep the order ready and packed in Amazon brand cartons or packaging material before you arrive for collection.
The vehicle you own will play a major role in deciding the kinds of Amazon Flex driver you will be. Usually, trucks and heavier vehicles are ideal for Amazon Fresh.
Currently, Amazon Flex doesn't allow motorcycles to be used for deliveries. However, the rule might change and you can look for any announcements on their website.
2. Canceling or Missing Delivery Blocks
You can cancel a Delivery Block with your Amazon Flex app. However, you've to do that at least 45 minutes before your Delivery Block begins. This allows other Amazon drivers to get the Delivery Block and ensure that deliveries are on time.
You can also cancel a Delivery Block if you miss the 45-minute deadline. And this has to be done at least five minutes before your Delivery Block starts. In such cases, it will figure as 'Missed Delivery Block' on your records.
Canceling or missing many Delivery Blocks is something you should try to avoid. Because Amazon Flex might disqualify you from the program.
There're no clear rules about how many cancellations or missed Delivery Blocks would get you disqualified.
And missing or canceling Delivery Blocks also means lesser money. Actually, Amazon has a superb system to pay Amazon Flex members.
3. Getting Money from Amazon Flex
Amazon Flex pays your earnings to your bank account every Tuesday or Friday. Unless banks aren't working on any particular Tuesday or Friday.
Therefore, you'll have to provide the correct details of your bank on the Amazon Flex app.
There are two ways you get money from Amazon delivery jobs.
One is for the Delivery Blocks that you complete. The other is the tips if any, that are given online by some happy customer for your service. Some customers might also tip you cash.
4. Tips with Amazon Flex
Amazon Flex doesn't have any claim on tips you get. Meaning, the entire amount along with your Amazon Flex earnings will go to your bank account every week.
Remember, giving you a tip depends upon the customer. Hence, Amazon has no say on this matter.
You can report one or more tips using the Amazon Flex app. This helps other Amazon drivers to estimate how much more money they can make by delivering in a particular city. It also helps to know about the type of deliveries that customers tip for.
5. Handling Undelivered Packages
Amazon has very strict policies for undelivered packages. You've to hand them over to Amazon Delivery Center from where you took them after your Delivery Block ends. This helps Amazon to hand over the package to other Amazon drivers for faster delivery.
Further, Amazon Flex allows undelivered packages only when a customer isn't available to take delivery for some reason. This means you can't skip delivery and claim it as undelivered.
However, in case of very strong reasons such as vehicle breakdown or end of Delivery Block, bad weather or certain others are excluded.
6. Flipsides of Amazon Flex
Understandably, all these facts would attract you to join Amazon Flex. However, there're some major flipsides with Amazon Flex too.
You've to pay any toll, parking fees and other expenses that arise from delivery. Amazon Flex doesn't pay these expenses.
You'll have to be alert and quick to get Delivery Blocks that suit your time. There's usually a lot of competition. Often, you might not get a Delivery Block that matches your free time.
Amazon Flex pays between $18 and $25 per hour depending upon your location. Other factors such as type of Delivery Block and stuff you deliver also decide the pay.
If you have any further doubts, I suggest you check the Amazon Flex app and find the answers. They also provide a helpdesk of all sorts for Amazon Flex members to answer any queries and doubts.
Do's and Don'ts with Amazon Flex
Amazon Flex has certain policies about co-passengers in your vehicle: they cannot leave your vehicle while loading packages.
Nor can they get out of the vehicle while making deliveries. Your co-passengers also cannot interact with customers since it's against Amazon's policies.
Amazon doesn't have any rules about riding in your vehicle with pets while making deliveries. However, I have one suggestion about pets in your vehicle while making deliveries.
Pets such as cats and dogs shed hair. And some people are severely allergic to animal hair. If hair from your pet sticks to a package you deliver, the customer might suffer from allergies.
Therefore, whether or not to carry your pet along while on  deliveries is your decision.
Handling frozen, chilled, easily perishable food products and alcohol is something you need to learn.
If you have to deliver such items, ensure they're packaged        properly and don't melt on the way.
Handle alcohol deliveries with care. Sunlight and heat can damage expensive alcoholic drinks.|
And never tamper with any package. That's totally against Amazon policies. You can become liable for any damage to the stuff if you tamper the package in any manner.
Wrap Up
If you're serious about making money with this program, go ahead and download the app.
Register by providing necessary details. While there's a waiting period because of a large number of applicants, you might just get lucky.
And in conclusion, I'll suggest you speak with someone that's already an Amazon Flex member and learn their experience. That could show you how to make money with the Amazon driver job in the best manner.
It's easy and simple if you wish to make extra money in spare time.