One of the newest category in the online job is earning money from mobile phone. We have registered and reviewed all the sites who claim to pay by receiving SMS and found that half of the sites either don't have enough advertisers or don't pay for our work. We are providing you details of top 6 sites that are trusted and pay you for receiving SMS as well as the sites you should avoid to join.
Although you are not going to make big money by receiving SMS but still this will add some amount in your monthly income without spending time on these sites. As you will earn by receiving SMS, you don't have to devote time in this work. Just receive SMS as per your convenient time, check the SMS and the ads and delete this. That's it.
Yes, many companies provide so many great offers through such SMS which are not available in the market so if you like some offers, you can go ahead to buy and that will be an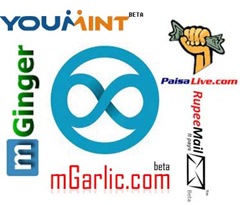 added advantage for you. If you don't like, simply delete the ad. You will earn from each and  every SMS that you receive in your mobile.
Multiply Earning By Inviting People
Not only you earn by sending and receiving SMS, you can also boost your earning by referring people to join on these sites. For each and every person you refer to these websites, you will get paid either some fixed amount or some share for life time from the earning of that person. Don't worry; your commission will not be deducted from your referral's income but this is the extra commission. There is no limit on how many people you can refer and so there is no limit how much you can earn from mobile.
Top 3 Sites to Earn Money From Mobile
1. mGinger
This is one of the best sites to earn money from mobile. They have good history of paying to their members with many positive feedbacks they have received. At the time of joining, you can specify how many SMS you want daily and your convenient time slot when you want to receive the SMS.
You can refer people and earn INR 2 for each and every person who joins mGinger through your link. Inviting people through mGinger is very easy. You can invite through Yahoo Messenger or GTalk, You can invite through your email or your friends on social media sites or even by sending SMS, all from with in the mGinger sites itself. Just click the 'invite' link after login and you will know how easy is that. So what are you waiting for, just join mGinger by clicking the link below-
2. PaisaLive
PaisaLive is one of the best site with lots of big brand advertisers with them. PaisaLive will pay you for every unique login to your account in 24 hrs time. You get paid INR 99/- instantly on signup. They also send promotional emails of their advertisers. So you you will earn INR 0.25 to INR 5.00 for each paid email. You can also make INR 2 for each referral.
I have written one of the article on PaisaLive Scam on my blog. Although I have got paid twice from the company without any problem but the amount they pay are very less. If you want to make good money from PaisaLive then you need to work regularly & refer more people.
3. ViewBestAds
Again one of the best and simple but interesting concept. You will see the advertisement of your own interest, you can see the positive news, predict the Nifty & play the quiz everyday and get paid. Rs. 200 is paid instantly on joining ViewBestAds. Earn INR 50/- for each person you invite and when he joins. One of the good video to understand the concept and earning calculation is explained on the FAQ page. In fact check the FAQs of all the 5 websites so that you will get the complete idea of these companies and their concept.
Check Update – ViewBestAds Scam | Join ViewBestAds Here
4. YouMint
YouMint is a new venture created by the same guys who started the mobile shortcode revolution in India! (58888). YouMint is backed by international investors and the executive team has worked with over 400 mobile network operators globally. You can send Free SMS, earn for growing your network, earn for receiving promos, earn through the YouMint Cash Offers.
Here's what YOU get each time a Promo SMS is delivered to or a YouMint Cash Email is opened by:
– YOU – INR 0.20
– Your Referral – INR 0.10
– Your Referrals' Referral – INR 0.05
One of the cool calculations given at the YouMint site for your earning is like this. Suppose you join and invite 20 friends and all of this 20 friends also invite 20 friends each then if all of them receive only 1 promo a day then your monthly earnings from this will be Rs. 660/-. Just imagine, if the number of promos per day and your referral will increase, how much earnings you can make here. And yes this calculation is applicable to the mGarlic as well as they have same earning structure.
You can join other 2 sites below but Not Recommended
5. mGarlic
This is again one of the good site to get paid for SMS with less advertisers then mGinger. As you can see the similarity in the names as both indicates some 'mobile spice'. You can receive up to 10 SMS every day and you can earn 0.20 INR for each SMS.
Here when you refer someone and join, you don't get fixed income but the lifetime commission of 0.10 INR from each and every SMS your referral receive. And not only that, you get paid 0.05 INR from each and every SMS, when referral of your referral receives. And that's make it a big earning.
Update – Company does not have advertisers and no paid SMS after you signup. Just AVOID.
6. RupeeMail
RupeeMail email is a message in an electronic envelope delivered in an email. Recipients get paid instantly when they open RupeeMail. You can refer people and earn INR 2 for each and every person who joins RupeeMail through you.
So join all the top 4 sites mentioned above and refer as many people as you can and see how your earnings will be increased day after day. This is a new trend to earn from mobile and with right approach; this can give you big earnings.
Tips – All the above earn money from mobile sites are absolutely free to join. So if you are joining these 6 sites then join all these sites with only one email ID and keep same password for all the sites. Its better to use Gmail ID. And it will be convenient for you if you save the remember me settings while login to your account.
Sites, You Should Avoid To Earn Money From Mobile
Here are some of the sites you should avoid joining as these are less popular, not paying to their members or don't have enough advertisers. Some of the sites even send you spam offers to join here and there and don't pay you for doing such work.
1RupeeSMS
SMS2Cash.in
Amulyam.in
We have not received any good feedback from any of the members and not even someone received money after joining these sites. If you have received money from any of these 3 sites or other sites not mentioned here, you can send your feedback through the comment section below so that we can add more sites here.
Are you earning by receiving SMS on your mobile? What is your opinion on this online job and how good you find to earn money from mobile? Send your comments below.