Nowadays, lots of questions about the legitimacy of online survey companies arise. One such a company that people are asking me about nowadays is Survey Junkie.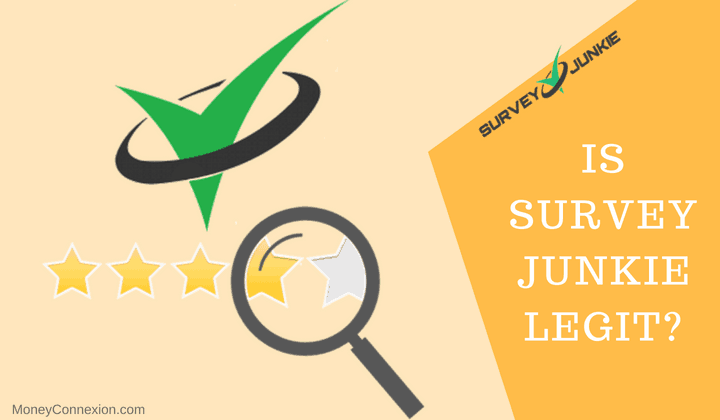 Hence, I have reviewed Survey Junkie to find whether it is legit or scam.
Survey Junkie Review
My unbiased review about Survey Junkie is based on bare facts and verifiable information taken from various sources. I am sure my review can help you.
What is Survey Junkie?
Survey Junkie is an online survey rewards platform with headquarters in Glendale, California. It is known companies by providing much-needed market research among consumers. Survey Junkie was established in June 2013 and continues to operate till date.
Armen Adjemian is the Founder and CEO of this company. Survey Junkie employs some 64 staff. Its annual turnover is estimated at US$ 7.4 million, which is higher than many of its competitors, according to sources.
Since details of Survey Junkie are easily available online, including its financials, staffing and leadership, there is every reason to believe the website is legit.
Survey Junkie Online Community
Survey Junkie's online community is around three million members, primarily located in the US, UK, Australia, and Canada. This shows that Survey Junkie is legit since scammers usually will operate in one country only and vanish.
The company says, it provides the community "the window of communication between you and the brand you love." This means, the surveys you answer are sent to owners of the brand. Survey Junkie enables your voice to be heard by companies. They use your opinion to create new products or improve existing ones.
Workings of Survey Junkie
Survey Junkie accepts new community members from US, UK, Canada and Australia that are over 13 years old. While enrolling for membership, you have to give specific details about your location and interests. This helps Survey Junkie to alert you about surveys that are relevant to your age, gender, interests and geographical location.
Requirements to Enroll at Survey Junkie
A great feature of Survey Junkie is, enrollment as a member of its online community is absolutely free. This means you do not have to pay any money, buy software or purchase a membership to start making money. This is one clear indicator that Survey Junkie is legit and not a scam. Usually, scammers ask you to pay money for membership or ask you to download paid software.
You require very basic stuff to enroll as a member of Survey Junkie's online community.
Valid e-mail ID.
Smartphone with high-speed and reliable Internet connection.
Computer with high-speed and reliable Internet connection.
Mailing address.
Verified PayPal account and wallet.
With these basic requirements in place, you can join Survey Junkie with this link. Remember to give accurate information. Any wrong information can cause you to lose earnings. For example, if you provide an incorrect address, your gift vouchers for free shopping may never reach you.
Earnings with Survey Junkie
Another indicator why Survey Junkie is legit is their very easy minimum payout limit. Scam websites have high payout limits. Survey Junkie allows you to cashout by just collecting US$10.
Survey Junkie awards you points for every survey or other action that attracts payment. Currently, Survey Junkie calculates 1,000 points as US$10. The number of points you earn per survey is mentioned in a green button that appears below its icon.
You can ask Survey Junkie for payout every time you earn 1,000 points (US$10) or more. Alternatively, you can accumulate your points and ask for your rewards when you have reached a specific number that translates into US Dollars.
Ways to Earn with Survey Junkie
Before we proceed, let me inform you that performing paid actions on Survey Junkie will not make you rich. This also speaks about legitimacy of Survey Junkie. Some other websites I have reviewed promise instant riches but never pay. Survey Junkie website clearly says you cannot become rich by performing its paid tasks.
But you can earn fairly decent amount of money by completing the highest possible number of surveys per day. On average, each survey takes between 10 and 15 minutes to complete.
It is very important to check your email daily. Because Survey Junkie will alert you every time about a new survey that suits your profile and geographic location. Since all surveys have deadlines of 24 to 48 hours after they go online, you might miss a very profitable one if you skip checking email daily.
You can complete online surveys in two ways: Through Survey Junkie website using a computer or the Survey Junkie app downloaded on your smartphone.
By my experience, you should use both: there are several surveys you can complete through their website while those on Survey Junkie app are few. You can complete online surveys on their website from home while those from apps can be done while commuting.
Surveys available on the website pay more. I recommend you do most surveys during spare time from a computer and increase the income by doing some from the app while traveling.
More Income from Survey Junkie
There are three more ways to earn money from Survey Junkie. These features also show that Survey Junkie is a legitimate website.
Referral Program: Survey Junkie will also pay you for referring any relative or friend who is accepted by the company for its online community.
Completing Profile Questionnaire: If you provide all details in the Profile Questionnaire of Survey Junkie, you can make more money. Depending upon details you provide, Survey Junkie will sometimes invite to on panel of special surveys. These special surveys earn more rewards like extra points or gift shopping vouchers on Amazon and other major online stores.
Affiliate Program: Survey Junkie also runs a successful and highly rewarding affiliate program. You can sign up for this program and make links that drive traffic to Survey Junkie website. This is ideal for bloggers, website owners, affiliate marketers and also those who have Facebook and Twitter accounts.
Repeat Questions on Survey Junkie
Yes, Survey Junkie can often send you the same survey again. This is because companies that want your feedback are also interesting in knowing the accuracy of your answer. So it is very important that you remember the answers you gave the first time you completed that survey.
If you change your answers while answering the same survey for the second time, you may get disqualified and lose earnings.
No scam website will bother to send you a repeat survey. Hence, I find this feature very unique and can safely say that Survey Junkie is legit.
Understanding Survey Junkie Points
Many people are confused about the various types of points of Survey Junkie. I will explain this in a very simple manner. Every time you complete a survey, you will see a message that thanks and congratulates you for the efforts and earnings. Generally, Survey Junkie will credit the points of a properly completed survey within a few minutes to your account.
Lifetime Points: Lifetime Points are those you earn during your membership with Survey Junkie. They do not expire. However, you can lose 'Lifetime Points' if you do not redeem them and discontinue Survey Junkie membership. Therefore, I recommend you stop Survey Junkie membership only after you have no 'Lifetime Points 'in the account. As discussed earlier, you need minimum 1,000 points to get US$ 10 payment.
Pending Points: Sometimes, Survey Junkie has to await confirmation from the company that you have completed the survey. In such cases, your earnings will reflect as 'Pending Points'. Sometimes it can take 24 to 48 hours for these 'Pending Points' to get credited into your account. You cannot ask for payout with 'Pending Points.'
Current Points: 'Current Points' are the same as 'Lifetime Points'. The only difference is that 'Current Points' are the ones still remaining in your account after you have redeemed some of your 'Lifetime Points' for money or shopping vouchers. For example, your account has 1,100 'Lifetime Points' and you ask for payout. Survey Junkie will deduct 1,000 'Lifetime Points' to pay you US$10. The balance 100 points will show as 'Current Points' and can be redeemed later.
Survey Junkie Points Expiry
All your Survey Junkie points will expire if you do not log-in to your account and completed a survey in 12 months. Once expired, you cannot redeem or get back your points: they are forfeited by Survey Junkie.
This is very true for all legit websites. They give you reasonable time to keep an account. This is because Survey Junkie is not interested in keeping inactive members. Instead, it wants to provide a good community of active members for online surveys.
In Conclusion
From these facts, it is very clear that Survey Junkie is a 100 percent legit website. I have also read reviews by its active members, who have not expressed any major complaints about payments.
Most Survey Junkie reviews and comments are about technical problems that can be caused due to issues with Internet connection or misunderstanding the system. Hence, I recommend you to join Survey Junkie and make money with online surveys.