Who says that kids can't earn money or have own income? In fact, there're 20 superb ways to earn money as a kid, simply by using your skills or taking some time away for minor tasks every day.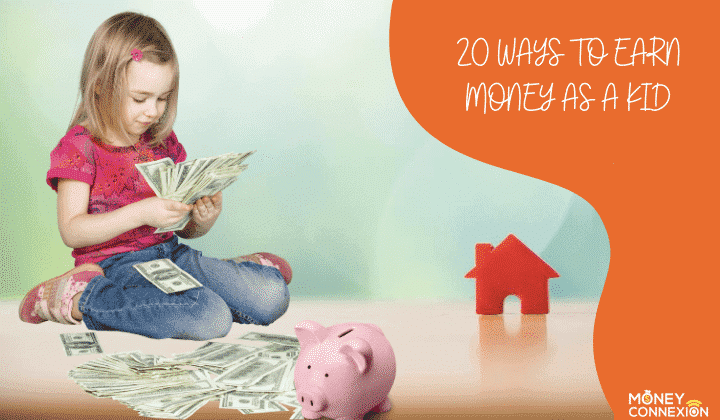 As parent, you could definitely help your child earn money. In fact, a kid will require your assistance in several ways, to succeed at money making.
Now you might wonder who qualifies as 'kid' before trying these 20 ways to make money. So, let's understand who's a kid.
Legal & Medical Definition of Kid
Basically, the term 'kid' means a child. However, various websites of the American government describe a child as a newborn to 11 years old person.
The Center for Disease Control for example, divides children in four categories, depending on age. And people aged between six and 11 years are said to be in "middle childhood." Upon attaining the age of 12, a child is known as "preteen".
You might wonder why it's important to know about this definition. That's because American labor laws strictly forbid anyone below 14-years age taking paid employment of any kind. This means, to work, a person should be at least over 13-years, under existing laws.
Parents and guardians violating this law can face very serious criminal charges and penalties. In fact, the state can intervene and take custody of any child below 13-years if found working.
Furthermore, employers also require special permits and clearances and have to comply with strict rules and regulations before hiring teenagers.
How to Make Money as a Kid
However, these rules don't imply children can't earn money. In fact, there're several excellent and legit ways for kids to make money. And some of these ways can make a child rich and famous too.
What are these ways? Continue reading.
1. Start a YouTube Channel
Just in case you're unaware, there're 10 children, all below 11-years age who're already millionaires. That's because they're YouTube stars. They have their own YouTube channels that are very popular around the world, both among children and adults. Obviously, parental support counts a lot in their success.
A child can become rich and famous as YouTuber.
Opening a YouTube channel is free. A child can make excellent videos about anything as complex as cooking or something simpler like reviewing toys, telling stories, teaching school lessons or even how to play a video game or some sport.
Read: How to Make money from YouTube
2. Child Actors
The US Bureau of Labor Statistics pegs average pay of child actors at just below $18 per hour. However, that's considering nearly 48,000 registered child artists below the age of 11 years that feature in Hollywood productions. If your child is good at acting or playing different roles, they could be millionaires in a short time. In fact, Jodie Foster and Miley Cyrus both made Hollywood debut as child actors.
However, we need to remember that child actors come under various American laws. Any production house that hires a child for acting has to comply with Child Entertainment Law of the state they reside. And Hollywood producers also have to meet requirements of the California Child Actors Bill.
3. Child Artists & Entertainers
Some of the largest theme park owning companies of America require child artists and entertainers. This is a very high paying job. A child can earn average $100 per day, working with some of the largest companies of the world. However, your child will have to pass complex audition tests before qualifying for these jobs.
Jobs at theme parks and entertainment companies include giving voice-overs to various cartoon characters. It also includes playing the role of Disney characters at theme parks and resorts. Some child artists and entertainers are also necessary for Disney cruises but these come under very strict regulations.
4. Blogging
Blogging might sound like rocket science or something very complicated for a child below 11 years. At the same time, there're countless celebrity child bloggers in America and other parts of the world.
In fact, some of them actually rank as youngest millionaires of the world. The best part of blogging: It can be done from comfort and safety of home and requires little parental supervision.
There's a lot of money to be made by blogging. If your child is passionate about something and can write well, encourage them to open a blog. Here is a complete guide on starting a blog.
5. Child Influencer
As influencer marketing gathers momentum, industry experts project it would be worth $26.4 billion by 2025. A large chunk of influencer marketing industry- about 20 percent- is held by child influencers.
According to various estimates, a child influencer makes about $100 per 1,000 people. With influencer marketing on the upswing, you can imagine the income potential it holds for a child.
Understandably, becoming a child influencer isn't that easy. However, your child can start with an Instagram account and create videos on a specific subject and post.
Popularize those videos to a niche audience till there's a dedicated following. Usually, influencer marketing companies prefer child influencers that already have some level of exposure to the public.
6. Child Model
Child models are in high demand everywhere. It could be for a nearby store selling baby products that wants cute kids for posters or a large multinational that wants to run a global advertising campaign.
In any case, modeling is a superb way to earn money as kid, if you're willing to be patient and exert some extra efforts.
According to various estimates, a child model can earn anything from $500 for a single shoot for posters to over $100,000 for ads for large TV campaigns.
And the best part of modeling is that everyone from newborns to children up to 11-years age qualify. Every aspiring child model has to pass audition and screen tests for selection.
7. Toy Tester
Every kid loves toys, as any parent will testify. But children lose interest in every new toy after a few days. Parents are therefore forced into buying newer ones.
However, instead of pouring your hard earned money on buying newer toys, consider getting a job as toy tester for your kid. In fact, toy testing is a superb and entertaining way for kids to earn money, if you find the right manufacturer.
Basically, toy companies hire child toy testers for various reasons. They wish to learn things such as ease of use, interest a child shows in the toy and features that require change or improvement.
Apply with large toy companies such as Hasbro, Mattel, Lego and others for your kid to make money as toy tester.
8. Food Tester
Actually, there're limited number of jobs for children to work as food testers. That's because the food industry in general caters to adults with advanced taste-buds.
Despite, there's a large food testing industry where children can work and earn money. There're countless companies that make ice cream, cookies, chocolate and other foods that kids love. And if your kid is lucky, they can find one.
Food testing companies usually hire people between 18 and 65-year age since they have highly advanced sense of taste.
Yet, you can give parental consent and register your kid as food tester with any reputed company. There'll be lots of papers to sign before your kid actually starts testing food and earns money from the work.
9. Writing eBooks
A child can become very rich and quite famous by writing eBooks and selling through Amazon Kindle Direct Publishing. The program comes from Amazon, the largest online retailer in the world and is open to residents of USA and select other countries.
The program is free to join. Every kid has a hidden author, as the old adage goes. Awaken that to earn money as eBook author.
Generally, kids can earn money from Amazon KDP by writing a collection of stories, essays, poems and lots of other stuff. A kid can also write personal experiences on how to play and win a game or some sport.
There's no limit to what a kid can write about and publish through Amazon KDP to earn money.
10. Amazon Handmade
Amazon Handmade is a feature that allows people to sell handcrafted products. However, before rushing to enroll your child for Amazon Handmade, here's a word of caution.
The number of products that a kid can sell and earn money through Amazon Handmade is quite limited. Permissible stuff includes handmade greeting cards, paintings and posters.
There's one important point to bear in mind. Amazon is a global company and will not sell any product that's made with child labor.
Hence, you'll have to provide a guarantee that the product is made voluntarily, as hobby and isn't from an organized industry or mass produced by the child. The product also has to be very exclusive to qualify for sale.
11. Lemonade Stall
A lemonade stall just outside your home is the most popular way to earn money as kid. However, this is a seasonal business. Meaning, customers will stop by for a refreshing lemonade only during summers and hot weather. Setting up a lemonade stall doesn't require much money.
12. Sandwich Stall
While still on the subject of food, another brilliant way for kids to earn money is by running a sandwich stall. After all, everyone likes a perfect sandwich. This is a legit business that children can do, without any age restrictions. Also, it doesn't take lot of investment to open a sandwich stall.
13. Garden Helper
Another very common and legit way to make money as kid is by working in your neighborhood as garden helper. Help your neighbors remove weeds, scatter fertilizer, place garden gnomes and do similar other motley tasks. Garden helpers are always welcome.
14. Sell Pictures
If you have an eye for detail and some creativity, take superb pictures of nature, monuments, products, events and people. You can easily sell them as stock photos through any excellent website. Usually, your parents will have to open a seller account on some stock photo websites since they do not accept registrations from persons below 18 years of age.
15. Party Mascot
Large and small event companies often require kids to dress and perform as mascots at various parties. This is also a superb way to make some money as kid, if you're not worried about meeting strangers or performing before a small audience. You can expect $12 to $15 per hour as pay. And you also get to enjoy the party.
16. Restore Pictures
Most people maintain albums of old pictures, some of them dating back several decades. Often, these pictures would be only ones in existence and losing them means some memory is gone forever. You can offer restoration services of such pictures. Use your home scanner and computer to make fresh prints of these pictures.
17. Trade Postage Stamps
Here I'm not talking about regular United States Postal Service (USPS) stamps that people use for mailing. Instead, I refer to postage stamps that other kids and also adults love to collect. Sign up with philatelic bureaus around the world, take and place orders for new releases and old stamps. You can charge a premium on these collectible stamps.
18. Sell Paper Bags
With most people preferring eco-friendly products nowadays, people shun shopping bags made from plastic and other non-biodegradable material. This presents you an excellent market to make handmade paper bags using old newspapers and some glue. You could sell these at local supermarkets and bakeries, among other places.
19. Walk Pets
If your child has a way with pets, there's enough money to be made by walking dogs every day. As city dwellers and seniors are unable to give that daily outing to their prized dogs, they look for someone that can do this simple task. You'll have to pick after the pets, which is the only unpleasant task of this otherwise superb work.
20. Run Errands
And finally, the simplest way to make money as kid is to run errands for people in your neighborhood. They would definitely want something from a nearby store or the post office and don't have the time for the task. Let people know you're available and charge a fee for your services. You'll be amazed at the number of people that want your services as kid.
Closing Thoughts
As you can see, it's very easy nowadays for kids to earn some money during spare time. All it requires is some extra effort and of course, a lot of encouragement and sometimes assistance from parents. Making money as kid is a superb way to learn some very vital life skills such as financial management, which proves useful later in life.