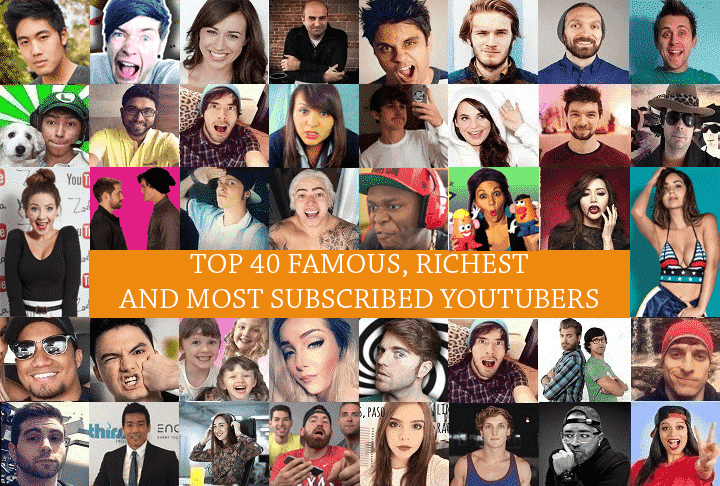 Thanks to YouTube, thousands of people worldwide are on their way to becoming celebrities and millionaires. In fact, there're several highest paid YouTubers in the world in every nook and cranny of this world.
How does YouTube make one rich? Here's one major reason.
YouTube Facts & Figures
Here're some interesting figures from Oberlo.com. It says YouTube has over two billion users across the world. Over 79 percent of users have their own YouTube account. You can use 80 different languages to access videos on YouTube. And YouTube covers about 95 percent of the world's population.
People worldwide watch a combined one billion videos on any given day. Some 62 percent of businesses use YouTube to market their products. And 70 percent of people worldwide watch YouTube from mobile devices, especially smartphones.
Highest Paid & Richest YouTubers
Obviously, with such colossal popularity, YouTube also offers everyone an opportunity to open a channel free of cost and make money. Some of these YouTubers are already millionaires.
If you're considering opening a YouTube channel and wish to know how much money you can make, read these brief descriptions of the richest YouTubers.
Felix Arvid Ulf Kjellberg remains the highest-paid YouTuber of 2021. His channel, PewDiePie, has over 111 million subscribers. This famous YouTuber from Sweden also ranked on the list of youngest millionaires globally. PewDiePie is all about Minecraft games. He teaches people how to play and win these video games and reviews the latest ones.
Canal KondZilla is owned by Brazilian YouTuber, Conrad Kunhas Dantas. With some 65 million subscribers, Canal KondZilla ranks as the second highest subscribed YouTube channel in the world. Conrad Dantas is a music director, singer and performer. His YouTube channel is viewed across the world.
Also read: 40 Best YouTube Channel Ideas for 2023
Who doesn't know about the famous pop star Justin Bieber? Most fans of this pop star watch his popular songs and performances on the Justin Bieber YouTube channel. Additionally, Justin Bieber also uploads some content exclusively for fans of his YouTube channel. The Justin Bieber channel with over 67 million subscribers ranks the third most highly subscribed and valuable.
Dude Perfect is a YouTube channel owned by Cory and Coby Cotton and their three friends. This is a fabulous music channel for all sports. The team of five, including the teams, play innovative games and sports that are sure to regale anyone of any age. Dude Perfect is a rather unique channel. Hence it has close to 57 million subscribers.
Like Nastya is a YouTube channel that's very popular worldwide. The channel is run by Anastasya Radzinskaya, a Russian-American YouTuber, with support from her family. It has over 86 million subscribers worldwide. Anastasya is also the youngest celebrity YouTuber. She was born in 2014. Hence, her channel consists of entertainment for children of her age.
Her real identity remains unknown, but this young girl from Ukraine is one of Diana's richest Youtube stars. She owns the very popular YouTube channel, Kids Diana Show, where she can play with other kids, especially her brother, Roma. The channel has over 90 million subscribers and ranks among the topmost children.
At 51 million subscribers, Ed Sheeran ranks as the sixth most popular YouTube channel that's very popular among teenagers and adults. He is a singer and entertainer who's very popular in the UK and other countries. Ed Sheeran owes his success to the YouTube channel he launched several years ago.
America's Christopher Comstock owns the popular YouTube channel, Marshmello. It has over 55 million subscribers. Marshmello channel features songs and feats by Christopher Comstock himself, though he often invites guest artists to perform alongside. This channel is popular worldwide, though its primary audiences are in the US.
Of course most of us have heard about Eminem and also love some of his wonderful music. For his fans, Eminem also runs a YouTube channel, Eminem Music where one can watch all videos of his top hits and more. Interviews with Eminem also feature on this channel.
It ranks among the topmost YouTube channels to be owned by an individual and has over 51 million subscribers.
In English, Hola Soy German means Hello, I'm German. However, the owner of this channel is from Chile in South America. And Hola Soy German ranks as the most popular YouTube channel in the Spanish language.
This channel is owned by Germán Alejandro Garmendia Aranis and has some 43 million subscribers. Through his channel, German Alejandro makes comedy out of everyday situations in life. This helps people to appreciate the humorous side of serious things.
Hottest singer and performer Ariana Grande rank as the tenth most popular individual YouTuber globally. She's one of the highest-paid Youtube stars nowadays and has followers and fans worldwide. With 51 million subscribers around the world, Ariana Grade reaches out with her popular music and songs to fans everywhere. Indeed, many people become her fans after watching her YouTube channel.
Whindersson Nunes Batista launched his fantastic comedy channel way back in 2013. He is a Brazilian singer, comedian, and overall entertainer. Whindersson Nunes speaks in various languages though his primary tongue is Portuguese.
That's the reason for his immense popularity. His channel features comedy, his songs, and various kinds of reviews. Whinderssonnunes channel has over 44 million subscribers.
Elrubius OMG or Ruben Doblas Gundersen is a Spanish-Norwegian vlogger. His YouTube channel, Elrubius OMG, features vlogs on various topics and gameplays. Elrubius OMG is primarily in the Spanish language and carries videos in English and other languages. Elrubius OMG has over 41 million subscribers and is one of the biggest YouTube channels in the world.
Chu Chu TV is a YouTube channel from India with a fascinating history. Vinoth Chander's founder would record videos for his daughter, whom he fondly calls Chuchu. To prevent her from crying during his absence during work hours, Chander recorded a series of videos and uploaded them on YouTube.
Today it ranks among the topmost channel for children worldwide, especially among the Indian community abroad. Chu Chu TV has some 2.56 million subscribers.
Markiplier is all about comedy. This YouTube channel with over 31.8 million subscribers is known across the world. Mark Edward Fischbach is a self-styled comedian and creates his own stories that would make anyone laugh. He has a unique way of presenting his comedy shows on this YouTube channel.
Chinese American gamer Evan Fong runs one of the topmost YouTube channels on video games- VanossGaming. It has over 25.6 million subscribers. Evan Fong's passion for video games comes from his former job as creative director for a gaming company. He also runs a budding music channel for his fans. The music channel, however, has yet to gain popularity.
Boram YouTube Vlog Reviews from South Korea is yet another very popular YouTube channel for children. It is operated by Boram, a child vlogger and her family. With 23.6 million subscribers, it ranks among the topmost YouTube channel for children. Boram is shown playing various Korean and other games. There're also toy reviews and stories by her parents on this channel.
DanTDM ranks as the second most popular YouTube channel for Minecraft game lovers. With over 26 million subscribers, DanTDM makes it into our highest-paid YouTubers list of 2021. DanTDM's nearest competitor in this genre is PewDiePie, with over 100 million subscribers. However, DanTDM's popularity is surging almost daily.
Over 23.4 million subscribers watch Logan Paul channel on YouTube. This channel is operated by Logan Paul, a teenage star who makes controversial videos about many things. He is both hated and loved by his viewers for his utterly frank presentation of facts of life and news. Logan Paul is one of the fastest-growing YouTube channels in the world.
Jake Paul follows his elder brother in the popularity of YouTube channels. Jake Paul's channel has 20.4 million subscribers. This channel features sports, comedy, and fun for all. Unlike his brother, Jake Paul avoids controversial issues and sticks to making people laugh. His YouTube channel is also fast gaining popularity worldwide.
In Conclusion
Ryan Kaji from Ryan's World was the highest-paid YouTuber last year. He made a total income of $26 million from his YouTube channel.
The above top 20 richest YouTubers list in 2023 can change anytime. That's because people's preferences change. And secondly, most reputed YouTubers such as PewDiePie are now going slow while creating newer videos for various reasons.
However, these top 20 YouTubers will prove that making money from YouTube is fairly easy provided you have some skills to showcase. 
Opening a YouTube channel is free. However, what matters is the quality of your videos and the relevance they have for your audiences. The above highest-paid YouTubers list clearly shows that most of the valuable YouTube channels were launched by ordinary people. In fact, some feature on Forbes and Hurun lists as youngest millionaires too.