Events and Parties nowadays aren't that simple affair they were once upon a time. Nowadays, parties of all sorts are more complex.
Whether it's a birthday party for a child or corporate event for business associates and staff, everyone wants their party to be something that everyone would remember.
What This Means
The question therefore arises: how do you plan a party? Obviously, there're no simple answers for this question.
That's because we often have to consider people from various backgrounds, likes and dislikes that will attend the event. And we want everyone to leave with smiling faces.
This presents an excellent opportunity for everyone to become an event planner. Families, businesses and companies will willingly pay you quite a lot of money if you shoulder the entire responsibility of planning and conducting a memorable event or party.
That's because they expect you to be an event planner who knows every nitty-gritty of organizing parties.
How to Become a Event Planner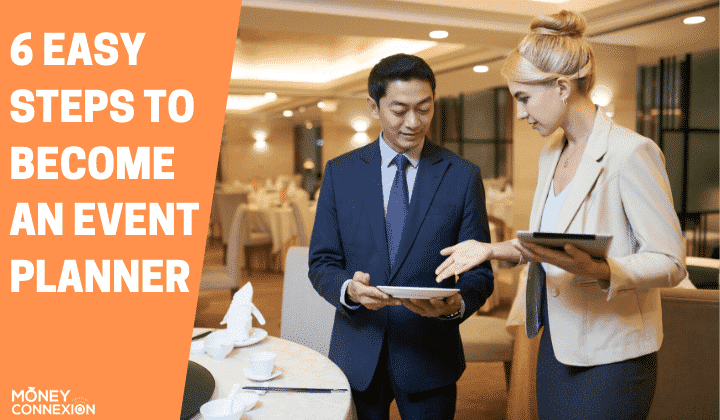 This bring us to the next question: How to become a successful event planner? This is a business that can open doors for you to become rich fairly quickly.
And the best part of the event planning business is that you don't require any investments. Your skills are what matter.
Therefore, let's discuss some ways and means to become an event planner or coordinator.
1. Internship or Voluntary Work with Event Planners
Working as an intern volunteering with an event planning company is the very first and basic step to become a party planner. Here you'll learn a lot about what goes into making that wonderful and memorable party for a family or a large corporation.
You'll be helping with various small and large tasks as intern or volunteer. This provides opportunities to get excellent insights into how event planners take care of everything to the finest detail.
This would include everything from party decorations to food and beverages, serving guests to conducting games or other activities.
Understandably, event planners organize parties on a larger scale. As beginner, you won't have that many parties to plan.
And most likely, you wouldn't have the large investments that are necessary. However, learning every detail helps you in becoming a party planner.
2. Volunteer as Event Planner
Once you have the necessary skills from an event planner, start volunteering as party and event planner. Again, this is a very important step in becoming an event planner because you'll get first-hand experience.
Obviously, you'll know some friends, relatives and neighbors that would be hosting a party in the near future. Request them to allow you to do the party planning.
Usually, most people would be delighted by your offer since it helps them overcome lots of hassles and saves time. Whether or not to charge for these services is purely your choice.
Normally, parties you can expect from relatives, friends and neighbors would be family events. In fact, family events are the most complex because it involves taking care of every attendee and ensuring they enjoy the party.
Put all your experience at the event planner to work to organize such parties.
3. Learn a Few Party Games
Party trends nowadays indicate that people don't expect only food and drink. Instead, they attend a party to have a good time. Therefore, they look forward to activities such as party games for children and adults, depending on the profile of guests.
Learning a few event games is fairly simple. You can watch excellent videos on YouTube and get clear idea of what kind of party games people of all ages enjoy.
Actually, party games are very useful since they attract the attention of all attendees. This helps guests to bond with one-another and enjoy. Guests tend to form groups when there're no activities at an event.
That's because they want to entertain themselves by socializing or meeting others. Such groupings are fine but they rob the guests of that memorable experience they'll expect.
4. Create Event Music Collection
It's fairly simple to find out what party music is trending nowadays. YouTube and other resources will show countless options. Usually, these would depend upon the age of guests and the profile of the host.
For example, you cannot play loud raucous music at parties where the elderly would form majority of guests. Nor can you play somber classical music at a party that would have teenagers as guests.
Once you know about the different types of music that people attending parties prefer, create your own collection.
When you carry own music on a memory card or memory stick, it's easier to switch music or change the theme to suit the large number of guests.
You can also get people dancing, if the party and occasion so merits. In any case, carrying your own party collection of music helps. You can use the host's music player or carry own too, if you have one.
5. Enlist Party Helpers
Who doesn't love parties? Therefore, form a team of helpers to assist you in party planning and conducting. This is yet another step in becoming a party planner. Clearly, you wouldn't be able to run about alone to organize a party.
When you have a team of party helpers, it's easy to get things done efficiently and on time. Assign your volunteers to one or more tasks depending upon the type of party and number of guests.
You needn't pay these volunteers since they'll enjoy the party too. However, it's important to inform the host about the number of party helpers you'll be bringing along and find whether they will get food and beverages when the party ends.
If a host is paying for your services as an event planner, you can part with some money to these party helpers.
An excellent way to get party helpers is by enlisting the help of teenagers. They're quite creative when it comes to party decorations.
And since they're volunteering for the work, there's no need to get clearances from the Labor Department or other authorities.
6. Develop Contacts with Suppliers
Now comes the trickiest part in becoming an event planner: developing contacts with suppliers. Usually, these suppliers would be stores or companies that provide party requirements, caterers and cleaning companies.
In some cases, you might also require a transporter to ferry guests to the venue in a bus.
When you don't have adequate credentials as party planner, it's difficult to get suppliers to provide credit. However, that's nothing to worry about.
You can always request the host to pay the bills upon demand. And request the supplier to part with some commissions for your efforts to get them customers.
Usually, suppliers aren't that choosy about whom they'll tie-up with for parties. That's because they're also looking for business.
If you can leverage your experience and skills properly, some suppliers would be willing to offer you small credit facilities for buying stuff.
Closing Thoughts
Once you have adequate experience, advertise your services as a successful event planner on LinkedIn, Facebook and other social media platforms. Offer your services through Facebook Marketplace too.
Post pictures from your parties and testimonials of clients as proof of your abilities. Never send a quotation through social media pages.
Instead, use email or visit the customer directly to provide a quotation of the expenses. These steps would help you in becoming an event planner.