Making extra cash is becoming more important nowadays. The cost of living is always on the rise. And our needs and wants are increasing by the day. Therefore, having a single or even double source of income isn't always enough.
You might be wondering often, how do I make some extra cash? The answer is rather simple. Use your free time for some gainful activity, such as a side hustle, that would help you make some extra money.
And trust me, making extra cash during your free time is possible even from the comfort of your home because a side hustle has a lot of benefits. Meaning you don't need to go to some workplace to log in extra hours and make money.
Actually, there are as many as 25 side hustle apps to make extra cash in free time. All of these apps are free to download and use. However, some do charge a small commission on your income.
Sounds interesting? Continue reading.
We will start by first defining what exactly I mean by a side hustle. And how different it is from freelancing.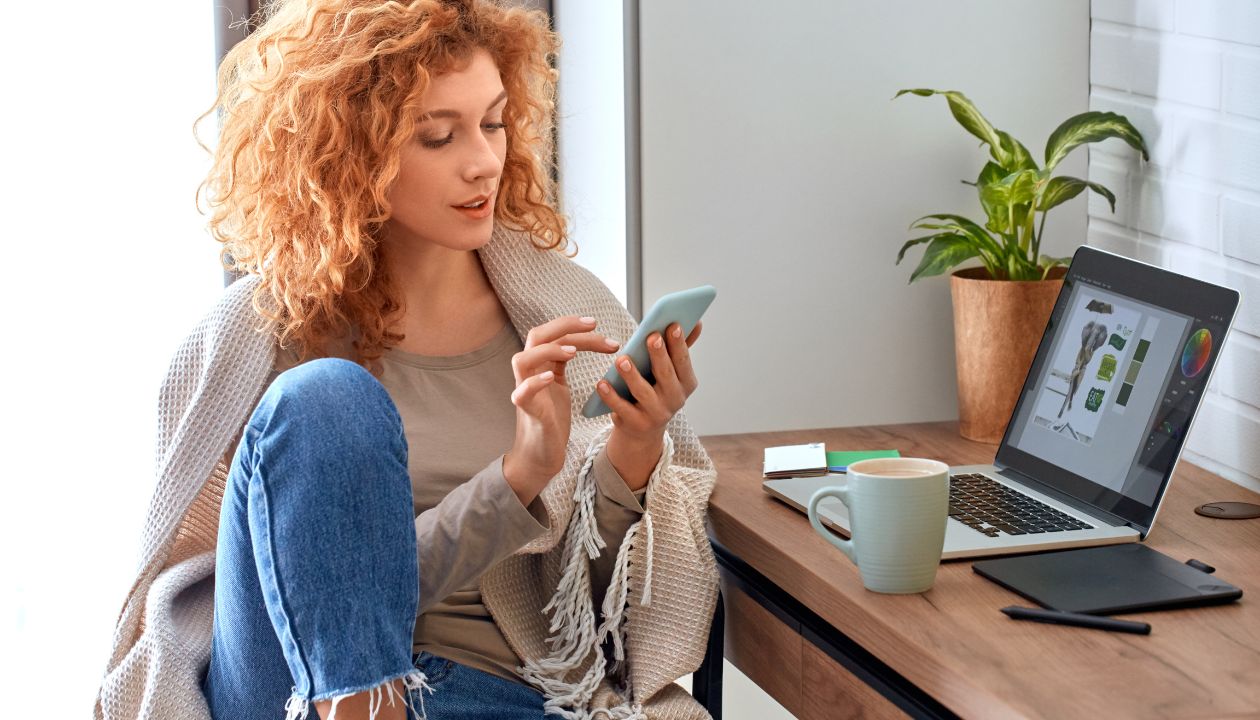 Side Hustle v/s Freelancing
In simple words, a side hustle is some work that you can do occasionally and without any long-term commitments. Usually, people take side jobs to do some extra work only when they need some more cash in their purses or pockets.
In stark contrast, freelancing is a commitment. It's full-time work that you will do as an independent contractor. You have to take short-term, mid-term, and long-term contracts and assignments and deliver the work on time. Unlike a side hustle, which you can take only when you require extra cash, freelancing is usually the main source of income for an individual or a household.
25 Best Side Gig Apps
Now that you're aware of the differences between a side hustle and freelancing let's look at the top 25 side gig apps where you can make money in your free time. As a matter of fact, you can use these side job apps whenever you require some extra money or use them regularly to supplement your main source of income.
Here's my curated list of 25 side hustle apps to make extra cash in your free time.
1. Fiverr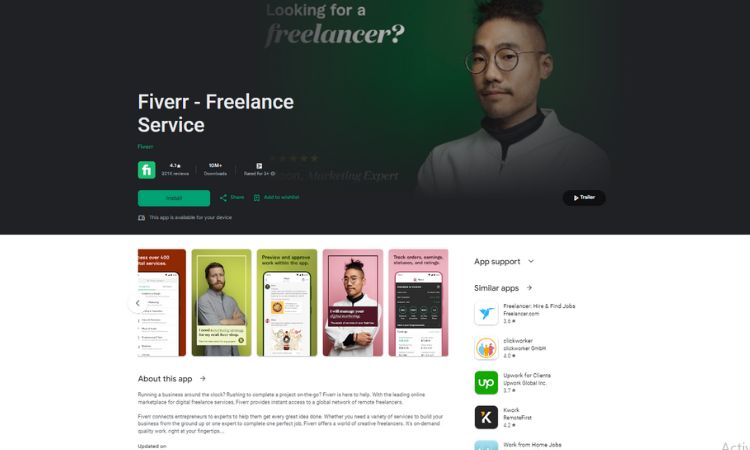 Rating
4.6
Downloads
100M+
No. of Reviews
1.5M
Key Features
1. Access to a global network of remote freelancers.
2. On-demand quality work anytime, anywhere.
3. Mobile app to browse options, place orders, and get updates.
4. Search and filter from thousands of freelancers across 400+ service categories.
5. Open communication between buyers & sellers 24/7/365.
The best app to make money in your free time is Fiverr. This is an app that helps you find a lot of online side-gigs very easily. Basically, Fiverr is a freelancing platform. Here, you can sell all kinds of services for a fee of $5. However, you can also provide add-on services and charge extra.
A visit to the Fiverr website will show you the different skills that are in demand and what kinds of side hustles you can get from the app. Fiverr is free to download and use. However, they charge a commission of five percent to 20 percent on your income, depending on various terms and conditions.
You will also have to pay the fees for getting payments through PayPal or direct bank transfers through Fiverr. But if you're very serious about making money during your spare time as a side hustle, this is the best app.
Read: How to Make Money on Fiverr
2. SpotHero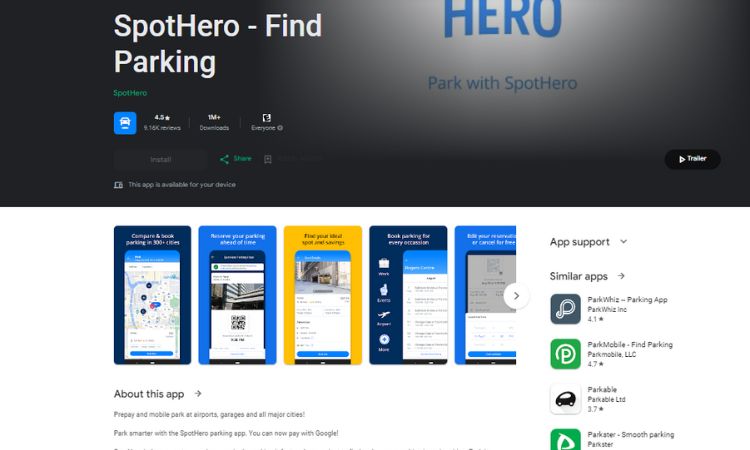 Rating
4.5
Downloads
1M+
No. of Reviews
156K+
Key Features
1. Prepay and mobile park at airports, garages, and all major cities.
2. Park smarter with the SpotHero parking app.
3. Option to pay with Google.
4. Compare & book parking in 3 clicks.
5. Reserve your parking & show your spot.
SpotHero is an app that allows you to make extra cash in your free time by doing almost nothing. Yes, that's right. You can make money by doing absolutely nothing. If you have free space for parking a vehicle, you could rent it out through SpotHero.
Generally, motorists who prefer private parking areas or those in crowded areas will rent your place and pay you. There are no upper or lower limits on how much you can charge for your parking space through SpotHero; it all depends upon your location and the demand for parking space in your area.
Generally, if you're living in or around some business district, it's possible to make more money since parking space is scarce there. And you can also get long-term leases for your parking lot from this wonderful app.
3. eBay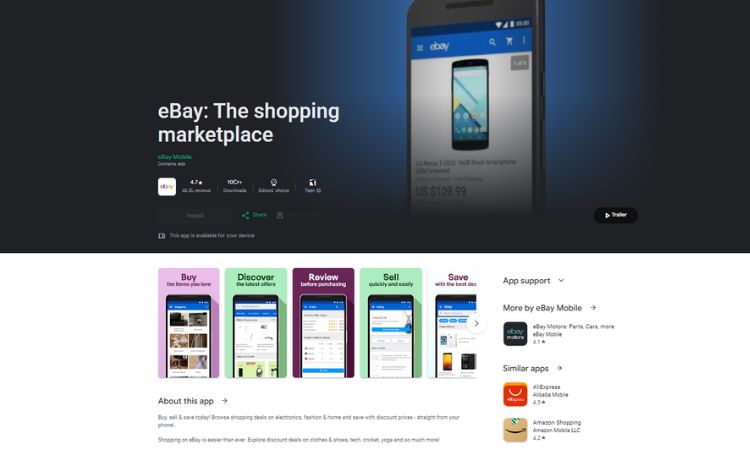 Rating
4.2
Downloads
100M+
No. of Reviews
2M+
Key Features
1. Buy & sell: Transfer funds, shop deals on electronics, fashion, and more.
2. Shopping on eBay: Discover discounts on clothes, tech, cars, and more.
3. Users can interact and share information.

Who hasn't heard of eBay? This is an online store where you can buy or sell anything from new stuff to used goods. You can download the eBay app and register as a seller. It's possible to sell almost anything on eBay, from spare parts of old vehicles to preowned books or even handmade products. All you need to do is sign up as a seller on eBay and start making money in your free time.
The app allows you to upload pictures of the stuff you're selling and write brief descriptions and the price. As a matter of fact, the eBay app is very popular among people who buy and sell preowned stuff, especially things of antique value. You can download and use the app for free. However, eBay charges a small commission on every sale you make through their website.
4. Facebook Marketplace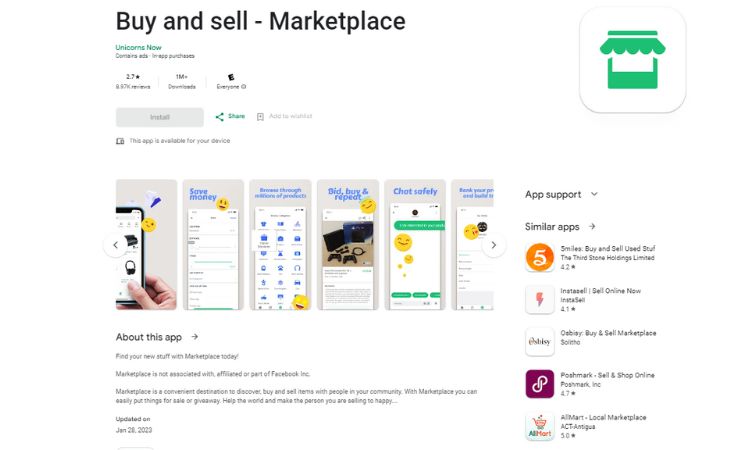 Rating
3.2
Downloads
1M+
No. of Reviews
27.3k
Key Features
1. Find your new stuff with Marketplace today! The marketplace is not associated with, affiliated with, or part of Facebook Inc.
2. It is a convenient destination to discover, buy, and sell items with people in your community.
3. With Marketplace, you can easily put things for sale or giveaway, helping the world and making the person you are selling to happy.
If you have an account on Facebook, you can also download their app, where you'll find an amazing feature known as Facebook Marketplace. Here, you can sell anything from goods to services and make extra cash during your spare time.
All you need to do is create a wonderful ad for your services with details, price, mode of payment, and other information. And if you're selling some stuff, you can easily take pictures using the app itself or the camera on your smartphone.
Generally, all postings on Facebook Marketplace are seen in an area of around 100 sq. km around your location. This means you can find customers who live nearby and provide the services or products they would love.
5. Wag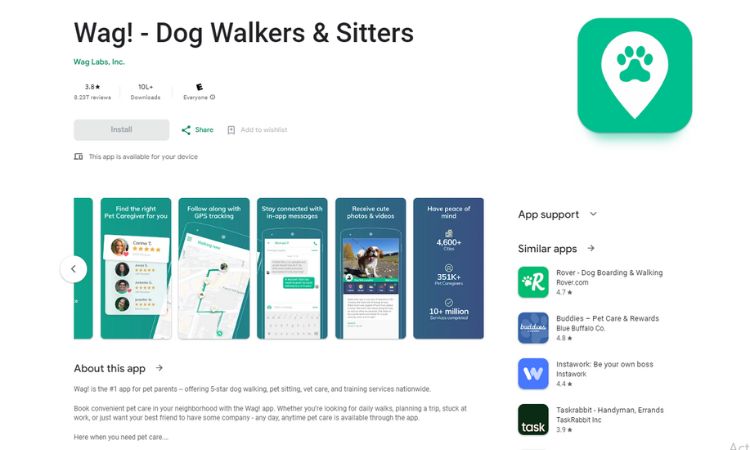 Rating
3.8
Downloads
10M+
No. of Reviews
3.02 million
Key Features
1. Wag! is the #1 app for pet parents, offering a range of services, including dog walking, pet sitting, vet care, and training.
2. It ensures safety with each Pet Caregiver undergoing comprehensive screening.
3. The app provides on-demand and scheduled dog walks, overnight care, drop-in visits, veterinary consultations, and personalized training sessions.
4. It emphasizes convenience with features such as GPS-tracked walks, in-app messaging, and secure payments within the app.
5. The platform boasts a vast community of 150,000+ Pet Caregivers and has delivered over 10 million pet care services. 6. A unique feature is its donation initiative, where a portion of proceeds from the walks helps feed shelter dogs.
Do you love pets? Then download and sign up on Wag. This is an app where you can find a side hustle of taking pet dogs out for a daily walk. You need to keep the location services of your smartphone switched on. That way, you can find buyers for your dog-walking services very quickly. You get to set your own price per pet.
Generally, pet owners will leave specific instructions about how long you need to walk their dog and other relevant information. You will usually get more than one pet to walk. This directly translates as more money for you. Working as a pet walker for two hours daily can fetch you a really good income.
6. Etsy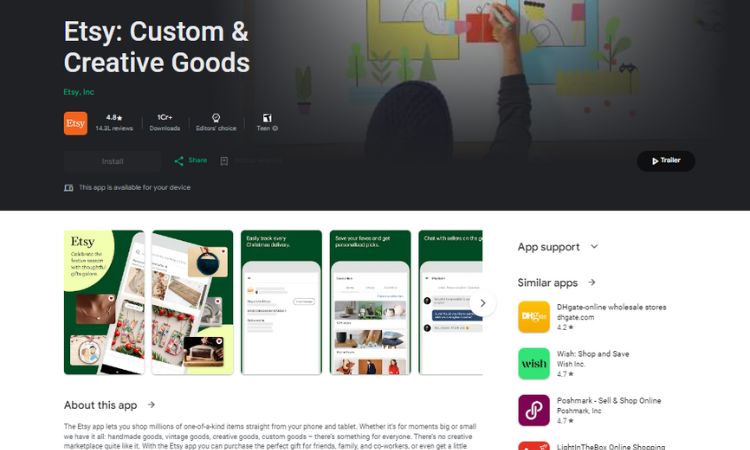 Rating
4.8
Downloads
1 cr+
No of Reviews
14M reviews
Key Features
1. Shop Extraordinary Discover New & Trending Goods About App Features Filter what's important to you Save Items & Shops Create
2. A Gift or Wedding Registry Discover Inspiration Image Search Notifications Chat With Sellers Secure Payments Order Tracking
Etsy is a website where you can set up your own online marketplace for a small fee and sell unique, antique, or handcrafted stuff. If you've any of such stuff to sell, sign up on Etsy and download their app. You have several options for membership because Etsy is a paid service. That means you have to pay Etsy to open a marketplace.
They provide a free trial of their marketplace services for a week or two. However, you can be assured of finding some of the best buyers for your stuff through this app. The Etsy app automates a lot of processes, such as accepting orders and payments. Therefore, you needn't bother about invoicing and tracking orders.
7. Shopify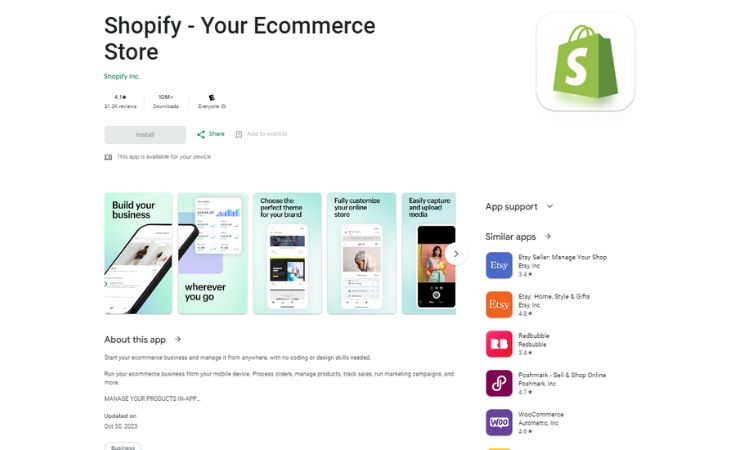 Rating
4.4
Downloads
10M+
No of Reviews
218K reviews
Key Features
1. Run your ecommerce business from your mobile device.
2. Manage products in-app. Process orders in a few taps.
3. Respond to real-time information. Sell on more sales channels. Run marketing campaigns
4. Follow up with customers. Power your store with apps and themes.
5. Edit the ecommerce store theme from a smartphone
And should you have something to sell that people would love, open a marketplace on Shopify and download their app to make cash during your free time. To open a marketplace on Shopify, the first thing to do is find an easy-to-remember name for your online store.
The name should convey what kinds of stuff you're selling. You can upload pictures of these products from your mobile phone and write brief descriptions and prices. The Shopify app also allows you to set your own price for the stuff. You can try the Shopify app for a few days for free.
After that, if you wish to continue with the marketplace, they have various subscription rates that suit all budgets. You can also set up a payments system through the app to get paid for your goods.
8. UrbanSitter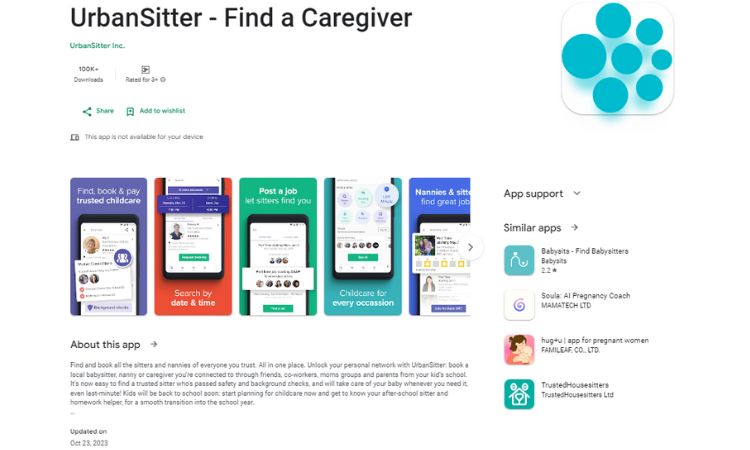 Rating
3+
Downloads
100K+
No of Reviews
–
Key Features
1. Find and book trusted sitters and nannies through personal networks.
2. Easy to find sitters who have passed safety and background checks Plan for after-school childcare and homework help Find, interview, book, and pay caregivers within the app Easy bookings for various needs including last-minute, date night, and after-school Safe and transparent system with background checks, CPR training, and more Simple payment system through the app Opportunities for babysitters and nannies with great pay and flexible hours FAQ section answering common queries about the service
UrbanSitter is an ideal side hustle app for women who wish to make extra cash in their free time. That's because this app helps you find babysitting jobs in and around your location. Simply download the UrbanSitter app and agree to their terms and conditions.
You will also have to agree to UrbanSitter running a background check on you. This is necessary because parents prefer babysitters who don't have a criminal or otherwise negative record.
Parents can find you through the app and request babysitting by keying in details such as their location and the time they require your services. Parents also pay a membership fee to use the app. This means whatever money you earn from babysitting is fully yours to keep. And you can fix your own prices per hour, too.
9. Swagbucks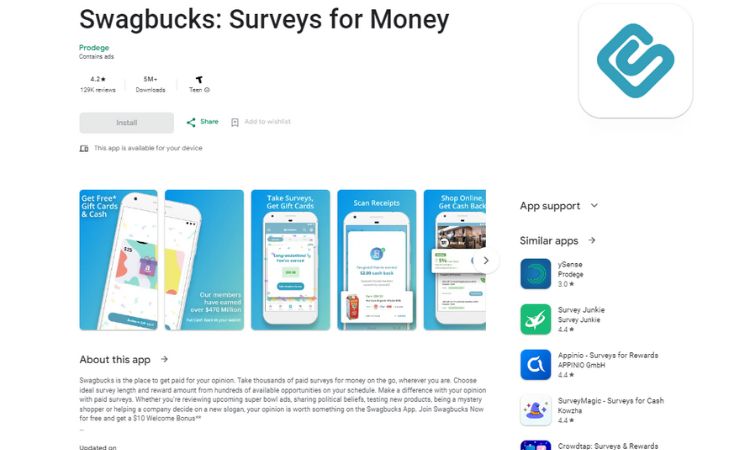 Rating
4.2⭐
Downloads
5M+
No of Reviews
192k+
Key Features
1. Take paid surveys on the go. Get cash and free gift cards.
2. Find money-making deals at the grocery store. Discover deals when trying the latest apps and games.
3. Score deals with cash back shopping at various stores.
4. Enable cash back while shopping from your mobile browser.
Swagbucks is one of the largest online survey communities in the world. Once you register on Swagbucks, you can start completing their simple online surveys on various topics. For each survey that you successfully complete, Swagbucks will reward you with SB Points. And these points are worth real cash.
You can also make some money by watching videos and playing games on this app. Upon collecting points worth $10, you can seek a payout. They pay money through PayPal. Or you can opt to get free shopping coupons from large online stores, including Walmart and Amazon, among others.
10. Google Opinion Rewards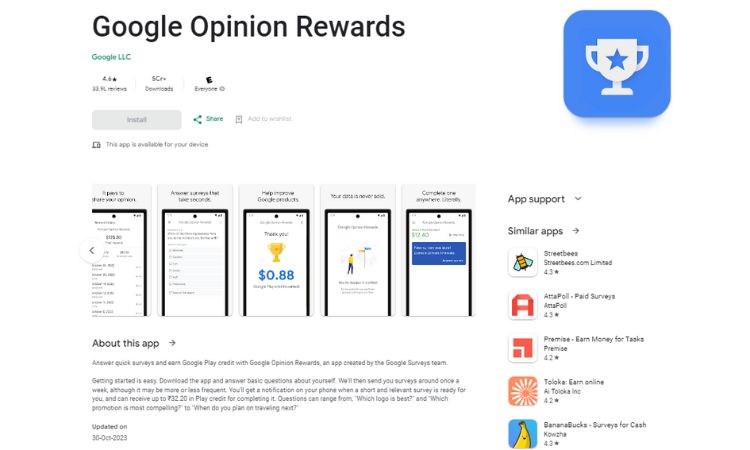 Rating
4.6⭐
Downloads
50,000,000+ downloads
No of Reviews
3M+
Key Features
1. Answer quick surveys and earn Google Play credit.
2. Managed by the Google Surveys team.
3. Questions can range from "Which logo is best?" to "Which promotion is most compelling?"
As the name suggests, this app comes from Google. They want your opinion about various things such as their top, eponymous search engine, various apps they provide, and lots more. Therefore, they toss an online survey at community members of Google Opinion Rewards.
And you get coins for each survey or question that you successfully answer. Google Opinion Rewards however doesn't pay you cash directly. Instead, you can use their coins or points to pay for premium apps on Google Play that would otherwise cost you some money.
Read: 21 sites that pay for completing online surveys
11. InboxDollars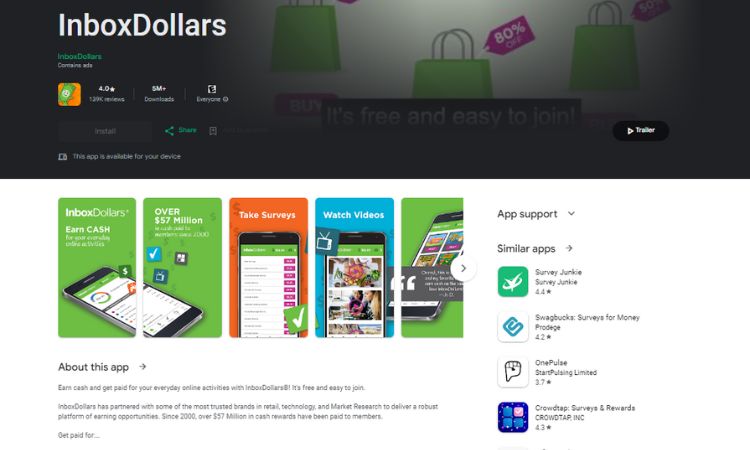 Rating
4.0⭐
Downloads
5,000,000+ downloads
No of Reviews
389K+
Key Features
1. Earn cash and get paid for everyday online activities.
2. Partnered with some of the most trusted brands in retail, technology, and Market Research.
3. Since 2000, over $57 Million in cash rewards have been paid to members.
Another amazing online survey community is InboxDollars. You can join InboxDollars for free by registering yourself with an email. You'll also have to provide them with basic details of your PayPal account to get cash. Once you've done the registration successfully, InboxDollars will alert you about fresh surveys on their website through emails. And they provide points for every survey you complete.
Shorter surveys generally fetch you 1,500 to 3,000 points, while larger ones come with 20,000 points or more. You can also earn more points by watching videos, playing games, or simply asking questions. And once you reach the $5 mark, seek a payout that is paid via PayPal.

12. Survey Junkie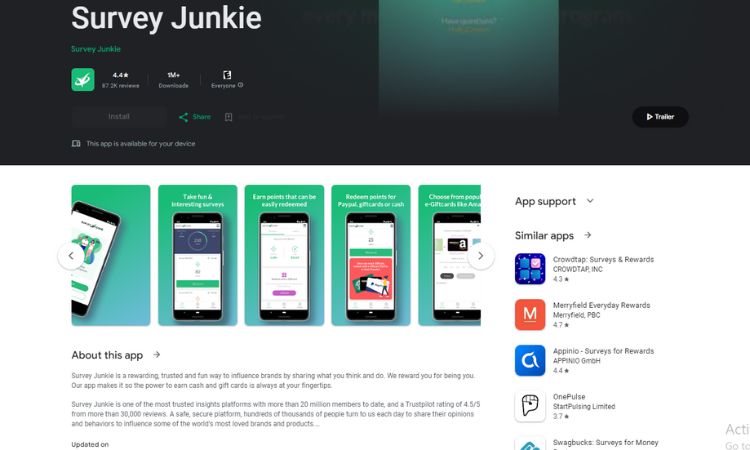 Rating
4.4⭐
Downloads
1M+ downloads
No of Reviews
7.9K reviews
Key Features
1. Rewarding, trusted and fun ways to influence brands by sharing opinions and behaviours.
2. Over 20 million members with a Trustpilot rating of 4.5/5.
3. Take surveys, share online browsing activity, and earn rewards.
4. Complete three surveys daily and earn as much as $40 monthly.
5. Redeem rewards for cash through PayPal, bank transfer or gift cards.
6. Secure and privacy-compliant information sharing.
7. Members must be 18 or older and reside in the United States.
With over 11 million active members forming its online survey community, Survey Junkie is also one of the big names in the business. This is also an app that pays you real money. All you need to do is complete their online surveys, watch ads, play games or review videos, and earn SJ points.
You can earn extra points by referring others to join Survey Junkie. For every successful referral, Survey Junkie pays you more points. These points boil down to real cash.
And you can get the money upon collecting a minimum of $5 on your Survey Junkie account. They pay through PayPal. You can also redeem your points for free shopping vouchers on Amazon and other online stores. Survey Junkie also allows you to use these points to participate in the Sweepstakes.
13. Nielsen Computer Panel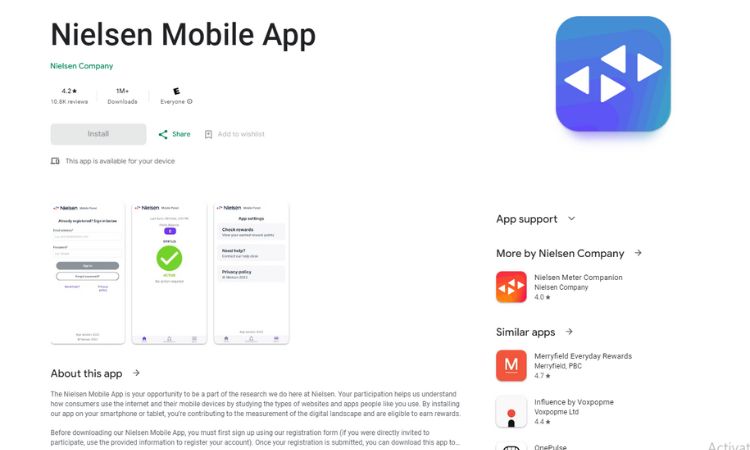 Rating
4.2⭐
Downloads
1M+ downloads
No of Reviews
10.6K reviews
Key Features
1. Participate in Nielsen research.
2. Understand internet & mobile device usage.
3. Shape consumer market research.
4. Sign up & download after approval.
Coming from the highly reputed market research company Nielsen is their eponymous app, Nielsen Computer Panel. Here, too, you can register online and become part of their large online survey community. Nielsen's surveys aren't for beginners. Instead, they look for genuine customers who've used a specific product or service. And they reward you very well, too.
You can collect points on Nielsen Computer Panel, which are redeemable for their equivalent in cash. You will require 25,000 points to get a cash payout of $5. However, you can step up earnings by doing other ordinary tasks, such as reviewing videos on the Nielsen Computer Panel.
14. Robinhood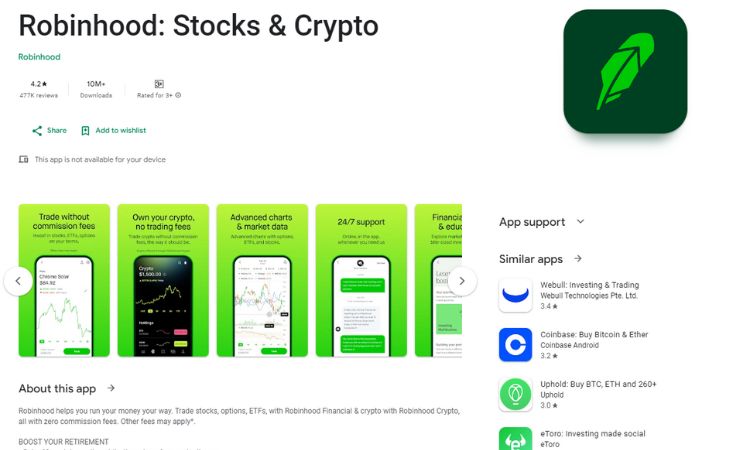 Rating
4.2⭐
Downloads
10M+ downloads
No of Reviews
477K reviews
Key Features
1. Trade stocks, options, ETFs & crypto with zero commission fees, 1% match on contributions for retirement, Advanced charts, Robinhood Gold features, and Robinhood Cash Card offers.
2. No commission fees for crypto, 24/7 live support, and Financial education in-app.
Robinhood is an investment app. Anyone can download it for free. And you can start your investment journey with as little as $5 on Robinhood. This app enables you to invest in stocks, Exchange Traded Funds, Mutual Funds, currencies, and commodities, as well as in cryptocurrencies.
Now, you might wonder how you can buy stocks for $5 only. Robinhood makes that possible. For $5, you will get a fraction of a stock. And the more you invest, the more you will get more fractions till you reach one full stock.
The same holds true for ETF and MF, cryptocurrencies, commodities, and currency investments. However, Robinhood also rewards you with one superb stock absolutely free when you invest a larger amount, such as $200.
15. Rakuten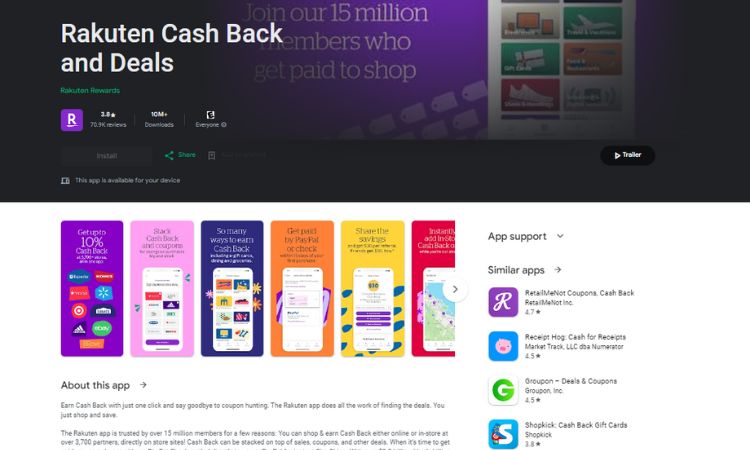 Rating
4.2⭐
Downloads
10M+ downloads
No of Reviews
477K reviews
Key Features
1. Trade stocks, options, ETFs & crypto with zero commission fees,
2. 1% match on contributions for retirement, Advanced charts, Robinhood Gold features, Robinhood Cash Card offers,
3. No commission fees for crypto,
4. 24/7 live support and Financial education in-app.
Rakuten was previously known as Ibotta. This is an app you can use while shopping for your daily and monthly household needs or even for stuff such as readymade garments and more. Rakuten enables you to access several online stores with whom they have an agreement. When you place orders in these stores through the Rakuten app, you get cashback. This cashback can be used to pay bills for future shopping.
Obviously, you cannot withdraw the cash from your Rakuten app. Instead, you can only use it to pay for your shopping. However, you can still earn more cashback when you shop using the money in your Rakuten account.
16. Rover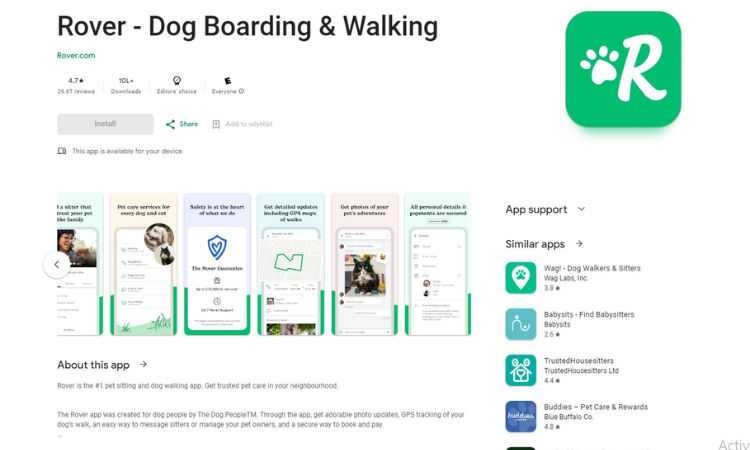 Rating
4.7
Downloads
1,000,000+ downloads
No of Reviews
267 Reviews
Key Features
– pet sitting and dog walking app.
– Photo updates, GPS tracking of dog's walk, easy messaging.
– Over 200,000 pet sitters and dog walkers.
– The Rover Guarantee and 24/7 support.
– Hassle-free and secure payments.
– Map of dog's walk, alerts, and personalized notes.
– Features for sitters: send photos, get paid, manage services.
If you're fond of pets, then try Rover. This is a superb app that actually pays you real cash to walk dogs in your neighbourhood. All you need to do is register on Rover as a pet walker and indicate your location. The app will then assign you dogs that need to be walked daily. And each time you walk these pets, you earn some money on Rover.
The trick here is to walk more than one pet at the same time. They're people who walk as many as 10 canines in a single go. Since you get paid by the number of pets you walk, the higher the number, the greater your earnings.
17. Instacart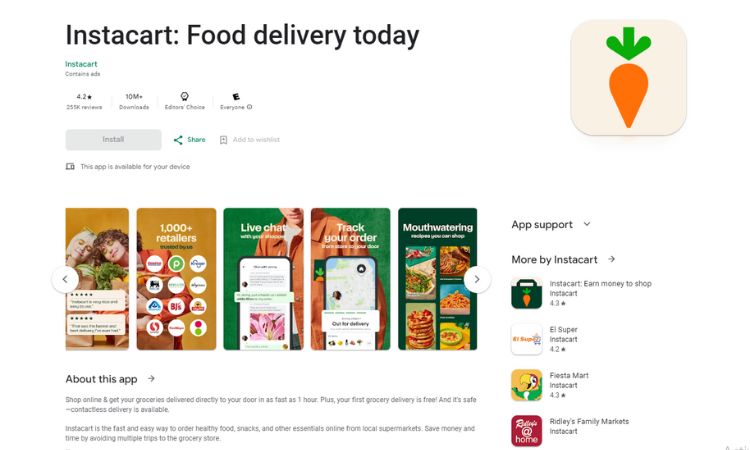 Rating
4.2
Downloads
10,000,000+ downloads
No of Reviews
259k Reviews
Key Features
– Shop online for groceries and get them delivered in as fast as 1 hour.
The first grocery delivery is free. Contactless delivery option available.
– Order from fresh markets, alcohol, and other essentials.
– Same-day delivery across the US.
– Pick-up option to avoid delivery fees.
– Real-time chat with your shopper.
– 100% contactless delivery.
– Shop from nearly 85,000 retail locations across North America.
Instacart is an app where you sign up to deliver groceries and other household stuff on behalf of stores to their customers. Once you download the app and register, you need to wait near the store to get the deliveries. And proceed to the customer's premises to hand them over.
This app pays you up to $5 per delivery, depending upon various factors such as distance from the store and kind of products. You can earn more on fresh items such as vegetables and meat or poultry. Additionally, happy customers also leave you a decent tip for your service.
18. Amazon Flex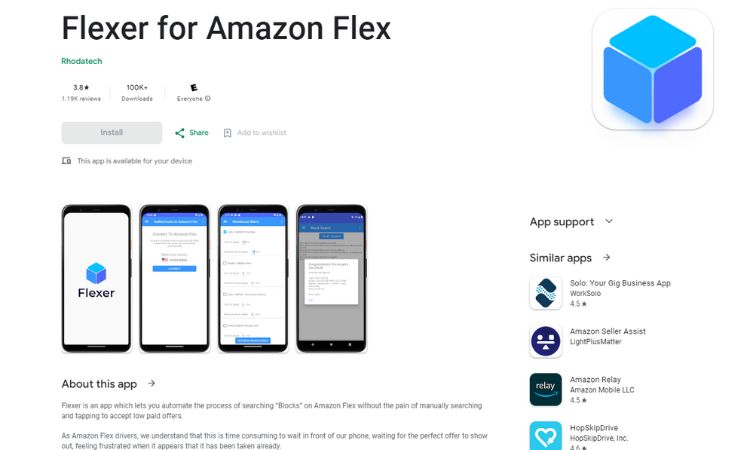 Rating
3.8
Downloads
100,000+ downloads
No of Reviews
1,198 Reviews
Key Features
– Automates the process of searching "Blocks" on Amazon Flex.
– Avoids the manual searching and tapping to accept low-paid offers.
– Designed for Amazon Flex drivers to save time.
– Reduces the frustration of missing out on desired offers.
– Lets users spend their time on other tasks while the app searches for blocks.
Any mention of apps that pay real money would be incomplete without the mention of Amazon Flex. As the name suggests, this app comes from Amazon, the single-largest online store in the world. You have to download the app and register as an Amazon Flex associate. And once your application is successful, you will do deliveries to customers on behalf of Amazon.
You can earn as much as $25 per hour making deliveries. And, of course, tips from satisfied customers. Amazon Flex allows you to select your own four-hour delivery slots. You can work for a four-hour slot or even bid for more slots if you wish. These slots are given on a first-come basis. You earn more money from Amazon Prime, Amazon Fresh, and similar deliveries.
19. Postmates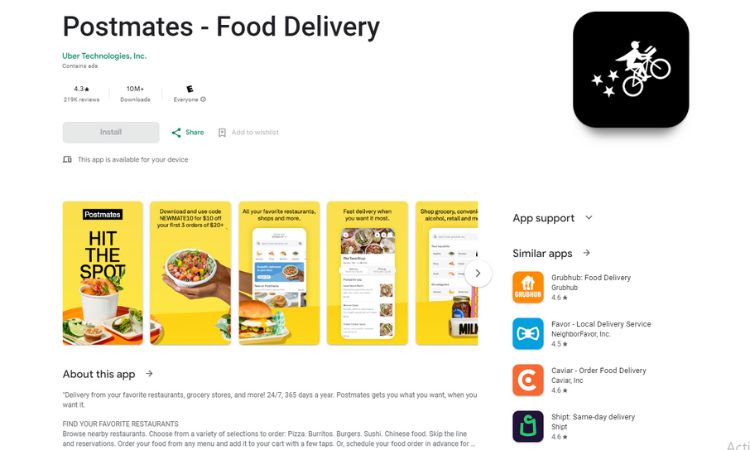 Rating
4.3
Downloads
10,000,000+ downloads
No of Reviews
2,916k Reviews
Key Features
– Delivers from favourite restaurants, grocery stores, etc., 24/7, 365 days a year.
– Allows users to find and order from a wide range of cuisines.
– Delivers groceries, liquor, beauty products, and more within an hour.
– Real-time order tracking and delivery notifications.
– Provides easy pickup or non-contact delivery options.
– Special promotion: $10 off on the next order for new app users.
If you have a vehicle and a smartphone, you can make a lot of money from the Postmates app. Actually, Postmates, as you might know, is all about food delivery. Hungry customers place their orders with local restaurants that otherwise don't have their own delivery service. Instead, a Postmates associate will deliver the food parcels on their behalf.
You can make up to $35 per hour delivering food parcels as a Postmates associate. And don't forget the tips that many happy customers willingly add to your service.
20. Gigwalk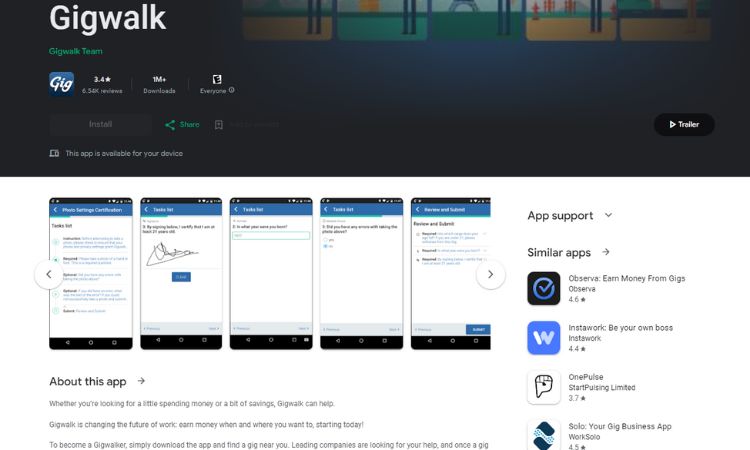 Rating
3.4
Downloads
1,000,000+ downloads
No of Reviews
1M+ Reviews
Key Features
– Provides opportunities to earn extra money or savings.
– Allows users to earn money at their convenience.
– Simple sign-up process: Download the app and find gigs nearby.
– Money earned from gigs is directly sent to the user's Paypal account.
– All transactions are managed through the Gigwalk app without any paperwork or emails.
– Available in the US, Canada, and the UK.
Gigwalk is all about side gigs. Anyone of legal working age can take these side gigs and earn a lot of money. Basically, Gigwalk provides handyperson services. Once you download the app and register, keep the location service on your Gigwalk app switched on. That way, the app shows you various small tasks that are near your location.
If you wish, you can click on the app and get that work for the price it mentions. The buyer of your services pays through the app. Many times, these buyers also add tips if they're happy with your work. Gigwalk pays you twice a week through PayPal or by direct credit to a prepaid debit card or even bank transfers.
21. DoorDash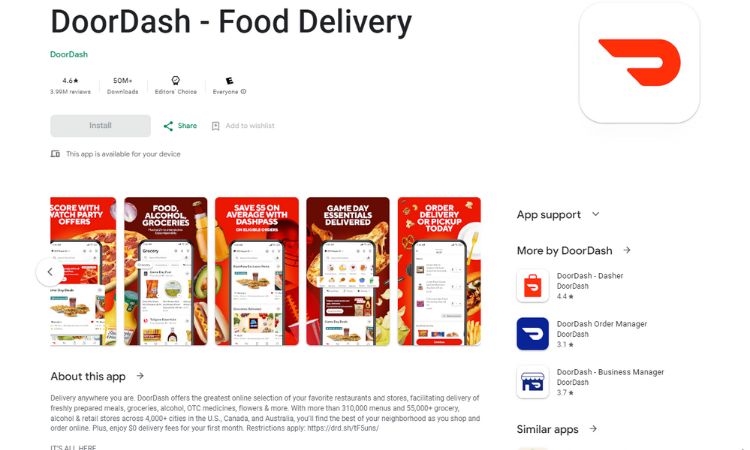 Rating
4.6
Downloads
50M+
No of Reviews
3.69M+ Reviews
Key Features
– Food delivery from local & national restaurants.
– Delivery of groceries, alcohol, OTC medicines, and more.
– Available in 4,000+ cities across the U.S., Canada, and Australia.
– On-demand, same-day delivery and scheduled deliveries.
– Real-time tracking of orders.
– No minimum order requirement.
– Multiple payment options, including Google Pay, Venmo, and Paypal.
– No-contact delivery option.
– DashPass membership for unlimited $0 delivery fees and other benefits.
– Partnerships with national restaurants and major grocery, convenience, alcohol, and retail stores.
Another superb app that pays real cash is DoorDash. This is a food delivery app. Download the app on your smartphone, register, and switch on the location services. Whenever there's food delivery in your area, you will get an alert on the DoorDash app.
You can choose to deliver the order and pick it up from the restaurant to hand over to the customer. DoorDash pays you close to $35 per hour or on a per delivery basis. This depends on the number of food deliveries in a specific area. The further the distance of the customer to deliver, the higher your income. However, you'll need your own vehicle to make money from DoorDash.
22. Turo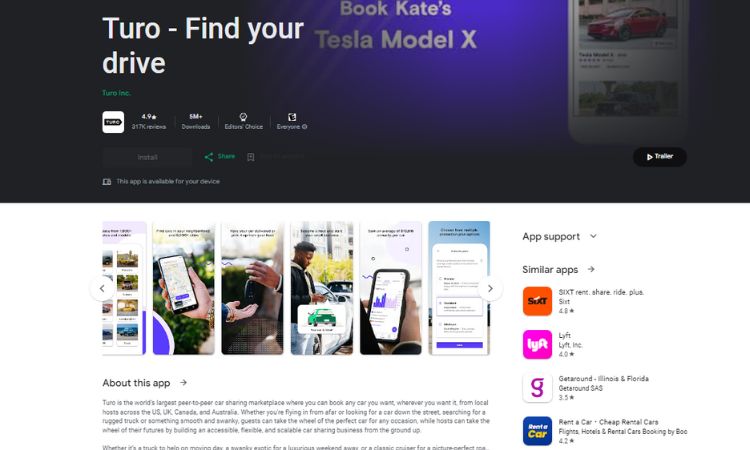 Rating
4.9
Downloads
50M+
No of Reviews
384k
Key Features
1. World's largest peer-to-peer car-sharing marketplace.
2. More than 600,000 vehicles listed worldwide.
3. Offsets 100% of estimated global carbon emissions.
4. Book directly from local hosts.
5. Available in the US, UK, Canada, and Australia.
6. Insurance included up to $750,000 in liability.
7. Personalized service from local car owners.
Turo is an app that actually pays you real money without really doing much. The only thing that you need to do is rent out your car to some motorist who may require one urgently.
If you have such a spare car or don't need your vehicle during specific hours a day, you can lease it out for a few hours through Turo. However, Turo has some very stringent terms and conditions about the type of vehicle that you can lease out through their app. Turo isn't really available across the US. However, if you're staying in a large city, you can make a lot of money from this app.
23. Airbnb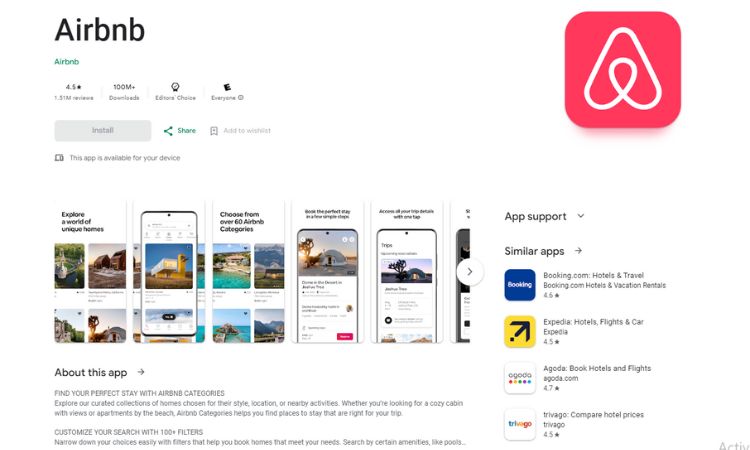 Rating
4.8
Downloads
100M+
No of Reviews
1.9M
Key Features
1. Curated collections of homes for diverse travel needs.
2. Customize search with over 100 filters, including accessibility features.
3. Manage trip details, chat with Hosts, and get booking updates.
4. Try unique experiences led by locals, available both in-person and online.
5. New Hosts get support from Superhosts and Community Support agents.
If you have a spare room at home and would like to make money from it, download it and put it up for rent using the Airbnb app. By doing so, you become an Airbnb host. You have to write a superb description of the room and your property with proper information about the location and nearby facilities. Also, upload amazing pictures of the room and list all the amenities that you would provide guests.
You get to fix the price per night for the room. Once you've done this and uploaded all the necessary info on the Airbnb app, you can host guests and get a lot of money from Airbnb. Some people earn up to $1,000 per month and more in larger cities where the demand for private accommodations is higher.
24. Poshmark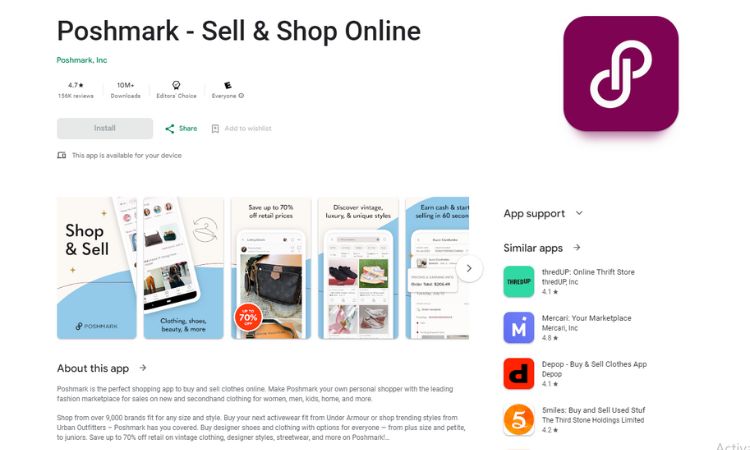 Rating
4.7
Downloads
10,000,000+
No of Reviews
194K
Key Features
1. Buy and sell new and secondhand clothing, shoes, accessories, and more.
2. Shop from over 9,000 brands catering to various sizes and styles.
3. Save up to 70% off retail on various fashion items.
4. Connect with other fashion enthusiasts via Posh Parties and Posh Shows.
5. Over 200 million unique items for sale.
6. Seamlessly list items for sale in as little as 60 seconds.
7. Join over 100 million users in a trusted online marketplace.
I would recommend the Poshmark app for women. That's because Poshmark enables you to sell off your old and ill-fitting shoes, and garments and get cash in exchange. Or you can get a credit that allows you to buy garments from Poshmark.
If you have a large wardrobe with lots of unused clothes lying around and occupying space, download Poshmark and register yourself. They offer some very good prices for branded garments. You can sell off almost all kinds of clothes through this app and get cash. They also accept men's clothing.
25. FieldAgent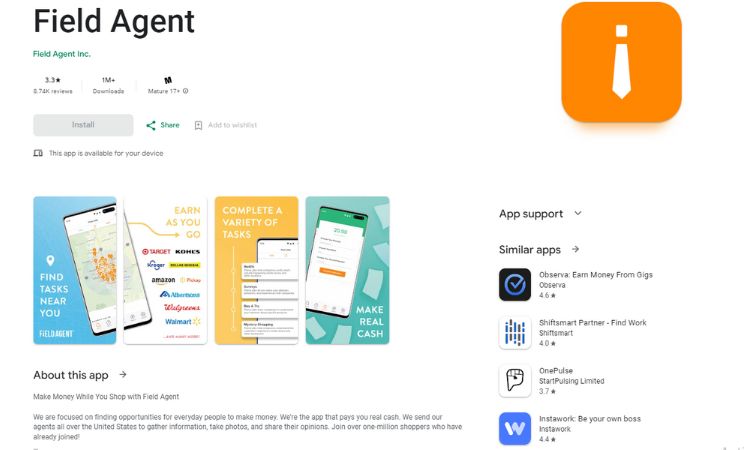 Rating
3.3
Downloads
1M+
No of Reviews
59.7K
Key Features
1. Make money while shopping.
2. Pays users in real cash for various tasks.
3. Opportunities to try new products for free and give feedback.
4. Conduct audits, mystery shopping, product trials, and more.
5. Jobs pay between $3-$20 based on the task. Complete "ticket jobs" to qualify for paying jobs. Over $20 million has already been paid out to agents.
And finally, FieldAgent. This is also an app for small side-gigs. You can earn up to $30 per hour from FieldAgent. This app is very user-friendly. Once you download the app and register yourself, keep the location services of your phone switched on. FieldAgent will display simple and easy to perform handyperson tasks near your location.
You can quote your price and bid for the job if you're free. If the person who requires the service accepts the bid, you've to proceed to their location to complete the task. This app pays you real cash for your efforts. They collect the cash from the buyer of your services and pay you immediately.
Wrap Up
You can download and use any of these 25 best side hustle apps to make money in your free time. I suggest you read the terms and conditions of each app before signing up. That way, you will know exactly how much money you can expect from your side hustle.
As you can see, some apps charge you a commission or subscription, while others are free to download and use. Try any of them to earn extra cash and make the best use of your free time. All these apps are legit. And they never ask you for any sensitive personal information, except in rare cases where they need to conduct a background check on your credentials.
Millions of people across America are using these top 25 apps to make money during their spare time. And you, too, could make good use of your free time with side hustles to make some extra money.