Do you wish to sell any preowned or even new stuff? If so, consider becoming become an eBay seller.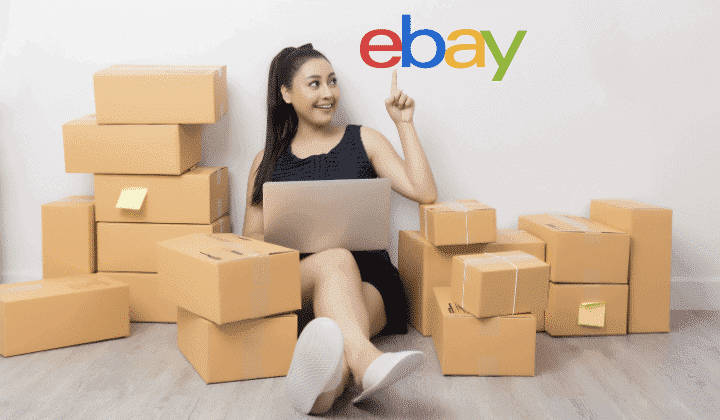 Without any doubt, eBay is the world's single largest website in its category and own right. Therefore, millions of people around the world buy as well as sell stuff on eBay daily.
Amazon v/s eBay
There's a very strong reason that I call eBay as the world's single largest website in its category and own right.
Often, people mistake Amazon to be the world's largest online retailer. That's right. Amazon is indeed the biggest online retailer in the world and ranks No-1 among all shopping websites.
However, eBay also ranks at No-1. How's that you might wonder. Because eBay doesn't exactly "sell" stuff like Amazon. Instead, it follows a totally different sell-and-buy model. To be precise, eBay work on the auction model.
By becoming an eBay seller you list the product and expected price. This price isn't final and you can bid for a lower one through eBay itself. But if you're comfortable with the price, you can place an order immediately.
In stark contrast, Amazon doesn't allow you to bargain for the price through online auctions. Instead, you pay the price that appears on the online store.
Understandably, there're ways and means to slice a few Dollars off your bills using discount codes and coupons.
But Amazon doesn't work on the auction model and you cannot bid for a lower price for the product. In short, you pay the tag price only.
Reasons to sell on eBay
There're several reasons to sell on eBay. The main attraction being, the ability to sell on ebay a lot of preowned stuff including vehicle spares, furniture, crafts and clothing as well as all sorts of books and games.
Furthermore, eBay has a global presence. They have over 25 million sellers across the world, though not everyone sells preowned or used stuff.
They have a lot of sellers offering new products as well. Among these 25 million sellers, about seven million are based in America alone.
There's a strong reason for such a large number of US-based sellers on eBay. Americans also look for a lot of high-quality preowned stuff that fits their budget. And above all, they love the auction part of eBay that allows buyers to make an offer rather than settle for what a seller demands.
Also, eBay has a superb returns policy that protects rights of buyers and sellers. Their payment to sellers is also rather swift.
12 Tips on How to Sell on eBay
If these above features sound attractive enough, you too should know how to start selling on eBay. To know how go through this guide to selling on eBay.
Indeed, you could set up an eBay marketplace within a few minutes only since there're no complicated forms and information to provide.
To start selling on eBay, follow these simple steps. And tap the market of over 200 million buyers around the world easily.
1. Decide What to Sell
The first step of every successful seller on eBay begins by deciding what to sell. This is extremely important.
Because stuff that sells on eBay is vastly different from what sellers offer on Amazon, marketplaces on Etsy, Shopify and Facebook. In fact, eBay can prove very profitable if you have the right mix of products.
2. Select Your Niche
Once you have a list of stuff that you wish to sell on eBay, the second most important step is to identify your niche.
This means, finding which particular section of eBay would suit you the best. For example, if you're offering automobile spares, define the make and if possible, model of the vehicles whose spares you're selling on eBay.
3. Register as eBay Seller
Registering as eBay seller is very simple. All you require is an email or a Facebook or Apple account to create a seller profile. Upon registering, you'll get an account confirmation link by email.
Clicking on the link activates your eBay seller account. While signing up, make sure you have a unique email ID where you can receive only eBay mail, updates and information about your eBay store.
4. Create eBay Seller Profile
Now comes the most complex step. Creating a user profile isn't as easy as writing a few words about yourself or the store. Instead, it requires a lot of creativity. Start by finding a superb name as seller.
And write a few lines about what the business is all about. If you're selling something one-off, mention a bit about yourself. This gives reasons for people to trust you as eBay seller.
5. Choose Your Payment Option
For sellers, eBay offers two payment options. One of them is direct payments. This means the buyer pays the money directly to the seller. The other is eBay Managed Payments.
Generally, most sellers opt for the Managed Payment system because it offers more security. It mean, the seller pays eBay which pays you, after deduction of all fees and other charges.
Though you might get a few Dollars lesser in this system, its better due to the security features and different payment options that eBay offers to your buyers.
6. Learn About eBay Selling Fees
There's a cost to list your stuff and sell on ebay. Therefore, it's very important to learn about these selling fees. There's no uniform fees for all goods. Instead, eBay charges fees according to various categories.
The first is fees for Auction type selling or regular sale, without bidding and for a fixed price. The next are fess according to categories of stuff you'll sell such as automobiles, electronic items, real estate, books, antiques, handmade goods and others.
Learning about these prices helps you comprehend how much eBay will charge for listing what you wish to sell, fees for the duration of display of your goods on eBay and how much money you will receive when the sale is completed.
This enables you to price your goods accordingly.
7. Pricing Your Goods
Upon calculating the cost of selling goods and getting paid from eBay, you can safely arrive at a selling price for the stuff.
That means calculating how much money you're expecting from the sale, fees and other charges. This will ensure you get the proper price for the things you're selling.
There're two types of pricing structures on eBay– for auction and for direct sale. Pricing for an auction differs a lot from that for direct sales or fixed price. Select your option.
As an eBay selling rule, eBay sellers that opt for the auction type listing of products quote a higher price. This enables bidders to know how much you're expecting for the stuff and bid for it.
Bidders can offer a low or high price or opt for direct purchase without bidding, if the price is right.
8. Take Superb Pictures of Your Stuff
How would people around the world that shop on eBay actually know and see what you're selling? That's why we need pictures. And excellent pictures for that matter.
You need to take superb pictures of your stuff that speak for themselves and attract buyers to bid or place an order immediately. As an eBay selling rules, never use pictures from any external source.
You require the exact pictures of what you're selling and not copies of similar items. It's necessary to take picture with white background only because they'll highlight the features of the product clearly.
9. Write Compelling Product Descriptions
Other than pictures that "speak a thousand words," you'll also require compelling and honest product descriptions. Give all relevant specifications and list every feature of the product you're selling.
To do so, it's better to read some product descriptions that're already there on eBay. You need to follow eBay's product description policy to post along with the product.
Therefore, read the policy completely since non-compliance means you won't be able to list the product on eBay or it could be taken off.
10. Start Listing You Goods
The next and obvious step to sell on eBay is listing your products. Once you define the niche and choose whether you're going for auction or fixed price selling, this step becomes very easy.
Once again, you need to follow eBay's product listing policies to start selling on their website. It's also advisable to decide earlier how many products you wish to list because each listing attracts a fee.
As an eBay selling rules, never list too many products at the same time unless they're bestseller items and you're offering them at competitive prices. Because eBay also charges for the duration of the listing.
11. Find Your Shipper
Once you find buyers, it's necessary to ship the product. There're two option available with eBay. You can opt for the eBay shipping program, which comes for a small fee but saves you a lot of hassle of sending goods to the customer on your own.
Or you can find own shipper. A large number of US-based sellers on eBay opt for United States Postal Service (USPS) for their reliable and economically priced services.
However, the choice of shipper is yours. And remember, you've to mention whether you're shipping free or there's a charge. Always mention the exact shipping rate for the buyer to decide.
12. Aim for eBay Top Rated Seller Program
To make the best of selling on eBay, aim to become a member of the eBay Top Rated Seller Program. There're several requirements to be recognized as a Top Rated Seller such as exceptional customer service, minimal or no returns, no disputes and other conditions.
This is an invitation only program that's available to eBay sellers after completing a few months or even years of offering goods.
Other Facilities for eBay Sellers
Furthermore eBay also offers a superb program for sellers. Known as eBay Seller Capital, the program is powered by Lending Point. It allows sellers to avail credit facilities to expand their business offerings on eBay.
You can avail finance options ranging between $500 and $25,000 through this program. The repayment period is spread over a maximum duration of 48 months.
And if you're shipping internationally, eBay also offers facilities for conversion of the payment in foreign currency to US Dollars at a very affordable rate, unlike traditional exchange houses and banks. 
Consider these options when you start selling on eBay.
In Conclusion
As we can see from the above points, becoming an eBay seller isn't difficult at all. Numbers clearly indicate that eBay is popular among people around the world that wish to sell either preowned stuff or the latest products, property or vintage cars, and other unique products.
Also read the list of goods that you can't sell on eBay or cannot be shipped to other countries because of their Customs regulations.
If you're selling internationally, make sure the prices are attractive to foreign buyers by considering the US Dollar exchange rates.
Selling to a European customer works in your favor, selling to South America means you'll have to quote lower prices due to currency exchange rates.