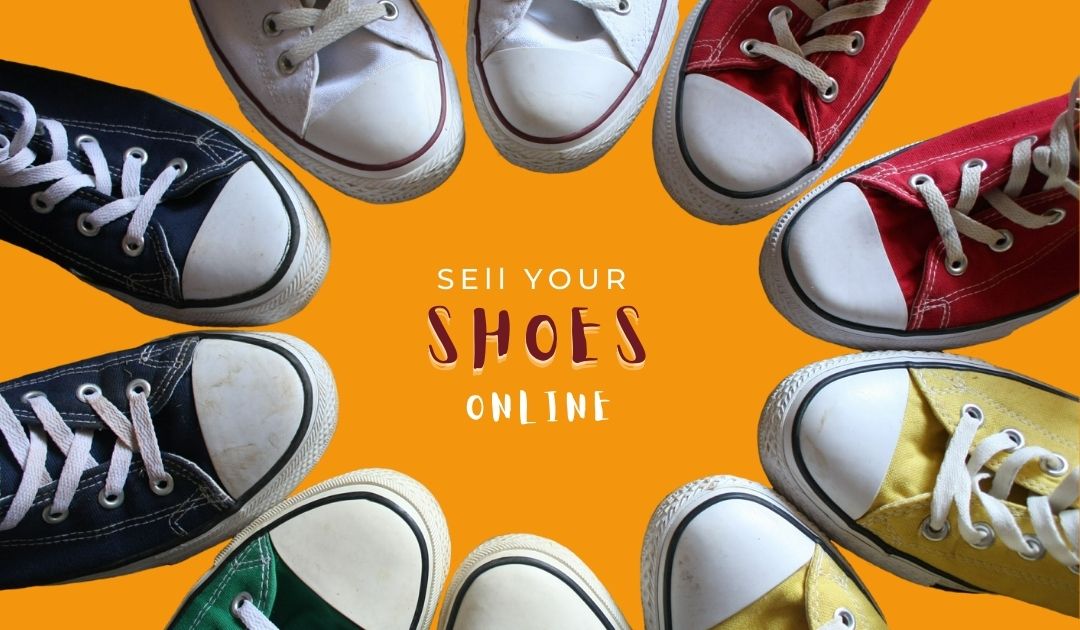 Often, we buy shoes and other footwear for special occasions or to wear with a specific dress. And once the occasion is over or the dress doesn't attract us anymore, we tend to ignore these shoes.
They lie unattended in our closet, gathering dust. Gradually, and over some time, such shoes get spoiled and are useless to anyone.
If you're among such women that have a pile of shoes that you don't use any longer, there's something you could do. And that's selling shoes online or offline for cash.
Actually, there're several places where you can sell used shoes or the ones that you're no longer using. As a matter of fact, you could sell anything from stylish sandals and ethnic footwear to sports shoes and formal ones.
We'll find in this article how to sell shoes online and where to sell shoes online and offline.
Reasons to Sell Used Shoes
There're several superb reasons why you should sell used shoes too. Actually, there're good reasons to sell your old shoes, that you aren't using anymore or don't plan to wear in the future too. Here I will enumerate some of the reasons why you should sell such old shoes.
You get instant cash.
It's possible to get exchanges and have newer shoes by trading off old ones.
Shoes require a lot of maintenance. And you might not have the time to do so.
If you live in place with humid or wet weather, molds can ruin those expensive shoes.
Sometimes, shoes don't fit us any longer due to weight gain and other reasons and hence, become redundant in our closet.
Some types of shoes go out of fashion and we wouldn't like wearing them anymore.
You've spent a lot of money on buying those shoes and letting them go waste is pointless.
Selling old shoes helps us to declutter our closet and home.
As we can see, there're as many as eight strong reasons to sell your old shoes. Therefore, if you've a large collection of shoes that you wouldn't be using, I would suggest that you sell them at the earliest and make some money to buy newer ones. Or you can use the money for savings and investments too.
Best Place to Sell Shoes Online for Cash
This brings us to the vital question: where to sell shoes and get cash? Actually, it's possible to sell your old shoes online and get cash almost instantly nowadays. In this article, I will list some of the places where you could sell your shoes online for cash or trade them off for shopping vouchers to buy newer ones.
1. Facebook Marketplace
Facebook Marketplace is the best place to sell used shoes online for cash. And it's free to sell used shoes through Facebook Marketplace too. In fact, you can get a lot of customers pretty fast when you sell your shoes through Facebook Marketplace.
If you've a Facebook page, all you need to do is go on the store icon and access Facebook Marketplace. Here, you register as a seller and upload amazing pictures and descriptions of your shoes one by one. And quote the asking price. Mention whether or not this price includes shipping to the buyer. 
Facebook Marketplace generally displays your ads within 100km from your own location. Therefore, chances are that someone in your area will buy the shoes. They could visit you personally if you wish to check the shoes and pay you. Or they might request you to ship the shoes. You can receive money through PayPal.
2. Shopify
If you have a good collection of shoes, you might want to sell them yourself. Therefore, the best place for selling shoes online for cash is by opening own marketplace on Shopify. Maybe you're aware that Shopify is an ecommerce platform that allows everyone to sell anything online by opening own marketplace.
Give an attractive name to your Shopify marketplace. And upload excellent pictures and descriptions of the shoes that you wish to sell. Also, mention your asking price, returns policy and shipping terms and conditions. It's also easy to set up own payments system through Shopify through PayPal and other payment gateways. 
Shopify gives a week's free trial before signing up. You can use this trial period to set up an online store and gauge the response for your shoes. And if it's satisfactory enough, go for the subscription to sell your shoes for cash.
3. Etsy
Etsy is a chic marketplace. In the sense that they allow you to sell only exclusive products through their marketplaces. Therefore, you could try opening a marketplace on Etsy if you're selling shoes from any top brands. You can also sell made-to-order and handcrafted used shoes over an Etsy marketplace.
You've to take a monthly subscription to sell your shoes for cash on Etsy. The next step is to open a marketplace under any catchy name.
List your shoes one by one and upload amazing pictures with very attractive descriptions and the asking price. Also mention your own shipping and returns policies for customers. You can make a payments gateway through PayPal or other payment systems on Etsy to get your money.
4. eBay
For decades, eBay has been the favorite destination of people that wish to sell pre-owned and used products. And eBay is also the best place to sell your shoes. It's easy to register as a seller on eBay. All you need to do is sign-up as a seller with your email and submit the simple online form to register.
Upon successful registration as an eBay seller, start listing your shoes with accurate and superb descriptions. Mention your asking price.
You'll have to agree to eBay's shipping and returns policy to sell shoes through this online store. eBay doesn't charge you anything to start selling through their website. However, they do charge a small fee for every successful sale you make.
5. Amazon Warehouse
This might come as a surprise to many of you. But yes, Amazon also allows you to sell pre-owned, open-box and refurbished items through its service known as Amazon Warehouse. Actually, there's a wide range of products that you can sell through Amazon Warehouse such as electronics and furniture, to name a few. But if you own a pair of shoes that you've never worn and are intact with the box, you can sell them on Amazon Warehouse.
To sell on Amazon Warehouse, you'll need to create a seller account. This is very simple since all you require is your email ID and some other basic details.
You'll have to agree to Amazon terms and conditions, including their payments, returns and shipping policies. Amazon pays you the money after the returns window closes. And they charge you a small commission for allowing you to sell through their website.
6. Craigslist
The ever-popular Craigslist is a superb place to sell shoes online for cash. That's because all kinds of shoes, regardless whether they come from some top label or are mass factory produced can be sold directly through Craigslist.
To sell shoes via Craigslist, you need to create a free account. Take good pictures of your shoes, write superb descriptions, mention a price and post as a classifieds ad.
You can get a lot of enquiries so make sure you use a separate email account for this purpose. And never give out your phone number, unless absolutely necessary.
You can choose the area in which you wish to sell the shoes and fix your own terms and conditions for shipping and returns. Craigslist, being a free classifieds ads website doesn't charge you any commissions for the service.
7. Flyp.com
First on my list of places to sell shoes online is Flyp.com. That's because they provide an excellent service to shoe sellers. When you register on Flyp.com, they'll connect you with a professional in the field, whom they term as a 'Pro Seller'.
Actually, a 'Pro Seller' is a sort of curator and seller. They will inform you exactly how much money you could expect for each pair of shoes.
Pro Sellers on Flyp.com will promote your shoes on your behalf. They will remit the money to you after every sale. For this service, they charge you a small commission.
However, the commission you pay is worth the value for money. Because these 'Pro Sellers' will do all the work such as uploading amazing pictures of your shoes and writing descriptions.
Furthermore, they'll list your shoes on various apps and other platforms to ensure quick sale with maximum profit for you.
Just in case your shoes or some of them don't sell, you can always request them back or donate them to a charity of your choice. You also have the option of lowering the rates, if you're very keen on selling them.
8. The RealReal
The RealReal is a luxury consignment shop. They generally specialize in top brands of shoes including Gucci, Chanel, Armani, Michael Kors, Calvin Klein, Yves St. Laurent and others. If you've shoes to sell, you can do so in three ways.
The first is by scheduling a free pick up from your home, if the service is available in your area. Or you can ship the shoes to The RealReal by using their prepaid shipping label.
Alternatively, you could visit the nearest The RealReal store and hand over your shoes for sale. You can also schedule a virtual consignment appointment with The RealReal staff.
The RealReal works with a professional staff of 90 curators and salespersons. These staff members will authenticate your branded shoes, take pictures, fix a price and help sell the shoes.
Generally, you can expect between 50 percent and 55 percent of the asking price for your shoes since The RealReal charges a commission from the sale. They pay you by bank transfers, PayPal or check, depending upon your choice. Additionally, you can also get a store credit with an extra five percent earnings, if you like.
9. thredUP.com
thredUP.com is a superb place where you can sell not only your old shoes but also dresses and dress accessories or costume jewellery that you no longer use. In fact, this is one of the easiest places to sell your old shoes too.
To sell your shoes through treadUp.com, you can request a 'Clean Out Bag' through their website. Generally, the 'Clean Out Bag' arrives within a week to 10 days at your premises.
You'll have to sort your shoes and pack them in paper or plastic bags individually and place them carefully in the 'Clean Our Bag'. You can also add used clothing and accessories to the bag, if you wish to sell them.
And you've to return this bag with the shoes to threadUp.com by United States Postal Service or FedEx.
Once the bag reaches thredUP.com, their curators will check the items to find what's saleable. Only those shoes that can be resold will get listed on their website.
According to thredUp.com, the company accepts less than 40 percent of the shoes that you pack in a 'Clean Up Bag.' Therefore, don't be disappointed if some of your shoes don't sell.
The best way to ensure that most of your shoes in the 'Clean Up Bag' go for sale is to clean and polish them before packing. Also ensure that the brand or the identity of the shoemaker is seen clearly. The label should be clean and readable.
And generally, threadUp.com accepts shoes that're less than five years old. However, in some cases, they do accept handcrafted and unique shoes, even if they're older because such stuff is rare.
thredUP.com pays immediately if your shoes are in demand, after completing the processing formalities. However, if your shoes are in the luxury range or branded, they might take between 60 days and 90 days to sell.
In such cases, threadUp.com will pay you only on consignment basis or after sale. If your items fall into the luxury category, or if it predicts your shoes will take longer to sell, then you'll be paid on consignment or once they sell.
According to the threadUP.com website, shoes from Target, Forever-21, and Gap remain on their list for 60 days. Designer brands such as Prada, Gucci, Yves St. Laurent and Tommy Hilfiger among others, remain on the list for maximum of 90 days.
threadUp.com pays you after their 14-day return period for your shoes they sell is over. You can ipt to receive your money by direct bank transfers, PayPal or Stripe, among other methods
10. Poshmark
Poshmark's website claims that you can list all your used shoes for sale in about half a minute or lesser. Actually, Poshmark is a free app and website. If you download the free app, it's easy to take pictures of your pre-owned shoes and write quick, simple yet interesting descriptions. That way, your items go for sale immediately. 
Other than shoes, you can also sell used clothes and clothing accessories through Poshmark. They accept all kinds of shoes, from branded ones to sports shoes from popular brands. However, they rarely accept non-branded products for sale, unless you've something very unique and exquisite such as handmade shoes. 
All you need to do is open the Poshmark app and snap pictures of your shoes, write a description, and fix your price. When someone buys your shoes, Poshmark will send you a prepaid, pre-addressed shipping label from USPS. You have to simply pack the shoes and drop them off at your nearest post office.
Poshmark charges a commission of $2.95 your shoes that you sell for prices less than $15 and 20 percent on sales of value over $15.
You have to agree to their returns and payments policies while signing up on Poshmark. You can get the money in three days of a confirmed sale, if the buyer doesn't return your shoes. You can get the money by direct bank transfers, check or PayPal. 
11. Tradesy.com
Yet another amazing place to sell your old shoes online is Tradesy. They usually help you sell shoes from popular designers and brands. Since Tradesy deals mainly with topmost fashion brands, you can't really sell just any shoes. However, if you own shoes of any kind from designer brands or top sports labels, it's easy to sell them through Tradesy.
One of the salient features of Tradesy is their returns policy. Means, even if a customer returns your shoes for any reason, they don't ask you to refund the money.
Once a customer buys your used shoes, Tradesy will mail you a shipping kit, complete with packaging material and prepaid postage. All you need to do is pack the stuff and drop it off at the courier company or USPS office, as the case may be.
However, Tradesy services come at a stiff fee too. And they also pay you after three weeks of a confirmed sale. For example, Tradesy charges a commission of $7.50 any shoes that you sell for prices less than $50 and 19.8 percent of the value for shoes over $50.
They pay you by PayPal, debit card transfers or bank transfers. In such cases, you've to pay the transfer fees. Alternatively, you can retain the amount with Tradesy to buy shoes, accessories or clothing from them.
12. Grailed.com
Grailed.com deals mainly in men's shoes and clothing. Their website has four different sections to make selling and buying easier. The topmost section, 'Grailed' is for shoes from topmost designer brands such as Gucci, Yves St. Laurent, Armani and others.
The section 'Hype' is from trendy shoes from companies such as Air Jordans, Yeezy and Crocodile. The 'Sartorial' section deals with high-end and classic menswear and shoes while 'Core' is for common brands and vintage clothing and shoes.
To sell shoes on Grailed.com, you'll have to create an account, which is free of cost. The next step is to link your Grailed.com account to your PayPal to get the money. The next step is simple: uploading pictures of your shoes and writing excellent descriptions about the product. 
Once you complete these steps, Grailed.com will list your shoes under any of the four sections. Your shoes go for sale immediately. And when there's a confirmed sale, Grailed.com sends you the money through PayPal.
Actually, Grailed.com will charge you a six percent commission and fees for the money transfer. For sales to international buyers, Grailed.com charges a commission of 4.4 percent plus an additional 30 Cents as service fee.
However, with Grailed.com, you have to take care of all the shipping formalities and uploading it on their website and PayPal to get the money.
13. Heroine
Heroine is a website that comes from Grailed.com. However, Heroine, as the name suggests, is all about women's shoes, clothing and accessories. You can use Heroine.com only to sell shoes from top designers and expensive brands. 
The process of selling your shoes on Heroine is also similar to Grailed.com. And they charge the same amount of money as commissions.  Once you have an account with Grailed.com, you can use the same login name and password to access Heroine. And if you have an account on Heroine, you can use that for Grailed.com as well.  
14. Kixify.com
A superb and free website to list and sell your used shoes is Kixify.com. This website specializes in casual shoes, especially sneakers, sandals and other similar stuff.  
A lot of collectors also visit Kixify.com to look for unique shoes and sneakers from different brands.
You don't need to have branded products or shoes from designers to sell on Kixify.com, though they can help you earn a lot more money. In fact, you can sell sneakers from any common brand too.
You have to set up own online marketplace at Kixify.com to sell your collection of sneakers. The website doesn't charge you any marketplace setup or listing fees. However, for every successful sale, Kixify.com charges you a flat eight percent of the value as its commissions.
Kixify.com pays you through your PayPal account. However, you have to bear the PayPal transfer charges. At the same time, you can create your own policies for returns, payments and other issues with a Kixify.co marketplace. This website is ideal only if you have a large collection of sneakers to sell because the effort isn't worth it for selling merely one or two pairs.
15. buyMYheels.com
buyMYheelscom is one more online marketplace to sell old shoes. However, they specialize only in branded shoes and designer labels. Therefore, you can't really sell shoes from unknown makers or mass- produced ones here.
This website operates from the UK but you can sell your shoes here from the US too. They charge you a listing fee of about $7 per item. However, they don't charge any commissions on your sales and the entire sale amount goes to your bank account through PayPal.
In some cases, you can sell non-branded shoes through buyMYheels.com. However, to do so, your shoes should be unique and handcrafted. That's because this website is very strict about the quality and type of products that people list for sale.
16. Mercari
Mercari is one more superb place if you wish to sell shoes. They don't charge any fees to open an account or list your shoes. However, Mercari charges a flat 10 percent commission on the value of your items you sell.
Using Mercari app is very simple. All you need to do is download the app. Use the feature on Mercari to take superb pictures of your shoes using your smartphone camera. The next step is to write a fantastic and attractive description of your shoes.
One of the salient features of Mercari is that it allows people to share your shoes listings through Facebook. They can also tag your shoes for sale as 'Favorite'.
They have a very simple shipping policy that works in your favor. When your shoes sell, you can ask Mercari to send you a prepaid postage or shipping label, which is 30 percent lower than standard market prices. Or you can handle your own shipping. In any case, you have to provide the shipment tracking number.
Your customer has to write a review for your shoes within three days of receiving them. And Mercari pays you once the review goes online. If the customer doesn't submit a review in three days, Mercari will provide one and send you the money in a week after the sale. They pay through direct bank deposit charge $3 for the service, if your earnings are less than $10. You can also opt for deposit to your debit card, which is slightly cheaper and costs a fee of $2 only.
17. Goat
If you have sneakers to sell, try Goat.com. This is a website that exclusively deals with sneakers only. As a matter of fact, you can sell both branded and non-branded sneakers through this website.
However, listing sneakers for sale on Goat can be a bit difficult. You will require the item number for shoes (SKU) number, which features on the shoe label or the carton, at the time of listing the sneakers. Unless you have the SKU number, it's not possible to list your sneakers for sale. 
Secondly, they have a rather complex commissions structure. Goat rates all sellers and depending upon your ratings, it decides on the amounts of commissions you have to pay per sale.
For example, if you're listed as a reliable seller, you have to pay a stiff 9.5 percent commission and a special seller fee to Goat. The seller fee is decided by your location. For example, American sellers will pay a flat $5 as seller fee while the ones in foreign countries pay more.
Goat sends you a prepaid shipping label once your sneakers are sold. And once the buyer agrees that the SKU number is authentic, Goat pays you through PayPal. However, you have to bear the PayPal transfer fees. 
18. StockX
StockX primarily is for selling all types of sneakers and streetwear. However, you can't sell sneakers and streetwear here like other websites. Instead, StockX works through an auction system. As a seller, you have to list the sneakers or other footwear for sale on this website. When the successful bidder gets the sneakers, you have to send them to StockX for verification. And later, StockX sends them to the buyer.
As a seller, you have to pay StockX a three percent payment processing fee and a seller fee. The seller fees depend on your volume of sales through this website.
For example, if you're a first time seller, StockX will charge you 9.5 percent of the sneakers value as sellers fee. But if you have sold $10,000 worth sneakers through StockX, you will pay only 8.5 percent as sellers fee.
StockX pays you through direct bank transfer, PayPal and deposit to your debit card.
19. OfferUp
OfferUp is an app where you can sell old shoes as well as clothes, accessories and other stuff at home. You can download this app on your smartphone and start selling within a couple of minutes only.
Actually, OfferUp is somewhat of a classified ads website. You can sell anything over here. 
Once you list your items, you have to take care of the shipping as well as other terms and conditions. Actually, the buyer takes care of the shipping of your shoes.
OfferUp provides a shipping label service to sellers. If you decide on shipping an item via OfferUp, you have to pay them a commission of $1.99 per item or 12.9 percent of the entire price.
20. VarageSale
VarageSale is a website that allows you to set up a virtual online garage sale. This service is available across USA as well as Canada.
You can sell used shoes through VarageSale. The website will usually screen customers before they allow them to your garage sale. They do so through verification of credentials to ensure that only genuine buyers can participate in the sale.
The buyer can sometimes bargain the price of your shoes online. And you have to take care of the shipping and other formalities.
21. 5Miles
And finally, 5Miles. This is also a classifieds type website, which actually verifies users and customers using social media such as Facebook and Instagram.
You can list your old shoes for sale here and get a lot of customers. They don't charge you any commissions or fees. This means, you're directly responsible for dealing with a buyer and arranging the payment and shipping.
A lot of persons that sell shoes, clothing and accessories use 5Miles because of its popularity. You can try this website too. Registration is free.
In Conclusion
Selling old, unused or even shoes that're merely lying around in your closet is easy, as you can see from the above places. All you need to do is select the place you find suitable from this list and go ahead to sell your shoes.
The amount of money that you make depends upon a lot of factors such as commissions and money transfer fees that these websites charge as well as shipping costs, if any.
However, it's better to empty out your closet of old shoes rather than allowing them to gather dust and get spoiled over a period of time.
Therefore, the next time you think of where can I sell my shoes for cash near me , consider any of these 21 places that I mention.