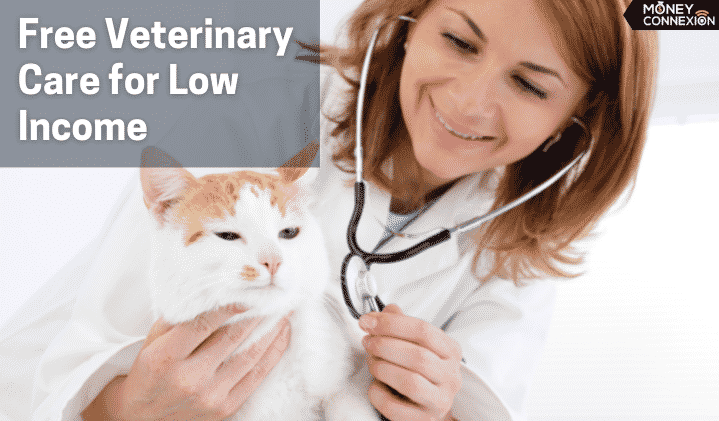 Anyone that has a pet will testify to the fact that it can prove to be very expensive. As a matter of fact, we need to care for a pet as we would care for a kid. Pets require special food. And of course, they also require vet care from time to time. Just like we humans can fall sick any time of the day, so can our fierce canine or that furry feline.
While vet care for pets can prove to be expensive, it really doesn't need to be that way. There're several low-cost and free veterinary care services near you where you could take your pet, should the need ever arise. And some of them also give away free medication to pets or perform various surgeries, if necessary.
However, searching for places where you can get free or cheap veterinary care for your pet can be as confusing as searching for a needle in the haystack. Therefore, in this article, I will be writing about the best places where you can get low-cost or free veterinary care, especially if you're in the low-income group.
Free or Cheap Vet Care Near Me
After a lot of research online and offline, I managed to find some of the best places across America where you can find free or rather affordable veterinary care for your pets near you. And some of them also offer free medicines and surgeries for your canine or feline pet.
If this sounds interesting to you as a pet owner, continue reading.
1. AVMF's Veterinary Care Charitable Fund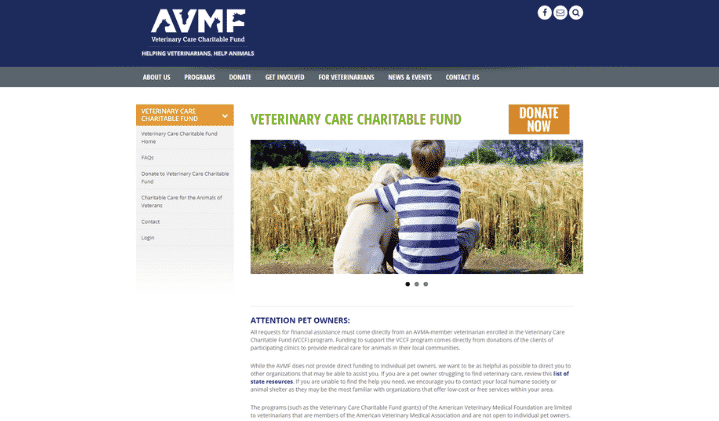 The first place to get free and cheap veterinary care for low-income families is American Veterinary Medical Foundation (AVMF).  They operate a wonderful program known as Veterinary Care Charitable Fund. This fund supports veterinary specialists that provide medical services to pets that are either lost, neglected, or even in some cases, abused animals. They also help low-income persons and families to get free veterinary care for their pets.
Generally, AVMF helps you and your pet through donations that are made by generous people and pet lovers. They do so to ensure that people don't abandon their pets or are forced to give them away because of money problems. In some instances, AVMF also collects donations for your pet's treatment if it's outside their budget. That way, you can get veterinary care free of cost.
 2. Brown Dog Foundation
The Brown Dog Foundation is a small organization. However, they do provide free veterinary care to pets that are suffering from an illness from which they can recover as well as pets that survive accidents but can live. They respond generally to emergencies only with free veterinary treatment for the pet. This is one organization that you can call if your pet is seriously ill or injured for any reason.
 3. Cooper's Legacy Foundation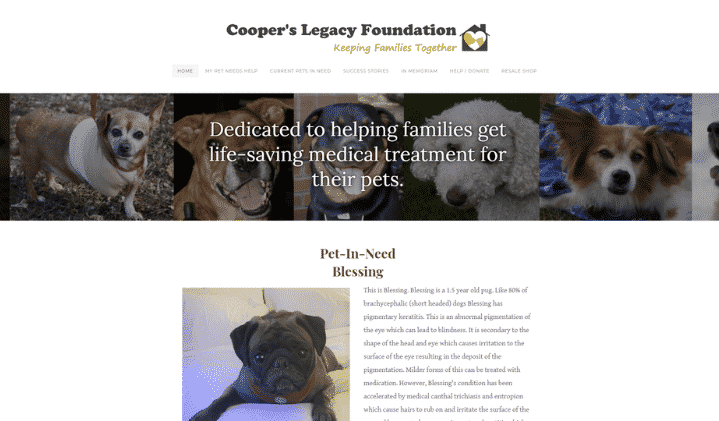 Cooper's Legacy Foundation is yet another place to seek free veterinary care for your pets. They operate only in Idaho and Washington. Cooper's Legacy Foundation treats dogs and cats that require treatment. They provide free treatment only to licensed pets that have valid vaccinations. However, you cannot get free vet care if your pet has a pre-existing medical condition and for diagnostic tests.
 4. Dylan's Hearts
Dylan's Hearts' main objective is to ensure that families with low income can get quality veterinary care for their pets. Their objective is to reduce the number of pets that financially weak families put to sleep every year because they can't afford expensive vet care.
According to sources, close to 120,000 pets including cats and dogs are culled every year across America by families that are struggling with their finances. To get free vet care from Dylan's Hearts, you have to apply for a grant before commencing the medical treatment for your pet.
 5. First Coast No More Homeless Pets (FCNMHP)
FCNMHP isn't free but they offer veterinary care for your canines and felines at very affordable rates that even low-income individuals and families can pay. FCNMHP operates mainly in the states of Florida and Georgia. They provide low-cost neuter and spay services for dogs and cats through their centers.
As a matter of fact, First Coast No More Homeless Pets operates the largest spay and neuter pet center in America. Sources claim FNNMHP performs over 20,000 surgeries per year. They also offer highly discounted vet services to low-income families. Their services are said to cost at least 40 percent lower than the ones charged by other regular vets.
 6. FluffyRX
FluffyRX is an that helps you get hefty savings on medicines and veterinary care for your pet. All that you need to do is download the app and upload any prescription for medicines for your pet. These medications are generally available from Costco Wholesale, Target, CVS Pharmacy, Walmart, and other local pharmacies too.  Once you register your pet using the FluffyRX app, you will receive a Pet RX card. You've to present this card to the pharmacy from where you intend to buy medication for your pet to get them either free of cost or at a highly discounted price.
 7. Frankie's Friends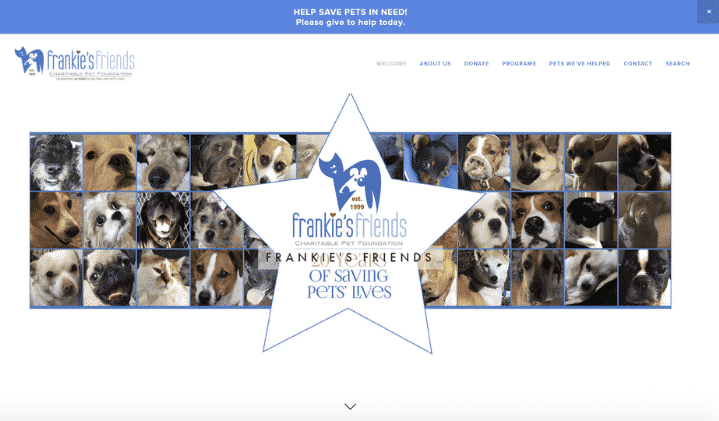 An excellent resource for low-income pet owners to get veterinary care is Frankie's Friends. However, the assistance that your pet can get from Frankie's Friends depends upon the physical location of your pet. That means, your pet has to be with you while seeking any assistance.
Frankie's Friends generally takes care of financial needs, diagnosis, and prognosis for your pet's illness. They generally provide up to $500 worth of veterinary care for your pet. To do so, Frankie's Friends have tie-ups with vet clinics in various states of America at different locations.
Therefore, check if Frankie's Friends has a partner clinic in your area. They also provide a range of other free services such as life-saving and emergency treatment and medicines for the pet as well as specialty care for pet owners that cannot afford these.
 8. Handicapped Pets Foundation
You can take pets injured in accidents and other incidents, elderly animals, and disabled ones to The Handicapped Pets Foundation. This foundation provides free dig-wheelchairs to such pets. To get these dig-wheelchairs, you have to complete and submit an application form. All applications are reviewed by staff at HPF. And you get a response after this review, which usually takes about one month. HPF provides a new or reconditioned dig-wheelchair to your pet if your application is successful.
 9. Harley's Hope Foundation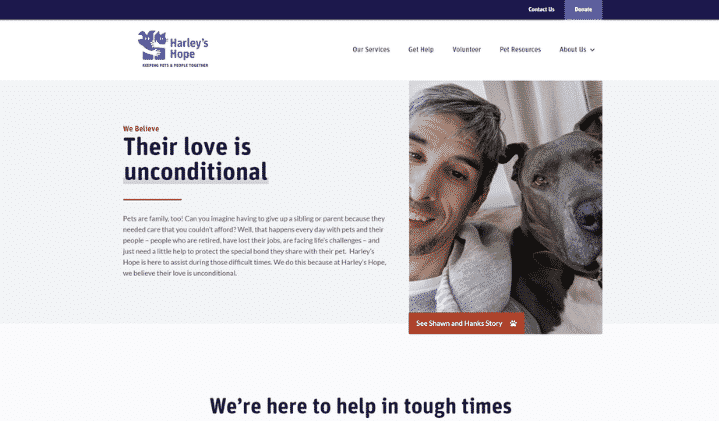 Harley's Hope Foundation usually provides financial assistance for veterinary care and emergency foster care to families with low income. However, they don't pay outstanding dues to vets from their funds.
To get assistance for your pet from HHF, you've to complete and submit an application form. This form must contain various details such as diagnosis, a treatment plan for your canine or feline pet, and prognosis from your vet clinic.
The report from the vet's clinic should be convincing enough for HHF to consider funding the treatment for your pet. This foundation aims at ensuring that families don't abandon sick pets and instead, they get quality medical treatment at home.
 10. Hope Mending Hearts
Hope Mending Hearts provides a grant of $100 to $200 for pets facing medical emergencies. Generally, this grant is given to pets facing life-threatening medical conditions only.  However, the prognosis from your vet should clearly mention that your pet has a chance of survival if they get the medication or surgery or other medical treatment from the fund money.
These grants are decided by HHM on various factors. These factors include income levels of the family or individual that owns the pet, the urgency of medical treatment, diagnosis and treatment plan, and whether or not a specific pet is eligible for treatment under their grant system. Once you submit an application, you will receive a response within one or two working days.
11. Ian Somerhalder Foundation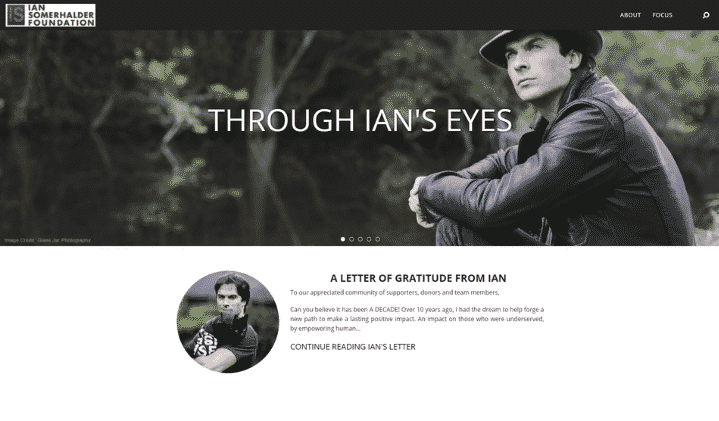 The Ian Somerhalder Foundation provides for pets rescued from streets and other locations and needing emergency medical treatment. Generally, they provide a grant of up to $1,000 per pet, depending on the nature of the injuries. However, the veterinarian attending the pet has to certify that the animal has a chance of surviving the treatment. This fund primarily aims at encouraging people to rescue pets abandoned and left to die or those injured in accidents or other incidents and having no home.
 12. Magic Bullet Fund
Magic Bullet Fund strives to save canines and felines afflicted with cancer. According to various sources, between 20,000 and 25,000 cats and dogs are diagnosed as cancer victims daily, across America. Most owners of such pets want to put them to sleep with lethal injection or other humane means. Instead, Magic Bullet Fund aims at saving such lives.
They pay low-income families and individuals whose pets are diagnosed with cancer to receive free medical treatment for the cat or dog. The money is sent directly to the vet clinic. However, the money cannot be used to pay for outstanding dues or to put your pet to sleep.
13. Onyx & Breezy Foundation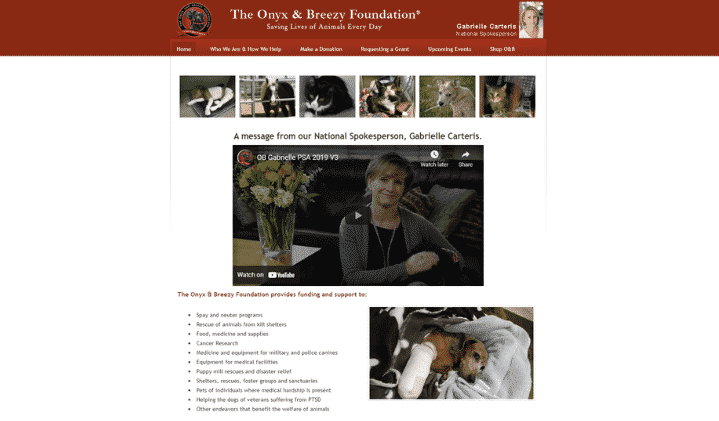 The Onyx & Breezy Foundation provides funding for various vet services for low-income individuals and families. These include spay and neuter programs, food, supplies, and medicine, rescuing animals from kill shelters, equipment and medicine for police and military canines, puppy mill rescues, foster groups, shelters, and sanctuaries, vet care for low-income families, and assists dogs of veterans afflicted from Post-Traumatic Stress Disorder.
To receive grants, you have to file an application and attach your individual Income Tax returns, diagnosis, and prognosis from a vet clinic. The diagnosis should also contain details such as the estimated cost of treatment.
 14. Paws 4 A Cure
Paws 4 A Cure is yet another foundation from where you can get financial help for pets if you're a low-income family or individual. Paws 4 A Cure usually provides financial assistance for dogs and cats suffering from disease or injuries. The pet can be of any age or breed. However, a vet has to submit the full diagnosis to the foundation to get a grant of up to $500. Paws 4 A Cure however doesn't cover expenses related to spaying, neutering, vaccinations, heartworm prevention medication, routine dental care, flea and tick removal, and euthanasia.
 15. Pet Assistance, Inc.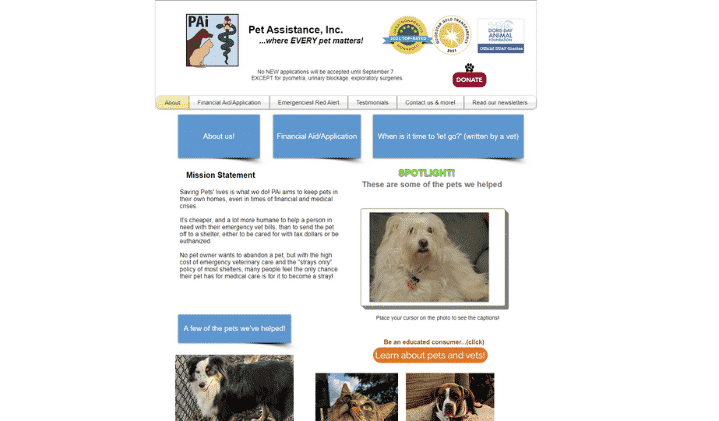 Pet Assistance, Inc provides cash grants for pets of low-income families and individuals. Generally, and as a rule, such grants are given only if the pet is suffering from a life-threatening condition. However, a vet has to certify that the pet would survive for a reasonable period after the treatment, for the animal to qualify for the grant. You've to submit an application along with a diagnosis and prognosis from a vet for this grant.
 16. Pet Fund
Pet Fund provides financial assistance for vet care for low-income families. They usually provide funding for expensive surgeries or medical treatment of your pet. Generally, Pet Fund sponsors treatment for pet heart disease, cancer treatment, kidney disease, spay and neuter procedures, dental, vaccinations, broken leg, torn ligaments, endocrine disorders, chronic conditions, and cataract surgery. To apply, fill an online form on their website and submit it along with the diagnosis, prognosis, and treatment plan from a vet. They provide one-off assistance only.
 17. Pit Bulls Against Misinformation
Pit Bulls Against Misinformation (PBAM) was begun as a foundation to get rid of all the negative hype that surrounds pit bulls. However, this organization helps all breeds of dogs. Therefore, if you're a low-income individual or family, you can consider applying for their various grants. Here're some of the things they support.
i) Animal Rescue: Up to $1,000 for rescue groups that save canines from being put to sleep at euthanasia kennels.
ii) Animal Shelter: PBMA provides grants for setting up shelters for homeless dogs, especially abandoned pets. Low-income families and individuals that rescue dogs can also apply for grants to house these pets at an animal shelter.
iii) Low-Income Owner: PBMA provides financial assistance to low-income pet owners for needs such as pet food, pet supplies, fence repairs, kennels, temporary boarding, pet sitting due to medical needs of the owner, and rental deposit assistance. The payment is made directly to the business or online store for purchasing such items or for boarding or other medical needs.
iv) Good Samaritan: Under this head, PBMA provides grants for people that rescue pets to take care of the animal's needs such as food, shelter, medical needs, and vet care among others.
v) Vet Care: Under this program, low-income families can get up to $2,500 worth of medical treatment for critical illnesses of their pets. However, a vet has to ascertain that the pet has a 70 percent chance of survival after the medical treatment. PBMA also pays for all medication but doesn't include payment for euthanasia.
18. The Animal Foundation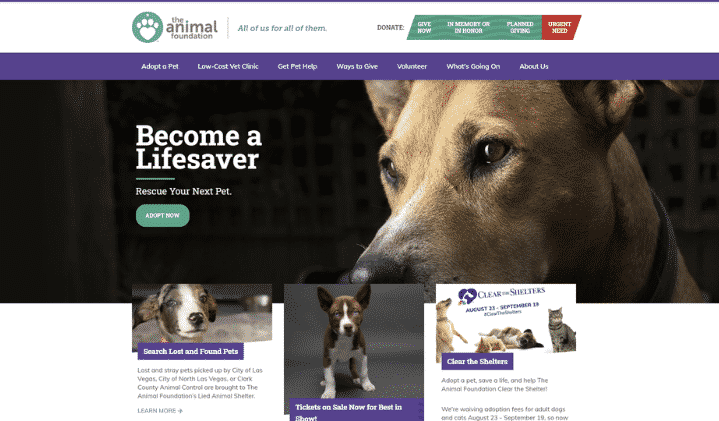 The Animal Foundation provides economically priced spay and neuter services in Las Vegas. They also provide money directly to vets for treating animals that are afflicted with illness but have a good chance of survival. Their fund supports cats, dogs, rabbits, and other animals. Additionally, they have a low-cost vet clinic in Las Vegas where you can take your pet by appointment only.
 19. Red Flyer
The Red Flyer provides free wheelchairs to disabled pets. They generally provide new or refurbished pet wheelchairs to animal rescue groups as well as low-cost families and individuals. To apply for a pet wheelchair, submit an application along with a vet's certificate that states your pet suffers from disabilities.
 20. RedRover Relief
The RedRover Relief offers financial assistance, emotional support, and other help for low-income families or individuals facing money problems if their pets require some urgent medical care. They grant up to $200 for medical treatment of a pet.
The money goes directly to the vet clinic. You have to submit an online form with a diagnosis of the pet from the vet clinic while applying for the grant. They usually respond within two working days.
 21. Riedel & Cody Fund
Riedel & Cody Fund assists pets such as dogs and cats afflicted with cancer and requiring chemotherapy and radiation treatments. To apply for the grant, you have to submit a diagnosis of the pet's cancer to the fund. Upon review, the fund is granted. And when the fund is granted, you have to share your success story on their social media pages.
 22. Shakespeare Animal Fund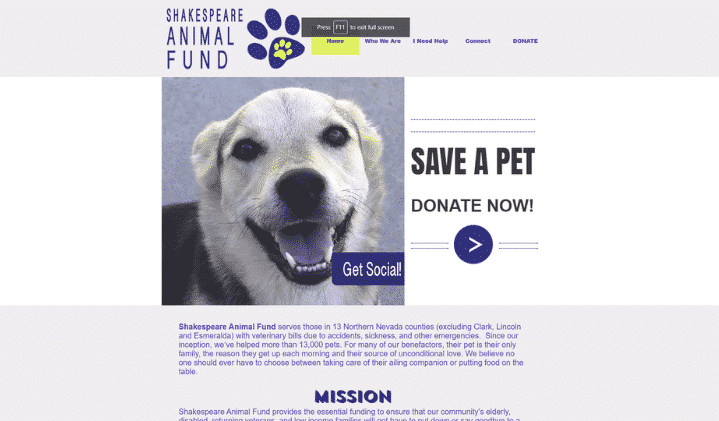 If you're residing in Nevada state, you can apply for financial assistance for veterinary treatment for your pet from the Shakespeare Animal Fund. They offer financial assistance for a serious sickness, accidents, and other emergency care of your pets.

Additionally, SAF also helps with emergency pet care if their owners are suffering from a disability or are senior citizens and their current income is below the US government's poverty line. Depending upon the financial situation of the pet owner and the illness of the animal, SAF gives a grant, which is paid directly to the vet clinic for treatment.
23. SpayUSA
SpayUSA offers economically priced neutering and spaying services to pet owners. They also help families and individuals with low income to connect with free and affordable veterinary care clinics for the medical treatment of their pets.
 24. Veterinary Care Foundation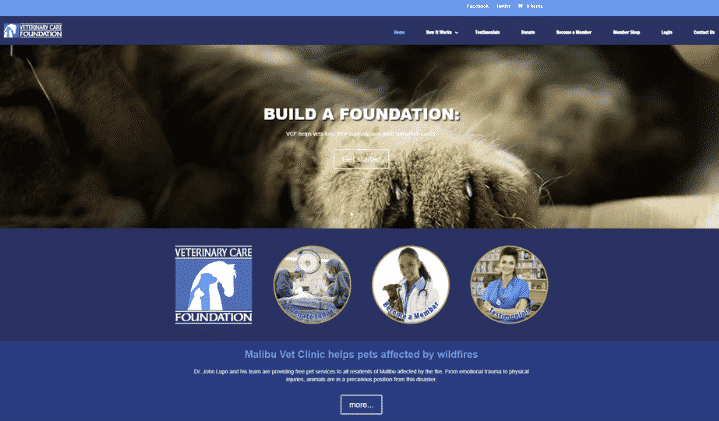 Veterinary Care Foundation (VCF) doesn't give money directly to pet owners to get veterinary care. However, they do fund several vet clinics across America that provide free or inexpensive medical treatment to pets from low-income families and individuals. You can look up their list of clinics they fund to check whether free or cheap vet care is available in your area for your pet.
25. Crowdfunding Platforms
Nowadays, there's one more way to get free veterinary care for your pet. And that's through crowdfunding. There're several crowdfunding platforms where you can actually request the public to give you some money for your pet's illness. You can raise up to $2,000 through these crowdfunding platforms.
To do so, you'll have to submit a completed online form with any crowdfunding platform stating your need for the funds and the diagnosis from a vet clinic, along with a prognosis for the survival of your pet. In some instances, pet owners from low-income families have raised up to $5,000 for emergency medical treatment of their pets, according to various sources.
26. Local Vet Clinics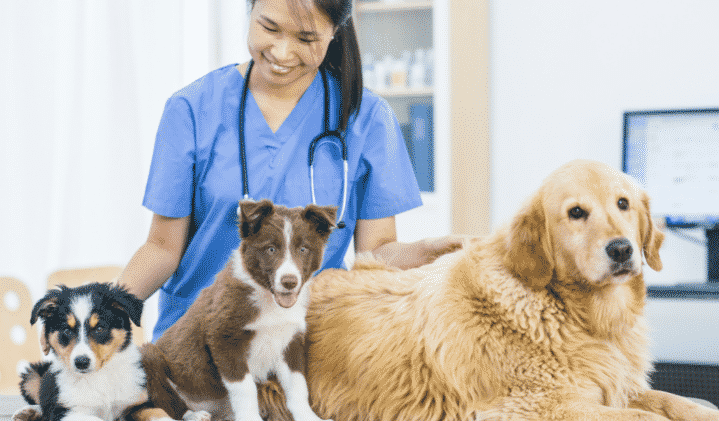 Usually, most vet clinics will offer some free assistance to your pet if it requires emergency medical treatment for accidents or injuries or even some life-threatening medical conditions. However, such assistance is voluntary. Meaning, no vet clinic is under any obligation to provide free medication or medical assistance to any pet merely because you come from a low-income family or don't earn enough money as an individual.
27. Religious Groups
This might come as a surprise to many, but low-income families can also seek assistance from their religious group to raise funds for veterinary care for their pets. Again, this isn't a rule as such. However, considering the popularity of pets and the view of the American society at large towards humane treatment of animals, some religious groups do make an allowance and provide some funds to pet owners that cannot afford expensive medical treatment of their pets, especially emergency treatments for accidents and injuries.
Qualifying for Free Veterinary Care
Before you apply for free veterinary care from any of these facilities and organizations that I mentioned above, check whether your pet is eligible. In most cases, such organizations provide funds only for the treatment of dogs and cats. Meaning, if you've other animals such as a snake, monkey, rabbit, or an exotic species, you might not qualify for their treatment under the free schemes and grants.
At the same time, the income of the entire household or individual is taken into consideration while giving a grant. This would generally depend upon the US national poverty line definition and low-income definition. If you don't qualify under these, there're chances that your pet won't qualify for free veterinary care.
In Conclusion
The best way to find out whether any free veterinary care or cheaper ones are available in your area is to go to the websites of these organizations that I've listed above. Their websites have specific information about how to apply for grants, vet clinics that they support, and illnesses or medical conditions of pets that they fund for treatment.