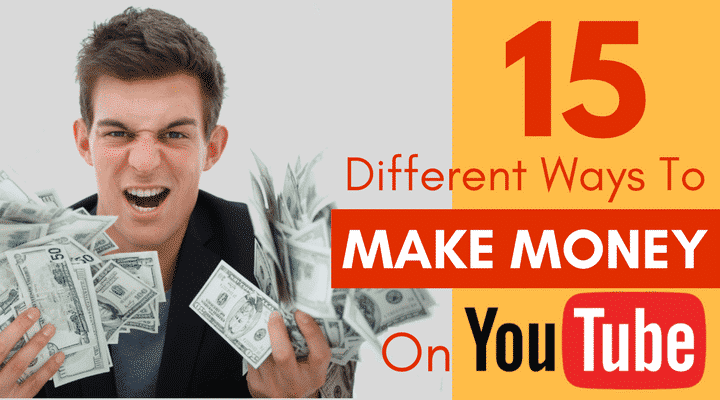 Everyone knows YouTube as the biggest entertainment and information hub on the internet. Everybody knows YouTube is the best way to make money online by running YouTube ads between the videos.
But do you know there are many other ways to make money on YouTube than placing YouTube ads!
Yes, you heard it right.
I will not show you the same usual ways but 15 excellent ways to make money from YouTube.
YouTube is the second largest search engine on the internet, with over a billion users, and each day those users watch a billion hours of video, generating billions of views.
You can find some exciting facts on YouTube here that will show you the earning potential on YouTube.
So much potential & so many earning opportunities, but where precisely do the income opportunities lie in YouTube & how to make money on YouTube?
15 Excellent Ways to Make Money on YouTube
As we are talking about making money on YouTube, you should understand that you have to create videos & upload them on YouTube.
All your videos must be original & exciting so that you can get a good number of views.
Creating videos is not that hard. You can create a video even with your smartphone. If you want to be more professional, you can buy a high-quality camera and professional video editing software.
1. Make Money with YouTube Partner Program
The YouTube Partner Program comes on the top of the list to make money from YouTube. Most people who make money on YouTube earn through partner programs only.
You need to create your own YouTube channel and upload exciting videos to your channel. Once you have completed 1000 subscribers and 4000 valid public watch hours in the previous 12 months, you can apply for YouTube Partner Program.
Many YouTubers make millions through partner programs. There are even examples like 'Charlie bit my finger' where only one video of 1-2 minutes makes millions every year.
Even an average or part-time YouTuber earns $500 to $1000 per month without any problem.
We have written a complete guide to making money using the partner program here. This guide will explain to you everything like how to make quality videos, how to get more views & grow subscribers, how to place ads in your video etc.
You can also refer to this list of the 40 best YouTube video ideas to find the most popular and trending ideas on YouTube.
2. Make Money by Starting a Blog
If your channel is based on topics like how-to, technical, cooking, TV programs, movies, or anything that people search on Google, it's a good idea to start a blog and make money with your blog too.
You don't need any new content ideas for the blog. Just convert your videos into textual content and post them on your blog. Then, you can use this in 2 ways.
Add your blog link in the video description so that people interested in the text version can go to your blog and read it.
You can get organic traffic from Google or Bing when people search for the keywords you are targeting in your content.
Starting a blog is simple and does not take much time.
You can make additional income cash from your blog through Google AdSense or affiliate programs.
If you want to take your blog to the next level, you can use SEO techniques or promote it on social platforms.
3. Make Money With Affiliate Marketing
If done correctly, making money on YouTube can give better earnings than the YouTube partner program. Just join an affiliate program related to your niche & promote it from your videos.
There are 2 types of YouTube audience-
One who likes to watch videos related to entertainment like movies, songs, humor & information like news, etc.
The second type of audience who watch the videos to get solutions to their problems like health & finance, legit reviews of products, how-to videos, etc.
You can make excellent affiliate income from the second category.
You can create solutions for such people. You can try different YouTube keywords tools to help you find keywords that you can target for your video.
There are hundreds of best affiliate programs & affiliate networks like Amazon, MaxBounty, Clickbank, CJ, FlexOffers, etc. You can find products related to any industry.
You need to do the proper research & provide only the legit solutions; otherwise, people will not trust you and give negative feedback.
You can insert affiliate links directly in the description part of your video. Make sure to use proper tags, title and description to rank your videos in YouTube.
Also read: How to make money with Amazon Affiliate Program
8. Direct Sponsorship and Brand Deals
If you receive a good number of views on your channel, many sponsors will approach you for a sponsored video. The best part of sponsorship is receiving the total amount without splitting it with YouTube.
Direct sponsorship is more profitable than affiliate marketing and YouTube ads. Sponsors will advertise their products to your target audience through your videos.
Getting sponsors is not difficult today. Companies and influencer marketing companies will approach you directly through your email. You need to add your business email account in the about section of your channel.
You can also get brand deals to become a brand ambassador of a particular product or merchandise. The power of your brand value on YouTube will help you sell products to your audience.
4. Make Money By Selling Links for Advertisement
There are thousands of videos on YouTube that receive a large number of views daily, but the person who created the channel does not know how to make money on YouTube.
If you are looking for an additional source of cash with the same YouTube videos, you can use this method. Just add one simple line in the description or at the end of each video, like "advertise your product by placing your link here."
You can ask the customers to contact you by email OR give the price details so that only the interested people will contact you to place the ad link.
Depending on your daily views, you can decide how much you want to charge. Suppose you are getting around 1000 views per day for a video, then you can ask for a monthly charge of $100 to $200. If you have 20 to 30 such videos, you can make between $4000 to $6000 per month with this method.
There is one good tip if you can utilize it. There are millions of such videos that are not being utilized commercially.
So if you want to make money from such videos on YouTube, you can become a middleman and find the potential advertisers who want to place their website links on such videos.
On the other hand, you search for videos where you don't find any links in the descriptions to contact them and place their links which give you the approval.
The catch is you charge more to the advertisers and pay less to video channel owners. Using this method, how much money you can earn on YouTube will depend on your negotiation skills.
5. Make Money with Local Marketing
This one is the gold mine. You can make a full-time living using this method if you do it professionally. There are tens of thousands of local business in your area that does not have any (or much) online presence.
Just contact such businesses and ask them to create a video describing their business, products, and services and upload them on YouTube to get an online presence.
Convince them how this can make a positive impact on their business. Be it a local restaurant, a real estate agent, a saloon, a cake shop, or any local business owner.
Just get out of your home and come to the nearby street, and you will find hundreds of such local businesses in a one km circle. It would help if you were professional here.
Contact these business owners and show the advantage of how he can grow his business online and beat their competitors. You can easily make between $2000 to $3000 per month this way.
How much you will charge, monthly, yearly, or one time, what strategies to use, etc., will come only through experience. So get into the business and start making some more money on YouTube.
6. Selling Physical Products and Merchandise
Once you've have become an established YouTuber with loyal followers and subscribers then you need to think of creating and selling your own product.
In affiliate marketing, you promote on other's behalf but here you are going to create your own product first, then do some market research and finally promote it through your videos.
Creating your own branded merchandise like T-Shirts, Caps, Mugs etc can be challenging if you don't have necessary funding.
What you can do is create some videos regarding your merchandise and check out views and comments your video receives.
If they are heartening enough then you can go ahead with creating your own products. You can raise money through crowdfunding on crowdfunding websites like Kickstarter
You can sell your products through giving a link in your videos.
7. Selling Digital Products
If you cannot create physical products because of a lack of funding, you can sell digital products on your YouTube channel.
Digital products are a lot easier to create and sell. In fact, you can create them for free. Digital products are downloadable products like eBooks, podcasts, videos, software, etc.
I would suggest you create tutorials in the form of eBooks and videos. You can quickly sell them to your audience, leveraging the power of your brand.
Read: How to Create an eBook and Sell Online
9. Subscription and Memberships for Premium Content
If your subscribers are loyal and love to watch all your videos religiously, then you can charge them a fee for watching your videos. YouTube allows you to create premium content and sell its access to your audience for the amount you choose.
The concept is straightforward, you give away some free content on YouTube; however, you restrict access to the best content behind a subscription/paid membership wall.
If your audience wants to watch more videos, they have to pay monthly or yearly membership fees.
If you are getting tremendous views and comments for your free videos, you are more likely to convert a few of them to a paid membership.
The best example of this is The Young Turks. For watching their premium content, viewers have to pay a fee.
10. Licensing Your Content
Licensing your videos to media houses is another great way to make money with YouTube.
However, you need to create viral videos with millions of views in just a short period. For example, cute baby videos like 'Gangnam Style,' 'Chocolate Rain,' etc., or even animal videos.
Mainstream media need viral content for their channels like morning shows, news programs, baby videos, and even online sites. They are ready to pay you anything if you have great videos.
You can license your videos to these media houses in exchange for money. Visit Junken Media, where you can easily find suitable people who would be willing to pay you for your videos.
11. Consultancy Services
Once you have become an established YouTuber with 100K or 1M subscribers, you can start giving consultancy to other video creators and small businesses who are desperate to leverage the power of YouTube.
If you are getting paid for your free videos, you can make even more by giving one-on-one consulting services to other creators.
You will tell them how they can create a YouTube channel from scratch, what types of videos they need to create, and how to build an army of subscribers for their channel.
You can charge $500 or $1000 per hour for each session you conduct.
12. Paid Speaking Gigs/Live Speaking Engagements
After becoming a famous YouTube personality, you can look for speaking opportunities at various events, seminars, parties, academies, etc. You can speak, not just in your country but around the world. You get paid for speaking just for a few minutes on a stage.
However, paid speaking gigs are not for everyone because you will be invited only when you are famous enough with millions of subscribers.
So this isn't for less popular YouTubers; however, what they can learn is how paid speaking gigs are further helping popular YouTubers to build their brand.
You can also emulate the same.
13. Crowdfunding
You already know the concept of Crowdfunding. You raise money by asking people to chip in. If you have an excellent idea for a media project on YouTube, then you can ask people for donations through your YouTube videos.
You will generate funds, an audience, and new subscribers for your channel.
14. Patreon
You can also use Patreon for monetizing your YouTube channel. You have to create your YouTube channel's profile page on Patreon and set goals.
You can tell your fans about the different membership opportunities in your YouTube channel and let them pay for them.
15. Sell Your Channel
YouTube channel is also just like a website. You can sell both of them whenever you like them. However, before you sell your channel for the money, you need to have a large number of subscribers with huge search engine traffic.
Moreover, make sure that the channel's production isn't tied to your personality.
Summary
Although I have explained all the possible ways of making money on YouTube, there might be other methods that you can use to make money from this.
If you know any of such a method, let me know to include that in this article. I am eager to know if you are making any money on YouTube or looking to start earning from any of the methods explained above.
I appreciate your comments and let this travel to others through your recommendation to benefit from this.
Frequently Asked Questions
How to make money on YouTube?
I have explained to you 15 excellent ways to make money on YouTube. You can use one or all these methods to earn from YouTube.
How much money can you make on YouTube?
There are several factors to calculate the potential of your earnings.
1. Number of subscribers
2. How many views do you get daily views?
3. Your niche
4. Methods you use to make money like YouTube ads, affiliate, sponsorship, etc.
How many views on YouTube to make money?
If you receive at least 100 views daily on your YouTube channel, there are chances that you will make some money. But you number a massive number of views to make a decent income on YouTube.
How to make money on YouTube without making videos?
This article explains at least five ways to make money on YouTube without making videos. Here you make money using the popular channels of other YouTube creators.
How to get paid on YouTube?
There are different ways to get paid on YouTube. Google pays for YouTube ads, you get paid from the sponsors for sponsored videos and affiliate companies for affiliate programs.
How many subscribers do you need to make money YouTube?
You need a minimum of 1000 subscribers and 4000 hours of channel watchtime to join the YouTuber partner program and run ads. For other methods, you can make money from day 1.
How does YouTube send you money?
YouTube pays you through bank transfer. You need to provide your bank details after getting approval for the YouTube partner program.