Fundraising has become an ugly word of sorts. Everyone, expect the ones who need the money, views fundraising as avoidable. However, with unequal wealth distribution among people of all walks of life and causes of different genres, fundraising is here to stay.
Regardless of the cause, how you conduct a fundraising campaign is more important. Because it encourages unwilling donors to give away some cash.
Why people do fundraising?
As the term suggests: to collect money for some cause, community, group or person. Generally people collect funds in the following situation:
Huge amount of money is needed.
Non-profit fundraising for a cause or benefit of someone or a community.
Fundraising to develop or add facilities to a school or college.
Buying equipment and other gear for sports team.
Feeding the poor.
Medical treatment for somebody.
Build a road or something else for the public.
Buy a community vehicle such as ambulance or school bus.
These are just a few reasons, as will be evident to anyone who has given money during a fundraiser. However, fundraising idea is not always easy and you can face
Difficulties in fundraising Idea
Nowadays, people are reluctant to part with cash for several reasons. These could be:
Donor fatigue: Meaning, a person has contributed money several times and, hence, fed up.
Dubious causes: Millions of prospective donors shy away from contributing to fundraisers because they suspect the cause of fear their money could be misused.
Rising cost of living: The world is indeed becoming expensive as everything from food to gasoline costs more. Therefore, most people have little spare cash to donate at fundraisers.
Lack of interest: Often, fundraisers do not include some interesting activity that entices people to donate.
Improper timing: Several times, fundraisers are conducted at a time when most people would generally be low on cash. For example, mid-weeks, end of the month or when a financial year is about to conclude.
Considering these problems in fundraising, you need to look at innovative & unique fundraising ideas and means to get more money for whatever the cause.
This can be achieved by conducting fundraisers that are well accepted and attract people.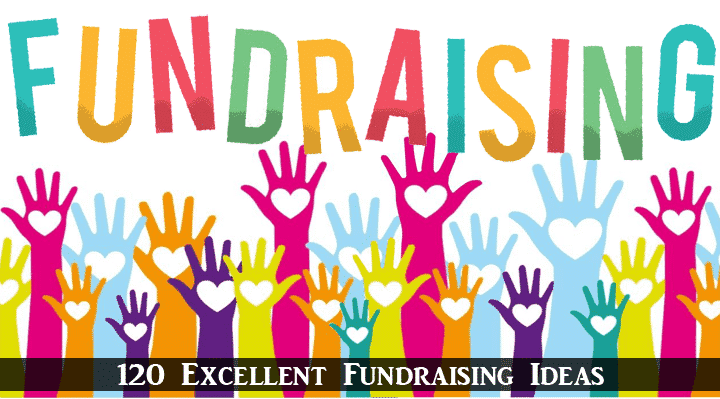 120 Easy & Unique Fundraising Ideas
One of my favourite fundraising ideas is to create a crowdfunding campaign on a best crowdfunding site.
But today I will show you 120 easy, unique & good fundraising ideas..
Easy fundraising ideas
1. Monopoly Match: In this fundraising idea, you need to involve parents and students to play a Monopoly tournament.
2. Guess the age: This is an event in which students pay to guess the age of your teacher. A small fee is charged for this game.
3. Hoopla: Common game where competitor throws hoops over prizes. But prizes should not be much and the entry fee should cover fundraising too.
4. Pumpkin-decorating Contest: Ask children to decorate Halloween pumpkins and sell them at a price as easy fundraising.
5. Debate Evening: Fundraiser holds debates on the hottest topics, charging debaters and viewer.
6. Dog Show: Other way of fund raising,  get people to show off their dogs. Charge entry fee and give inexpensive prizes.
7. Sell your talent: Get a group and offer their talents for sale for parties and other events. The group should be volunteers for fundraising.
8. Duck Race: Set sail bath tub ducks at swimming pools. Easy fundraising is possible by charging entry fee from contestants.
9. Clown: Get face painted or dress like a clown at public areas to collect funds.
10. Nacho Party: Fundraiser makes yummy nachos and popcorn for sale outside cinema halls and sports stadiums.
11. Eating Marathon: Perfect way for fundraising , have contestants to eat pie, hot-dog or ice cream. Charge people to participate and watch.
12. Mister an Miss Ugly: Get people to dress in the most ugliest dresses. Charge contestants and viewers but give some prize to winners.
13. Flower Show: In this fundraising idea, you can invite people in your area to show off floral bouquets and arrangements and sell them at a reasonable fee. Entry to the show is also paid.
14. Calendar Sale: Make calendars of your community listing birthdays, anniversaries, memorials etc and sell them for fundraising.
15. Sports Tournament/Fitness Competition: Organize a sports tournament or fitness competition for members of your community and neighborhood.
16. Art Sale: Get local artists to give away some masterpieces and sell them at a paid exhibition.
17. Game Show: Hold mock versions of your favorite game shows. Charge contestants and viewers.
18. Gardening: Help people maintain their gardens and collect funds.
19. Karaoke: Have a karaoke singing contest, sell tickets and charge fees from contestants.
20. Videos: Make and sell home videos of how you maintain garden or cook something great.
21. Miles of Coins: Chalk a long route and ask people to put their change on the circle. To work, the route and the chalk circle should be at least two miles.
22. Recipe Book: Make and sell your own recipe books for fundraising.
23. Henna workshop: If you have anyone from the Indian subcontinent nearby, ask their help in holding a henna hand art workshop.
24. Walking Dogs: This is another common fundraiser. Walking dogs for people pays well. But remember to keep the route clean.
25. Toy Sale: Get children to donate old or unused toys and sell them for easy fundraising.
Read: 27 Companies Giving $3695 Free Money Today
School Fundraising Ideas: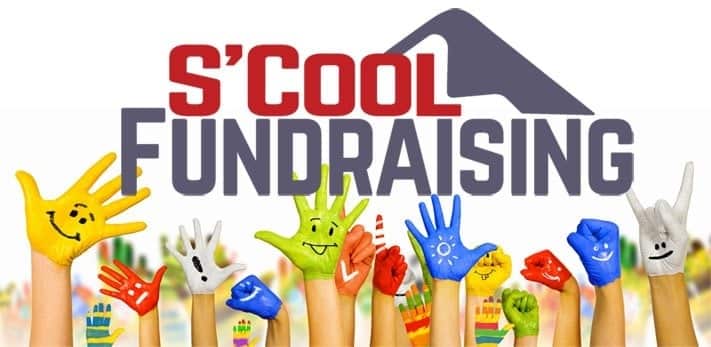 1. Jellybean count: You can fill up a jar with jellybeans. Charge people to guess and count how many jellybeans are in the jar.
2. Grocery drive: One of the best school fundraising ideas. Send your school students to help shoppers carry their groceries. Money collected goes to the school.
3. Lemonade and fruit punch: Your students can sell lemonade and fruit punch they make near supermarkets and on campus. This is an excellent school fundraising ideas.
4. Cakes and bakes: Get parents of students to bake cakes, pastries, pies and other yummy stuff for sale. Put a price tag so parents get back what they spent while the school fundraising drive nets some money.
5. Old book sale: All schools dispose old books in the library to buy newer editions. You can sell the older versions as part of school fundraising.
Fundraising Ideas for college fundraising
1. Music band: Your students who play instruments can stage a concert or hold a parade for college fundraising.
2. Walkathon and Marathon: College students and faculty can hold a walk or run on a popular road on some holiday to collect funds.
3. Housie: Here you can sell housie tickets and hold games every evening for a month or two. Give away prizes but ensure you collect a reasonable amount for college fundraising.
4. Kiss the muses: Every college has beautiful female and male students. Charge a small fee from people who wish to get kissed by them.
5. Fundraiser game: Hold a friendly baseball or football match between two amateur teams of your college and charge entry from spectators.
Church fundraising ideas/ religious group fundraising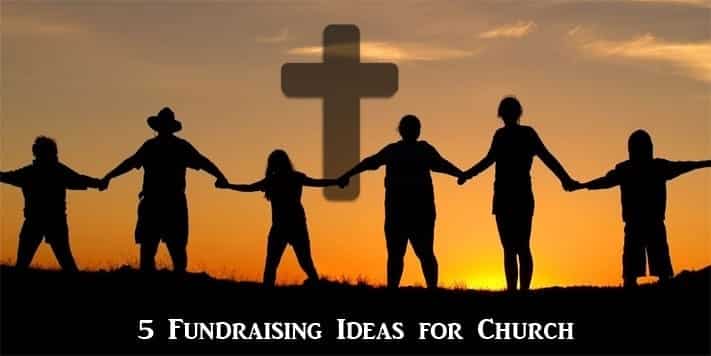 1. Prayer meetings: You can hold prayer meetings at homes of members and collect funds. You can also visit homes with your group and offer prayers to residents.
2. Spiritual concerts: Hold a concert with your church choir and singers at some venue. You can charge tickets for the show.
3. Donation boxes: Keep donation boxes at schools, colleges and stores where people can drop change. This is one of the good way to raise fund
4. Cook sale: Ask members to cook their favorite dish and sell reasonable portions with some margins.
5. Auctions: Get church members to donate stuff and hold an auction. The money collected goes for church fundraising church fundraisers.
70+ More Ideas for fundraiser
Continue reading 70+ more excellent fundraising ideas for personal cause, non-profit, event & other purposes.
Unique fundraising ideas
1. Dress-down day: Just dress as shabbily as you can and in barest clothes.
2. Band and choir concerts: Charge admission for a small band and choir event.
3. Skipathon: Conduct a unique race with skipping ropes. Charge participation fee and viewer tickets
4. Raffles: Get people to donate stuff, sell raffles to conduct a draw.
5. Antique Auctions: Get people to donate old radios, camera and other stuff they no longer use. Auction them as antiques
9. Work for funds: Do any household chores for people for money.
Great fundraising ideas
10. Cards: Make and sell greeting cards for every occasion.
11. Winter carnival or bazaar: Hold a winter carnival or bazaar for the public.
12. Carnival: Conduct a carnival with volunteers. Sell stall space to vendors.
13. Spelling Bee: Hold a Spelling Bee contest and charge participants and viewers.
14. Trivial Pursuit: Also a popular game. Fundraise by charging participants and viewers.
15. Chess competition: Get chess grandmasters of your area to compete and charge entry fees.
16. Checkers: There is no shortage of board games for fundraising. Once again, charge contestants.
17. Scrabble and Twister: Get participants and spectators pay.
18. Music contest: Get different music groups of your area to compete. Charge spectators.
19. Football, javelin throw: A very common and popular outdoor sport. Take fees from participants and watchers.
Easy fundraising ideas
Make special buttons for the cause for which you are fundraising. Sell them for a nominal charge.
20. Puppet Show: Get some puppets or make them with old socks and rags to hold a show. Sell tickets for the show.
21. Spaghetti and pasta Dinner: For this fundraising idea, you can host a paid dinner for people and charge a fee.
22. Hold a Theme Party: Choose a great theme and host a party with a nominal entry fee and become a fundraiser.
23. Plant Trees: Ask a nursery for seedling donations and then get people to sponsor a tree.
24. Donation receipts: Simply print receipts and take donations. Fix a minimum amount but specifically say the cause for your donation.
25. Crowd work: In this idea, you need to gather together a group of friends and offer to do collective or individual work.
26. Food delivery: Get together with a group of friends, take telephone orders and deliver food from restaurants that have no home delivery service.
27. Piñata Contest: Charge a fee to have each blindfolded person have one turn at trying to break a candy-filled piñata.
28. Craft Sale: Get friends and family to make crafts for sale for fundraising.
29. Family Barbecue: Host a family barbecue in your garden or premise. Hold games and activities. Collect fee and ask people to bring their own booze.
30. Basketball Tournament: Organize a basketball in our community with amateur players. Collect entry fee from teams and spectators.
31. Swim-a-thon: Get sponsors for the number of laps you swim.
32. Beat the Goalie: Pick the best hockey or soccer goalie you know and invite people to try to score a goal for a prize. Every participant has to pay to play.
33. Bingo: Host a bingo night at a local hall, place of worship, or school.
Group fundraising ideas
34. Plant Sale: Grow and sell plants you and friends grow. Also ask nurseries and public to give away garden plants.
35. Senior citizens walk: Encourage senior citizens to walk for a short distance for fundraiser.
36. Farm sale: Get fresh fruits and vegetables donated by large growers and sell.
37. Library out: Get friends, relatives and others to donate any old books and magazines and sell.
38. Bowling: Organize a bowling night or a competition. Charge entry fees for participating and watching
39. Buy a Brick: Tell people to buy a brick if you are building a community project. You can ask them to write their name with a concrete marker.
40. Coupon Sale: Get local stores, bakeries, boutiques to donate coupons for discounts. Sell at nominal price.
41. International Dinner: If you have people from various ethnic groups, encourage them to cook traditional foods to host an international dinner.
42. Balloon Pop: Give people a filled balloon for a small charge. Have one person to go around and pop them. The one who saves the balloon wins the prize.
43. Scavenge: Look for items that can be recycled from trashcans in public places and sell them to recyclers.
Fund raising ideas for charity
44. Car Wash: Hold a car wash event or many such events at car parks. Encourage people to have their vehicles washed by your friends and you.
45. Hug-a-gram: One or more dollar for a hug by a beautiful male or female.
46. Facebook selfie: Get your handsome male and beautiful female friends to pose with people for selfies for Facebook. Each selfie can be charged.
47. Charity Ball: Request a DJ or a band to perform for charity. Sell tickets for the show.
48. Old jewelry sale: Ask people to donate their old ornaments or jewelry and sell.
49. Classic Car Show: Get people to showcase their old cars. Charge fees from participants and viewers for the event.
For High schools great Fundraising Ideas
50. Miniature Golf: Build a nine-hole miniature golf course and charge people for a game.
51. Weight lifting: Get heavyweights to show off their skills at a contest. Charge fees from contestants and viewers.
52. Clearing Snow: During winter, people will pay for clearing snow on their driveway and garden. Collect a group of friends to do this and gather money.
53. Triathlon: Set a course of running, cycling, and swimming. Have participants get pledges to compete to win prizes.
54. Lemonade Stand: Make lemonade, post signs, and sell it on a hot day.
For non-profit Fund raising ideas
55. February: Sell red carnations for Valentine's Day.
56. May: Mother's Day sale.
57. June: Father's Day sale
58. September: Back-to-School sale.
59. October: Halloween party; pumpkin sales
60. December: Gift-wrapping service.
61. Babysitting Evening : promote as great time for parents to have alone time!
62. Babysitting during worship services.
63. Babysitting during PTA meetings, Open House, Meet the Teacher Night
64. Garage Sale.
65. Concession Stand: Purchase products at Sam's Club and get in a high visibility, high traffic, high demand spot. Perhaps at major event!
66. Raffle: Could be a quilt, a special item like jewelry, day of beauty.
67. Pancake Breakfast: Some companies will offer the equipment for free; others will give you the product necessary to make the pancakes. Hold first day of hunting season or cold winter day!
68. Breakfast in Bed: Clubs provide breakfast in bed for participants
69. Cake Walk: Auction off cakes.
70. Gourmet Cooking School: Hold a cooking class and charge an entrance fee.
71. Submarine Sandwich Sale.
72. Singing Telegrams: Hopefully with someone who has a great voice!
73. Sports Clinics.
74. Call Burger King or McDonalds and arrange a benefit night where your organization gets a cut of the night's profit.
75. Tutor students at the local schools.
76. Apply for a grant to raise fund.
77. During finals give massages for a small fee.
78. Co-sponsor a Saturday night band with JAB.
Other Important fundraising ideas
1. Crowdfunding: Approach a crowdfunding platform to get raise money.
2. Venture capital: If you have a startup business that is unique, seek venture capital.
3. Bank loans: Best for medical treatments or major projects such as buying home and starting business.
4. Mortgage: Banks and finance houses offer mortgage on vehicles, homes and other major assets. Mortgage means the financer remains the real owner.
5. Credit cards: Best if you can repay on time. You can get them easily from any bank provided you have a good credit rating.
All these fundraising ideas are proven & easy to implement to raise money for any purpose.