Anyone who says becoming rich and famous takes a lifetime is simply bluffing. In recent decades, there are hundreds of examples of women and men striking it rich and becoming famous while in their teens or early 20s.
Admittedly, you need some special skills to become a millionaire at very young age. Everyone is born with some innate skill. However, few develop or utilize them to reach full potential.
Should you be among this young group, follow your instinct to develop your talent. Who knows- you too could become a young millionaire.
40 Youngest Self-Made Super Rich & Famous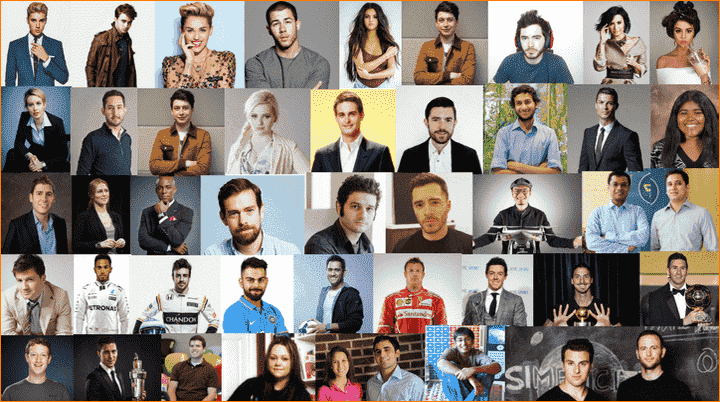 Here we present a list of 20 such people who became super-rich & famous at a very young age and still active. While some are actors and singers, others are techies, retail wizards and sportsman.
1. Justin Bieber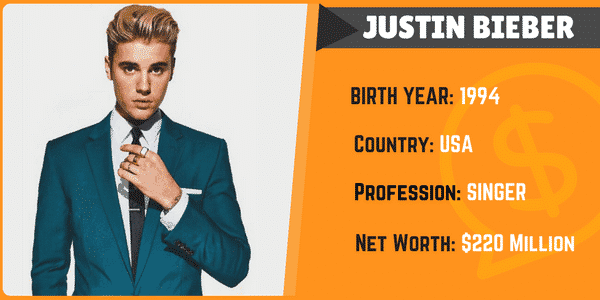 At the age of just 20 years, Justin Bieber is estimated to be worth US$ 220 million. This young singer from Canada is the discovery of a talent hunter.
In 2008, Justin Bieber made his debut as a humble pop singer on YouTube, when he was just a school kid. His music became immensely popular around the world and especially in the US.
Eventually, Justin Bieber relocated to the US, where his fan following grew exponentially. Today, Justin Bieber is a craze among teenage boys and girls.
Indeed, his fan following is so vast, he can have a great career in music for several years to come.
2. Miley Cyrus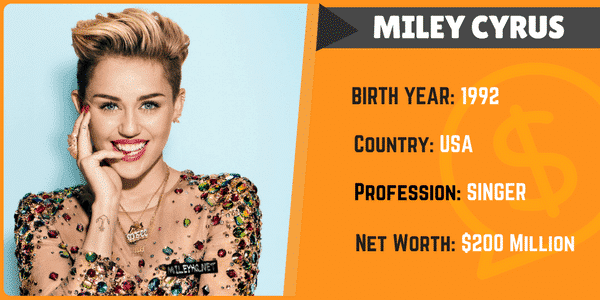 Better known as Hannah Montana, this young star is worth astounding US$200 million. Hannah Montana is one of the most popular shows worldwide on the Disney Channel.
Miley Cyrus, now 22, began her career almost five years ago.
Her popularity can be gauged from the fact that her 2014 tour to Bregenz in Austria made her richer by US$ 70 million- which is said to be among the highest recorded by any star during a foreign visit.
Her role as Hannah Montana, in the eponymous TV serial depicts her as a music loving teenager who often indulges in controversial behavior.
Thanks to Hannah Montana, her father, Billy Ray Cyrus also became a millionaire.
3. Sean Belnick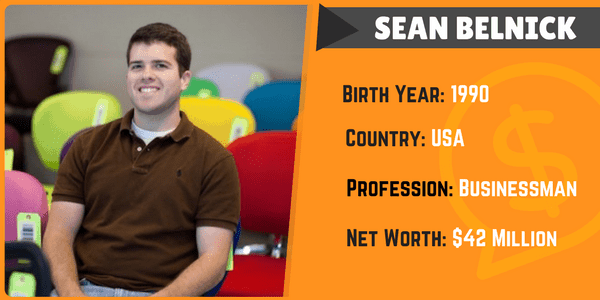 As a kid, Sean Belnick was following his instinct. He knew the Internet holds a vast potential for trading. By selling Pokemon cards, working in gardens and at odd jobs, Sean Belnick collected a humble US$500.
He also studied a furniture business that was run by his stepfather. Putting his idea of using the Internet for trading and expertise from his stepfather's business, Sean Belnick opened BizChair.com, an online portal that offers high quality furniture at great discounts online.
At the age of just 22 years, Sean Belnick is worth US$ 45 million. Bizchair now operates from a 40-acre property in Canton, Georgia. He is one of the youngest millionaires of the world.
4. Daniel Radcliffe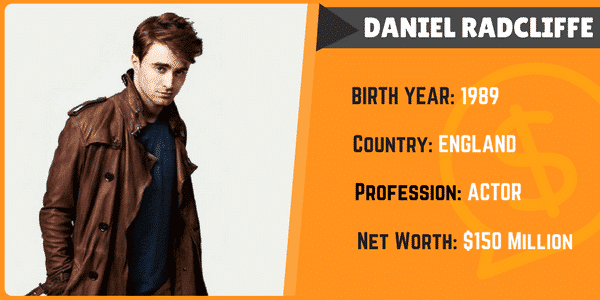 Daniel Radcliffe is a common name in almost every household that watches Hollywood movies. Now aged 25, Daniel Radcliffe was a little known teenager.
However, he is better known as Harry Potter. He acts as Harry Potter in a series of movies that are based upon British author JK Rowling's books.
At a whopping US$150 million personal wealth, Daniel Radcliffe is one of the richest men in the UK. His millions came mainly from the Harry Potter role.
He was making a decent US$ 15 million per year during the period when Harry Potter movies were made. Though too old to play the Harry Potter role now, Daniel Radcliffe has found stardom in other movies.
5. Nick Jonas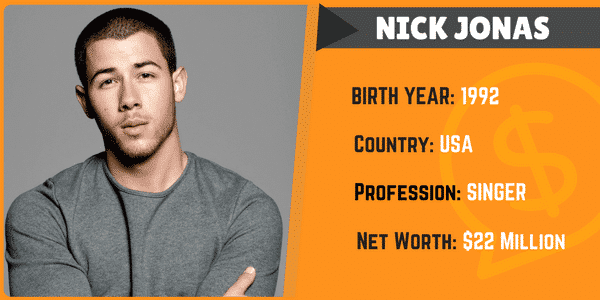 Another teenage rage, Nick Jonas made his millions as member of the popular pop band, Jonas Brothers. He is also said to be one of the most popular young artists of the world.
At the age of 24, Nick Jonas is estimated to be worth US$ 22 million. Nick Jonas also appears in the movie, Camp Rock, immensely popular among younger audiences.
Nick Jonas is now making his career as a solo singer. About US$ 20 million of his earnings come from his singing career and royalties for records.
Another US$ 2 million comes from his acting and other roles.
6. Nick D'Aloisio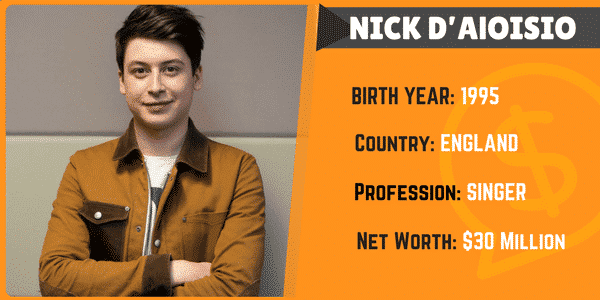 Nick D'Aloisio is a prodigy of sorts. He learned computer programming by himself with copies of 'C for Dummies' and 'How to Make Videos on the Internet'.
Armed with this knowledge, he launched his first app at the age of 12 years. Eventually, he would develop newer apps during his school vacations.
His most popular app was Trimit, launched when he was just about 15 years old. Trimit became immensely popular since it could condense long articles- of 1,500 words- into just a 150 word summary.
The app became an instant hit among teenagers and adults, who wished to save time reading lengthy notes. A British national, Nick D' Aloisio's works were noticed and appreciated by a Hong Kong based investor.
This angel investor offered US$ 300,000 funding to Nick D'Aloisio to further enhance Trimit. Later, he went on to design Summly, an app that provides algorithmically-generated summaries from thousands of sources.
This app was bought by Yahoo, which paid him US$30 million while also giving him a position in the company. At the age of 22, Nick D'Aloisio is worth US$ 30 million.
7. Selena Gomez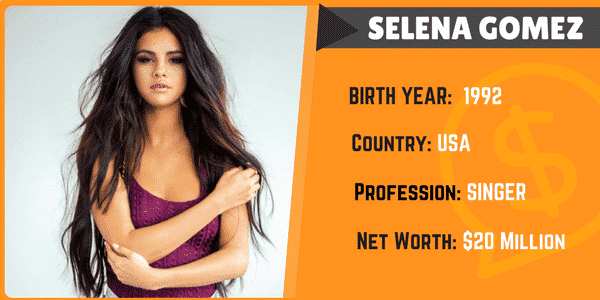 Selena Gomez shot to fame with her former boyfriend, Justin Bieber. However, after their split, Selena Gomez chose to go solo. Indeed, her solo career has won her several accolades worldwide.
She played several roles in various Disney movies and television serials including the popular 'Wizards of Waverly Place'.
Though she retains her skills as actress, Selena Gomez focuses more on her singing career nowadays. She has recorded several hit songs and albums.
Additionally, Selena Gomez earns from endorsements to retail major Kmart and sports goods manufacturer NEO Adidas. The personal wealth of 24 year old Selena Gomez is pegged at an impressive US$ 20 million.
8. Demi Lovato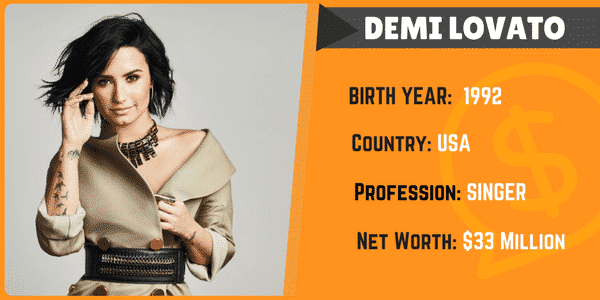 At an age of 25, Demi Lovato is said to be worth US$ 18 million. Like several other young stars, Demi Lovato entered the showbiz through Disney.
She played roles in various Disney productions including Barney and Friends, Split Ends and Grey's Anatomy. Her success in acting spurred her into entering a singing career.
She has three successful albums.
Demi Lovato's songs are immensely popular on radio and the Internet. Her acting and singing careers have netted her about US$ 18 million in just five years.
9. Jordan Maron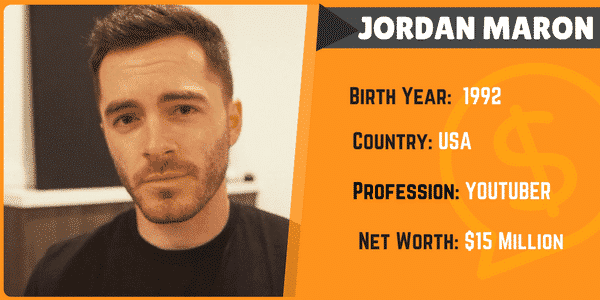 He is better as Captain Sparklez known to YouTube aficionados worldwide. Aged around 24 years, Jordan Maron aka Captain Sparklez turned his hobby into a million dollar business.
He runs the famous YouTube channel, Captain Sparklez. Generally, the content he offers includes videos of Minecraft's Let's Play, animations, game play of other videogames and their reviews, among others.
The Captain Sparklez channel has some 10 million subscribers worldwide.
He also makes money from another YouTube channel called Maron Music, where he uploads his own songs as well as those of other budding artists.
In 2015, Jordan Maron bought a property in California worth an estimated US $5 million. His net worth is estimated between US $10 million and US $15 million.
10. Anshul Samar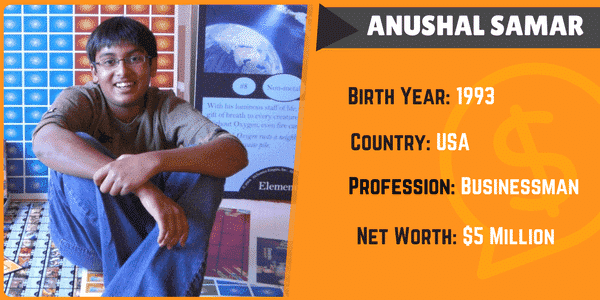 The 24-year old Anshul Samar is lesser known that most other millionaires of his age. However, this young entrepreneur from the Indian subcontinent born in the US, is the CEO of Alchemist Empire.
He founded the company at an age of 14 years. Anshul Samar is credited with creation of Elementeo, a unique computer game that allows you to play with chemistry.
The net worth of Anshul Samar is not known but his company is said to have made over US$ 1 million profits in the first year, 2008.
Elementeo is a game that teaches students chemistry, the importance and use of different elements and chemicals for their studies.
Millionaires to Billionaires
Scores of examples of people around the world exist, which amply prove you can start young and become a millionaire. There are several shining examples of people who made their first million while teenagers.
Now, they are self-made billionaires
11. Mark Zuckerberg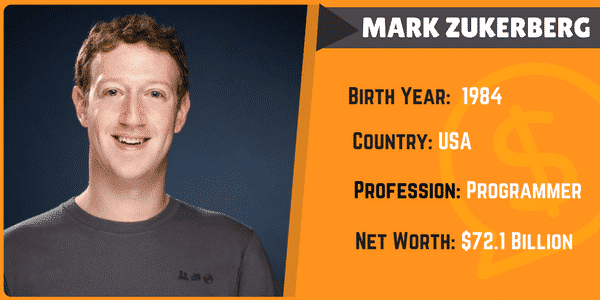 Who has not heard about Mark Zuckerberg, the cofounder and CEO of Facebook? He is the youngest self-made billionaire. Currently, his wealth is estimated between US $42 to US $56 billion by various sources.
Now aged 31 years, Zuckerberg has the distinction of being the first youngest self-made billionaire in history. He made his first billion dollars at an age of 23.
Since, there has been no looking back for the cofounder of the world's third most popular website and the foremost social networking platform.
Zuckerberg is of Jewish descent. He was born into an educated family. His mother, Karen is a psychiatrist and father, Edward, a dentist.
12. Dustin Moskovitz
He is credited as being one of the cofounders of Facebook. However, the 31-year old Dustin Moskovitz is now better known as the cofounder of Asana, a computer software and app that helps teams to track their performance.
The software also enables them to improve their capabilities while enabling plugging of any loopholes at work. Dustin Moskovitz is one of the youngest billionaires of the world.
His net worth is estimated at US$ 10 billion.
13. Elizabeth Holmes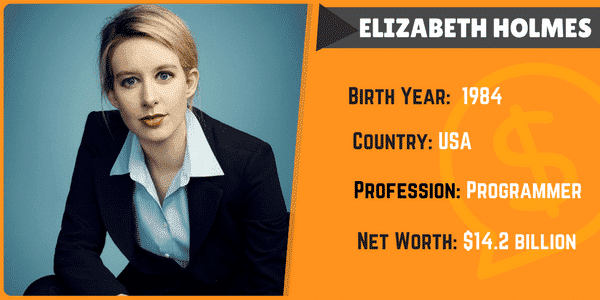 One of the few women who are self-made billionaires, Elizabeth Holmes is the founder of Theranos, a healthcare technology company.
She was a sophomore at the Stanford University. However, with a vision to launch a healthcare technology company, Elizabeth dropped out of her studies to pursue her dreams as an entrepreneur.
She painstakingly built Theranos, which now ranks among the topmost healthcare technology companies of the world. At the age of 31, Elizabeth Holmes is the world's youngest female billionaire.
She is estimated to be worth US$ 4.5 billion.
14. Eduardo Saverin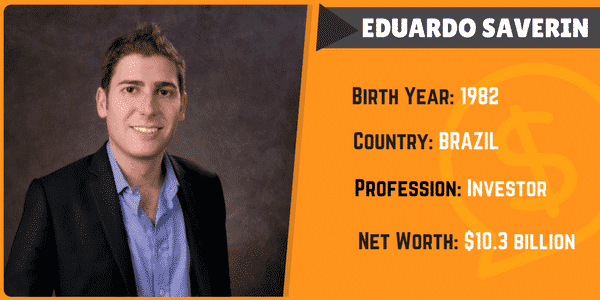 He was one of the cofounders of Facebook and continues to hold a stake in the company. However, he withdrew his major stake in Facebook after legal disputes and personal disagreements with other founders.
Today, Eduardo Severin is an active venture capitalist based in Singapore. At the age of 33 years, Severin also owns the famous Singaporean website, 99, which offers property rentals and real estate.
The Brazil-born self-made entrepreneur is estimated to be worth US$ 5.8 billion. He was born into a wealthy Jewish family in Sao Paulo, the financial hub of Brazil.
15. Brian Chesky & Joe Gebbia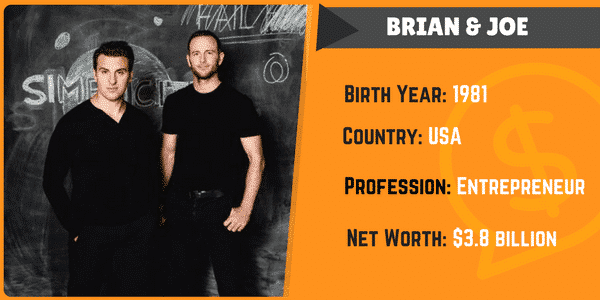 In 2008-2009, Brian Chesky had a credit card debt in the excess US$ 25,000. His partner, Joe Gebbia also was down for tens of thousands of dollars.
Today, they own the world's most popular accommodation and holiday website, airbnb. Chesky and his partner, Joe Gebbia began a small business in 2007.
They would rent accommodation to travelers on what is today called 'bed-and-breakfast' or b-n-b basis. However, they found the business running into losses soon.
Chesky and Gebbia came up with an innovative idea of selling breakfast cereal specially designed for the presidential campaign of Barak Obama and his vice president John McCain.
The cereal became instantly popular and helped bail Chesky and Gebbia out of his debt and launch airbnb. Their personal wealth is estimated at US$ 4 billion each.
Chesky is the son of Deborah and Robert, both of whom were social workers and has a modest family background.
16. Frank Wang Tao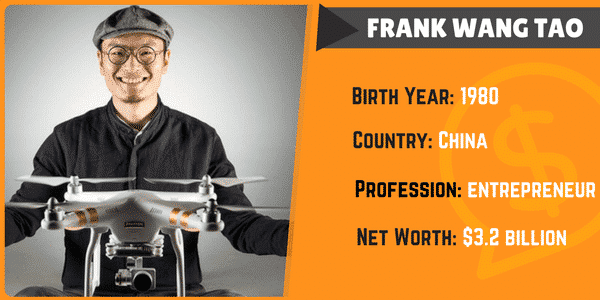 Everyone is familiar with drones. Many of us fly drones as a hobby, either for photography or just fun. Once the monopoly of militaries, drones are now commonplace and can be bought easily in the market.
The credit for this achievement goes to Frank Wang Tao of Hong Kong. Staying at an inexpensive dormitory in this autonomous region of China, Frank drew plans to open the world's first commercial drone company.
In 2006, he opened the Dajiang Innovation Technology, which is the world's largest producer of commercial drones. His first million was made at his age of 25 years.
Now aged at 35, Frank Wang Tao is worth US$ 3.5 billion.
17. Sachin Bansal & Binny Bansal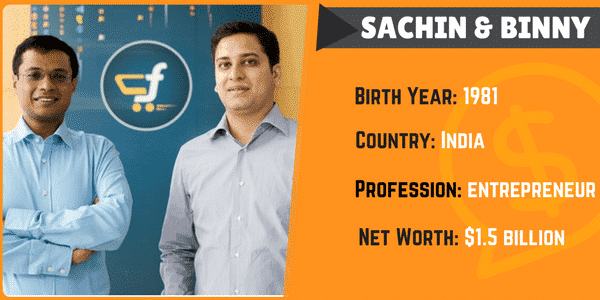 Sachin and Binny Bansal, both aged about 34, are not relatives. However, they are the youngest billionaires from India.
Sachin Bansal and Binny Bansal are cofounders of India's largest homegrown e-retailer, Flipkart. The company was formed in 2007 as an online retailer of books.
Over the years, Flipkart has grown into India's own e-retail portal. Today, Flipkart offers over 30 million assorted products, from high-end electronics and mobile phones to groceries and home requirements.
Flipkart has some 45 million registered users and the number is growing by the day as online shopping in India gathers momentum. Both, Sachin Bansal and Binny Bansal are said to be worth US$ 1.5 billion each.
18. Kevin Systrom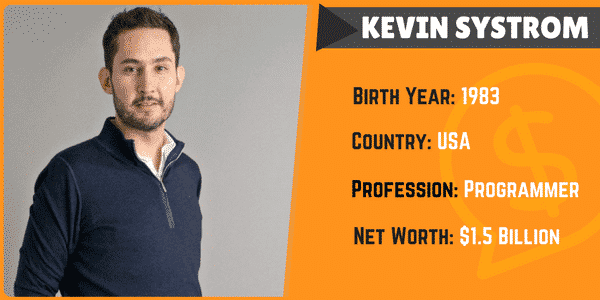 Born in 1983 in Holliston, Massachusetts, Kevin Systrom is the CEO of the world's largest picture sharing website and app, Instagram.
He cofounded Instagram in 2010, after a stint with various Internet majors such as Google. The name 'Instagram' was derived from two words 'Instant' and 'Telegram'.
Over the years, Instagram has developed into a software and app that allows users to share videos as well. He made his first million at the young age of 24 years.
The 34 year old Systrom is said to be worth US $1.5 billion. He is also a board member of the US-based retail store chain, Walmart.
19. Evan Spiegel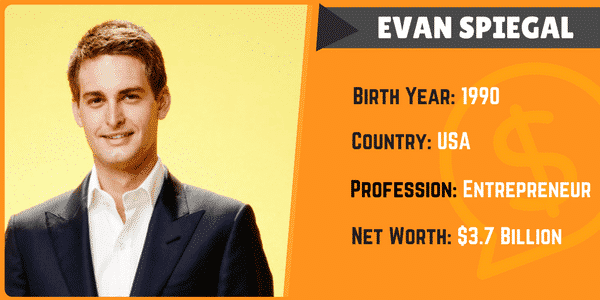 At the age of 25, Evan Spiegel ranks as one of the youngest, self-made billionaires of the world. He is the cofounder of the privately held start-up, Snapchat.
Born on June 4, 1990 in Los Angeles, he left his studies at the prestigious Stanford University to focus on building Snapchat.
Interestingly, Spiegel had proposed Snapchat as a class project and possibly never imagined it would propel him into the world of billionaires.
Later, Spiegel partnered with Bobby Murphy and Reggie Brown to offer the mobile app of Snapchat. He is the founder and CEO of Snap Inc, which owns Snapchat. Spiegel is estimated to be worth US$ 3.7 billion, according to latest estimates.
He is the son of Diane, a marketing executive at Bizcar and Douglas Systrom, vice president in Human Resouces at TJX Companies.
20. Jack Dorsey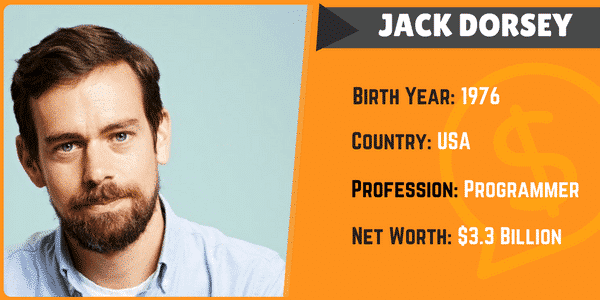 As the CEO of the world's largest micro-blogging website and app, Twitter, Jack Dorsey is said to be worth US$ 2.8 billion. He is also the founder and CEO of Square, a mobile payments company.
Born on November 19, 1976, Dorsey, displayed a keen nose for technology. In May 2012, Dorsey along with Jim McKelvey founded Square, a small business platform that can be attached to an Android of iPhone to accept credit card and debit card payments.
Earlier, in 2008, he had cofounded Twitter. Unfortunately, in earlier years of Twitter, Dorsey encountered a few controversies. Yet, he remains one of the youngest billionaires of the world.
He comes from a very modest family background. His mother, Marcia is a homemaker while his father, Tim Dorsey worked for a company that makes mass spectrometers.
His uncle was a Catholic Bishop. Hence, Dorsey studied at a Catholic school and possibly could have become a clergyman, if it were not for his interest in computer programming.
Self made teenage millionaires
21. Fraser Doherty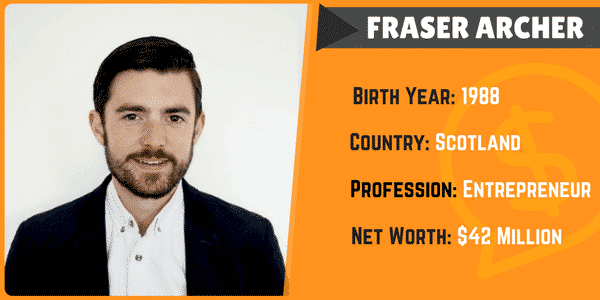 Fraser Doherty is a Member of the Order of British Empire- an accolade given by the Queen of England to outstanding citizens of the UK. Indubitably, Fraser Doherty, born on December 30, 1988, deserves this distinction.
At the age of 14 years, Fraser Doherty began working on his company, SuperJam. His business model was very simple. He made jams using recipes of his grandmother at this age.
Initially, he sold his jams at farmers' markets, community gatherings, grocery stores and other retail outlets in his native city of Edinburgh in Scotland.
He dropped out from school to work full time on his jam business. Soon, word about Fraser Doherty's jams spread across Scotland and bigger stores such as Waitrose and Tesco began showing interest in his produce.
In about two years since the launch of his homemade jams, Fraser Doherty's products were in great demand. He formally gave them the brad, SuperJam.
Shortly, it became a company worth US$ 1.5 million.
Fraser Doherty began producing jams made with 100 percent fruit and soon, his market grew bigger as Waitrose sold it through nearly 190 of their superstores across the UK.
Today, SuperJam features in the National Museum of Scotland and is exhibited as 'Iconic Scottish Jam'. His products are sold across Europe and the US.
He also owns SuperTea and BakeLab baking mixes.
22. Cameron Johnson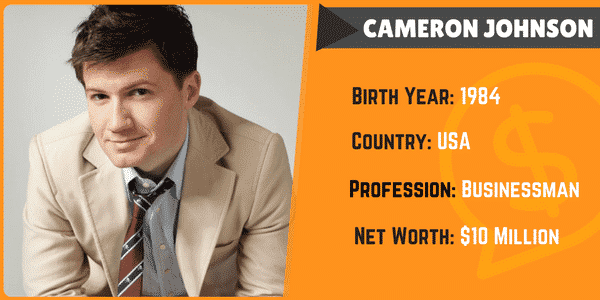 Born on November 13, 1984, Cameron Johnson is a child prodigy. From his tender age of five years, he would sell fresh fruit and vegetables in his neighborhood.
At the age of just nine years, he launched his first company, Cheers and Tears which sold handmade greeting cards made exclusively by Cameron Johnson.
Further, at the age of 12, he began buying and selling Beanie Babies.
His earnings at the time were a modest US$ 50,000. He used this as capital to begin EZ Mail, a confidential email forwarding service.
With his interest in the Internet and software, Cameron Johnson, at the age of 15 years, launched an online advertising business, www.surfingprizes.com , which earned him a whopping US$ 400,000 a month.
During his college days, Cameron Johnson launched yet another Internet venture, CertificateSwap.com, which was sold for an undisclosed, six-figure amount to an unknown buyer.
Drawing encouragement from his initial successes, Cameron Johnson launched about 12 businesses. Cameron Johnson's current net worth is estimated at US$ 10 million.
23. Adam Hildreth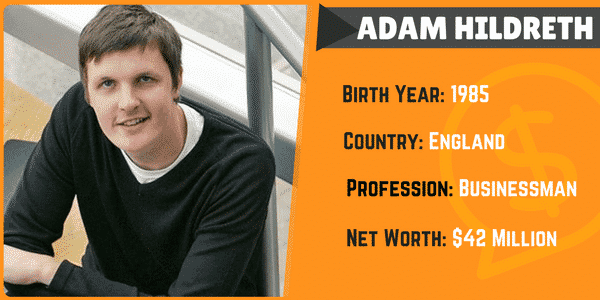 Born on March 25, 1986 in Leeds, UK, Adam Hildreth has business in his genes. At the age of just 14, he set up his first company, Dubit, which is now the largest website for teenagers in the UK.
Dubit also served as a social networking website for teenagers, much before the advent of Facebook. Indeed, Adam Hildreth's Dubit can be called the precursor to Facebook.
It became a rage among teenagers by 2004. The website brands itself as 'Youth Marketing Agency' and provides vital tips and tweaks to all major brands about how to target teenage buyers.
This company was to earn him the first million by the age of 17. Adam Hildreth earlier ranked among the 20 top teenage millionaires of the UK.
Later, in 2005, he launched Crisp Thinking, a company that develops technology to protect children online from abuse and other evils. According to latest estimates, Adam Hildreth is said to be worth US$40 million or more.
24. Ashley Qualls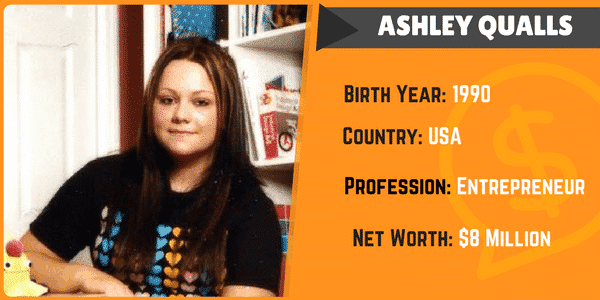 Making a million while teenager is not predominantly a male domain, Ashley Qualls proves.
Starting with a very small budget of just eight US dollars, borrowed from her mother, Ashley Qualls is a female American entrepreneur, now estimated to have a net worth of about US$12 million.
Born on June 4, 1990, she made her first million from a website named whateverlife, with her eight dollars, as a hobby.
The website was designed to provide Myspace layouts and HTML tutorials in a simple and easy-to-understand format for people of her age.
Her mother and some close friends helped her in this venture. The website became an instant hit among people of her age. Her revenues came from advertising on the website.
At the age of 17, she made her first million dollars. Ashley Qualls continues to get offers from various Internet majors for her website and employment. However, she is content with her own enterprise.
25. Ritesh Agarwal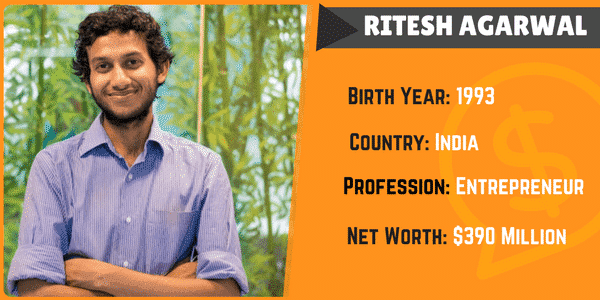 Born on November 16, 1993 in Cuttack, Odisha, Ritesh Agarwal is an Indian entrepreneur who launched OYO Rooms, a hotel and lodging portal.
He was born into a Marwari family. Once again, like most entrepreneurs, Ritesh Agarwal displayed his business acumen from his age of 13, when he sold mobile Subscriber Identity Module (SIM) cards.
By the age of 17, he opened his first major business, Oravel, which offered bed-and-breakfast accommodation, on lines with airbnb. However, over the years, Ritesh Agarwal modified his business model.
At the age of 22, he launched OYO Rooms, which is India's homegrown and largest accommodation portal. The company is estimated to be worth US$ 400 million by various sources.
OYO Rooms offers budget accommodation across 200 cities and towns of India. Several foreign entrepreneurs are trying to copy Ritesh Agarwal and the OYO Rooms business model.
Incidentally, Ritesh Agarwal was never interested in conventional studies and dropped out from various educational institutions to follow his business instincts.
26. Leanna Archer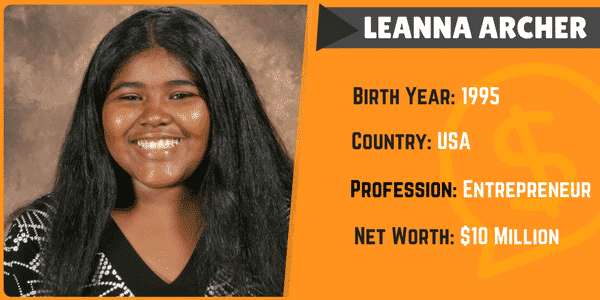 Leanna Archer, a Haitian immigrant to the US and now an American citizen, is a 22 year old female entrepreneur estimated with net worth of US$ 10 million.
She made her first million at her age of 17 years. She makes millions of dollars through her company, Leanna Inc, which makes hair care, skincare and beauty products.
Interestingly, she is the youngest American entrepreneur whose company is listed on the NASDAQ. She became the CEO of Leanna Inc at a tender age of just nine years.
Leanna Archer's success story is rather interesting. At the age of eight years, she was making her own homemade beauty and skincare products, using traditional recipes from her parents and grandparents.
These products found a huge market in the US. This initial success nudged Leanna Archer to experiment with her own beauty and skincare products. She also developed a product to check hair loss and re-grow lost hair.
The hair loss prevention product was developed for her aunty who was suffering from the problem. After six months of use, the product proved to be very effective.
By her age of 13, Leanna Archer was forking in about US$ 200,000 per year from her range of beauty products. Today, she is considered as one of the most successful entrepreneurs in the US who are under 30.
Moved by the plight of her former compatriots in Haiti, she founded the Leanna Archer Education Foundation in 2008. The Leanna Archer Education Foundation provides three daily meals to some 300 children in Haiti.
The foundation is funded from her own business.
27. Juliette Brindak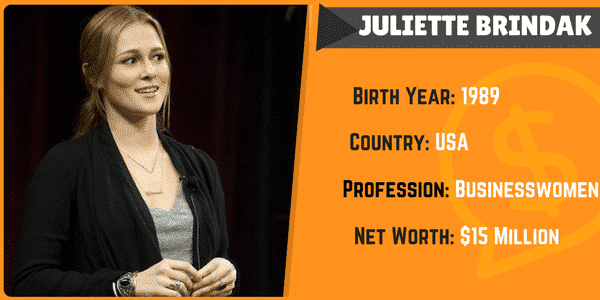 Juliette Brindak Blake, born in 1989, ranks among the topmost female entrepreneurs of the US. She is the cofounder and CEO of the all-female social networking website, Miss O and Friends.
This website generates about 15 million to 20 million visits every month. Miss O and Friends Iis estimated at US$ 20 million. At her age of just 10 years, Brindak would draw fictional characters depicting five imaginary five friends.
She named her creations "Cool Girls". These fictional characters were inspired by real-life people whom Juliette Brindak knew.
The main character, Miss O, which features prominently on her website, is based on her younger sister, Olivia Brindak.
He creations- "Cool Girls", including her sister Olivia went on to become "Miss O And Friends." Beginning Miss O and Friends was not easy: Juliette Brindak had to find investment.
She found encouragement and some funding from her family and friends. She was helped in her venture by her mother, a graphic designer who animated Juliette Brindak's "Cool Girls " and Miss O.
Her father, a businessman, gave her the required expertise in launching the website and company.
28. Catherine and David Cook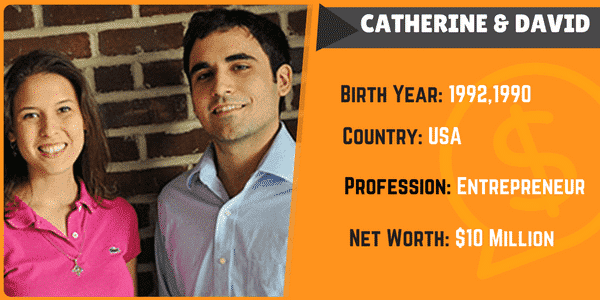 In 2005, Catherine Cook came up with an unique idea of helping youngsters to chronicle their daily, while going through her school yearbook.
She roped in the assistance of her brother, David Cook.
She was 15 years old in 2005 while her brother was about 13. Their elder brother, Geoff Cook also helped in the venture.
The two siblings launched MyYearBook.com, an online social networking platform which has an estimated eight to ten million users.
Over the years, MyYearbook managed to stave off increasing competition from the world's most popular social networking platform, Facebook In 2012, the website merged social media major from South America, Quepasa.
The siblings were paid US$ 150 million for Myyearbook. Catherine and David Cook hold a stake in Myyearbook. They also hold positions in the company and are said to have a net worth of US$ 10 million each.
29. Dr. Farrah Gray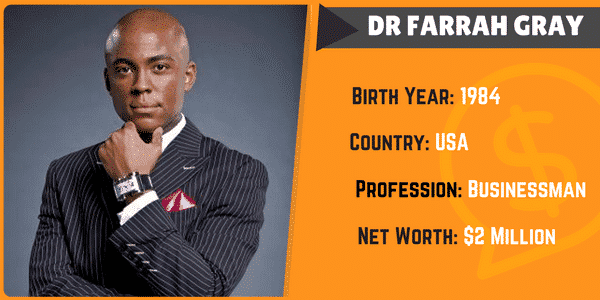 Farrah Gray is reputed as the first teenage millionaire in the US to open an office on Wall Street. He is estimated to be worth US $2 million.
Born on September 9, 1984 and bore the name Farrahkhan Khalid Muhammad. He launched his first venture by selling home made skincare and beauty products and hand painted rocks, at the age of six years in Chicago.
At the age of 13 years, Farrah Gray launched Farr Out Food, a precursor to modern day food delivery services. Within a year, he had received food orders worth over US$ 1.5 million.
He made his first million dollars while just 14 years old. His entrepreneurial skills also saw him launch Kidztel prepaid phone cards, One Stop Mail Box & More franchise.
He featured on the interactive teen talk show, The Teenscope on Youth AM/FM Radio.
Before attaining teenage, Farrah Gray was reaching to over 12 million listeners through The Teenscope talk show as well as a syndicated TV and radio broadcast from Las Vegas called Backstage Live.
He holds a doctorate in management and is now also motivational speaker, lecturer at various top business universities as well as a self-made businessman.
Named as one of the most influential Afro-Americans, he was conferred an honorary doctorate degree by the Allen University. Dr. Farrah Gray comes from an impoverished family of Chicago.
However, his success continues to spur several underprivileged teenagers worldwide into entrepreneurship.
30. Abigail Breslin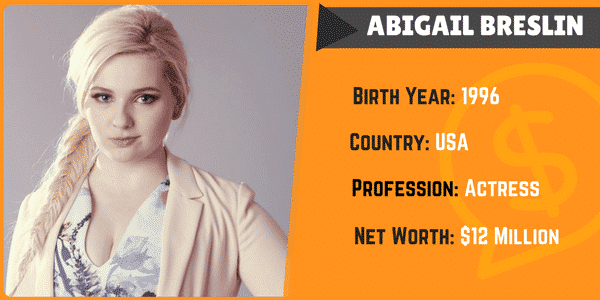 Abigail Breslin, at the age of 18, is one of the youngest teenagers of Hollywood to be a millionaire. Her net worth is estimated at US$ 12 million.
Abigail Breslin has appeared in several top Hollywood productions including the movie Little Miss Sunshine, My Sister's Keeper, Nim's Island Zombine and Raising Helen.
The family has no background in showbiz. Her father, Michael Breslin is of Jewish descent and works as a telecom expert and computer programmer.
Her mother, Kim Breslin is a homemaker.
Abigail Breslin's trek towards million dollars began at her age of just three years, when she featured as a model for TV commercials for Toys-R-Us, the global toys and games retail giant.
Her first acting role was in the sci-fi thriller of 2002, ' The Signs' directed by M. Night Shyamalan of Indian origin.
In this movie, she plays the role as Bo Hess, of the daughter of Graham Hess- played by Hollywood superstar Mel Gibson. Her latest movie is 'All The Fine Boys', produced in 2017.
Top youngest sports millionaires
31. Cristiano Ronaldo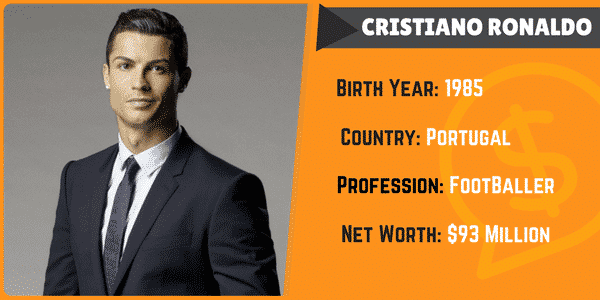 Cristiano Ronaldo, the famous soccer star from Portugal draws an annual salary of over US$ 250 million from football club Real Madrid of Spain and his country's national team.
Born on February 1985, Cristiano Ronaldo de Santos Aviero began his career in football at the age of 16 years. After playing in under 18 and under 20 years teams in Portugal, his talents came to the notice of major football clubs of Europe.
His first major breakthrough came in 2003, when he was 19 years old.
Renowned British team, Manchester United (Man United) paid a transfer fee of US$ 16 million as transfer fee, making him the most expensive footballer signed by a British club.
Part of this fee went to Cristiano Ronaldo. He also became the first Portuguese player ever hired by a British soccer club.
32. Lionel Messi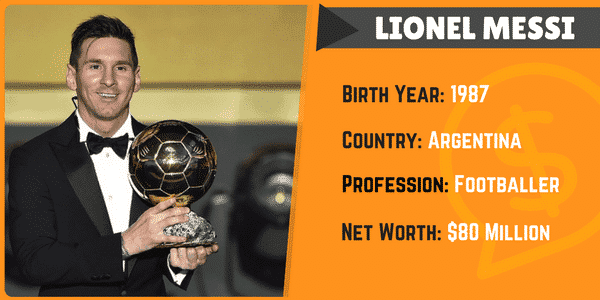 With personal wealth estimated at US$ 230 million, Lionel Messi is undoubtedly the world's second youngest footballer. Born on June 27, 1984, Lionel Andres Messi Cuccittini of Argentina has a great fan following worldwide.
His family had a modest income. His father, Jorge, worked as manager for a steel manufacturer while his mother Celia worked at a magnet workshop.
On his 18th birthday, Messi signed a contract with FC Barcelona of Spain worth US$17.8 million. Forbes estimates his annual income at US$80 million.
His income comes from sponsorship deals signed with corporate giants including sports major Adidas, soft drinks brand Pepsi, shaving products multinational, Gillete and Turk Hava Yollari or Turkish Airlines.
33. Lewis Hamilton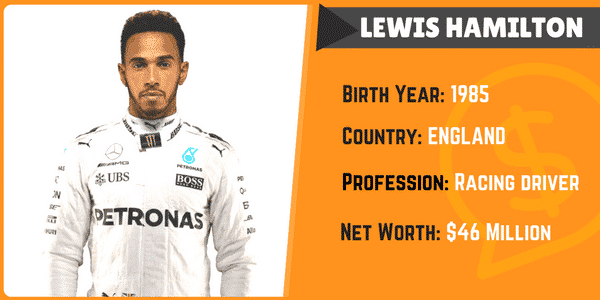 Formula-1 race Mercedes driver Lewis Hamilton is known as the UK's richest youngest who struck it rich while in teens.
Lewis Hamilton has an estimated net worth of $280 million, He ranks among the world's 'Topmost highly lucrative and marketable drivers ever."
Lewis Hamilton's wealth also comes from endorsement deals with L'Oreal, Monster Energy, Reebok and Bank Santander.
34. Fernando Alonso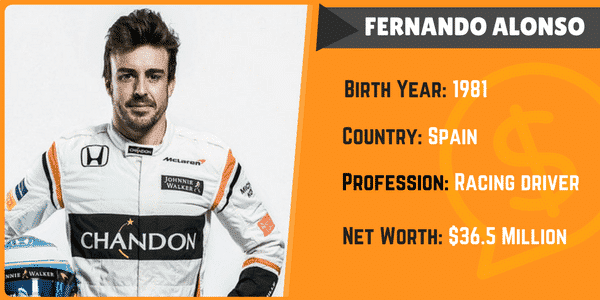 Fernando Alonso was destined to become a top Formula-1 car racer. Born on July 29, 1991 in Oviedo, Spain, Fernando Alonso Diaz became the youngest F1 champion ever at his age of 19, earning his first million.
He is one of the active F-1 drivers till date and is one of the most feared racers by his competitors. Currently, he is billed as the second richest F-1 driver with an estimated net worth of $220 million.
Fernando Alonso comes from a family that had humble means. His father, Jose Diaz worked as technician for an explosive factory while his mother was a worker at a local department store.
35. Kimi Raikkonen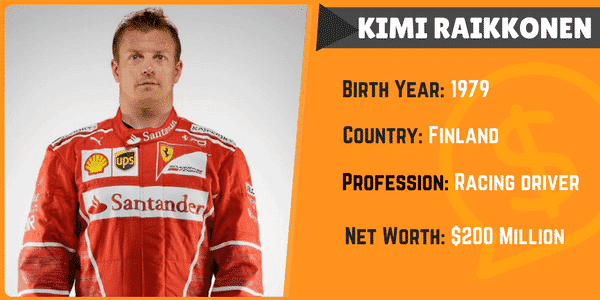 Undoubtedly, Formula-1 car racing is one of the most cash rich sports of the world. Race drivers get millions of dollars from various teams and sponsors.
Kimi Raikkonen of Finland is no exception. He ranks as the richest F-1 driver in the world, with an estimated personal wealth of US$200 million.
Before attaining 20 years age he won the British Formula Renault winter series 1999, with wins in first four races of the year. He won seven out of 10 events in the Formula Renault UK Championship in 2000.
In two series of Formula Renault, he won 13 out of 23 events. Kimi Raikkonen is active till date as a Formula-1 car racer and participates in F-1 events worldwide.
His main income comes from Ferrari, which restricts the number of brand endorsements he can give. Or, Kimi Raikkonen would have been one of the richest sportsman of the world.
36. Mahendra Singh Dhoni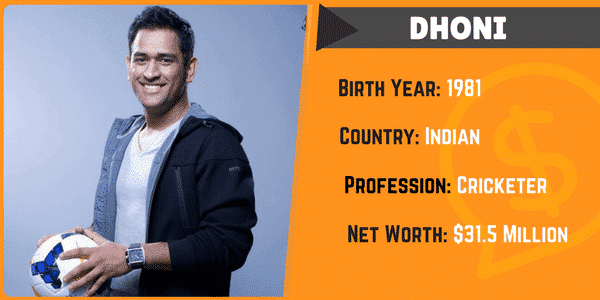 India's former cricket team captain, Mahendra Singh Dhoni has a reported net worth of US$ 103 million. He ranks as the world's topmost and active cricket players.
Born in Ranchi, Jharkhand on July 7, 1981, MS Dhoni made his first million at the age of 19, when he began playing as wicketkeeper for Team India, doubling up as a great middle-order batsman.
MS Dhoni was skipper of Team India that won the ICC World Cup in 2011 against Sri Lanka. MS Dhoni's career has had some controversies, but overall, his style of batting and wicket keeping has won several accolades in India and abroad.
Dhoni's income comes from cash rich engagements with Indian Premier League teams, endorsements and modeling for various products. Additionally, he is launching his own business.
37. Zlatan Ibrahimović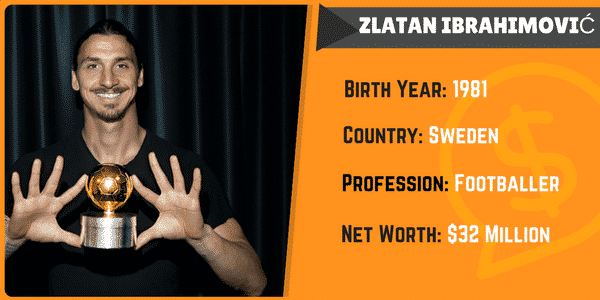 Son of migrants- a Muslim father from Bosnia and mother from Slovakia, Zlatan Ibrahimović was born on October 3, 1981, in Malmo, Sweden, where his parents settled.
His first major contract was with the Malmo football club in 1996 and within three years, moved to the Sweden's reputed Allsvenskan.
The biggest deal involving Zlatan Ibrahimović was on March 22, 2001, worth US$ 141 million, signed between Malmo and football club Ajax Amsterdam, a few months before the player attained the age of 20 years.
38. Rory Mcllroy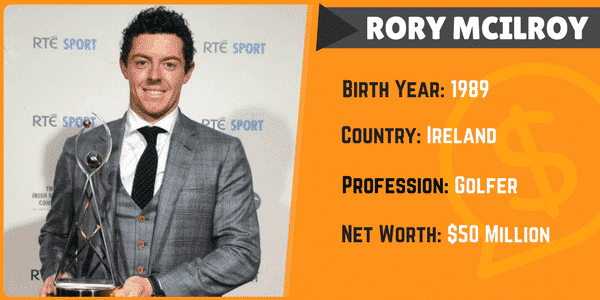 Golf has always been an elite sport, with some of the most formidable brands of the world sponsoring players and golfing events.
Rory Mcllroy, born on May 4, 1989 is one of the legends of golf. At the age of 28, he is estimated to have a net worth in the excess of US$ 42.5 million.
This player from Northern Ireland also ranks among the topmost golfers of the world. Rory Mcllroy shot into wealth at the young age of 15 years, as member of Europe's renowned Junior Ryder Cup team.
Since, he has never had to look back.
39. Eden Hazard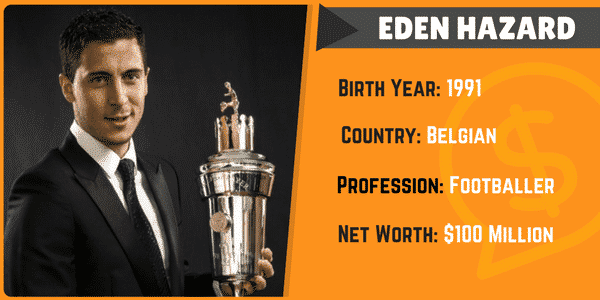 Born on January 7, 1991 in his native La Louvière, Belgium, footballer Eden Hazard is one of the youngest self-made and richest sportsman of the world.
His current personal net worth is estimated at US$ 100 million. Interestingly, his mother Carrine and father Thierry were both football players, which helped Eden make a career in the sport.
He currently plays for the big league British football club, Chelsea.
Part of income of this deadly and attacking midfielder comes from sports goods maker, Nike. He also endorses trading card company Topps and Biscoff biscuit manufacturers, Lotus Bakeries.
40. Virat Kohli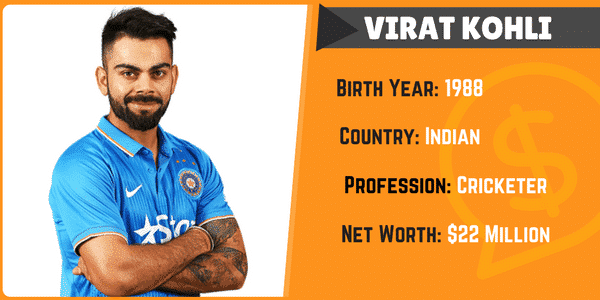 Virat Kohli, the current captain of Team India is a formidable cricket player, who has featured in several exciting victories all over the world.
He is estimated to be worth US$ 53 million or more. Kohli's streak towards millions began when he was chosen to lead an Indian cricket team to the the Under-19 World Cup held in Malaysia in 2008.
The same year, Indian Premier League team, Royal Challengers Bangalore signed a youth contract with him for US$ 30,000.
Born in New Delhi on November 5, 1998, Virat Kohli is now the brand ambassador and model for several Indian companies, from which a major part of his earnings.