There is no doubt affiliate marketing is one of the best ways to make money online. Combining online marketing skills and good affiliate networks can quickly make affiliate marketers rich.
Hence a beginner must fully appreciate the importance of choosing the right affiliate network very early on. Every affiliate marketer has its requirement, and they have to select a network accordingly.
Most of the time, you choose a network based on three things
Quality of Products
Commission rates and
Ease of payment
30 Best Affiliate Marketing Networks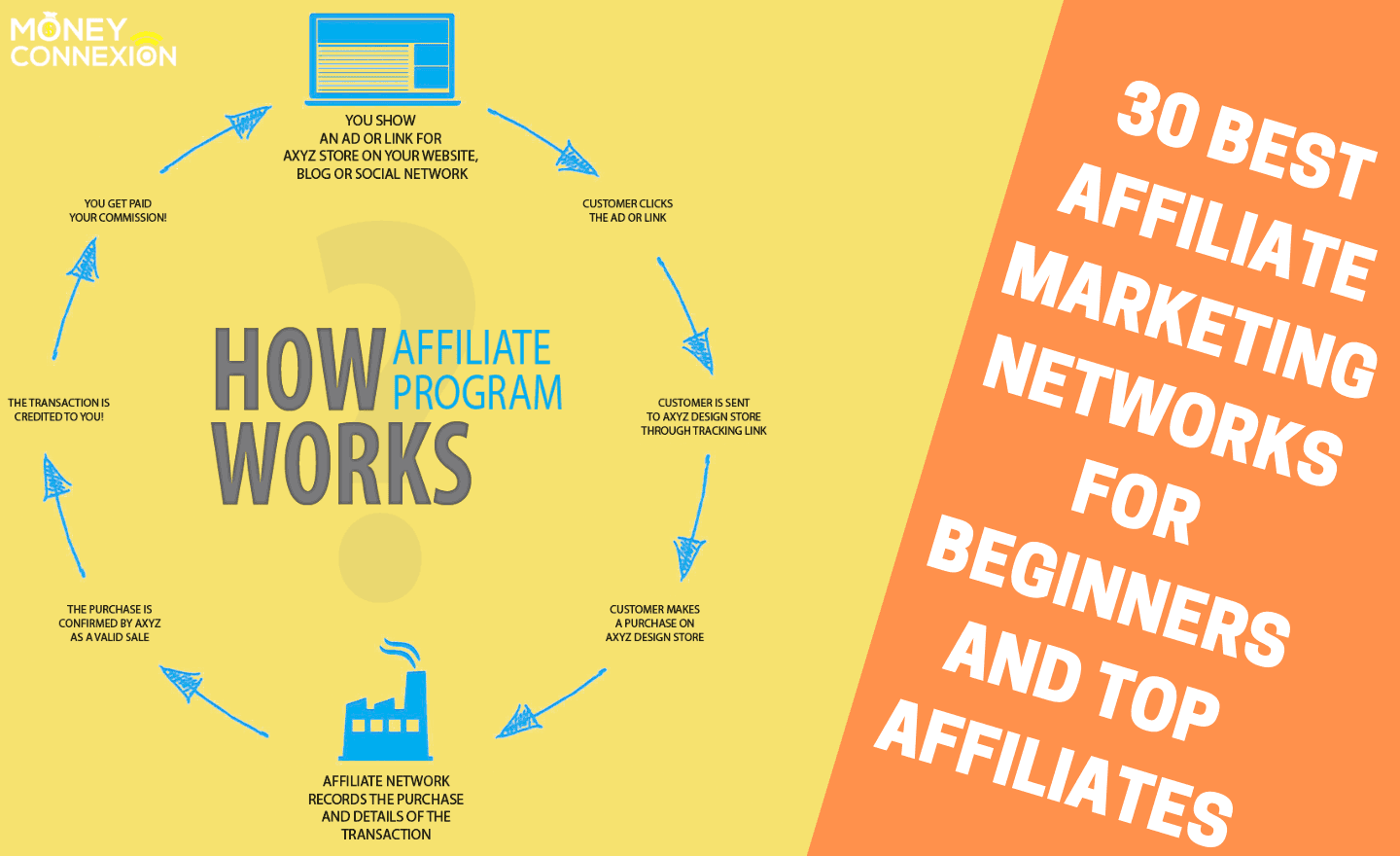 I have worked on most of these affiliate networks for years. Depending on my experience and research, I am explaining to you the 30 best affiliate marketing companies that affiliates can choose.
1. Amazon Affiliate Program
The first most ubiquitous affiliate network in our list is Amazon Associates. Almost 1% of all websites on the internet (out of 200 million active websites) are using Amazon affiliate programs to make money.
Amazon has changed its commission structure from 21st April 2020. Here is the new commission structure-
Other Ways to Earn Money from Amazon affiliate programs are 
Special Programs
Bounty Events – Up to $3 – $5 for successful registration
To make things easier for affiliates, they have got some easy Use Tools
Site Stripe or Toolbar
Product Links
Banners
API
Some of the Great Advantages of Amazon Associates are
No Third-Party Advertiser Approval
Choose From Over 350 Million Products
Competitive Conversion Rates that Maximizes Earnings
Hassle-free linking tools to monetize your website/blog
Detailed reports to further optimize your blog for ads
Great for all kinds of publishers, irrespective of their income. Everyone makes money by an extensive network, just a content site, a review website, or a single blogger.
However, there are two disadvantages.
It is not for everyone. You must have a good site with some traffic; otherwise, Amazon may decline your application.
Secondly, Cookie Duration is just 24 hours. It means if someone clicks on your Amazon affiliate link and buys after a day, then you won't get any commission. Customers have to buy within 24 hours. It sucks!
But if the customer has added the products to the cart, you are eligible for a commission for 30 days. Amazon has the world's best conversion rate. 79% for prime members and 13% for non-prime members.
Sign Up Here for Amazon Affiliate Program
Also Read: 20 Different Ways to Earn from Amazon
Cookie Alert!
Cookie Duration Policy: After clicking your affiliate link, you get paid if a customer buys the products within the cookie duration (15 days or 30 days depending upon the affiliate network). If they buy after the cookie duration, you don't get paid.
Most of the affiliate programs mentioned in our list have 15 to 30 days of cookie duration. Some programs have more and some less.
 We recommend you find out the cookie duration of each affiliate network by going to their website. Each network has its cookie duration policy.
2. ShareASale
Salient features of the ShareASale affiliate network are
3900+ Affiliate Programs from 40 Different Categories.
Product Links – Choose the right product using Deep Linking Tool, and 2000+ merchant data feeds database.
Custom Link Creation – Create License Plate Links with Social Media Features and Deep Link Directly to Products.
Banners & Text Links – Banner Ads in Your Side Bar and Affiliate Links in Blog Post
Data Feeds via API and FTP for easy automation and up-to-date product information.
ShareASale offers some of the best Coupons & Deals from top merchants to promote.
Some of the Featured Merchants are Weebly, Dealflicks, Cricut, Johnston & Murphy, etc
Commission Structure
Flat Commission and Percentage Wise.
Commission Depending Upon the Merchant – 5% to 10%
Fashion Merchants Clothing and Apparel – 7% to 8%
Home and Garden Merchants – 6% to 20%
Food Drinks – 20% to 30%
Grammarly is currently offering $20 flat per sale
They have got Easy 5 Step Joining Process with Direct Bank Deposit facility Available. Moreover, what I liked about them was their Customer Support.
Join ShareASale Here
3. Commission Junction
ClickBank (CB) and CJ are both twins with a presence of 20 years. However, CJ is more professional than Clickbank and paid $1.8 billion to publishers in 2019.
I have been making money from CJ since 2004 and have good experience working on CJ's platform.
Products are less compared to CB but are of Great quality. Unlike Amazon, CJ and CB are third-party affiliate networks where advertisers and publishers meet.
To promote, CJ has top advertisers like GoPro, Barnes & Noble, Lowe's, IHG, Priceline, J.Crew, etc. They've got some quality brands to advertise.
CJ is different from other Affiliate networks when finding perfect Advertisers.
Features like on-demand insights & analytics and care for your privacy by cookieless tracking make CJ an excellent affiliate network.
Customer support is also fantastic!
Commission would depend upon the advertisers you are promoting.
You get paid in over 150 currencies via Check, Direct Deposit, Payoneer, etc.
Join CJ Here
Also Read: 20 Best affiliate programs for beginners
4. JVZoo
JVZoo launched its affiliate program in 2011. They have over 9.5 million products, primarily digital, from 200+ niches in 22 different verticals.
The niche you can choose products from includes Business/Finance, Education, Ecommerce, Health, Writing/Speaking, Entertainment, etc.
Once you sign up with them (which is an easy three steps process)
You can choose products that interest you and start promoting.
You have to ask for permission from the vendor. Most of the time, they will grant you, and you also need to ask them how you will promote their product.
Make a commission from all products in a funnel. You can track conversion per product and funnel.
You can sort a vendor you want to promote based on Conversion Rate, EPC, Commission, Conversion Rate, and Refund rate.
Go for products that may pay you less in commission but have a refund rate of less than 5%.
A new affiliate marketer has to be a little bit cautious here! Because the problem with JVZoo is the quality of products. Most of the 'Make Money Online' vertical products are of low quality.
So it is better to choose products from another niche.
Look at the Product of the Day and Top Sellers for the day on their website. Filter products according to sales volume and total revenue.
Join JVZoo Here
5. Webgains
Webgains has over 250,000 affiliate marketers promoting for over 18,000 advertisers/brands.
Popular advertisers you can promote are Samsung, Hertz, Feelunique, etc.
Some famous publishers promoting their products are The Telegraph, TopCashBack, RewardStyle, etc.
Webgains affiliate network is quite different than other networks like CJ or Clickbank.
They help affiliate marketers by giving complete training and guidance to create content that will get more clicks and convert into sales.
They will also teach you digital marketing, SEO, SEM, social media, CRM, etc.
Suitable for more experienced affiliate marketers as well as novice ones.
Getting Approval
3 Step Sign Up Process
The first two steps are easy. 3rd is crucial where you've to give details of your website.
You like it or not, your website must be genuine, containing content on all the pages. And no spam links!
Website content and traffic must be relevant to the advertisers' product, or else they will reject. 
Join Webgains Here
6. Clickbank
It's one of the best Affiliate Networks for Digital Products. Clickbank is one of the oldest affiliate networks operating for the last 17 years.
One of the best things about this network is Commission Rate which is as high as 75%.
They've got a broad Marketplace with a huge products database containing more than 15K products.
Some of the verticals are Arts & Entertainment, Computer & Internet, E-Business & E-Marketing, Software Services, Education & Tutorials, Health & Fitness, Home & Garden, Sports.
Some Advantages are
Clickbank is a great search engine for choosing products. Use Stats to narrow down product search.
Sorting Products – Simple and Easy to Understand Stats to sort products. Gravity, $/Sale, Avg %/Sale, product type, recurring are some parameters.
Data Analytics is pretty simple and nothing spectacular.
Easy to Create Affiliate Links through Clickbank HOPÔ Hop Links.
Easy 3 steps signup process.
7. Awin
Awin is one of the top affiliate networks in the world. Last year only, they paid over $818 million to their publishers.
29,500+ Advertisers to choose from. There are 200,000+ affiliate marketers associated with Awin.
Advertiser's Products are of great quality for promoting, almost no junk. The most popular niche is Retail & Shopping, followed by Telco, Finance, and Travel.
What makes Awin stand out is its 'Data Report' which helps publishers target their customers more effectively. Trend reports and white papers give an in-depth analysis of different sectors and target audiences.
Moreover, tools like MyAwin, Opportunity Marketplace and The Hub makes it easy for publishers of all sizes to run their campaign effectively and convert better.
Awin is an innovative, intuitive, and tech-savvy affiliate platform for publishers.
Join Awin Here
8. Impact
Impact is suited for B2B marketing companies rather individual affiliate marketers.
At Impact affiliate marketing is also known as Radius. You first have to create an account with Impact Radius. Once you've created it you will be able to view Impact's marketplace.
You can promote for brands only when you have completed the verification process.
After verification you can choose products to promote by clicking on the Brands. Impact has a vast collection of advertisers to choose from. You can choose products on two parameters
Payout – Either advertiser pay you a commission or flat rate per sale.
EPC- Average Earnings per 100 customers an affiliate is making.
So choose products with high Payouts as well as high EPC. Creating an Affiliate Link and Banner ads are really simple.
You can sign up here and get started.
9. Maxbounty
Maxbounty is the no. 1 CPA (Cost Per Action) Network globally. It has over 20,000+ registered affiliates, 350+ advertisers, and 2000+ offers to promote.
Some of the best verticals you can promote are Diet, dating, market research, real estate, etc.
In my experience, products are of decent quality because of their higher conversion rates. However, it would be best if you were careful with some niches like gaming and travel.
Some of the popular brands you get to promote are Nielsen, McAfee, T Mobile, Norton, Lima, etc.
MaxBounty also pays $1000 in bonus to new affiliates based on their performance. 
Sign-up is simple. Go Here
10. FlexOffers
Comprehensive signup process. You are likely to be declined if you don't have a good website with quality content.
After getting approved, you can pick products from more than 25 different categories. There is no shortage of products to choose from, but you need to be extra careful with many products from categories like Digital Products, Careers, and Health.
There are More than 12,000 advertisers with millions of products to promote. What is unique about FlexOffers is 500+ Premium Advertisers are ready to pay for higher commissions. But you have to pay a fee.
Sort products based on EPC and commission rates. Getting text links and banner ads for promotion is simple.
Join Here
11. LinkConnector
LinkConnector affiliate network is for more experienced affiliates who are tech-savvy and want advanced features and promotional methods.
Some of the features to maximize your campaign are
Naked Linking
Coupon Attribution
Naked Coupon
Multivariable Tracking
Conversion Pixel Placement
Moreover, LinkConnector offers EPC by affiliate type, which means depending upon your promotional style like Search Engine, Coupon, Loyalty, you will know your EPC.
Affiliates can choose a merchant or brand depending upon their performance.
Join Here
12. Rakuten Marketing
Rakuten is said to be the #1 Affiliate Network globally, with over 110 million orders worldwide. Affiliates can choose from over 150,000 products from top brands like Sears, Best Buy, AT&T, Macy's, New Balance, etc.
The niche they offer is very vast, and you have to be smart enough to choose the right product to promote. Once you apply here, you will get approved after 2 – 3 days if you have a functioning and established website. Otherwise, you may get rejected.
For a new marketer finding a profitable product could be a daunting task. Once you have joined the network, go to the program menu and select categories. In categories, you will find thousands of relevant products.
Before you click on the Apply button, you need to research the products you are choosing. Do three things
Firstly, in the Offer section, learn about the commission they are paying.
Secondly, understand "Return Days." Return Days are any purchase customers make within the number of days listed, you will get paid for the sale. If it is 30 days, you earn a commission within 30 days. After 30 days, you won't get any commission.
Research about the product and find out more. Don't fall for products paying high commission but are of low quality.  
Now you can click apply and start promoting. You choose between Text Links, Product Links, or Banner ads.
13. CrakRevenue
CrakRevenue Affiliate Network is predominantly for promoting adult products. Some categories are dating, Webcam affiliate offers, adult paysites, adult gaming, etc.
CrakRevenue offers more than 1000+ offers mainly related to Dating and Cam verticals. Here, you can't get access to all the offers you would like to promote otherwise.
Upto 700 offers were available to me, and for more, I required approval from the company. To find out approved recommendations, you can click the "Offers" tab and select "Approved" status from the "Status" column.
You can see all the approved offers under the "Your Status" section. Select a product depending upon the higher payout. You get paid for every signup.
Most of the offers are signup offers rather than selling. Hence opportunity to make money is higher.
There are two terms you need to understand while choosing a product.
If a product says
SOI Products – It means Single Opt-in, and where your customer doesn't have to confirm their email address to confirm subscription.
DOI Products – Double Opt-in where they have to confirm their email address to confirm subscription.
By clicking the "Request Approval" button, you send the request to the advertiser. If approved, you can start promoting.
Join Here
14. Partnerize
Partnerize is a SaaS-based software solution and not a traditional affiliate network like Rakuten or MaxBounty.
Partnerize is better suited for B2B companies rather than traditional affiliate marketers.
If you are a publishing company and offer affiliate marketing as a solution, then you can join Partnerize. It has s large customer base of brands that offer cashback and discounts.
You can help such brands by getting them more customers.
Individual affiliate marketers can skip Partnerize. Others can join here.
15. Peerfly
Peerfly is another excellent option for affiliate marketers. It has over 2500 live offers from all brands, including Fiverr, MacAfee, Booking.com, etc.
There are advantages and disadvantages of Peerfly.
Two things I liked about Peerfly
It is easier to use when sorting out offers to promote.
They have an excellent Tracking feature to track your campaigns to optimize conversions.
2 Things I didn't like about the Peerfly
Offers are very competitive because so many other affiliate marketers are also promoting. Competition is tough. 
A lot of junk CPA offers are just scams. So not for beginners.
You can join here
16. PepperJam
PepperJam affiliate network has a simple, easy-to-use interface for marketers.
Firstly, you join the network here and then start promoting their product. While registering, you need to keep in mind that you need a functioning website with relevant traffic. Earlier it was ok if you didn't have a website. But now it is not.
You can start finding affiliate programs to promote. Filter the products by using "relationship Status" and "Advertiser Category".
Choose a product on basis of Commission Rate and Cookie Duration.
Apply for the products, get the links and start promoting.
17. Revimedia
Revimedia affiliate network works mainly on CPA (Cost Per Action) payment model. You can promote quality products from verticals like mortgage, finance, insurance, home, etc.
Only 2000+ affiliates are promoting Revimedia. It is because Revimedia registration is a bit tough. They want you to have not just a website but a website that is also generating leads in a given niche.
Commission rates will depend upon the advertisers you are choosing to promote.
18. Clickbooth
Clickbooth pays its affiliates for various business models like CPA, CPL (Cost Per Lead), Cost Per Engagement, CPI (Cost Per Index), Cost Per Sale, Cost Per Click, etc.
What makes Clickbooth attractive is that affiliates can get many offers where they can earn good money with a business model like Cost Per Engagement or CPL. So they don't necessarily have to sell products to make money.
Two important verticals to promote offers are Health & Beauty and Financial. The commission is either flat or percentage-wise.
19. Admitad
Admitad is one of the fastest-growing affiliate networks in the world. Last year it paid $3.4 billion to its publisher.
You can imagine the network has over 579,000+ publishers around the world. You can promote products for verticals like ecommerce, banks, and finance, online games, services from 1700+ advertisers.
They have a vast directory of products to choose from. Join Here
20. AffiliateFuture
AffiliateFuture has over 600 retailers that you can promote for. These advertisers include popular brand names as well as lesser-known ones.
Currently, AffiliateFuture has over 300,000 publishers around the world.
The best offers that affiliates can promote come from the Retail vertical. The commission is excellent, and the products are of good quality.
Their dashboard is also quite neat and clean, making tracking very easy.
 Join Here
21. Vcommission
Vcommission is India's #1 affiliate network with over 18,000 publishers worldwide. Vcommission is a CPA network that pays commission for CPA, CPS, CPL, CPI campaigns.
Some of the most popular brands you promote are Flipkart, MakeMyTrip, Domino's, GoDaddy, Myntra, HDFC Bank, SnapDeal, etc.
Vcommission is great for promoting products from Ecommerce sites like Myntra, Jabong, Flipkart, AliExpress, etc.
However, the commission rates are modest, around 3% to 5%. Join here and start promoting.
22. TradeDoubler
TradeDoubler affiliate network is predominantly for a European audience. Although affiliates from 70 countries can promote, it is better if your website receives a large amount of traffic from the UK.
TradeDoubler has 2000+ Advertisers and 180,000+ Active Publishers. Some of the best advertisers you can promote for are Groupon, Microsoft, Puma, Philips, HP, Puma, T Mobile, etc.
The network has great tracking capabilities. You can join here
23. iCubesWire
iCubesWire is an India-focused affiliate network that was founded in 2010.
iCubesWire has over 10,000 publishers promoting products for 500 brands in verticals like Ecommerce, Automobile, Technology, Finance, Travel, etc.
Affiliates get paid for CPA, CPL, CPS, CPI, CPC, CPV, CPM, etc.
2 Billion Monthly Impressions, 100 Million Clicks, and 7 Million Conversions are good reasons to join this network. Join Here
24. CPALead
CPALead is a small yet powerful affiliate network with only 200 unique exclusive products to promote.
CPALead has paid over $100 million to over 300,000 publishers worldwide since 2007.
Affiliates get paid for CPA, PPC, PPV, and CPI payment models.
Join Here. 
25. ClickDealer
ClickDealer affiliate network offers products from verticals like sweepstakes, ecommerce, dating to promote.
You get paid for business models CPA, CPL, CPS, CPI. Commission rates depend upon the advertisers you are choosing to promote.
The dashboard is straightforward to view statistics and performance reports.
They have more than nine payment options, including PayPal, Payoneer, Yandex, etc.
ClickDealer has 4 Step Account Activation process.
Join Here.
26. CueLinks
An Indian Content Monetization network! Automatically converts keywords in your content as affiliate links to merchant sites.
CueLinks got Over 1000 affiliate programs to promote. Some of the best Ecommerce brands to promote are Flipkart, Amazon, Shopclues, Paytm Mall, Swiggy, Jabong, etc.
CueLinks shows you the best deals and offers to promote in their search results.
Join Here
27. TradeTracker
TradeTracker is a UK-based Affiliate Network focusing on 19 other European countries.
They have 5500+ Active Programs for more than 30 verticals. Some of the renowned advertisers you can promote are Allianz, Vodafone, Trivago, Emirates, Disneyland, Zepol.
TradeTracker has a very Intuitive Interface and Easy to Use Dashboard. Its diverse set of tools helps affiliates to dig deep into data. And very easy set up.
Join Here
28. Artwork Media
Artwork Media offers 2500+ highly converting campaigns like email submits, surveys, downloads, trials, CPIs, etc. Commission rates depend upon the advertisers you are working with.
Its tools like Content Lockers, Product Lockers, Offer Walls allows affiliates to monetize their content like blogs, articles, downloads, links, etc.
They also offer app monetization and domain monetization.
Join Here
29. Mobidea
Mobidea is one of the best mobile affiliate networks explicitly designed for tapping mobile traffic coming to your website.
Mobidea has got 130,000+ affiliates, 800,000+ advertisers and 2000+ active campaigns.
Wide range of CPA offers from several Verticals Dating, Sweeps, Coupons & Vouchers, Mobile Content, etc. Best CPA offers from Premium advertisers can pay up to $30.
Excellent tracking capabilities and Real-Time data in your dashboard help you to increase revenue!
Get paid weekly through PayPal, ePayments, Paxum, Wire Transfer, etc.
Join Here
30. GlobalWideMedia
GlobalWideMedia has generated over $1.3 billion in sales annually for its advertisers.
Publishers have a great chance to promote top CPA, CPL, CPC, and CPM campaigns and a chance to get a piece of the $1.3 billion pie.
Publishers can promote products for verticals like ecommerce, finance, travel, automotive and earn commissions depending upon the advertiser.
Join Here
So these were 30 affiliate marketing networks for new affiliate marketers to start. Choose a network that suits you the best.