You might have heard about people making money from YouTube. Well! It is quite true that a lot of young vloggers (video bloggers) are making money with YouTube partner program.
Even you could make money with the program if you know how to do it. Let me warn you in the beginning that YouTube Partner program is not for everyone. You need to have talent before you could imagine of making money with it. It is a fact that only small percentage of people are successful in making money with YouTube.
Therefore, don't expect any easy money here. If you have passion for video blogging then continue reading this article.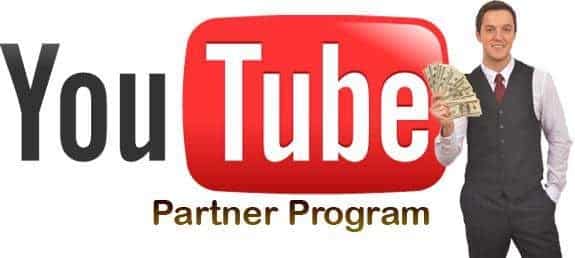 What is YouTube Partner Program?
YouTube partner program is nothing but you could make some money with your videos you upload, it is that simple.
Google gives you an opportunity to make some money if you upload your videos on YouTube. The videos that you create for your family and friends could be monetized in order to reach a wider audience.
YouTube program would help you in exactly doing that. Once you have a great audience then you could start making money with it. YouTube's vibrant partner network is full of creativity and mentors that could help you creating high quality videos.
YouTube would give you full support for creating videos and reaching out to a wider audience.
Moreover, Google also allows you to monetize your videos to an array of non-YouTube networks also. Hence, you can widen your platform.
Visit Here: https://support.google.com/youtube/answer/82839
How Your Casual Videos Can Earn You Money
If you have been creating and uploading videos on YouTube for a while now, then you would not have any problem in making money with those videos.
If you love to create videos which are very informative, fun and useful for the audiences then you have a great chance for making money with it.
However, I would like to warn you that not everyone who uploads videos could make money. It is because your videos have to have some content that people would love watching it.
Causal videos are only good enough if they can relate to people who are watching it. So, try to make your videos more interesting.
If you think you have a talent then you could step up and create videos that could pay you some money.
I have written one of the very useful post on 25 Video Ideas for YouTube Partner Program. This post will help you to find some of best topics that you can use to create videos.
How to Join the YouTube Partner Program
I don't think joining the program is any difficult. You could go into your YouTube account setting and click on the Monetization Tab. Click on Enable My Account and follow the subsequent steps one by one and join the program.
Now if your account has been enabled for monetization then complete following things.
1. Enable and Disable ads on Your Videos: As your video uploads, in Monetization tab click on "Monetize my Video" check box. You have to choose ad formats which are best for maximizing your earnings. Click save
After reviewing your video, ads would start appearing on it.
After you have uploaded the video, click Edit and locate "$" button next to your video. Again click on the Monetize my video check box and select the ad format and your ads would start showing.
2. Familiarizing with Monetization Icon Next to Your Video: You need to understand different kinds of monetization icon. At least there are five different buttons and you needed to know every one of them.
3. If Monetization is Disabled for Your Channel then What Next? : Well it could happen that the monetization function itself is disabled for your account. This might be because of various reasons like copyright issues, account status and Adsense status.
How to Professionally Create Videos?
For creating a professional video you need to have certain tools at your disposal.
First one is a high quality camera. Always choose a camera with 1080 pixels. It would give you very high quality videos that your audience would love it.
Then you have to focus on the sound quality. You could use external microphones because they are better at capturing good sound videos.
You need to stabilize your camera and it should not be shaking. Otherwise your videos would look completely amateurish. You could use tripod and steadycam to stabilize your videos.
Always learn better shooting techniques and Google could help you in doing that.
Next very important tool is the editing software. Good quality software always allows you to give full control over your videos. You can use special effects to make your videos more professional.
You need to ads logos, animated titles and other special effects to make your videos standout.
For more you could visit the "creators" page of YouTube and know more about tools.
Can You Earn Money from Copied Videos?
Well, you must know that you cannot make money with any kind of copied content. The content that you create must be original and there is no chance of making money with copied videos.
You might have seen many channels on YouTube that uploads videos containing content of some other media groups. Like videos uploaded that has content from news channels like Fox News, ABC, MSNBC, ESPN etc. You cannot make money with those videos because it is copyright violation.
Similarly you cannot upload movie clips or songs and expect to make money with it.
You can only make money if videos are original and created by you.
How Google Pays You: Clicks or Visits?
According to the Google you could earn revenue in following ways
Ads served through the Adsense Auction
Ads that are sold on a reservation basis via DoubleClick and other YouTube Sources
Transactions on YouTube Rentals
For a common video blogger that has joined the YouTube program you could make money depending upon the views that your video receives.
Usually they pay you 1 cent or less than that for a single view. Then if you get a million views for a particular video then you could make anywhere $3000 to $4000 for that video.
Hence, you better start focusing on creating good videos and getting as many as views.
How Much Money could You make from YouTube Partner Program?
Well as I said earlier you get paid 1/3 cent to 1 cent per view. If you get 1000,000 views X .0033 = $3300 for one video.
So similarly if you create more such videos then you could make up to $10,000 every month. However, you have to be very popular and create some awesome videos.
For me, it is not only about the money but the fame that you get. Even if you don't make enough money but you are famous then you may get noticed by other popular networks like MTV and mainstream media.
If you reach their then your audience would grow naturally. Hence, you have to focus on creating videos that stands out from the rest.
Tips to Maximize Your Earnings in YouTube Partner Program
Some of the tips to maximize your YouTube Earnings
1. Quality of Your Videos:
Use best editing software and recording cameras. Never compromise on that.
2. Choose New Topics for Creating Content:
Your every video must be inspired by something that is happening around you and audience could relate to it very easily.
3. Humor in Your Videos:
Make your videos humorous. It should not be dull and boring. Get inspired from some of the famous sitcoms.
4. Title and description of Your Video:
Create title which are very catchy and write description that could justify your video.
5. Add Video Responses and Annotations:
You must add video responses and annotations, so that people could respond to it and you could engage them in a conversation.
6. Create Follow Up Videos:
Always create follow up videos answering questions that people asked you in the comment section.
7. Choose Various Ad Formats:
You have to experiment with different ad formats.
8. Early bird catches the Worm:
Try to create and upload videos on a topic which is controversial as early as possible. If video goes viral then you get more views meaning more money.
Some of the Successful YouTube Channels
Now for inspiration you could take a look at some of the most successful YouTube channels. The creators of these channels create videos that are original and have more than a million subscribers & make millions of dollars every year.
There are many more millionaires you can find here who are making money from YouTube partner program.