There are 28 most popular free classifieds websites in India where millions of people buy or sell stuff and services daily.
In fact, India is home to some of the world's largest and most popular classified websites. In this article, we will explore these popular and free classified sites in India.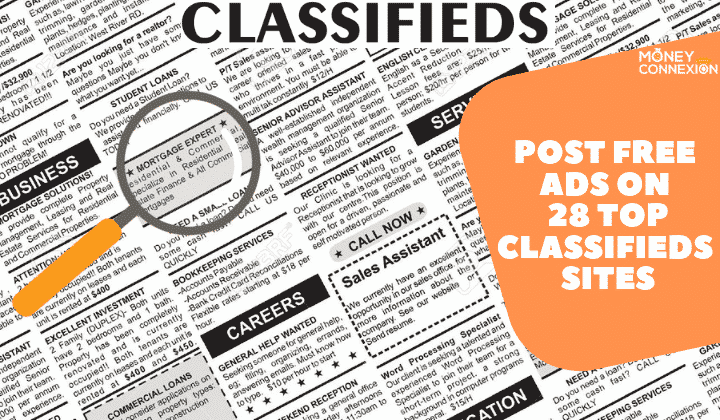 Why Free Classifieds?
People across the country who wish to buy or sell something quickly usually advertise the stuff in most popular classified sites of India.
Reasons are simple: These classified websites do not charge fees or subscriptions from sellers and buyers. Secondly, they reach millions of people across India.
And you can post any number of ads without bothering about an advertising budget.
The next time you need to sell something quickly or buy anything for that matter, visit any of these, free popular and top classified sites in India.
Surely, you can get the best price for your stuff while selling it quickly or buying something at bargain prices.
28 Most Popular Free Classified Sites in India
Undoubtedly, there is countless free classified websites list for ad posting in India.
Especially from newspapers that have a large circulation in India or a specific region of the country. However, some of these sites charge stiff fees for placing an ad.
In such cases, you can check the free Indian classified websites list and advertise on them accordingly. Interested in knowing where to sell or buy stuff quickly? Here is our list.
1. Sulekha
Sulekha.com gets more than 200 million visitors every year. Over 20 million people buy products online or services through this Indian website. More than three million businesses feature on Sulkeha.com offering over 1,000 products and services.
You can advertise for free on Sulekha.com as an individual. They also have paid service for businesses keen on getting more customers.
Sulekha.com is ideal if you wish to provide accommodation services like Paying Guest (PG), looking for room partners, buying or selling old furniture, electronics, home appliances, and mobile phones, among others.
The website also operates in select cities in the US.
2. OLX
You can post free classified ads on OLX.com in various categories.
OLX.com is one of the brands of the eponymous business group from the Netherlands. OLX.com is one of the best-classified sites in India for pre-owned automobiles and mobile phones.
During the financial year 2017-2018, OLX India revenues stood at whopping Rs.1.79 billion, marking a 94 percent increase over 2016-2017. OLX.com holds over 70 percent of used car market of India where people make money with the cars.
The company's 'Cash My Car' program sees between 50 and 100 monthly transactions. Over 10 million active users access OLX India for buying and selling cars.
The company's share of pre-owned mobile phones is formidable. The fiscal year 2018 saw OLX India list about 14 million mobile phones and accessories. Over 20 million users were searching for pre-owned mobile phones in 2018.
Other than automobiles and mobile phones, OLX India also has several other classifieds sections including accommodations, pets, used furniture, electronics, and home appliances, among others.
3. Quikr.com
Quikr.com ranks third on our list of 28 most popular classified websites in India. The company recorded revenues in excess of 1.73 billion in 2017-2018.  This figure indicates an increase of about 95 percent over the previous year.
This website also allows users to post free classifieds ads in various categories.
This website attracts 30 million unique users every month. Cars, bikes, and jobs rank as its core business in the classifieds ads sector. Over 45 percent of Quikr.com revenue comes from classified ads. The remaining 55 percent comes from transactions. Over the years, Quikr.com is acquiring several prestigious and major businesses in India.
The company is valued over US$16 billion. Quikr.com is adding various services to its websites to increase revenue sources. You can use Quikr.com to free ads posting.
4. Expat.com
If you want to advertise a product or service in India for foreign clients or Indians living abroad, Expat.com is your best choice. Expat.com provides services in more than 500 cities in 197 countries. It has nearly 2.5 million active users worldwide.
You can view and post free classified ads at Expat.com in categories including accommodation, goods, and jobs.
This is a very popular website for several reasons. Expat.com also carries in-depth details of various locations and countries. These are of particular relevance to people that will come to India for study, work or as tourists.
What's more? Expat.com enables people to form a social network before arriving in India or traveling abroad. This website also has links where foreigners can learn some useful words in the local language of a country.
5. Locanto
Do you know Locanto comes from Yalwa, a Germany-based IT solutions provider. Locanto.net is one of the most popular classified websites in India. It also operates in over 70 countries across six continents.
This website offers two types of classifieds services in India: free and premium.
You can post free classifieds on Locanto.net under various categories, including accommodation, automobiles, real estate and pre-owned stuff for sale. It is also possible to boost traffic to your classified ad by subscribing to premium membership.
Locanto.net offers a premium account for as low as Rs.99 per month. Hence, this is an ideal classified site in India to use if you are into businesses like real estate, services of various kinds or deal in used vehicles, among others.
6. Clickindia.com
Clickindia.com ranks among top 10 free classified websites of India for a reason. You can also post a free classified ad in Hindi. Posting in English and Hindi enables you to reach more customers.
Further, this popular classified site in India offers two types of membership. One is for individuals. The other is for businesses.
A mobile-friendly website and Smartphone app are available from Clickindia.com. This means you can post a free classified even while on the move.
Similar to other websites, you have to create a free account on Clickindia.com before posting any ads.
7. Vivastreet.co.in
Vivastreet.co.in is part of an international free classifieds network. It operates in 20 countries, including India. Vivastreet allows you to post free classified ads in India or for foreign countries if you are looking for international buyers for a product or service.
This may come as a surprise. Vivastreet.co.in also runs a free dating service. Unfortunately, some ads in this category posted by Indian users are extremely vulgar.
Further, there are no guarantees that profiles and ads posted in the dating section are genuine. Hence, you risk falling prey to scammers and blackmailers.
However, Vivastreet.co.in also has an excellent service that allows you to adopt pets. There are several listings about cats, dogs, and birds that can be adopted if you need a pet.
8. Craigslist India
Undoubtedly, Craigslist is the largest, free classified website in the world. Now, Craigslist is available for users in India for posting and viewing free classifieds. In India, you can post free classifieds in more than 100 sections and categories of Craigslist.
Craigslist is fast gaining ground in India, despite being a newer entrant in the country's classifieds market. The website also has an online community where you can discuss on various topics. This service is also free.
In line with international standards and good practices, Craigslist has a link that teaches how to identify scams, frauds and fake buyers when buying or selling something on Craigslist.
Also Read: Top 10 Sites like Craigslist: Great Alternatives for Buying & Selling
9. Expatriates
Expatriates.com is a global website that also offers free classifieds services in India. It allows people worldwide to post free ads.
To begin posting free classifieds on Expatriates.com, it is necessary to create a user profile. This is a simple process. All it needs is a valid email ID.
This popular classified website offers two distinct advantages. Firstly, you can target service or product in a specific country. For example, individuals or businesses in India can direct their classifieds to the audience, for example, in Turkey.
10. Ads Globe
AdsGlobe.com is a free classified website that operates in over 150 countries including India.
It offers Consumer-to-Customer, Business-to-Business, and Business-to-Customer buying and selling online. They offer free classified postings in jobs, automobiles, events, dating and matrimony and several other sections.
Other than these top 10 classified sites in India, there are several which also allows free ad posting for various purposes.
11. Tuff Classified
Tuff Classified has a unique feature. When you post a free ad on Tuff Classified, you can know how many people visited and viewed it.
Also, Tuff Classified has a feature that allows you to edit your ads even when they are online and remove any errors or add details if necessary.
12. Muamat
Muamat is yet another foreign classified website with operations in India too. It operates in major cities of India only. Similar to every other free classified site in India, you can post almost everything for sale on Muamat.
They have eight categories and dozens of sub-categories under which you can post a free classified to attract better response.
13. Adeex
Adeex was launched in India in October of the year 2005. All the ads posted here are absolutely free of cost. People like to post ads related to cars, buy and selling items and real estate.
14. Ind Ads
Ind Ads is a free classified ads website. You can create and post ads for free here. The website is good for posting ads like Real estate, buy and sell items, education, and jobs.
15. Classifieds 4 Me
Classifieds4Me was launched in the year 2006. The site has a great user interface for creating and posting in one of the best-classified ads sites. You can buy and sell apartments, houses, villas, cars, trucks, etc. Classifieds4Me is present in many other countries.
16. Facebook
There are two excellent ways to post free classifieds on Facebook, the world's largest social networking website. Here we explore both these options.
Facebook Marketplace
This news might surprise you: It is possible to post a classifieds for accommodation, vehicles and other stuff for free on Facebook. This service is called Facebook Marketplace. There are no dues and fees that Facebook charges from its Marketplace users.
India is home to an estimated 294 million Facebook users. If you are already a Facebook user, it is very simple to post free classified ads on Facebook Marketplace.
In fact, Facebook provides a free resource where you can create an amazing classified ad for your product or service.
However, classifieds on Facebook Marketplace comes with two limitations. Firstly, your ad will be visible only to Facebook users within your city or region. Secondly, classifieds on Facebook Marketplace are visible only through the Facebook mobile app.
Millions of users across India are already using Facebook Marketplace for classifieds since launch in 2017.
Unfortunately, there are several loopholes in this service. Facebook takes no responsibilities for claims or bad deals. Hence, there are several fake ads that float around.
Jobs on Facebook
Jobs on Facebook are a free service to post a classifieds if you wish to hire people. If you have a Facebook page for personal or business uses, it is easy to post a free jobs classifieds.
On the left side of your Facebook 'Home', you will see a link 'Explore'.
Click on 'Explore', the link to post jobs will appear. Upon clicking the 'Jobs' link, you will be directed to a dashboard.
Fill in the appropriate details. It is also possible to include company or brand logos or pictures of the workplace on Jobs on Facebook.
There are no upper limits for posting free job classifieds on Jobs on Facebook.
However, Jobs on Facebook charges a fee for 'boosting' your classifieds.
17. Swapon.co.in
Swapon.co.in is around since 2010. It is fast emerging as one of the leading free classified sites in India. This website has a unique feature: you can post up to 10 different images of a product you are selling.
The website is simple, aesthetic and easy to use for beginners. Popular categories such as automobiles and accommodations are also available for free postings.
18. Bedpage.com
This is an Indian website that allows you to post free classifieds for India as well as several other countries.
Bedpage.com operates from Indore, Madhya Pradesh. It has nationwide coverage. Like other websites, Bedpage.com also has various categories for listing products, services, and facilities.
19. Innetads.com
Innetads.com provides free classifieds without signup or registration. The website is part of an American classifieds network.
Innetads.com also operates in the US, Canada, Australia, and the UK. Innetads.com comes with an amazing feature: You can use up to 5,000 characters for a single classifieds description.
20. Xookr
This is one of the fast growing and popular classified sites in India. Xookr.in has free classifieds that allow you to post ads under various popular categories.
However, for more exposure and faster sales, you can opt for their premium service.  This allows your classifieds to be visible on top of the list.
21. Adaalo.com
Worried about scams and cheaters when selling online? Post your free classifieds on Adaalo.com. This website has a superb feature.
It allows you to view the buyer's profile before finalizing a deal. As a buyer, you can also see the seller profile. This feature enables you to make proper decisions when selling or buying something.
22. Adycart.in
Worried whether your classifieds is attracting people? Then post free classifieds on Adycart.in. This website allows real-time tracking of views to your ad.
You can also know where the viewer is located. Further, all ads are reviewed by the Adycart team before they go online. This enables you to edit an ad to attract more viewers.
23. Ad2max.in
Also available as the mobile app, Ad2max.in is a very simple website to post classified ads. That is perhaps the reason for its popularity.
You can view pictures of a vehicle, smartphone or pet that you wish to buy from Ad2max.in. Majority of classifieds on Ad2max.in have at least one picture. As a seller, you can upload up to five pictures of the stuff you are selling.
24. BizMartIndia
Do you own a small business? Then post free classifieds on Bizmartindia.com. This website mainly caters to small business owners seeking more clients. Bizmartindia.com also has a dating service.
However, this is mainly a channel for escort services to advertise their businesses. This popular classified site in India is excellent for businesses that do not have an advertising budget. There are barely any individual advertisers on this website.
25. ClassifiedsGuru
Pune-based Classifiedsguru.in provides nationwide coverage for free classifieds. This website carries about 10,000 classifieds under various categories at any point of time. Classifiedsguru.in is also a fairly new player in the market. It is online since the last four years.
26. Click.in
Popular classifieds website Click.in comes with a unique feature. You can shortlist products or services and compare before buying. You can create and post a classifieds to sell something.
However, Click.in does not allow prospective buyers to interact directly. Instead, the customer has to send a message. Click.in charges a fee to connect with buyer/seller.
27. Jobiba.com
Jobiba.com provides only free posting of classifieds. It accepts classifieds from people and businesses in India and abroad. However, this website also does not allow direct interaction between seller and buyer.
Instead, interested parties have to send a message to the seller through Jobiba.com. They charge a fee to connect you with a buyer/seller.
28. Postadverts.com
America's free classifieds website Postadverts.com also operates in India. Though it is fairly popular among Indians, services are available only in few cities of this country.
Postadverts.com beats its rivals in one major field. This top classifieds website has an online tutorial about how to create a classifieds that will feature on top of Google search.
Special Mentions
Other than these 28 most popular classified sites in India, there are some you would never have thought about. Or you would have brief knowledge about these websites.
Here we list two such websites:
Khojle (Dainik Jagran)
Khojle free classifieds is a very new service of Dainik Jagran. It began in late-2018 and continues to attract newer visitors daily.
What is Dainik Jagran? For the uninitiated, Dainik Jagran is India's largest selling daily newspaper.
This Hindi language newspaper daily sells more than four million copies daily and has a readership in excess of 70 million. It ranks among the bestselling newspapers of the world, ranking between four and 17, depending on which source you believe.
Dainik Jagran also has an eponymous website that receives millions of visitors every day from India and abroad. It ranks as the 141st most visited website of India.
Interestingly, Khojle allows you to post free classifieds ads in various categories such as jobs, automobiles, accommodation, sale of used stuff and other miscellaneous items. You can post free classifieds for a specific city or nationwide viewing.
You can post free classifieds in Hindi on their website. Simply create a free user account and start posting ads.
LinkedIn
LinkedIn is the world's biggest professional networking platform. If you have a LinkedIn profile, it is possible to post a free jobs classifieds.
You can post a free jobs classifieds as an update of your profile. Job description and qualifications have to be very brief.
Remember, LinkedIn charges a fee for a regular job and other classified listings. Hence, the only way to get free classifieds on this superb website is by making it appear like a profile update.
Wrap Up
Free classified sites in India attract millions of visitors daily.  They help you find the right client for your product or service.  This way, you also get the best value for your offerings. However, free classified sites in India also have a flipside.
There are several scammers and fake listings. In the US, a major classifieds website was seized by the court and various government authorities. The reason: users posted contents like adult services, which are not allowed by the American government.