Microsoft founder Bill Gates says: "If your business is not on the Internet, then your business will be out of business." In these words, Bill Gates sums up the importance of any business having online presence and engaging customers through e-commerce.
Indeed, large corporations like Amazon, eBay and Airbnb among others owe their astounding success to selling online. If you have something to sell and would like to get the largest possible number of buyers, sell online. It is very effective, inexpensive, safe and of course, fast.
Why Sell Online?
Undoubtedly, our life is very hectic. We go about our daily chores in maddening frenzy. Consequently, most of us do not have time and patience to go shopping at traditional brick-and-mortar stores.
Shopping online saves us time and effort and often helps save some precious money.
Now reverse this situation. If you are an online seller, people will visit your website to browse and buy products they need or want. Selling online helps you to eradicate physical boundaries such as state borders and national frontiers.
This means, you can sell anywhere from anywhere. There are more compelling reasons to sell online too, if you consider facts and figures.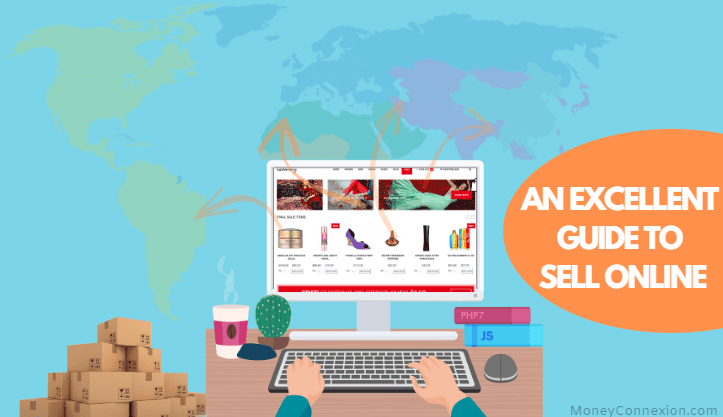 Facts & Figures
European website Statista finds, over 1.66 billion people worldwide bought stuff online spending US$2.3 trillion during 2017.
Shopify's International Guide to E-commerce projects online sales to cross the US$4.5 trillion mark by 2021.
During 2018, the online retail industry worldwide saw number of developments. These include use of Virtual Reality and Artificial Intelligence, faster check outs and quicker deliveries, among others.
Given these facts, you may actively consider selling your stuff online. If you are confused how to sell things online, read this simple guide to get answers.
How to Sell Online
Before launching full-fledged online sales, there are some steps you might need to take. They will ease the process of selling online.
Identify Niche Market
The first step towards selling online is identifying a niche market for your stuff. During initial stages, it would not be possible to cater to a large clientele. It helps you know where the money is going and tapping onto that source to bag customers or increase client base.
Identifying a niche market is very useful when you have limited budget. Niche marketing saves a lot of costs you would otherwise incur on advertising and promotions.
It allows you to focus on a specific set of people rather than the entire global population. Hence, your items would have better visibility among the target group.
Selling through other, well established online stores is a great way to target a niche market. Since these online stores have a brand following, you can get enough mileage when people search for something on their websites.
1. Sell Online on Amazon, eBay etc.
If you wish to get mileage from popularity of existing online stores, sign up as seller on Amazon. It is the world's largest online retailer with presence in many countries. Of course, you can decide where you want to sell.
To sell on Amazon, you have to register as seller and create an account. Upon getting the account, you can upload pictures and brief description of the product on their online store.
Similarly, you can also sell on eBay. Generally, eBay is popular among people that wish to sell used or old stuff. That is not entirely true. You can sell new products on eBay too.
Register as seller on eBay, accept their terms and conditions. The next step is uploading pictures of the product, brief description and price.
Advantages of Amazon, eBay etc
Selling on online stores like Amazon, eBay and others offers one distinct advantage. You get instant access to millions of potential customers worldwide. Even if you do not get sales, your product gets free publicity among millions of potential buyers.
Amazon, eBay and others also guarantee your payment. Once a product is sold and delivered to the buyer, you need to wait a few days before receiving the money. This amount can be sent to your PayPal or bank account.
Disadvantages of Amazon, eBay etc
There are a few inherent disadvantages of selling through online retailers like Amazon and eBay. Prime among them ranks the 'Returns' policy. This means, you may have to accept a product returned by customer and refund their money.
The second flipside of Amazon and eBay among others being the fee they charge for selling your stuff. This can become a considerable amount if you make brisk sales, without returns.
Adding mark-up for online retailers can send cost of your product skyrocketing. This can become a major disadvantage if you are competing on prices with topmost players in the market.
Invariably, their products will be cheaper or cost slightly higher than your variant.
2. Set Up Online Stores
If you are still wondering how to sell online, set up your own online store using one or more of these excellent resources.
1. Shopify
Shopify features over 600,000 online stores set up by individual entrepreneurs. The website is used by 10 million active users worldwide. It has generated sales worth US$82 billion since inception.
You can use Shopify to sell online. It involves setting up an online store using the Shopify e-ecommerce platform. This is a very simple process.
Additionally, you can customize your website and access several excellent features like third party shipping, payment to a bank or wallet of your choice and data analysis such as number of people that viewed your products.
2. Etsy
If you are making something unique, open an online store on Etsy. It is the best place for selling handcrafted products. You can sell anything from paintings to costume jewellery, homemade oils, spice mixtures etc., on Etsy.
Opening an online store with Etsy is also pretty simple. You can register on the website and give it a free, two week trial. Once you know how an online store on Etsy works, you can opt for opening your own marketplace on this portal.
Advantages of Online Store
Selling online on resources like Etsy and Shopify gives you instant access to a marketplace with millions of buyers. Greatest advantage of selling on Etsy and Shopify is that you can target clients looking for something unique and rare.
Another major advantage is, you can coin own terms and conditions, returns policy and payment systems. Generally, online sellers on Etsy and Shopify use PayPal.
This gives you instant cash whenever anyone buys your stuff. Other than the small fee you pay to these websites for your own marketplace, Etsy and Shopify do not charge seller commissions.
Flipsides of Online Store
Setting up your own marketplace using Etsy or Shopify has its own flipsides too. Firstly, you have to 'rent' the store from these two e-commerce portals to sell online. This means, you will spend even before you earn.
The money is charged on monthly and annual basis. Secondly, Etsy and Shopify are mainstays of shoppers looking for very unique products. Hence, the number of clients is limited.
Thirdly, people wanting to buy online will have to visit an individual store to choose a product. Hence, your online store will be in a long queue alongside other competitors.
3. Own Website to Sell Online
You can also set up your own website to sell online. Understandably, this sounds daunting considering your direct competitors would include Amazon, eBay, Walmart and hundreds of other well established businesses.
But this need not be a deterrent:  there are thousands of small businesses that sell online through their own websites.
Setting Own Website
Setting up your own website to sell online is fairly simple. First, you need to buy an excellent domain name that matches your business and its unique identity. Nowadays, domain names are available for as low as US$9.99 per year.
Once you have a domain name, buy hosting space for the website from Bluehost or other hosting provider. When your website is hosted, you are almost ready to go. Once you host a website, there are several free and paid themes that you can select for your online store.
Set-up Payments Portal
The main purpose of every business is to make money. Therefore, you will need to set up a secure payments portal on your website. This can be done in collaboration with a bank or through a commercial payments gateway.
You need to subscribe to the payment gateway to avail their service. This will ensure that money paid by customers goes directly into your bank account.
Use Delivery Systems
Since customers will want doorstep delivery of their orders, you can sign-up with a great logistics provider who will pick up the package from you and drop it at the customer's address.
Depending upon your location, there will be several excellent logistics providers that would willingly offer the service. Check with your local post office if they have special offers for e-commerce packages.
This will depend upon your location and country.
Define Rules & Policies
Before you sell online, it is important to define your policies regarding orders and delivery. You can learn a lot about these rules and policies by visiting any top online store like Amazon.
Find which of their policies are best suited for your website to sell online. Generally, returns policies are the most intricate. Remember, accepting returns can be compulsory under law in some places.
For this, you may need to consult an attorney.
Marketing & Publicity
When you launch own website, marketing and publicity can prove a major burden. Advertising costs a lot. One of the best way is to use SEO on your website to get organic traffic from search engine.
If you have budget then Google AdWords and Facebook will be a great option to advertise your products online.
You can use free resources like opening a Facebook page and getting people to like your online store. Also use Pinterest and Instagram.
Another major resource that can be used to sell online through your website is YouTube. Open a free YouTube channel under the brand name of your online store. Post short and simple videos about the stuff you sell online and their benefits to users.
Advantages of Own Website
Having own store to sell online has several advantages. You develop a brand awareness and identity. You also get to fix terms and conditions. Getting instant payments is possible through the gateway.
Having own website to sell online also means there is no limit on how many products you can post, the number of pictures and description.
Disadvantages of Own Website
But setting up your own website to sell online comes with myriad problems too. Firstly, you need to put extra efforts to promote the website.
You may have to enlist help of a Search Engine Optimizer (SEO) to ensure your website finds top rankings on search engines like Google. Managing logistics can become nightmarish, especially during festivals and gifting seasons.
4. Sell on Facebook Marketplace
Facebook Marketplace is a great way to sell online. If you are wondering how to sell online on Facebook, simply visit this link. You will be amazed at the number of products sold on Facebook Marketplace.
Here are some simple steps on how you can open a free account on Facebook Marketplace.
Open Facebook Account
The first step is to open a Facebook Business account in the name of your online store or product or brand. To do so, you will need a valid email ID and address. Facebook Business also has premium services like advertising. You can opt for these if needed.
Alternatively, use your own Facebook page to create a Facebook Marketplace account. This works out simpler since you get instant access to customers and do not have to wait for Facebook to validate your retailer profile.
Setting Payments Gateway
Setting up a payments gateway on Facebook Marketplace is very simple. You have only to create the necessary links to receive the payment and link it to a PayPal account. When you sell online through Facebook Marketplace, the money paid by customers goes directly into your PayPal account.
Posting Products
Posting Products on Facebook Marketplace is similar to updating your own profile. All you need is excellent pictures and product description. Also remember to mention the price when you create the 'Buy' link for customers.
Marketing & Publicity
A Facebook Marketplace page can be promoted quickly through your Facebook account. You need not spend money on advertising and publicity. Secondly, you can get as many people to like your online store and promote it to others through their Facebook accounts.
Facebook Marketplace Advantages
Facebook Marketplace has a couple of major advantages: It allows you to spread the word about stuff you sell online rather quickly.
As we mention earlier, you can also get people to 'Like' your page and spread the word around. Secondly, you can post upcoming and new launches immediately on Facebook Marketplace.
Facebook Marketplace Disadvantages
Facebook Marketplace comes with its fair share of disadvantages. Main among these is the geographical limits. This means, Facebook will display stuff you sell online only to people located in or near your city.
Thus, the number of people that view your products and buy is very low unless you live in a very densely populated urban centre. Further, most online shoppers are not very comfortable buying stuff on Facebook Marketplace.
5. Sell through Affiliate Marketing
You may never have heard of affiliate marketing or know its benefits. It is an amazing way to get others to promote and sell your products. Affiliate marketing is very simple.
Once you have a website or open a marketplace through Shopify or Etsy, get bloggers and other businesses to promote your product.
These bloggers and businesses will provide links to the stuff you sell online. When a customer clicks on the links provided by your 'affiliates' and make purchase, you have to pay them a small commission.
Offering Affiliate Marketing
There are several excellent resources online where you can get people to do affiliate marketing for your products. Register on any of these affiliate marketing websites to become member. You can post offers or await other affiliate marketers to contact you for further details.
Creating Affiliate Links
Affiliate marketers work by creating links to your products. Therefore, you will have to set up an online store, website or marketplace before offering affiliate marketing to third parties.
Amazon and eBay among others provide an excellent resource for their affiliate marketers. You can explore how these companies work with affiliate marketers to create links that can be used by your affiliate team.
Advantages of Affiliates
Affiliate marketing is time tested and proven method of promoting and selling your products. It allows you to sell online even while you are asleep.
Affiliate marketing enables your products to be promoted by dozens of people located in different parts of the country or even the world.
Often, bloggers will also write good reviews of your products while providing an affiliate link, to tempt customers and bag some commission from the sale.
Affiliate Marketing Disadvantages
Affiliate marketing also comes with a bundle of disadvantages. Often, it takes long time for affiliate marketers to get a client. Several customers prefer to buy directly from a website rather than going via an affiliate link.
Further, affiliate marketers will also be promoting similar products from rivals. You have to offer part of the money as commissions to affiliate marketers. This eats into your overall profits.
6. Dropshipping
Dropshipping is a relatively unknown business in many parts of the world. However, it is an excellent way to sell online. Dropshipping does not involve much costs.
All you need to do is advertise your products on a great dropshipping website like Alibaba.com for a small fee.
What is Dropshipping?
Dropshipping is a simple way to sell online. You post products for sale on a dropshipping website. When someone buys the product, they will place an order with you.
All you need to do is dispatch the stuff to the address provided. Usually, dropshippers do not order stuff for themselves. Instead, they promote variety of products from own website or affiliate marketing or online stores on Shopify and Etsy.
Dropshippers will promote a product by adding a mark-up. Upon getting an order and payment, they will buy the stuff from an online seller like you. The dropshipper will pay you on behalf of the client.
Dropshipping Advantages
Dropshipping does not require you to have an online store or website. Instead, you will promote the stuff you sell online on dropshipping websites.
Whenever a dropshipper looks for a product, your stuff will feature in the search along with the price and specifications. If the client likes your product, they will place the order and make a payment.
Dropshipping is also an ideal way of finding wholesale markets for your products. Lots of dropshippers will place bulk orders on behalf of brick-and-mortar stores and online stores. It saves you the bother of looking for clients too.
Dropshipping Disadvantages
Selling via dropshipping websites can pose several disadvantages. One of them is bargaining. Most individual dropshippers that place an order will haggle over prices since they look for fatter commissions.
Also, you have no control on prices charged by dropshippers that buy your stuff and sell to others.  This can cause your stuff to lose integrity in the market.
Further, most dropshipping websites are known for cheap stuff. Your product can get that unwanted tag as an inferior product when posted on a dropshipping website.
7. Sell Via Apps
Thanks to increasing proliferation of smartphones worldwide, it is now also possible to sell online through apps.
Usually, apps involve much lesser costs than setting up your own website or creating an online store on any e-commerce platform. Also, apps can be quickly upgraded. They allow customers to take instant decisions.
Importance of Apps
Before pooh-poohing apps, it is worth knowing that some 63 percent of online sales occur from mobile phones. They allow customers the ease of buying something even while on the move or in great hurry. You can sell online using apps. Get one specially made to suit your purposes.
Advantages of Apps
As we mention earlier, there are several advantages of apps when you sell online. They allow customers to make instant purchases without the need for a computer, cost lesser than websites and marketplaces. You can upgrade them quickly. Apps also allow you to make money by accepting third party advertisements.
Apps Disadvantages
These apps to sell online come with several limitations. The biggest hurdle is getting people to download your app on their smartphone. Also, apps need frequent updates. Unless you have very sophisticated apps like Amazon or eBay, the number of products you can offer can be severely limited.
8. Classifieds Websites
Classified ads are in use for more than a century. They trace their origin to a time when newspapers were becoming popular across the world.
In our times, classified ads are now also available online. In fact, there are several websites like Craigslist that offer free and premium postings of ads when you want to sell online.
Why Use Classifieds?
There are many reasons why you should use classifieds to sell online. Generally, people interested in a specific service or product will scan classified ads.
This narrows down the search for your product. Further, if you are selling old stuff online, posting a classified on Craigslist among others can prove very useful.
What to Sell on Classifieds
Generally, old stuff and services are sold online on classifieds. But this is no thumb rule. You can sell almost anything online, even if it's a new product. You can sell books, household equipment and appliances, furniture and wholesale foodstuff, among other products on classifieds.
Advantages of Classifieds
Classifieds offer some unique advantages to sell online. Firstly, classifieds are referred to by only genuine buyers. Unlike online stores and marketplaces, there are no virtual 'window shoppers'.
Secondly, classifieds in most cases are free. Or, you will pay a very small one-off fee to gain access to a membership. Classifieds websites allows you to sell locally, regionally as well as at a national level.
If lucky, your posting can get noticed abroad to net you some foreign customers.
Flipsides of Classifieds
Since classifieds are commonly used by people who want to sell used stuff, chances are your product can be mistaken as poor quality or substandard. Also, classifieds websites get tens of thousands of daily postings.
Unless you opt for premium service that keeps your advertisement above others, it can get buried under a deluge of other posts. Thirdly, classifieds do not have features of posting attractive pictures and great descriptions of products.
And finally, you cannot get the facility of a payments portal or gateway when you sell via classifieds: customers will have to contact you for placing orders and making payments.
Wrap Up
If you want to sell things online, these are the main resources that will be useful. We suggest you use more than one channel to sell online. In the initial stages of your business, getting maximum number of customers is essential.
A lot of new businesses that sell online usually have a presence on Amazon and eBay, own an online store on Shopify or Etsy and also a Facebook Marketplace page. Diversifying your channels allows for reaching maximum number of potential buyers.