There are many real estate websites in India but when it comes to searching the property, often people get confused about which one to try.
Most people depend on local real estate agents for buying or renting a property but if you approach the sellers directly through these real estate companies, you can find attractive offers.
You can also save on brokerage charges which are generally 1% to 2% for buying a property & 1-month brokerage for renting a property.
So I decided to write a complete article helping out with your ordeal for property search. Every website has some features that others don't.
So we tried to give you the unique selling points (USP) of each real estate website. It is up to you to choose a property site for your search according to your needs or preferences.
Also Read: Things to Know Before Buying Your First Home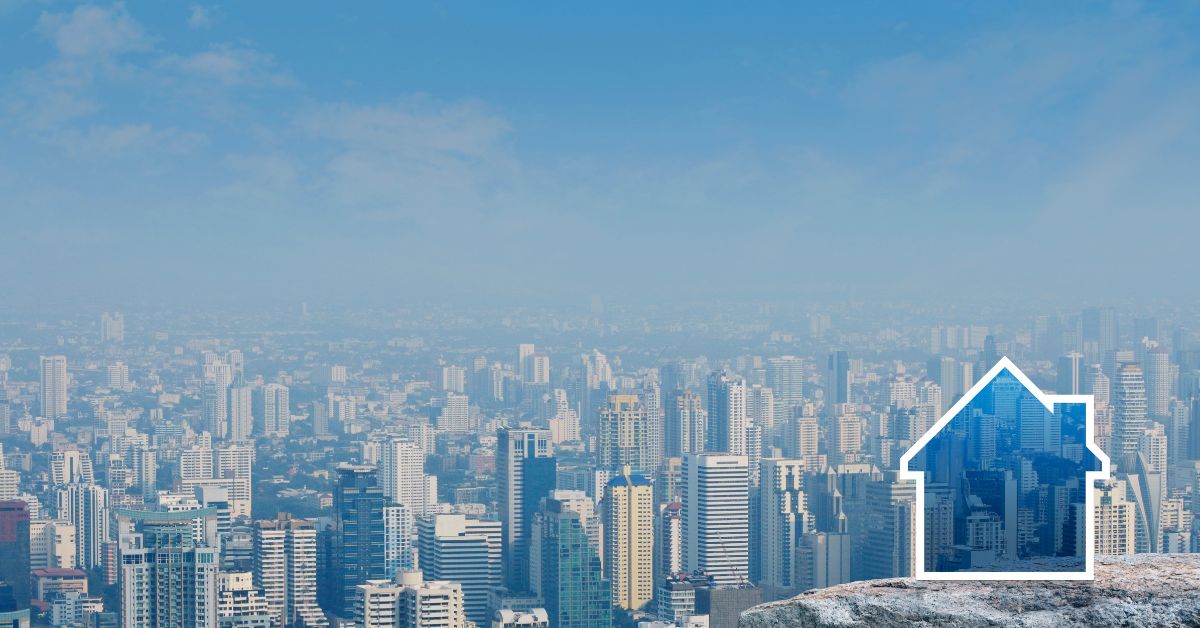 Table of Contents
Top 15 Real Estate Websites In India
Below you can find the list of the property sites with their rank & website link so you can directly jump to your favourite real estate site.
1. 99Acres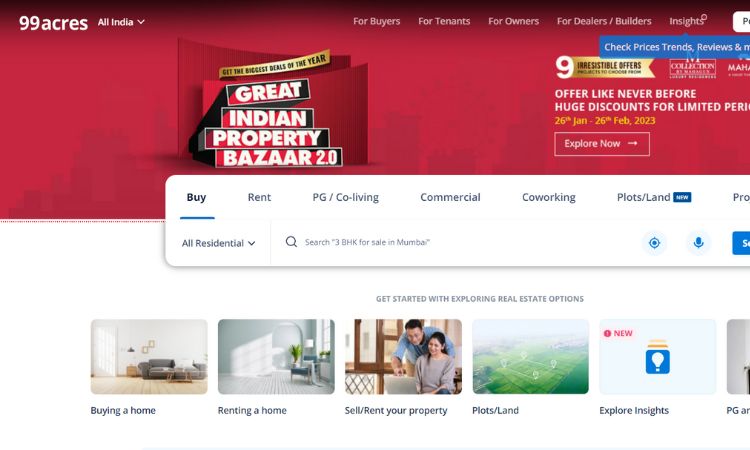 The first real estate website on our top 10 list is 99 acres. This is one of the premier websites for buying and selling properties.
It claims to be India's number one real estate web portal so we ranked it 1st in our list.
Again the USP of 99Acres is resale. This site could offer you a vast enumeration of locations, projects or societies if you want to resale your apartment, a villa or a commercial property.
Their database is quite genuine, at least compared to others. The rest of the features like buying & selling, renting is quite unexceptional.
2. MagicBricks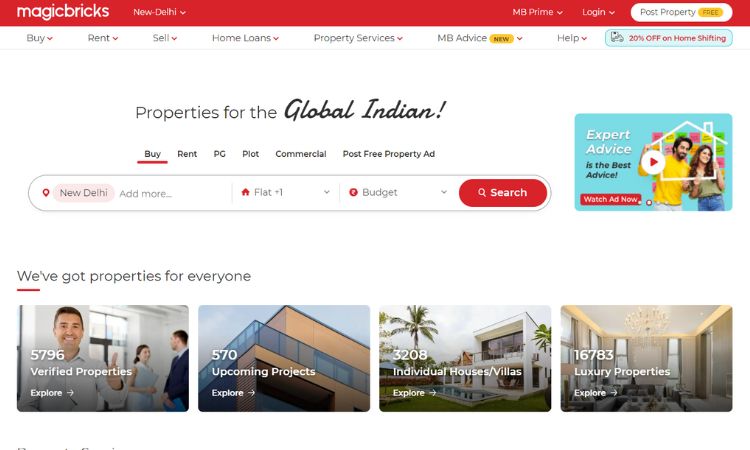 The second best property site in our list is MagicBricks. This website had quite a meteoric rise in India.
So what is the USP of MagicBricks? Well! According to my experience, this particular web portal is designed for buying and renting purposes.
I liked their buying search engine because the results were very satisfying. If you want to rent then also the database is OK. However avoid if you want to resell your house, use others'.
Another thing I like about Magic Bricks is the images and detailed research that they offer before buying a property.
3. No broker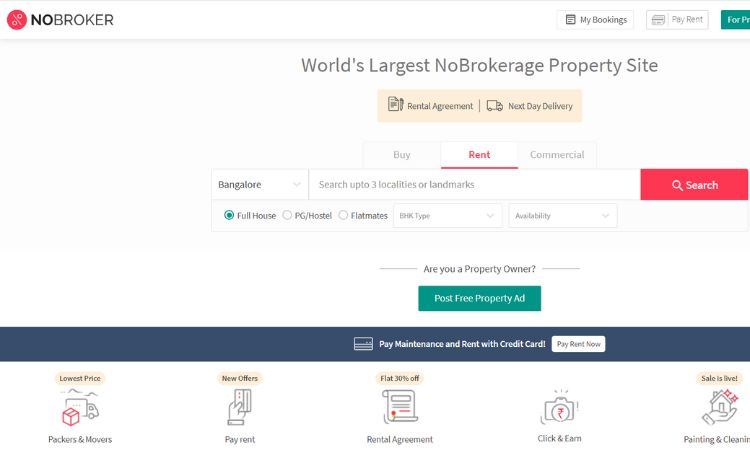 No broker is like a dream come true for anyone that wants to buy, sell or lease real estate in India. This website provides a direct link between the seller and customer that eliminates brokerage.
In India, the brokerage can run fairly high, with buyer and seller each paying about two per cent of the transaction value or two-month rent.
NoBroker claims it reduces the brokerage burden by a combined Rs.850 million every month on real estate transactions.
With over a million new customers registering on NoBroker every month, it is one of the best real estate websites in India.
4. IndiaProperty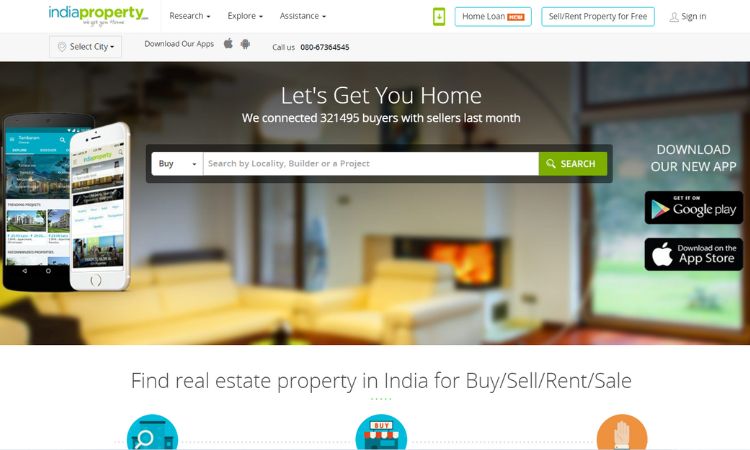 IndiaProperty is fourth on our countdown list.
Although I have limited experience with this site but what I found out the site works well if you have to do research about a particular property you want to buy.
The USP of this site is the details that it could offer. You can get into details for a particular city and dig up all the information that you need.
Moreover, India Property is also good for people living in smaller cities.
5. Housing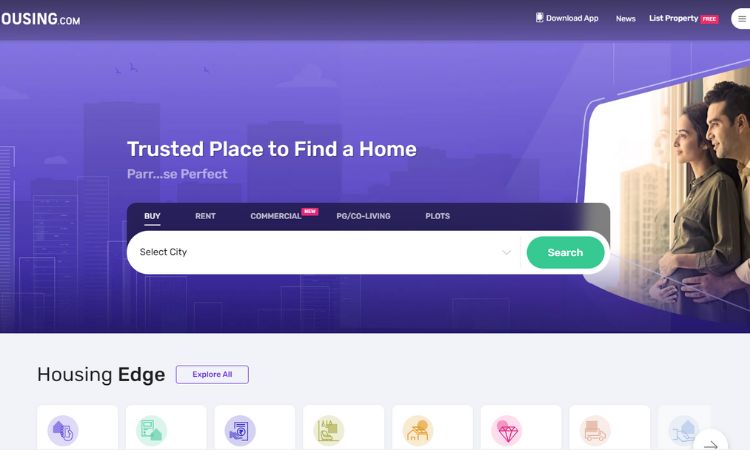 Next on our list is Housing. Web portals like Common Floor, IndiaProperty and Housing are in the same league.
The thing I liked about the website is the accuracy of its database. Their listing is still genuine and the success rate of buying or selling a property is good because of the quality of their data.
According to Housing.com, their verified listing is over 1 million.
Moreover, the web portal also has a good reputation if you want to buy (not sell) a property outside India.
6. NestAway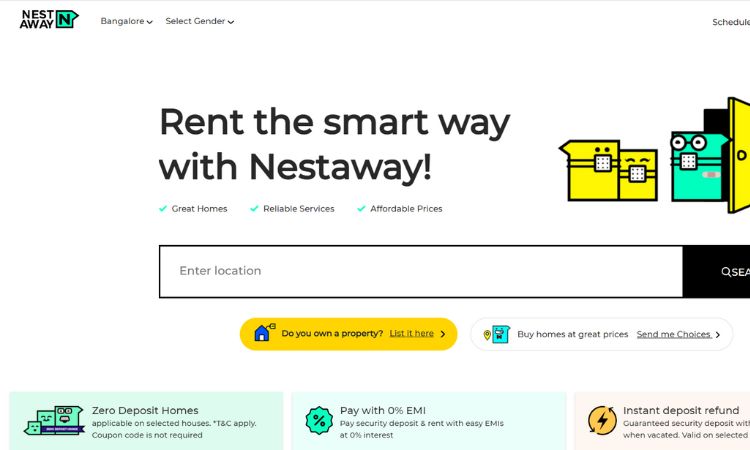 NestAway calls itself 'India's fastest growing managed home network.' Rightly so. This website began as a startup after four entrepreneurs found it difficult to get suitable accommodations in 2015.
Over the last four years of operations, NestAway has emerged as a property website of choice among women, men and families that need to relocate for employment or business.
Additionally, major companies hiring staff from other locations in India or foreign countries also approach NestAway to find suitable accommodations in all major cities.
I find this website a refreshingly new approach to relocations and finding homes for everyone. Additionally, NestAway also offers a referral program wherein you can earn up to Rs.10,000 cash for referring friends and homeowners to rent rooms or homes from this website.
7. CommonFloor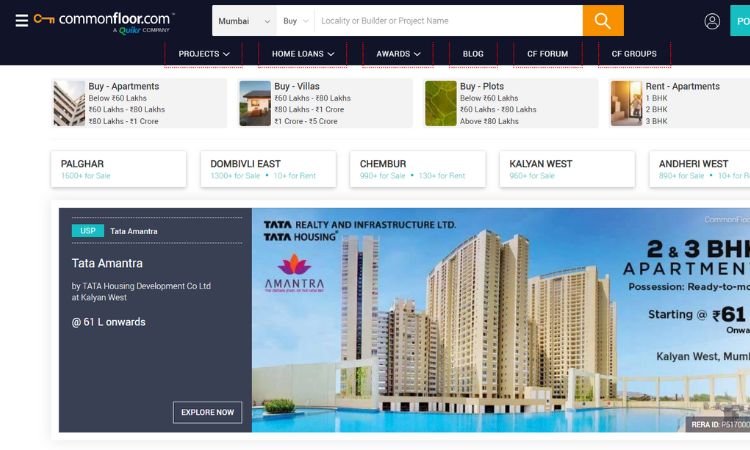 The next property site is CommonFloor relatively which has gained popularity in no time. Its USP is simple just buying and selling in major top-tier cities like Mumbai, New Delhi, Bangalore and other few.
So if you live in 3rd tier cities like Bhopal or Lucknow then you might run into problems with this web portal.
Otherwise, the site is pretty mediocre and has nothing special to offer.
8. Makaan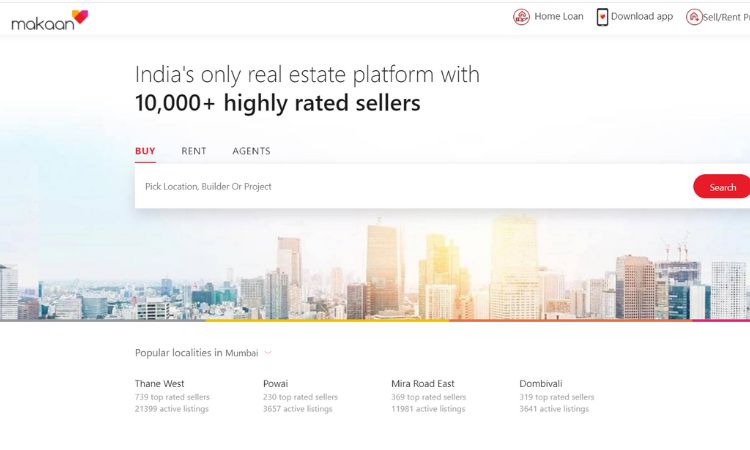 Makaan has been there for a while now but is still not in the top league. Well, a web portal has to have some USP otherwise it won't exist.
The USP of Makaan is the relatively better quality of database compared to others, for a few cities like Ahmadabad, Pune and Hyderabad.
9. PropTiger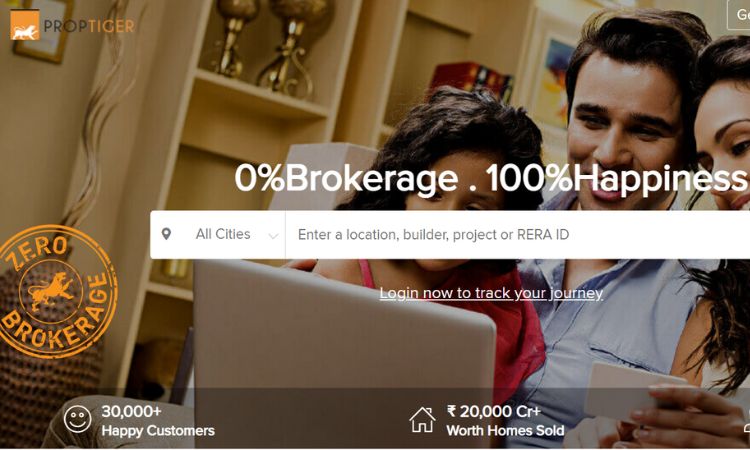 The second last that we have included in our top 10 list is PropTiger. The listings are good for only two cities Mumbai and Bangalore.
The USP of Prop Tiger is property listing if you are an NRI. Seriously avoid using this site.
10. Sulekha Properties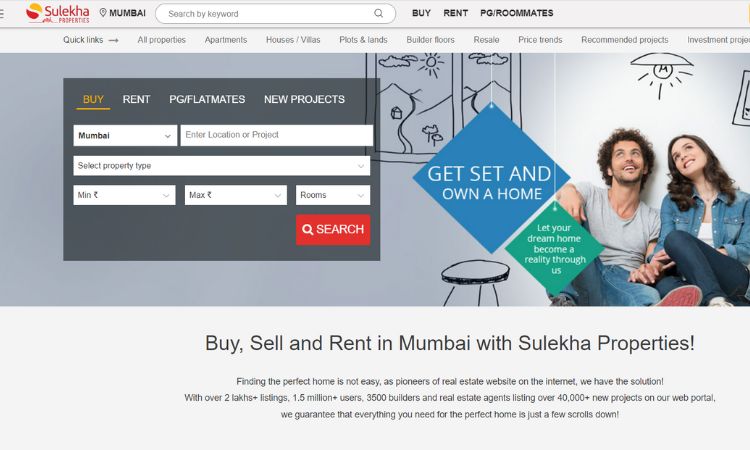 Another property site on our list is Sulekha Properties. Why are we saying so? However, we have kept this particular site in this position because of the quality of the database.
The real difference this web portal offers is local property search in your city.
The reason is every real estate web portal caters to properties in main cities like Mumbai, New Delhi etc but here if you live in a small city like Mysore or Nagpur then the site could offer some real deals.
So the USP (unique selling point) of Sulekha Properties is users living in south Indian cities.
11. Nestoria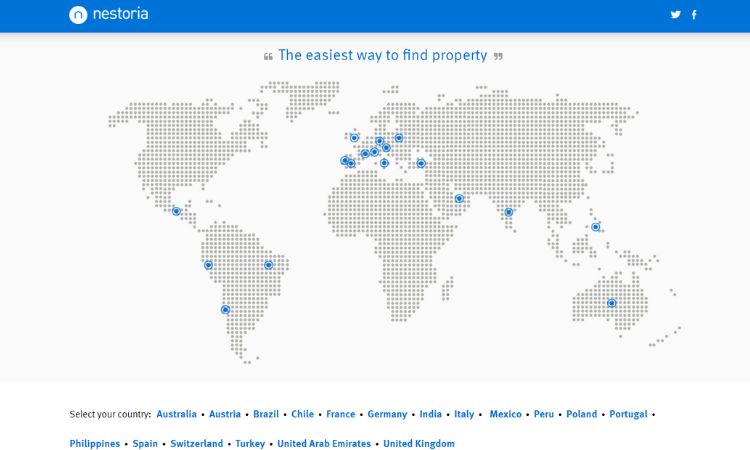 If you are looking for a great search engine that lists properties, real estate agents, builders and developers in India to rent or buy a house, visit Nestoria.
This website is a venture by London-based Mitula Group Ltd. Nestoria does not directly sell or lease properties: instead, it provides the vital link between you and homeowners.
Personally, I rate Nestoria among the topmost real estate websites in India for several reasons. You can find very affordable apartments in crowded cities like Mumbai and Delhi at very affordable rates.
Also, you have the option of renting or buying the property either directly from sellers or through a real estate agent.
Give a try to Nestoria if you are looking for great affordable accommodations in any major city in India. In fact, Nestoria, I found, ranks among the top websites for professionals relocating to various cities for employment, either alone or with family.
12. Roomster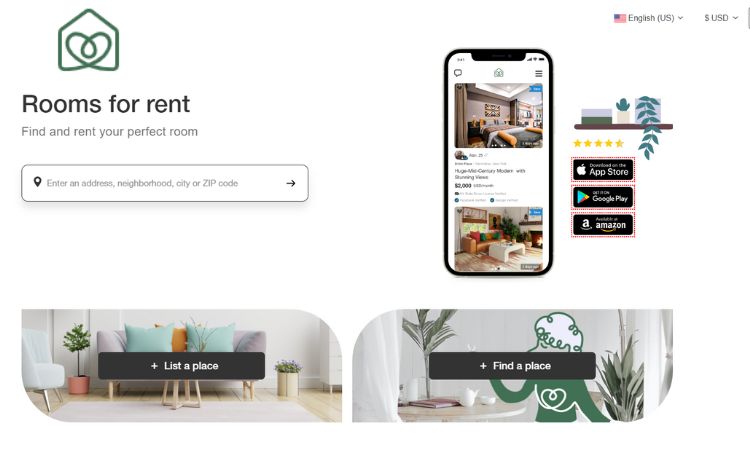 At the first sight, Roomster can daunt anyone. You might find prices in American Dollars and other major currencies or real estate listings in foreign countries.
But do not worry. Roomster is an international real estate website. They list excellent, affordable properties in major Indian cities too.
From Roomster, you can buy, sell or rent a house as well as shared accommodation in the city of your choice. And you can get rates in Indian Rupees, provided you choose that option.
I found their accommodation prices to be very reasonable. Prices for a shared room at prime locations in Mumbai, for example, start from as low as Rs.7,500 per month.
However, the website does not explicitly state whether the contact person is a real estate agent or a homeowner.
A great advantage from Roomster? You can also look for roommates to share your place. This website is ideal for single women and men that want to reduce their accommodation expenses or form a group to rent a house.
13. Real Estate India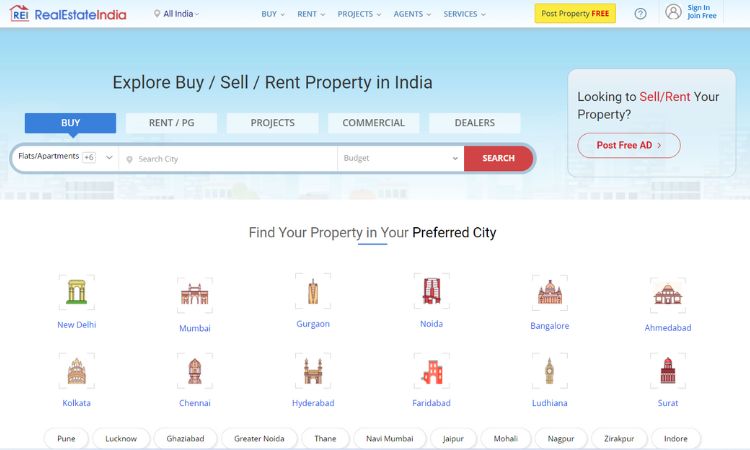 Real Estate India is the best website if you are looking at renting, buying or selling houses or commercial property in any corner of India. This company is in business for more than two decades.
Real Estate India has a very comprehensive listing of properties across the country. Their website enables you to search by location and price too.
More than 100,000 prospective customers visit the Real Estate India website daily. You can also email your specific requirements for renting or buying a house or commercial property in India.
The company has a team of experts across the country that can help identify the best places for you.
I found Real Estate India to be a very comprehensive and professionally managed real estate website. In fact, their tailor-made services for customers ease the process of hiring or buying and selling property.
14. OLX Homes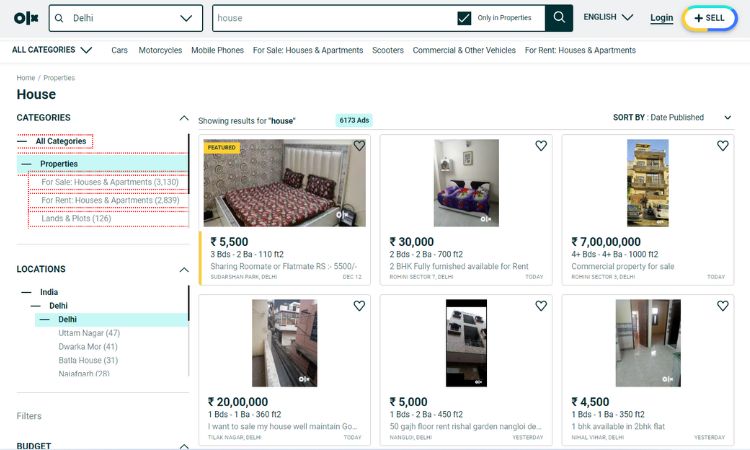 OLX ranks among the largest free classifieds websites in India. They list a variety of advertisements for products and services. However, their top viewed section is OLX Homes, a favourite among people across India who wish to buy, sell or rent their real estate.
If you are looking for real estate at any location in India, OLX Homes is an excellent website to try. Another excellent feature of OLX Homes is their listings get updated almost by the minute. This means you can view countless options before finalizing any deal.
Since this website is free, it gets millions of daily visitors. I found this website very helpful. You can spot ads, contact and finalize deals almost instantly. Most property postings also carry pictures, so you know what to expect.
15. Quikr Homes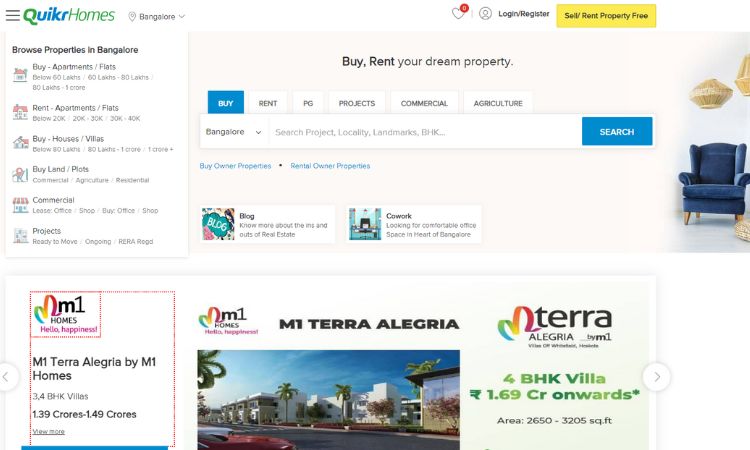 The next website is Quikr Homes, it is an online real estate platform in India that offers property listings for buying, selling and renting properties. The website provides a user-friendly interface for individuals and real estate agents to list and search for properties, making the process of buying, selling or renting properties much easier and more convenient.
Quikr Homes offers numerous benefits to its users, including a wide range of property listings, detailed property information, verified property listings, and a secure platform for transactions.
Whether you are a property buyer, seller, or renter, Quikr Homes offers a convenient, efficient, and cost-effective way to find your next property. With its comprehensive database and easy-to-use features, Quikr Homes is a must-visit for anyone looking for real estate services in India.
16. PropertyWala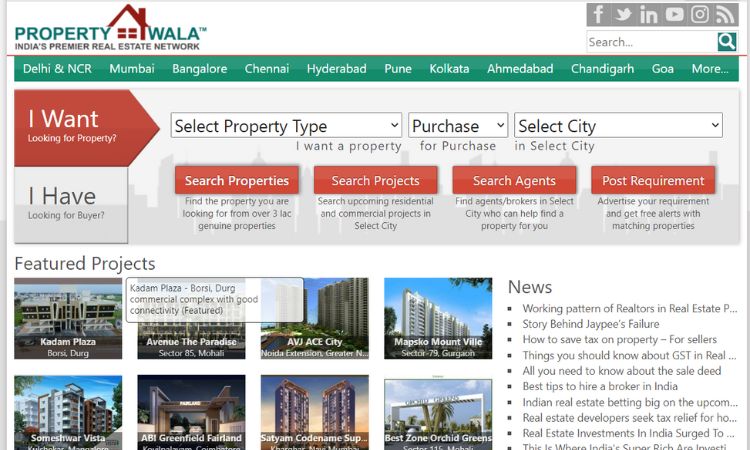 PropertyWala is a complete solution for real estate needs, offering a comprehensive database of properties and resources to help people make informed decisions. With its user-friendly interface, PropertyWala simplifies the process of buying, selling, and renting properties, making it a go-to destination for all property-related needs.
Whether you're a first-time buyer, a seasoned property investor, or simply looking for a place to rent, PropertyWala has everything you need to find the right property for you. With its commitment to providing the best possible service, PropertyWala is the ideal choice for anyone looking to invest in real estate.
Conclusion:
Top 15 Real Estate Websites in India for Property Search are a valuable resource for anyone looking to buy, sell or rent properties. With a wide range of options, comprehensive market information and tools for comparison, these websites make the process of finding the right property easier and more efficient. Whether you're a first-time buyer or a seasoned property investor, these websites are indispensable tools for anyone looking to invest in real estate in India.
FAQ
What is a property website or property portal?
A property website is an online platform for searching and comparing properties for sale or rent. It provides listings with details such as property descriptions, photos, maps, prices, and contact information. Some sites also offer tools and resources for home buyers and renters. The purpose is to make finding a property easier and more accessible.
Which real estate site is best in India?
In India, finding the "best" real estate website depends on personal needs and preferences. Popular sites like 99acres.com, Magicbricks.com, CommonFloor.com, Housing.com, and PropTiger.com offer a variety of properties for sale/rent across cities with search options based on location, budget, and property type. To make an informed decision, research multiple websites, compare their features, user experience, and accuracy of listings. Consult with a real estate agent for added guidance.
What is the best site for rental homes in India?
Finding the best rental home site in India depends on personal needs and preferences. Popular sites include NoBroker.com, Magicbricks.com, Housing.com, NestAway.com, and CommonFloor.com. To make an informed decision, research multiple websites, compare their features, user experience, and accuracy of listings. Read reviews and ratings, and consider consulting with a local real estate agent for added guidance.
Which is the best commercial real estate website in India?
The best commercial real estate website in India depends on personal needs and preferences. Popular sites include CommercialRealEstate.in, Square Yards, PropTiger.com, Magicbricks.com, and 99acres.com. Research multiple sites, compare their features, user experience, and accuracy of listings. Read reviews and consult with a local commercial real estate agent for added guidance.
What are the top 5 property websites in india?
The top 5 property websites in India are Magicbricks.com, 99acres.com, PropTiger.com, CommonFloor.com, and Housing.com. Research these websites, compare features and accuracy of listings, read reviews and consult with a local real estate agent for the best results.