A lot of us sometimes need to sell gold. There could be any number of reasons when we want to sell gold for cash. These could range from urgent need for cash or merely to get rid of old, broken jewelry and buy new ones.
Therefore, the question arises, where to sell gold for cash? And who are the best gold buyers near me?
The answer depends upon your need and urgency to sell gold. Because there're several excellent ways to sell gold for cash, both offline and online.
Gold, as anyone will testify, is an excellent asset to have. You can sell it anytime and the value doesn't really get any lower. Instead, you can expect to get more money, if you've bought the gold some time ago.
Therefore, let's see the best places to sell gold for cash and the best gold buyers near you.
Ways to Sell Gold for Cash (Gold Buyers Near You)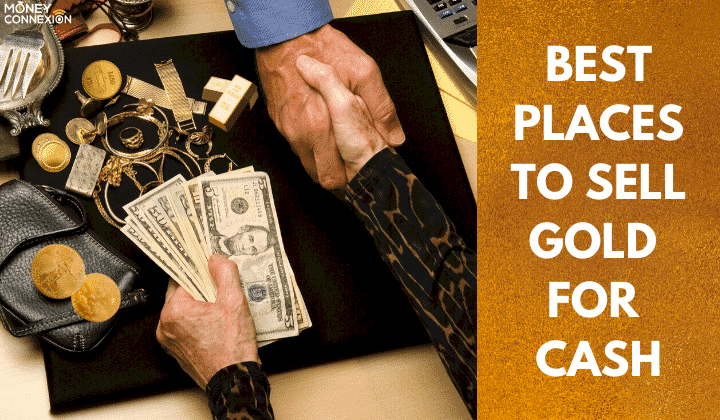 As I mention earlier, there're two distinct ways to sell gold for cash. Online and offline. You can use any of these, depending on the urgency to get cash.
Sell Gold Offline for Cash
Actually, you can get cash for gold instantly when you sell gold offline. However, it involves physically visiting the gold buyer near you. Who are these gold buyers, let's see.
1. Local Goldsmiths
Local goldsmiths are your best bet to sell gold for cash instantly. These goldsmiths are always ready to buy your gold provided you're selling it on their terms and conditions. Usually, they'll weigh your gold, assess it for the actual volume of pure 99.999 carat of the yellow metal and quote the price.
Here it's worth remembering that local goldsmiths usually don't pay you for other metals that go into making gold jewelry. The most common type of gold is 18 Carat. This means, the remaining part of your jewelry contains alloy of silver, bronze, copper and other non-precious metals.
However, selling to local goldsmiths is the best option if you require cash in hurry and want to sell gold.
2. Denture Manufacturers
This might come as surprise, but local manufacturers of dentures and dental fillings also buy gold jewelry. That's because they use the gold to make dental implants and other stuff useful for dentists in teeth replacement and smile repair therapies.
Selling gold to denture manufacturers is convenient but can take a couple of days. They'll first have to weigh the gold, check what's useful and provide you the quotation. Generally, these denture manufacturers will pay you for 18 Carat gold too because they require the alloy unlike goldsmiths who custom-make jewelry.
3. Jewelry Repairers
Have you ever wondered where to get that broken jewelry fixed? And maybe you've got it repaired too. If you've been fortunate enough to watch the process, jewelry repairers usually use a tiny amount of gold to patch up that broken part of your necklace or fix that birthstone on your ring.
And these jewelry repairers are the best place to sell your gold for cash. The amount of money you'll get purely depends upon the quality of your gold and the weight. Usually, jewelry repairers require gold in various purities: 14 Carat, 18 carat, 21 Carat and 22 Carat. If you have a small chip of 1gm pure, 99.999 pure 24 Carat gold, they'll buy that as well.
4. Used Jewelry Sellers
Used jewelry stores are yet another excellent avenue to sell gold for cash and get money almost instantly. However, they will buy your gold only if the ornaments are intact or fairly repairable and can be resold in the market. They won't accept gold jewelry that's lost its shape or broken into small pieces, has lost precious stone studding and other defects.
Normally, used jewelry stores can be found within your neighborhood. A few pawn shops also buy used jewelry provided you'll sell cheap. That's because these pawn shops take a risk while buying your gold. They mightn't be able to sell it off unlike jewelry stores or put it to other uses such as making dentures.
5. Local Auctions
It's also possible to sell old but intact or unbroken jewelry at local auctions held by community organizations and others. You may need to give a small part of the money you make by selling gold at these auctions to the organization. This is usually done to cover their cost in hiring a venue and other expenses.
This is an excellent way to sell gold for cash since the buyer will transfer money to your bank or debit card or pay instantly. Or they may give a small cash advance to reserve their purchase and collect the jewelry from you upon making full payment. Therefore, look out for such auctions in your area where you can sell gold for cash instantly.
Sell Gold Online for Cash
Thanks to the Internet, it's now also possible to sell gold online for cash. However, this process can take some time. A gold buyer will usually send someone to curate your ornaments before making an offer. Or you might have to ship them to the organization and await their response.
However, here're some places to sell gold online.
1. Goldkit.com
Goldkit.com promises to pay you the highest possible price for gold. All you need to do is register online on their website to start selling broken or intact gold jewelry and other gold scrap for cash. Remember to read their terms and conditions carefully and check how much cash you're likely to get. In fact, Goldkit.com is one of the most preferred online place for people that want to sell gold for cash.
2. CashforgoldUSA.com
Another superb marketplace for selling your used, broken and scrap gold is cashforgoldusa.com. They have a rather elaborate system to assess your gold and make an offer. The process to sell gold for cash online at cashforgoldUSA.com is fairly simple. Create an online account and list the gold items you're selling.
3. Facebook Marketplace
Actually I quite accidentally found that we can sell gold online for cash and get the money instantly on Facebook Marketplace. In fact, I would rate this as the best way to sell gold online, if you're in a hurry to get cash. That's because Facebook Marketplace allows you to find local buyers only. You have the option to sell online or invite the buyer to contact you and inspect the gold items.
Opening a Facebook Marketplace online store is very simple. All you require is create a Marketplace account on your personal Facebook page. Upload excellent pictures of old jewelry and gold scrap you wish to sell and quote a price. For online sales, you will require a PayPal account. Or you can request direct transfer to your bank or debit card account. Check Facebook Marketplace terms and conditions before signing up.
4. eBay
And finally, eBay, the evergreen marketplace for used and scrap gold jewelry. Actually, eBay is also a superb option since it allows you to sell different gold items separately for cash. This means, you can ask a different rate for gold jewelry that's intact and list scrap and broken jewelry separately to sell for another price.
To sell gold for cash on eBay you will require a seller's account. Opening the account is free, provided you have a working email ID, PayPal or bank account where customers can make payments. However, the flipside with selling gold for cash are eBay's fees and money transfer charges. Also check their Returns Policy since you might have to take back the gold if the buyer rejects it for any reasons.
Antique & Foreign Jewelry
If you have some antique or custom made ethnic jewelry from various parts of the world, it's possible to sell them for cash at very high prices. This depends upon the time when the jewelry was made, designs and other elements. Antique and unique jewelry is in high demand.
Selling antique and foreign jewelry for cash isn't simple or instant. However, you can fetch unbelievably high price for such gold items. That's because it's in high demand among collectors of jewelry rather than for its value in gold.
Closing Thoughts
Actually, selling gold is very easy if you know the right places. As I mention earlier, the demand and price of this precious yellow metal never really drops. And gold is an excellent asset to sell if you face an emergency and need cash right away. Try any of these methods I list above to sell gold for cash near you or online.