Is investing in gold a wise decision? Well! If you are new to gold investment and do not know anything about it then you should read this article before you think of investing.
First you need to know various forms in which you could buy gold. Then you have to know best ways to invest in gold.
Moreover, you will get an insight about gold investment. Finally you will come to know from where you could buy pure gold and gold coins.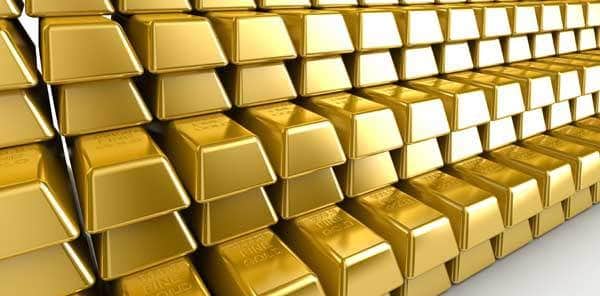 So let us see them in detail one by one.
Forms of Buying Gold
What are various forms in which you could buy the gold?
Gold Bullion
Gold Bars
Gold Coins
Gold Biscuits
Gold in the form of Jewelry
Although there are many other forms of buying gold like in the form of shares, certificates etc. But these are the best way to buy gold.
From Where You Could Buy Gold
Usually there are four places from where you could buy gold.
1. Banks
Transaction: it is physical as you are given gold in hand.
Pricing: It differs from place to place. Right now for 10 gm it is Rs 26,000+
Security: It is your responsibility.
Resale: The worst thing is that bank does not buy it back.
2. Jewelers
Transaction: It is physical
Pricing: Like a bank it differs
Security: Again buyer's responsibility
Resale: It does buy back but at discounted rate.
3. Gold ETF (exchange traded fund)
Transaction: DEMAT
Pricing: Related to international gold prices.
Security: Fund's responsibility.
Resale: Secondary market prices.
4. E-Gold
Transaction: Again DEMAT
Pricing: Linked to international market
Security: NSFL's duty not yours
Resale: Again secondary market prices
Top 6 Ways to Invest in Gold
There are 6 ways in which you can invest in Gold
1. Physical Gold
The first way in which you could invest in gold is buying physical gold commodities. You could buy physical gold in two forms first is Gold Bar or Bullion and second is in the form of jewelry.
Gold Bar or Coins: They are sold by both jewelers and banks as well. You could invest in gold bars and coins for your future need.
While banks only sell they do not buy back. Moreover, the cost of buying gold is always more than selling price hence your returns will go down.
Jewelry: The most famous way that every Indian does is through buying jewelry. It is done for consumption rather investment.
The advantage is that it is very easy to buy and whole family could buy gold. However, you don't pay the market price and the quality of the gold may be inferior.
2. Gold ETF
Next way to invest is Gold ETF. If you have a demat account then you could invest in Gold ETF. ETF is online version of physical gold.
This form of investment has some good part and some negative points.
You can start investing with 1 gm of gold later you could invest more. But you have to pay brokerage fees and it is virtual, so you don't feel the gold in your hand.
3. Gold Mutual Funds
Gold Mutual funds are those mutual funds which invest in another parent mutual fund.
And they invest in stocks of gold mining companies and companies which are related to gold related activities.
Here you cannot track the gold price because they don't invest in gold but in gold related companies.
4. Gold Saving Funds
They are mutual funds which invest in real gold. They get the money from people and buy gold.
You have to buy units of these mutual funds. The advantage is that you can systematically invest in gold per month through SIP route. Moreover, you do not need a Demat account.
However, you have pay charges for administrative and other expense ratio.
5. E-Gold
It is like Gold etf where you have to invest in online format. Here a demat account is needed.
The best thing about e-gold is you could get physical gold with some terms and conditions but negative point is not all big broking houses accept demat account and you need to open another demat account.
You get other commodities like silver and platinum.
6. Gold Futures
The last but not the least is investing on gold futures. However, it is more of a trading activity rather investment.
Gold future is used to protect pricing.
For example, if the price of gold today is Rs 35,000 and a 3 month gold future price is 35,500 , then you can lock the price at this moment to 35,500 , so that when you want to buy the gold after 3 months, you get it at 35,500 only.
So these were 6 ways to invest in gold. You could choose anyone of them which suits you the best.
Gold Price for Last 5 Years
Now before you think of buying gold you need to know how gold prices are fluctuating for last 5 to 10 years in India.
| | |
| --- | --- |
| Year | Rate(In INR) for 10 gm |
| 2000 | Rs. 4400 |
| 2001 | Rs. 4300 |
| 2002 | Rs. 5000 |
| 2003 | Rs. 5700 |
| 2004 | Rs. 5800 |
| 2005 | Rs. 7000 |
| 2006 | Rs. 9000 |
| 2007 | Rs. 10800 |
| 2008 | Rs. 12500 |
| 2009 | Rs. 14500 |
| 2010 | Rs. 18000 |
| 2011 | Rs. 25000 |
| 2012 | Rs. 32000 |
| 2013 | Rs. 29000 |
You could see the price of gold fluctuating from the year 2000 to 2013. In Year 2001 it was only Rs 4400 for per 10 gram however in 2013 it is Rs 29,000, an increase 3 and half times.
So you can predict what will the gold price in coming days.
It may rise or decrease we cannot say because in 2012 it was 32,000 and presently it reduced to 29,000. So it is fluctuating very rapidly.
Hallmark and Certification for the Purity of Gold
Buy jewelry only with Hallmark. A Hallmark has five components. Before you buy gold from anywhere you should look these 5 things.
1. BIS mark
2. The Fineness Number
Here is the chart:
958 Corresponding to 23 Carat
916 Corresponding to 22 Carat
875 Corresponding to 21 Carat
750 Corresponding to 18 Carat
585 Corresponding to 14 Carat
375 Corresponding to 9 Carat
3. Assaying and Hallmark Center's mark
4. Jeweler's Identification Mark
5. Year of Making
In conclusion, I would say before making an investment in Gold please read this article. It will help you to make right decision because it gives a basic knowledge about gold investment.