Selling your car anywhere in America isn't a big deal actually. There're countless places- both online and offline- where we can sell a car quite quickly and get cash. As a matter of fact, we can sell a car almost immediately, if we require money almost immediately. Or, we can wait for some time and get a better price.
How does one actually get a good price for a used car? Actually, that's fairly easy. To get a good price, there're the 17 best places to sell your car. The good news is that some of these places are online too. That means you don't really need to go to a car dealership to sell. You can sell your car from the comfort of your office and home or even while on the move.
There're several things that you would have to do before you sell a car and get good money. I will discuss these later in this article. Therefore, make sure that you read till the end.
First, let's start by discussing the 12 best places to sell your car. That would give you a good idea of where you can fetch a good price for your car.
17 Best Places to Sell a Used Car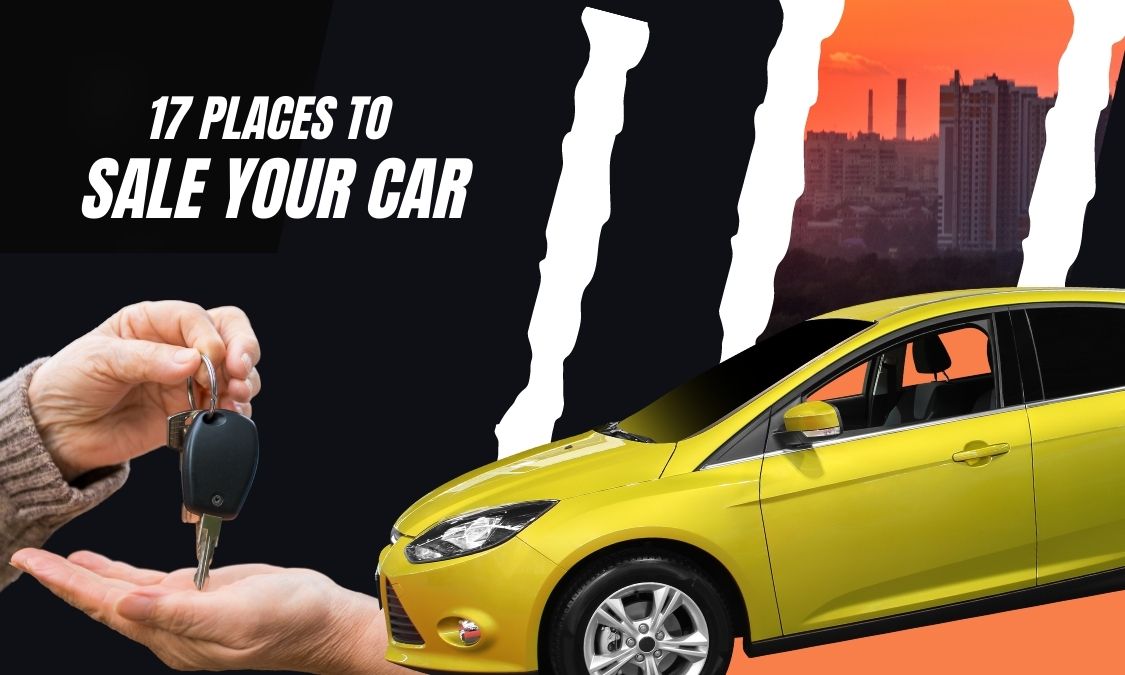 If you're planning on selling your car, it's always better to try more than one place. That's because you could get a better offer from one place than the other. Some persons also use multiple places to ensure they can sell their used car quickly.
Read also: 10 guaranteed ways to make money with a car
1. Facebook Marketplace
For many, the mention of Facebook Marketplace at the No-1 position as the best place to sell a car might come as surprise. However, I will explain why I rank Facebook Marketplace first on my list. Firstly, Facebook Marketplace is free to use. All you have to do is upload superb photos of your car, the location, and some other details on Facebook Marketplace and post. 
This post for selling your car will usually be seen within a radius of about 100 sq. km from your location. That means you will attract only local buyers who can visit your place and inspect the car, to finalize a deal.
This saves you a lot of hassles and expenses. Furthermore, you will attract genuine buyers, which are people that're actually interested in buying the car, instead of mere or idle inquiries. You can save a lot of time too by selling your used car through this platform.
2. eBay Motors
As you would most likely know, eBay is a superb website where you can also sell a lot of old and used stuff. This includes everything from auto spares to antiques. In fact, eBay is also very famous among people that wish to sell their car and avoid much hassles. You can also register on eBay Motors to sell your car quickly.
Selling a car on eBay Motors is fairly simple. All you need is a seller account on eBay, a few superb photos of your car, and all the specs. Once you have these in place, post the photos, write a superb description and mention your asking price. Keep the asking price a bit higher since you might have to truck the car to some other location in the USA.
3. LinkedIn
Actually, LinkedIn doesn't have a facility that allows people to buy or sell anything. That's because LinkedIn is purely a platform for networking with various professionals, colleagues, and others. However, there're thousands of people that've sold their car successfully through LinkedIn. How to do that? I will explain briefly.
If you have a LinkedIn account, it's possible to create a post. You can mention that you're selling a car and upload a photo of the vehicle, along with brief descriptions. However, never create an ad-like post since that's unacceptable on LinkedIn.
Instead, you can create a post such as asking for suggestions for the price or something similar. Since the post is seen by countless people worldwide, you can attract a few interested persons nearer home as customers for your car.
4. Craigslist
Craigslist, as you would most likely know, is a website where anyone in America can create a free classifieds ad and get customers. Thousands of cars are sold every month by their owners through Craigslist.
This is a very economical way to sell your car quickly. All it takes is a few minutes of your effort and the willingness to answer phone calls or online queries.
Opening an account on Craigslist is very simple and takes less than five minutes of your time. Once your account is ready, upload your brief description of the car for sale in the automobile section.
You can also select the locations from where you wish to attract buyers. Mention your asking price and contact details. Usually, buyers will contact you directly by phone or email, or WhatsApp, if you're using this messaging app.
5. OLX Autos
OLX Autos is part of the Netherlands-based eponymous company, OLX. They operate in some 30 countries around the world as a buy-sell marketplace for preowned and old goods. However, OLX Autos operates in Argentina, Columbia, Chile, Ecuador, India, and USA, as well as some other places.
Selling a car through OLX Autos is very easy. You have two options: one is a basic posting and the other is premium. With a basic account, you can only post a text ad with limited details of your car. The premium account allows you to post photos of the vehicle and some more details.
6. Preowned Car Showrooms of Companies
Now, coming to some offline places to sell your car easily. The first place I would suggest is the preowned car showrooms of automobile companies. There could be one near you because most major car makers have their preowned car showrooms across the USA. They sometimes operate through a franchise partner.
The preowned car showroom of the company that made your car can also offer you an exchange deal. That means you can get a car of the same company but a later model or different type for a little more money.
Carmakers encourage people to retain the same brand since it increases their loyalty and sales. You could consider this option if you're looking for changing your car but buying from the same automaker.
7. Pawnshops
If you require some money in an emergency and have no ways to get the cash, try selling your car at any nearby pawnshop. As a matter of fact, pawnshops across the USA buy cars in cash, on the spot too.
However, in such cases, you might have to settle for a lower price for your used car. The difference between the actual sale price and the rate offered by a pawnshop can be very large too. This is, however, the perfect way to sell a car in a hurry and get cash immediately.
To sell your car to a pawnshop, you would require all the documents to prove that you're the legal owner. The pawnshop will also require other details, which can vary. Usually, they will ask for your driving license or sometimes, your bank account number for transferring the money. There's no harm in selling your car to a pawnshop since most of them are legit and do business in a proper manner.
8. Nearby Colleges
What has a college got to do with car sales? Obviously, you would like to know the answer. Actually, a lot of college students or their parents look at buying a preowned vehicle. That's because some students don't live in dorms or the campus and need to commute daily to college and back. And they also need a car for their social and personal life.
In such cases, students and parents look for buying cars directly from owners. That's because it's possible to get good deals directly from owners in the area of the college.
You can ask a college on how to inform students that you have a car for sale. Generally, they will ask you to make a post on their Facebook page or show some other way. The college has no authority over your buy and sell process.
9. Scrap Dealers
This is the last option for some car owners. But I'm mentioning it at No-9 because it's very important too. If your car is no longer useful and beyond repairs, it's best to sell it as metal scrap. That's because metal parts of the vehicle and the chassis starts rusting over a period of time.  This rust can pollute your garage or any other location where its lying.
By selling a car to a scrap dealer, you're actually saving the environment against further degradation. A scrap dealer will usually buy on a weight basis only. Since it's difficult to find out the exact weight of metal in a scrap car, they will offer an approximate value. This is still better than being left without money and allowing the car to rust and degenerate further.
10. Carlotz.com
Carlotz.com owns an eponymous company that buys and sells preowned cars. Fill their online contact form and submit, with details of the car you wish to sell. Generally, they reply within 24 hours and 48 hours. Carlotz provides you a near-accurate estimate of the price of the car you're selling and there're no obligations to sell to this company.
Carlotz has showrooms spread at select locations in Texas, Colorado, California, Alabama, Tennessee, Illinois, North Carolina, Virginia, Georgia, Florida and Washington states, to name a few places. Lookup for their nearest locations on Google or through their website.
11. Carfax
If you want to know the history of a car, the best place is of course, Carfax. But above all, Carfax is also one of the largest car dealerships where you can easily sell your car for cash. And get the money quickly too, depending on your location and the make of your car.
Carfax works in a very professional manner. They will first make a car history report when you're selling your car with them. This means you don't need to get a separate Carfax report to show buyers. And they'll also sell the car through their outlets and website. This saves you the problem of looking for customers.
12. Koons
Koons is an online marketplace for selling or buying a preowned car. They often have promotions, where anyone that sells a car to Koons gets a free voucher worth $750. The voucher gets you a discount when you buy another car from Koons online or offline.
According to Koons website, the company pays you the same day as you sell your car. However, for the same day service, you have to put the sell order during their working hours. Koons has multiple car showrooms in the states of Virginia and Maryland.
13. Hemmings
Hemmings cars operates from Vermont. However, you can sell a car with Hemmings online too. They have a contact form on their website where car owners can get in touch with the company. Or, you can call them between 8am and 6pm from Monday to Thursdays and 8am to 5pm on Fridays.
In addition to regular cars, Hemmings also buys industrial vehicles, vintage cars, sports cars and other expensive models of autos. They have an auction system in place where customers can bid for a new car. You can enquire with Hemmings about selling your car.
 14. Cars
Cars.com is around since 1998 and is a Chicago-based company that also operates through franchise outlets across USA. They're among the largest car buy-and-sell platforms in the USA. The company also runs other websites such as Autos.com.
Upon sending an online inquiry to Cars.com, the company will direct you to a nearby dealership where you can sell the car. They also provide two options- one is a free listing of your car on their website while the other is a premium and paid option. The paid option enables your post to reach more buyers.
15. AutoTrader.com
AutoTrader.com is one of the websites of choice if you're looking at selling your car quickly and need the money soon. That's because they give you a couple of options. One is to sell directly to AutoTrader.com, which can involve some waiting. The other is to sell instantly to a car dealership that is also their franchise partner.
In any case, AutoTrader.com lists your car for sale according to its make and model as well as other details. This helps people that're looking for a car to find the one you're selling, rather quickly. They ask you for all details about the car to ensure that you can get customers quickly.
16. CarMax
CarMax is a wonderful website to sell your car online. However, selling a car here requires a visit to one of their dealerships. You have to personally visit the dealership with the vehicle for experts to assess its condition and the market price to make you an offer.
The best part of CarMax is the spot offers. If you wish to get the money quickly, simply accept their offer. The other superb feature is that CarMax will do all the formalities for selling your car to another person. But you might get a little lesser than actually selling to a buyer.
17. Vroom
Selling a car anywhere in the USA is possible with Vroom. All you have to do is visit their website and ask for an assessment of your vehicle. They will direct you to the nearest dealership for this process. The best part of Vroom is that they accept cars from owners all across the USA and they also ship sold cars across the country.
They have a facility to sell your car immediately too, through any of their dealerships. However, the best option would be to go for a direct listing on their website. This ensures that you can get the best possible price for your car, though it means you might have to wait a few days.
Before Selling Your Car
As I promised earlier, here're some things that you should actually be doing before selling your car. These tips and tweaks could help sell the car for the highest possible price. Understandably, some of these tips would cost some money. But the expense would prove worthwhile.
Car Detailing: Have your car detailed because nobody- neither an online buyer or anyone else- will buy a vehicle that looks shabby and smells bad. You could do the car detailing yourself or take it to a workshop near your area.
Basic Repairs: It's best to do some repairs to the car before selling. That's because you surely don't want something to malfunction when during the assessment by a dealer or buyer. The better the car runs, the greater your chances of selling quickly.
Carfax Reports: A Carfax report costs money. However, a lot of buyers wish to see a Carfax report for the car, of at least one from similar other sources. There're ways and means to get such reports free, if you look online. Normally, car dealerships get a report for the customer.
Wrap Up
The next time you wish to sell or even buy used car, this list can prove very helpful. All these places that buy old cars also sell them. You can use one or more of these places when trying to sell your car.
As a matter of fact, most car owners prefer selling online now, because it's faster and helps them avoid a lot of hassles that're related to sales in person.
Normally, the car seller is expected to help with the transfer formalities and other documentation. Instead, you can get a dealer to complete these for you and save a lot of time, money and effort.