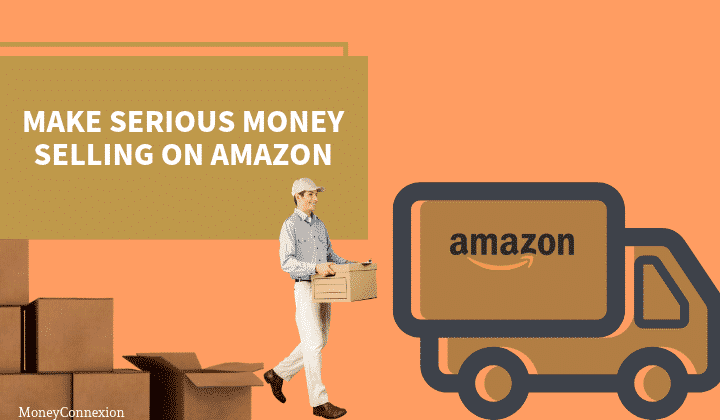 Amazon ranks as the largest online retailer in the world. Want to know how to sell on Amazon? The reason: Amazon lists and sells over three billion products worldwide.
Further, Amazon also offers various payment options including cash-on-delivery (COD), credit card and debit card facilities to buy expensive stuff on instalments.
It has an excellent returns policy for most items that allows buyers to return something they do not like or is malfunctioning. Therefore, it ranks on top of the best online shopping sites in the US.
Reasons to Sell on Amazon
A vast variety of products: about three billion from sources across the world is the main reason for Amazon's runaway success. Of course, there are other factors too.
But there are no other online retailers that sell these many products. This must be getting interesting for you to know how to sell on Amazon.
Interestingly, Amazon does not stock majority of these products at its warehouses: it would prove a logistical nightmare.
Instead, Amazon allows individuals, small and large businesses to sell through its popular website. This system works in a very simple way.
A customer places an online order with Amazon.
Upon confirming, Amazon passes this order to you or your business.
You have to pack the stuff using Amazon-branded boxes or bags.
Amazon arranges to deliver the stuff from your premises to the customer.
Further, Amazon collects the payment on your behalf from the buyer.
Amazon pays you for the stuff, once the minimum waiting period is over, to ensure there are no returns from the customer.
Amazon continues to help millions of small businesses around the world with Amazon business to grow and make profits around the year.
It also has a feature called 'Sell on Amazon' especially for people interested in retailing their products through their world famous website.
Facts & Figures about how to sell on Amazon
Amazon recorded global sales worth $232.89 billion during the calendar year 2018. This indicates a 30.9 percent increase in year-on-year sales compared over 2017.
Sales in North America stood at $141.27 billion in 2018 showing an increase of 33.2 percent over 20167.
Global sales accounted for $25.66 billion on 2018 marking rise of 21.3 percent over the previous year
Amazon Web Services netted $25.66 billion in 2018, with an increase of 47 percent over 2017.
About 52 percent of Amazon sales worldwide came from third-party sellers. Sellers on Amazon worldwide contributed about $13 billion in fees to Amazon during the fourth quarter (Q4) of 2018.
These facts and figures are tempting enough if you wish to become a seller on Amazon. Actually, it is very simple to sell on Amazon and make money. I will discuss the same in detail through this article.
How to sell on Amazon with "SOA program"
Amazon has a wonderful program called 'Sell on Amazon' or SOA that allows you to showcase and help you with how to sell your stuff on Amazon with its largest online store in the world.
Amazon Handmade
Amazon Handmade is a special service from this global giant. It allows women and men that make handicrafts or other made-to-order goods to sell products online. Since such products are made according to a buyer's specifications, terms and conditions for joining the SOA program are different.
Individual artists can sell made-to-order articles such as selling handcrafted items like paintings, carvings, statues and other handmade items on Amazon. This means, you need not keep an inventory of the goods: they can be made only upon getting a firm order from Amazon.
Registration to Amazon Handmade SOA program is by invitation only. If you are an artisan, Amazon will require you to provide a story or folklore that goes with the handicraft or hand-crafted item. Your personal biography as artisan helps get customers quickly. Also, it helps Amazon to verify you are a crafts-person and not sourcing the stuff from anyone else.
Steps for how to Sell on Amazon with ease
There is an excellent service known as Amazon Seller Central. It consists of various ways to sell stuff on Amazon. You too can become part of Amazon Seller Central by opting for any or all services that suit your needs.
Here I will simplify and explain various steps about how to sell on Amazon. The trick of getting started is keeping it simple.
1. Register for Amazon Marketplace
The first step towards selling products on Amazon Marketplace is opening an SOA account. This is very simple. Here are basic details you need to open the Sell on Amazon or SOA account.
Valid email ID, preferably of your business.
Name of store/ shop/ company.
Tax registration numbers where applicable.
Location of your business.
Contact details such as telephone number.
Name of your business website, if any.
If you are an individual planning on selling furniture or handcrafted goods, follow the same procedure. Here, you can give your income tax number issued by authorities in your country. For example, this can be your Inland Revenue Service (IRS) number in the US or Permanent Account Number for Indians.
2. Free or Paid Registration?
This can be very confusing for any beginner that wants to sell on Amazon. In some countries, Amazon does not charge any fees for joining its SOA program. In others, there is a nominal monthly fee.
Hence, it is best to visit the Amazon website that operates in your country and find how much it costs to register as SOA. Some levels of SOA are free but you have to pay for others. Also, you may have to pay a fee to cancel your SOA account.
3. Await Confirmation
Usually, Amazon confirms your registration almost instantly. It means you will get a confirmation email. Click on the link that appears on your email to confirm your account.
However, in some instances, confirmation can come later. This occurs if there are any discrepancies about your company information, address, contact number or fax number, among others.
If your confirmation is delayed, Amazon sometimes notifies the reasons. In such cases, just provide accurate information. It is worth remembering that providing false or incorrect information can cause Amazon to close your SOA account. In such scenarios, you can also lose money.
4. Opt for Amazon FBA
Amazon FBA or Fulfilment By Amazon is an excellent facility the giant online store offers to its sellers in countries where it runs own websites. It is best to opt for the FBA facility when you wonder about how to sell on Amazon.
The reason is very simple. Opting for FBA saves you a lot of time and money in packing and shipping an order. This proves very useful if you are selling fast moving goods like smartphones or holiday supplies and during Amazon sale.
FBA means Amazon will handle the entire logistics process. This includes collecting the sold item from your location, packing it in Amazon-branded bags or boxes, carrying it to their nearest aggregation point, onward despatch and delivery.
FBA allows you to send orders quickly to customers you get by selling on Amazon. You pay Amazon the cost of end-to-end logistics.
5. Multichannel Fulfilment
Multichannel Fulfilment or MCF is another great facility you can enjoy when you seek answers for how to sell on Amazon. In simple words, it means you can send all or part of your stocks to the nearest Amazon Fulfilment Centre. Obviously, Amazon will not pay you upfront for the goods you send to their fulfilment centre: you get paid only after the stuff is sold.
MCF has several distinct advantages. It saves you a lot of costs on warehousing and storing goods. This is particularly useful if you are dealing in fragile items or those needing special care such as electronics, smartphones, computers and laptops.
When anyone places an order for these items, Amazon will directly ship it to the customer from their nearest fulfilment centre. Hence, you can make money faster, since no time is wasted in taking the stuff from your location, packing and forwarding.
6. Getting Payments
Amazon usually pays you within a week to 10 days of fulfilling an order. However, this can vary according to your location and returns policy in the country.
Amazon will send the money directly to your bank account. This is subject to the condition that a customer has accepted the goods and not found any flaws or reasons to return.
Under SOA program, Amazon will charge you nominal selling fees. The schedule of Amazon selling fees differs according to your location and delivery location.
This fee is deducted from the money Amazon owes you. Hence, Amazon will deposit money for the stuff minus its seller fee and other charges such as FBA or MCF facilities.
7. Amazon Global Selling
Amazon Global Selling is a facility that allows you to sell on Amazon worldwide. This facility is available to members of Amazon Handmade and Amazon SOA programs.
Amazon Global Selling membership is available at a nominal fee. Once you enrol as Amazon Global Selling member, you can sell on Amazon worldwide.
Of course, you cannot sell to clients in sanction-hit countries. The number of items you can sell in certain countries also depends on how do you sell on Amazon with their existing rules and regulations.
You have to register for the Amazon FBA program for delivery of your stuff to foreign parties. You can select specific countries or regions of the world to sell on Amazon or market products worldwide.
8. Amazon Prime Seller
You may have definitely heard about Amazon Prime. It is paid membership that shoppers avail for a nominal annual fee.
Amazon Prime allows buyers to get exclusive rates, free shipping on select items, priority in purchases during Amazon sales and festive offers, streaming video, music and lots more.
Once you enrol under the SOA program, it is also possible to become an Amazon Prime Seller. As Amazon Prime Seller, you get opportunities to sell your stuff faster.
Registration as Amazon Prime Seller comes at a small charge for sellers in some countries while it is a free facility elsewhere. You only need to sign up for Amazon FBA and Amazon MCF programs to ensure that Amazon can execute an Amazon Prime order rapidly.
9. Sell on Amazon as Affiliate
If you are running a blog or have a website with large, interesting content, you can sell on Amazon by becoming an affiliate. Indeed, Amazon operates the world's most successful associate program you can make good money with. It is called Amazon Affiliates.
You can join Amazon Affiliates for free and avail a personal dashboard. It allows you to create links and advertisements that can be published on your content and website.
A lot of companies sell their own products on Amazon by becoming an affiliate. However, there are strict rules about promoting own products as Amazon Affiliate. The website or blog should not indicate that you are the manufacturer or seller.
The best way is to open an independent blog, write excellent product reviews and provide a link where customers can click and buy the stuff from Amazon.
Do not worry about how to sell stuffs on Amazon as you can create links for other products too from Amazon and create affiliate links.
10. Selling Dropshipped Items
Selling dropshipped items on Amazon is becoming a growing trend worldwide. Nowadays, people get the best things to buy on Amazon and a lot of stuff at very economical rates from dropshipping companies in China and elsewhere.
Dropshipping has one advantage: you can bargain prices with the manufacturer and get very low rates. You can stock these best selling items on Amazon SOA program as a seller.
Dropshipping to sell on Amazon is one not so easy way to make good profits. Since there are countless products available from dropshipping companies, you can select one or more particular segments of what to sell.
Also, ensure the stuff is of high quality to avoid any returns or problems among buyers. It also allows you to create your own brand and sell on Amazon.
How to sell MLM products on Amazon
There exists some ambiguity over the sale of Multilevel Marketing (MLM) and direct marketing products on Amazon.
Almost everything from MLM companies such as body and beauty products, skin care, herbal essences and nutritional supplements are easily available on Amazon. While some MLM companies sell directly on Amazon, others permit their marketers too.
On the other hand, a lot of MLM companies do not sell either directly or through their associates on Amazon.
Therefore, you must know what to sell on Amazon if you are a business associate of an MLM company. It is best to find out from Amazon whether it is possible to list these products. Else, you may risk losing your business with the MLM firm.
Wrap Up
The above steps should help you get insights on how to sell on Amazon. Indeed, Amazon selling can open your roads to profits and prosperous life. However, you need to meet the strict criteria of Amazon to become an Amazon seller.
For those planning on popularizing homemade jams or other foodstuffs, Amazon can make mandatory to provide clearances from the FDA and other authorities about food safety of the product.
Also, Amazon has stringent rules about what it permits for sale on its websites. Hence, your products have to conform to these standards. Amazon allows verified buyers to post Amazon seller reviews and provide star ratings for all products. Hence, selling something of inferior quality can sound the death knell of your business.