People sell their used furniture for variety of reasons: relocating to distant location, moving home or simply because they wish to buy newer stuff.
Yet others redesign their homes and want furniture that complements décor while some have little or no use for excess furniture. There is yet another category of people who sell furniture because they desperately need the money to fulfill some urgent need.
In the US, it is very easy to sell used furniture depending upon how quickly you need the money. Before venturing to sell used furniture, decide whether you are looking for customers within your neighborhood or locality, across the US or worldwide.
This guide will help you sell used furniture fast.
Ways to Sell Used Furniture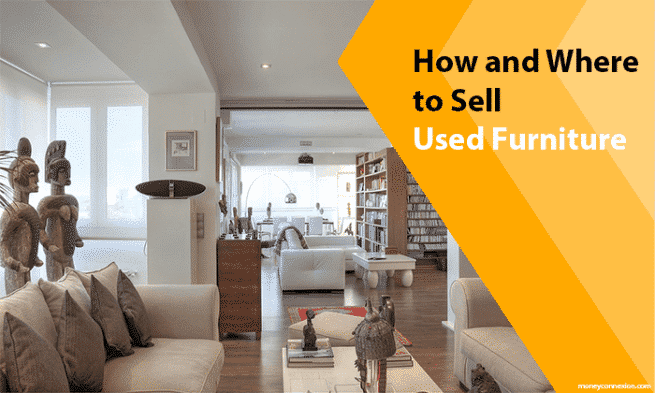 There are three best ways to sell used furniture in the US.
Sell used furniture yourself.
Advertise on paid websites.
Post on free online advertising platforms.
Let us look at the advantages and disadvantages of selling second hand furniture through these three ways.
1. Sell used furniture yourself
Selling used furniture yourself is rather easy. However, it would require some effort on your part. You can sell used or resale furniture and get money quickly through these means:
a) Sell furniture From Home
Here, you can advertise furniture you wish to sell through a classifieds in a good local newspaper. Provide your phone number or email ID where people may contact you. Fix a date and time between which prospective buyers can come and view the used furniture on sale.
Accept bids for all or select pieces of furniture and sell it to the best bidder. This way, you are assured of getting money quickly. The main hassle here is letting people into your home to view what is on sale and the time you allot for this process.
b) Advertise at Community Center/ Hall
Display a small advertisement briefly describing the used furniture you are selling can be at your local community center or hall, church or other public that offers the facility. Provide your contact details for prospective buyers.
Once again, the hassle is to allow people at your home during the designated time to view the furniture.
c) Used Furniture Dealers and Shops
Several brick-and-mortar shops buy used rv furniture, albeit at discounted rates. They will make spot offers for everything you wish to sell. This is an excellent way to raising money rather quickly.
These used furniture stores buy your stuff and resell it after refurbishing.
d) Exchange Offers
Unless you are relocating, you can avail exchange offers from your local furniture store. This means, they take away your used furniture, assess its value and offer you discounts on the new one you wish to buy.
Exchange offers are generally hassle free since the dealer will arrange for the used furniture to be transported from your home to their warehouse. However, exchange offers can often fetch you much lower price than direct selling.
2. Sell Online through Furniture Websites
Scores of websites specializing in used furniture offer an opportunity to sell without much hassle. They charge fees ranging between two and five percent of the total value of the sale.
However, they offer a nationwide and sometimes, worldwide reach. This means, you stand chance of disposing used furniture for the price you demand minus, of course, the commission.
Before you sell used furniture online on these websites, you will require
Brief description of the furniture items.
Pictures of your furniture.
Sale Price.
Contact Details.
Mode of Payment.
Some of these websites are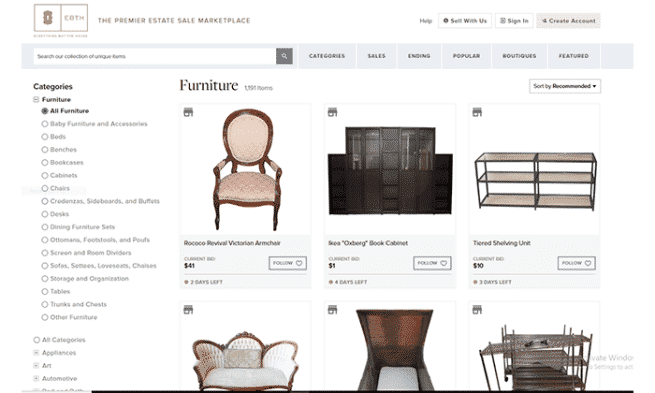 EBTH stands for 'Everything But The Home.' It ranks as a top website for selling second hand furniture as well as electronics and home appliances and other household stuff. EBTH offers services in 22 markets across the US, including real estate service. Hence, your used furniture often finds clients among home buyers.
Upon registration, EBTH sends its personnel to your home. They assess used furniture you are selling and set a price. Often, this service has helped second hand furniture sellers to get higher than expected prices because EBTH staffs have skills to assess the market value based on antiquity, make and other parameters.
EBTH catalogs your used furniture and sells it through its website.
Apartment Therapy is a website with a difference. They provide a list of furniture and articles that helps people to find best solutions to decorate and furnish homes. In 2017, Apartment Therapy bought and merged a used furniture reseller, Krrb. It now operates as rebranded Apartment Therapy.
You get an opportunity to create your own marketplace on Apartment Therapy where you can advertise used furniture and quote your price.
Additionally, you can select your target audience- local, nationwide or global. Apartment Therapy does not charge a fee for its Marketplace service. However, you can buy credits that can help your Marketplace postings move up in rankings and get noticed faster by a larger audience.
These credits cost between US$4 and US$ 400, depending upon how quickly you wish to sell used furniture.
Chairish offers full range of services for selling second hand furniture. Upon signing up, the company sends a curator to your location to assess each item and verify claims you make on the advertisements.
This is to protect both- seller and buyer. Once used furniture and other home décor items pass this test, you can list them on the website. There are separate categories under which you can list used furniture such as bedroom, living room and dining area as well as home décor, among others.
For the service, Chairish charges a 20 percent fee on value of the sale. For example, you will get US$ 800 for every US$ 1,000 worth used furniture or home décor item sold through Cherish.
The company provides a window of two days for customers to return the used furniture. Hence, you have to wait for the returns period to pass before receiving payments from Chairish.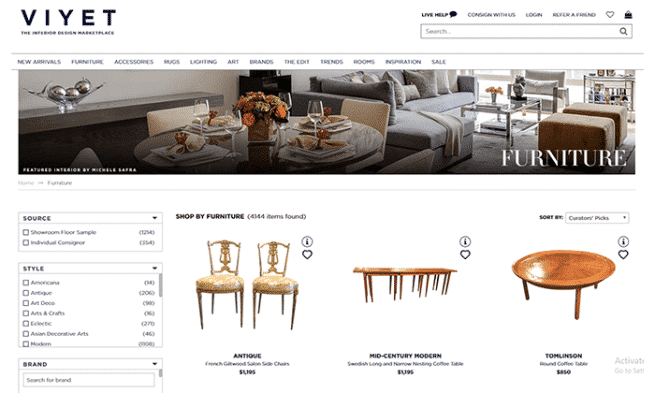 Viyet is ideal if you are selling used furniture and home décor items worth US$ 1,000 or above. Viyet allows you to sell used furniture from reputed brands only while common ones are not accepted.
Upon registration, Viyet sends a curator to your home to assess the furniture and assists you in cataloging it for sale. They take pictures of the used furniture and home décor items for display on Viyet website.
These curators help fix rates based on various parameters of the used furniture including its brand, condition and style, among others.
Through Viyet, you receive bids from customers for your quoted price. Further, you have an option of shipping the stuff to Viyet or handing it over to them for safekeeping at their warehouse.
The company also has an excellent returns policy. Viyet exhorts customers to inspect used furniture they receive within 48 hours of receipt. Viyet pays you within 30 days of the sale. Viyet charges 50 percent commission of your sale amount for less than 20 items and 60 percent for more 21 or more items.
The buyer pays for all shipment charges.
While signing up with AptDeco, you have to make a full inventory with excellent descriptions and pictures of used furniture you are selling. Upon confirmation, AptDeco will dispatch its curator to your location to review the items, help you fix prices and catalog them appropriately.
Following this process, your used furniture will be displayed on AptDeco website to receive bids from customers.
AptDeco will notify you of these bids. Should you accept any, the company informs the prospective buyer. AptDeco will arrange for pick-up and delivery of your used furniture to the client's location.
AptDeco charges a selling fee ranging between 19 percent and 29 percent of the value. It offers a returns deadline of 48 hours. Money is directly credited to your bank account between two and five days after the returns deadline expires.
Trove charges 10 percent of your sale value as selling or transaction fees. You can sell used furniture through Trove from its website or smart-phone based app.
You can list used furniture and other household goods such as home appliances and décor items on Trove, with brief description and appropriate pictures as well as the anticipated price.
Once you receive offers, Trove will facilitate a face-to-face meeting with the buyer to inspect the used furniture and other items you are selling through the website. The customer has to complete the transaction through Trove.
The company charges 10 percent of your sale value as its commission for payments made by buyers using credit cards or debit cards. No commissions are charged where customers pay cash but Trove enforces certain rules and regulations to ensure the money does not come from illegal sources.
The RealReal is a website that allows you to sell used furniture from designers and reputed brands, along with home décor and other household items. This site asks you to send pictures and brief descriptions of items you wish to through their website, upon registration.
Later, they will dispatch a courier to assess your items and help fix prices while cataloging tem to attract more clients.
TheRealReal.com arranges for collection of used furniture and other items from your location and onward delivery to the buyer. The company has worldwide reach.
Hence, you can be assured of fetching a good price for your used furniture from designer brands. The company charges fees ranging between 30 percent and 50 percent on your sales.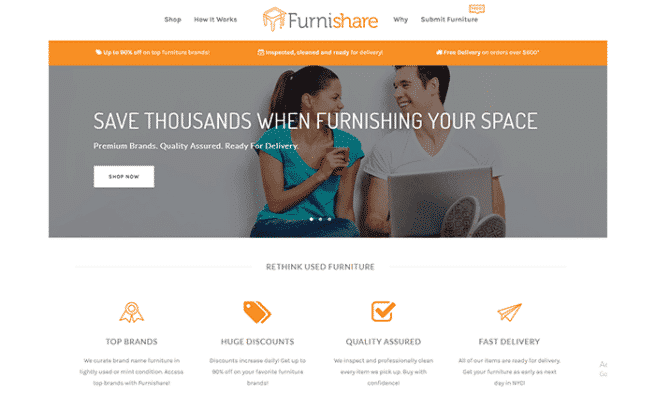 Furnishare allows free listing of your used furniture and other household items including home décor. The process is rather simple: take pictures of the stuff you are selling. Once you register, Furnishare will send you an assessor to evaluate the furniture and other stuff you have advertised on its website.
It will be checked for flaws and damages and claims you have made on your free ad posting will be verified. Rates will be fixed by Furnishare but you have to ask for a share, which is up to 40 percent of the selling price displayed on the website
Buyers will place bids for your used furniture. Upon accepting the bid online, the buyer is informed and asked to confirm the order. Generally, a period of two days is allotted for buyers to return your used furniture.
After this deadline, Furnishare will arrange for the pick-up and delivery of the used furniture from your location.
HighEndUsedFurniture.com
As the name signifies, this website is only for antique furniture and those from highly renowned designers and brands. The company follows a very strict policy and accepts only selected furniture that meets its stringent specifications of antiquity and brands.
Once you register, the company will send a curator to verify authenticity of your used furniture such as its vintage, material and make.
High End Shop Furniture also offers a unique service for buyers: It scouts the market for any particular vintage or brand furniture and places a bid with prospective sellers. This means, you can get a much higher price for your antique furniture by waiting for a customer rather than displaying it online.
Etsy is now a global online second hand furniture store that also allows you to sell used furniture and home décor items, among others. You can begin by opening a seller account for free.
This feature allows you to create a marketplace for your used furniture as well as anything else you wish to sell online. Once you have an account, upload pictures of your used furniture along with appropriate, brief descriptions.
Your used furniture postings on Etsy remain online for a period of four months. Etsy charges a fee of 20 US Cents for every listing and a transaction fee of 3.5 percent for every sale you make through its marketplace.
After four months, you can continue to list your products for a very by renewing the membership. Etsy gives your used furniture worldwide audience.
3. Sell Furniture with Free Classifieds Websites
You can also sell used furniture online through any top classifieds websites in the US. Majority of these websites offer free listings. However, the inherent disadvantage with these websites is, your postings do not remain for long and invariably get buried under fresh ones.
Secondly, dealing with customers is your sole responsibility. Therefore, you need to have a proper returns policy. Without a legally acceptable returns policy, you become prone to lawsuits and sometimes, criminal charges.
However, if you are confident of meeting parameters prescribed by these websites, you can sell used furniture through these.
Craigslist is undisputed leader of free classifieds in the US and several other countries worldwide. You can sell used furniture through Craigslist by creating a free account and posting pictures and details of the stuff you are selling, with anticipated price, contact details, returns policy and other terms and conditions.
You can also sell used furniture on eBay provided you meet their strict business standards. Listing used furniture on eBay is free. However, we recommend you read terms and conditions for selling through this globally popular website before posting your advertisement.
eBay charges a commission for every sale you make through its portal
OLX has emerged as a world leader of sorts in free classifieds. You can advertize used furniture on OLX provided. In line with popular free classifieds websites OLX also has a stringent policy governing payments, returns and claims made by sellers.
However, it is an excellent website if you are targeting foreign clients.
With presence across all US states, Geebo is another website like craigslist you can post free advertisement for used furniture. The location feature on Geebo allows you to select the area in which you wish to sell your product.
Meaning, you can sell used furniture within your city or state or nationwide.
Backpage is a very simple and easy to use online classifieds website that targets the American audience. It has a special section for household stuff where you can advertize your used furniture for sale.
However, Backpage has one drawback- you may not be able to get customers from outside your location. Generally, customers buy used furniture after inspecting the goods.
Similar to other classifieds website, Oodle also allows you to create and post a free advertisement for selling used furniture. Once again, prospective customers you attract would be limited to your geographic area or city for apparent reasons like checking the stuff and making payments.
A great website for sellers of used furniture. This is also a well reputed classifieds website but charges a nominal fee ranging from US$ 1 and upwards per advertisement.
Goodideo allows you to create a free marketplace on its website and sell used furniture or any other stuff. The website offers various sections under which you can post your classifieds.
Operating in 18 countries including the US, VendAnything also allows you to create a marketplace and sell your used furniture. It allows sellers to directly contact you.
USonlineads is a free classifieds website that is very simple. You can merely create an account and post your free classifieds for selling used furniture. Again, your target audience might get restricted to your location only.
Social Media: Facebook
Social media giant, Facebook offers an excellent feature to buy and sell stuff, including used furniture. Called Facebook Marketplace, the feature can be accessed from your Facebook account, through computer or smart-phone.
There are several marketplaces already online on Facebook. You can opt to sell used furniture on one of these or create a new one. A guide on how people can sell assorted stuff on Facebook Marketplace is provided by the social media giant.
Wrap Up
From these listings, it is evident that you can sell used furniture fairly easily. In fact, several used furniture dealers are making money by using the online feature. They buy your used furniture, repair and refurbish it at their workshop and sell it online.
With some skills, you too can start such a small business.
However, for people moving home or selling used furniture to buy new ones, it is recommended to approach any of the specialized websites that offer the evaluation service, free pick-up and delivery.
Though they charge a commission, it saves you a lot of hassle. As mentioned earlier, they also provide the service of storing your used furniture at their warehouses, while it awaits buyers.