Internet has made things easier for people coming from every walk of life.
Whether you are a programmer, an internet marketer, a blogger, a consultant, a real estate agent or an artist, you can always find your niche and make a living out of it.
In this article we will be talking about how you can make money online by selling your art work.
Digital age has really being a game changer for the ordinary artists like you and me.
Now you can easily sell photos and drawings to companies that need them for marketing and other purposes.
You get paid on time wherever you live in this world.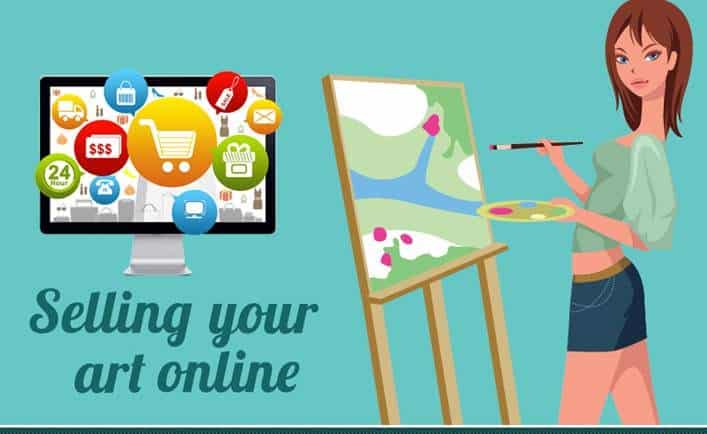 Art As a Career
Before we tell you various ways to make money online selling your arts you need to know whether art as a career is lucrative or not.
The answer is yes if you know how to build a career in arts.
Before you think of selling arts and making money out of it you got to build a career as an artist.
First you have to be in the loop.
It means you must be in the circle of artists and buyers. It does not matter how well your art is because you would not be able to sell it unless you know other buyers and writers in the industry.
Having a career in art is not easy. You have to manage your finances, make budget and sell your piece that gives you extra money.
You may also have to work part time in order to pursue your ambition. So you have to plan how you are going to fund your art career before you start making enough money.
One of the most important advices that I can give you is treat art like a business.
You have to be out there to promote your work. Just good work is not enough if you don't have buyers.
Future of Artists in India
So what is future of artists in India? How hard is to be an artist in India?
Well there is no straight answer to this. If you are well connected then you might have a chance but if you are new and a budding artist then it will be quite difficult to sell your stuff.
However there is good news if you are able to draw things and sell online.
You can draw cartoons and sell them online. You can also sell photos to various websites and make money.
I mean to say you don't have to be a renowned artist that draws on canvas and sells his or her hit for a million dollar.
You can do small and simple stuffs like selling photos, drawing cartoons, taking pictures from your camera and sell them online.
So you can easily make a living out of this.
10 Ways Selling Your Art Online and Making Money
Now let us learn some of the websites where you can sell your art and make money.
1. Amazon
Every one of you knows about Amazon. You can buy and sell anything on this ecommerce site. You can go there and sell your photos and paintings.
In order to get maximum bidding you have to stay in touch with the other artists in your industry. So go to this site and sell your art.
Amazon is available in most of the countries. Either you can check Amazon.com or check Google here for Amazon in your country.
2. EBay
Ebay is also like Amazon one of the biggest ecommerce sites in the world. You can go to Ebay Art section and sell your arts and other items very easily.
Millions of people come here to buy and sell their art every day from all around the world. So make best use of it. You can go to eBay.com or ebay.in or eBay in your country.
3. Craigslist
Craigslist and other alternative classified sites are also a great place to sell your art. You can visit your city page and sell whatever art piece you would like to.
First three websites Amazon, EBay and Craigslist are well known and every artist should know them.
4. Artist Rising
Artist Rising is a place where artists from all over the world can sell their products. They offer you both free as well as premium account to sell your arts and related products.
There are over 70,000 artists who are currently registered on this website. They offer you over 400,000 art work. Check https://www.art.com/
5. Artsy
Here you can learn and collect art from leading galleries, fairs and museums from all over the world. Artsy has a huge collection of arts that people look for from all over the world.
There are over 40,000 artists on this website and you can also be the one. Visit https://www.artsy.net for more info.
6. Art Fire
Art Fire is really great for crafts and other handicraft items. The website is less about paintings and photos. So you can go to the site and look for more information there. Check https://www.artfire.com
7. Fine Art
Here you can sell all kinds of prints like canvas, framed prints, metal prints, acrylic prints, art prints etc. You can also sell drawings, paintings, posters, digital arts etc.
The site also handles your logistics. However you have to live in US. Go to https://www.fineartamerica.com for further info.
8. Art Pal
Art Pal is the fastest growing website for buying and selling arts. Artists from all over the world can sell their art work at Art Pal.
The best thing about the site is there is no membership fee. You also receive up to 95% of the sales price. Visit this site at https://www.artpal.com
9. Etsy
You know about Etsy as it is like Amazon and EBay. At Etsy you can sell all kinds of art. If you want to sell your handicrafts then Etsy could be your alternative.
I recommend artists to use other website and take Etsy as an alternative. Find website at https://www.etsy.com
10. Artplode
The last site where artists can sell their art and make money is Artplode. Why artists love Artplode is because it does not charge any commission from buyers and sellers.
You can sell your art starting from $1000 per piece. Find more at www.artplode.com
So this was a list where artists can sell their art online and make money.