Do you know how to make quick money i.e. $100 to $200 in one day or everyday? Neither did I. However, some research on the Internet and a few tips from friends clearly shows it's easy to make one hundreds dollar fast in a day or few hundreds dollars in a month.
The Internet is full of all sorts of ideas on how to make money fast. Unfortunately, most of these don't work and are usually written to grab your attention to read something useless.
Others are scams where you might lose money and fall victim to identity theft.
But you needn't worry. In this article, I'll be writing about some amazing and quick ways to make money. And all these ideas are simple and workable.
Sounds good? Continue reading.
How to Earn Money $100 Fast in 1 Day?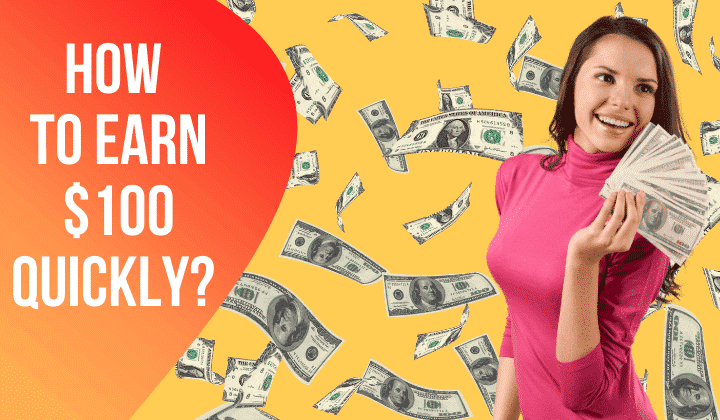 Here I'm presenting my curated list of quickest ways to make money. You can surely earn more than $100 fast. Understandably, some will require a few special skills. However, most of these are for people like you and me who aren't professionals but do have some skills that are useful for people.
1. TaskRabbit
You can easily make $100 fast by doing some simple tasks for people in your area with TaskRabbit. Running errands, cleaning, deliveries, shifting stuff and similar such motley jobs are easily available daily at your location. By performing these jobs you can make money fast.
Download the TaskRabbit app and complete your registration. TaskRabbit is one of the quick ways to make money anywhere in America.
2. Sell Your Companionship
This might sound strange. However, millions of people will happily pay lots of money for your companionship.
Let's get this clear: selling companionship isn't becoming a sugar baby.
Instead, people arriving in your city may require a companion to guide them around. Or lonely folks need someone to speak with.
Register online on any good website and sell your companionship to make over $100 fast. This is another legit and fast way to make money. You can definitely earn more than $100 by this method.
3. Sell Your Panties
Are you wondering how to make money by selling your panties?
Believe me,Thousands of women in America make $100 or more fast by simply selling their panties. I'm not speaking about your old panties or unwanted ones.
Instead, I'm referring to panties that you wear for a day, take them off and don't wash. Sounds crazy right?
There're countless men around the world who'll pay for such panties. Because they want that feminine scents of a woman.
Your identity remains secret and you can get countless buyers online by registering on any good website. You need not to work hard to earn money fast in this process.
3. Work as PSO
Women can also work as PSO- or- Phone Sex Operator. The job pays as much as $16 per hour and sometimes more.
Your identity and location remain a secret. Instead, you'll be working with a company that hires PSOs and sends you clients. The job involves steamy talk with unknown men and sometimes, role-playing.
Some PSOs are earning thousands of dollars per month because of their excellent feminine voice and ability to talk stuff that some men love. This is the quickest way to make money for women.
Read: How to Avoid PSO Jobs Scam
4. Amazon Flex
Amazon Flex is an amazing way to make quick money. One can earn more than $100 in no time. Amazon requires people to deliver customer orders. This is really one of the quick money jobs which you can consider for a longer period.
They pay between $18 and $25 per hour for delivering these orders. You'll require your own vehicle that meets Amazon's specifications and some spare time.
Any woman or man above 21-year age can become an Amazon Flex associate. Download the Amazon Flex app, complete the registration and wait. Upon successful application, you can start delivering stuff for Amazon to make $100 fast.
5. MicroWorkers
Microworkers.com is a crowdsourcing website where you can complete several small tasks online and make $100 fast.
There's no shortage of small tasks you can get through Microtasker.com. And the pay depends upon your skills and micro-tasks you complete.
Almost anyone registers with MicroWorkers and make $100 fast. Register online and provide accurate details.
You'll get micro task alerts by email. Or you can look for tasks on their website. You get more money for completing micro tasks during special campaigns.
If you have ever wondered about how to make extra money fast? Then this website could be the answer.
6. Sell Handmade Stuff
Ever heard about this website Etsy.com? It's the best website for selling your handmade stuff such as paintings, knitted stuff, handicrafts, handmade costume jewellery and almost about everything online.
You can open your own marketplace at Etsy.com and start selling such handmade and hand-crafted stuff. Or you can sell these items as a time-pass to make quick money.
Revive those creative skills you possess and make $100 fast by selling such stuff on Etsy.com.
You can make money fast online through this website. You'll be surprised at the number of buyers.
7. Deliver Food to Customers
Feeding hungry bellies by delivering food to customers during spare time is another fastest way to make money.
UberEATS, Postmates and DoorDash are some food delivery companies in America that would hire your services. You'll require a vehicle to collect the food from a restaurant and deliver it to the customer.
Surely, you can earn money fast, definitely more than $100 with these food delivery services in no time.
8. Gigwalk
Another quick way to make money is through the Gigwalk app. Through this app, you will soon make $100.
It's as simple as downloading the app and registering yourself.  And switch on the location service on your smartphone.
The Gigwalk app flashes simple tasks in every area where you go. You can take these tasks if you have the time and want to make quick money.
You'll be known as a Gigwalker when your registration is successful. And they pay a lot of money, depending upon your tasks. This could be another quickest way to make money during your spare time.
9. Thumbtack
If you have some special skills, try Thumbtack to make $100 fast. Thumbtack is an app that connects customers with professionals in various fields.
You'll get alerts for any work in your area or city on the Thumbtack app, once you register successfully.
Thumbtack lists 1,500 different types of tasks that require professional skills. It is one of the quick ways to make money online during you are free time.
Other Ways to Make $100 Fast
There're a few ways to make one hundred dollars fast. These fastest ways to make money include offline tasks such as mystery shopping, walking pets, babysitting, gardening help, and insurance consultancies. You can find most of these online or in your area itself.
As most individuals, families and companies too are short of time, they require your services to help with such small tasks. And they're willing to pay good money for your services too. Hence, there's no shortage of ways to make $100 fast .
Wrap Up
The above list contains only time-tested and proven ways to make quick money, mostly above $100. And they allow you to make the best use of your spare time too.
What's more? You can use these ideas to get money quickly when necessary or for earning a side income daily. Try these simple ways to make one $100 fast in one day. You might earn much more too.