There's a 30-year old YouTube celebrity known as PewDiePie. Actually, his real name is Felix Arvid Ulf Kjellberg and he lives in his native land, Sweden. PewDiePie has several firsts to his credit.
He's one of the youngest millionaires of Sweden and the first famous YouTuber from Scandinavia. Everyone wants to know how much money does PewDiePie make per day, per month or per year.
Most people around the world would be surprised at PewDiePie's net worth.
PewDiePie's Net Worth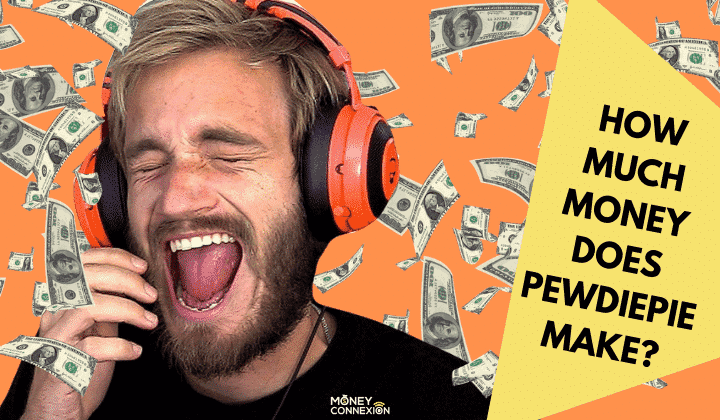 In 2019, Forbes estimated PewDiePie's net worth at $13 million. However, PewDiePie later disclosed in his own video that he's worth $25 million. This isn't anything shocking. The reason is that PewDiePie remains one of the topmost YouTubers of the world and is famous among people of all ages.
But if you believe that PewDiePie is only making money from YouTube videos, think again. There're several other ways how PewDiePie makes money.
Let's look at some of them.
10 Ways PewDiePie Make Money
If you want to know how much money does PewDiePie make per day, per month or a year, you should know all his 10 sources of income.
Here're some main sources that adds to PewDiePie's net worth. You might the very surprised that a millennial has several sources of income directly or indirectly from his YouTube channel.
1. Biggest Source of Income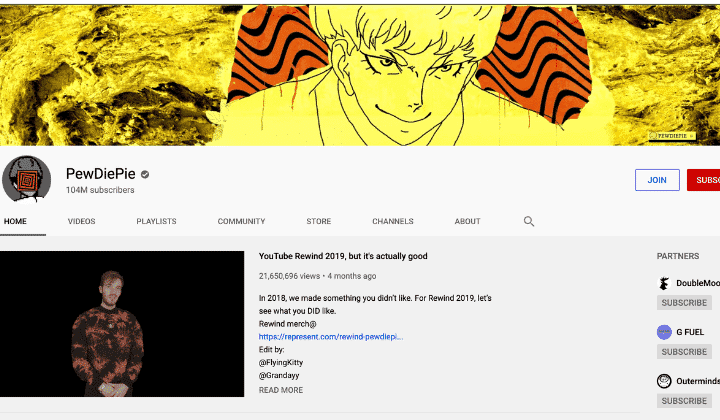 The biggest source of income for PewDiePie is YouTube and Google AdSense. With millions of ads flashing during PewDiePie videos, before and after his games, he's one of the topmost advertising channels too.
PewDiePie never discloses his income, there're estimates he makes around $15 million from this single source. In 2017, PewDiePie is said to have made $12 million from YouTube and Google AdSense.
2. PewDiePie: The Legend of the Brofist
After PewDiePie became one of the most subscribed YouTube channels in the world, he launched in 2014, a game app called 'PewDiePie: The Legend of the Brofist."
This is a paid app that sells for $5 each on Google Play and App Store. The game revolves around PewDiePie, his girlfriend Marzia Bisognin, their dogs and other YouTubers and their various adventures.
3. Apparel Sales
Since PewDiePie is a celebrity, millions of people around the world want to buy his branded stuff. Therefore, he sells PewDiePie branded apparel and other collectibles from Represent.com and ShopPewDiePie.com.
4. This Book Loves You
Released in 2015, "This Book Loves You" is a book written by PewDiePie himself. Soon after launch, the book became a bestseller in New York and other parts of the world. This Book Loves you is all about parodies.
Notably, PewDiePie has made parodies of some of the most popular motivational quote in this book. However, it remains a top motivational book with a difference and earns him royalties.
5. Scare PewDiePie
In 2015, YouTube launched a premium service, YouTube Red. The company roped in PewDiePie to create an exclusive series called 'Scare PewDiePie'. This series is based on PewDiePie and the hundreds of horror games he's been playing over the years since he began YouTubing.
6. Meme Review
PewDiePie hosts a big ticket show called Meme Review which has several avid followers including Elon Musk. This YouTube show attracts at least 20 million viewers.
The show is all about latest memes and jokes around the world and funny reviews by the Swedish YouTuber, including some with guest reviewers.
7. Endorsements for Minecraft & Other Games
The biggest source of money for PewDiePie is from his endorsements of Minecraft and other lesser known video games. In fact, lot of games from unknown developers around the world became famous and had record sales due to PewDiePie reviews. He endorses the brand or the game to make money.
8. Earlier Contracts with Disney & Others
Earlier PewDiePie had entertainment contracts with Disney channel and others. However, in 2016-2017, PewDiePie evoked severe controversy for his support to neo-Nazis. His frequent Anti-Semitic rants put an end to his career on TV shows.
Though PewDiePie promised to refrain from Anti-Semitic comments, a lone terrorist in New Zealand named his channel as inspiration.
Following the incident, PewDiePie was kicked out by all TV stations and entertainment creators with whom he had contracts. However, he did make some money with these contracts.
9. Google Brand Ambassador
PewDiePie makes an undisclosed amount of money for serving as influencer and brand ambassador for Google and YouTube.
These contracts were also not without controversy. Though ABC has terminated some of its contracts with PewDiePie, others remain active due to their terms and conditions. However, he's an influencer for a few brands.
10. Guest Appearances
Nobody knows how much PewDiePie really makes or money that TV channels, YouTubers and others pay him for guest appearances. He's appeared with other YouTubers to make videos jointly.
Possible Sources of Income
PewDiePie is also an Instagram influencer, runs a highly subscribed Twitter handle and has a pie in lots of other digital assets too. Though he features in news on youth and gaming channels on TV, it's not clear whether he charges or gives these appearances free.
Actually, PewDiePie could have been richer than $25 million, if he hadn't gotten into controversies. However, these controversies have also made him the most famous YouTuber of all times. His other counterparts shun controversy.
How PewDiePie Became Rich
Felix Arvid Ulf Kjellberg began his YouTube channel, PewDiePie in December 2006. This was just in time for the Christmas-New Year season and hence, found tremendous viewership. By July 2012, he had one million subscribers. And this number continues to grow.
PewDiePie, according to various reports, doesn't own significant assets such as large house or expensive cars. His only visible investment is a YouTube studio where he shoots his videos. He is said to use very simple gear to make his videos.
However, PewDiePie has an amazing way of presenting his Minecraft game hacks and tweaks. He uses a lot of funny language and sometimes, a bit of abusive words. Despite, he remains one of the most popular YouTube celebrities.
In 2019, PewDiePie was pushed to No-2 as the second most popular YouTube channel. India's music company T-Series grabbed the No-1 position. However, PewDiePie is an individual while T-Series is a multi-million Dollar organization. Among individual YouTubers, PewDiePie still ranks as topmost.
In Conclusion
These are the various ways how PewDiePie makes money. His initial earnings came from YouTube and Google AdSense. If you are motivated with his net worth, you should start your YouTube channel. Now he runs various other businesses and makes money.