Do you want to earn extra money for Christmas?
Making extra cash for Christmas isn't as difficult as you might falsely believe. Indeed, there're countless ways.
Therefore, try these excellent ideas to make some extra money for Christmas and add cheer to the season we eagerly await every year.
At the same time, it's important to know how much extra cash you actually require to enjoy Christmas. Obviously, there's no point in stressing yourself to an extent that you miss all festivities and fervor.
Avoiding Stress for Extra Cash
Drawing a budget to estimate how much extra cash you'll require for Christmas is the first step towards making money. That's because there are excellent ways to make money online and offline that's available round the clock.
But making extra cash for Christmas is something very different. Making money quickly and in a manner that helps avoid stress is the key to enjoying this festive season to the fullest. Therefore, I'm listing some of the best ideas for making extra cash for Christmas.
How to Make Extra Cash for Christmas?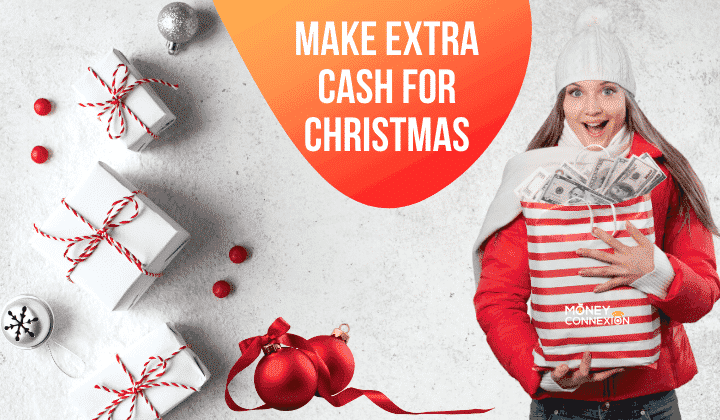 These ways will help you make extra cash for Christmas fairly quickly. Exert some extra efforts and you can make a mini fortune from this festival season.
1. Sell Handmade Gifts
Handmade gifts are the best and easiest way to make extra cash for Christmas.
The reason: all of us can buy those typical gifts that are available online and at stores. And most likely, people would already have something that you're gifting.
Nowadays, handmade gifts are in high demand because they lend that personal touch to both the gift giver and the recipient. And if you can create personalized handmade gifts, the way your customers want, you can charge a bit more and make a mini-fortune.
Where to sell handmade gifts? I would suggest Etsy.com that specializes in handmade items and sell your stuff. They charge a small fee to provide you an online marketplace.
The other way is to sell on Facebook Marketplace, which is free and allows you to find customers within your city.
2. Deliver with Amazon Flex
Earning between $18 to $25 per hour during free time is something that Amazon Flex makes possible.
And yes, it comes from Amazon, the world's largest online store.  In fact, you can make a real lot of money before and also during Christmas with Amazon Flex.
Because Christmas is a shopping and gifting season. And Amazon is the topmost online shopping destination.
Joining Amazon Flex is very simple: you'll have to download their app and register. You'll be delivering packages for Amazon within your area.
Of course, you'll need a vehicle to do these deliveries. Furthermore, Amazon Flex allows you to choose the time when you wish to deliver stuff to customers.
3. Amazon Fulfilment Centers
And just in case you're unaware, Amazon offers amazing opportunities to earn $15 per hour at various locations across the USA.
That's because part-time workers are essential for Amazon to fulfill orders from customers on time, in line with their delivery dates and policies. When a customer places an order, it goes to the nearest Amazon Fulfilment Center where the product is available for onward processes.
Your job would include packing orders, maintaining inventory, checking for defective goods and other motley tasks.
Just before Black Friday and during the Christmas- New Year shopping season, Amazon witnesses a flood of orders. And that's where they require part-time workers at Amazon Fulfilment Centers.
4. Help with Christmas & Seasonal Decorations
Individuals and families, malls, stores and florists among others require part-time hands to help with Christmas and seasonal decorations.
These include decorating seasonal wreaths, helping out in setting up lights and other Christmas decorations, maintaining a Christmas tree and several others. Indeed, the season before Christmas is boom-time for anyone with creativity.
As part-time decorator, you can make anything from $15 to $35 an hour, depending upon the type of work. And you can find such jobs in your neighborhood as well. Or visit local hiring websites where you'll come across several such postings that match your creative skills.
Helping with Christmas and seasonal decorations is an enjoyable to make money for Christmas.
5. Seasonal Sales Jobs
Another superb opportunity for making extra cash for Christmas comes from seasonal sales jobs. And believe me, they're available almost everywhere.
Bookstores to boutiques, bakeries to supermarkets, everyone needs part-time staff to attend to the higher number of shoppers. And they'll pay between $18 to $25 per hour, depending upon the store.
Some stores also throw in some commissions as your Christmas gift and appreciation of your services. Indeed, some seasonal sales jobs are also available for 14 and 15-year olds.
Retirees and stay-at-home moms can also make extra money for Christmas from seasonal sales jobs. The best way to find these jobs are local hiring websites and newspaper ads.
6. Sell at Consignment Stores
Empty out your wardrobe and sell those dresses you'll never use at consignment stores.
And you can sell other stuff including paintings, furniture, and electronics too. Thankfully, there're several consignment stores online as well as offline.
You can select any after finding how much your stuff lying without use will fetch. In fact, making money for Christmas from consignment stores is rather quick: there'll be several buyers for your stuff.
You can refer to this list of top 30 consignment stores in America. However, read their terms and conditions carefully, especially about their payment and shipment policies.
7. Santa & Santa Helper
How about playing Santa Claus or his helper to make money this Christmas. Every company, mall, party hall, store, restaurant and club among others, requires Santa and his helper. Without them, a Christmas celebration would lose its punch, as you would know.
Making extra cash for Christmas is possible with this wonderful job you can do in your spare time. You'll need that sense of humor and other traits that Santa and his helper are known for.
Santa or Santa Helper makes anything from $20 to $30 per hour. And there's no shortage of these part-time jobs during the season.
8. Gift Wrapping Jobs
Wrapping gifts is an art in itself. And if you know this art and have the necessary speed, look for seasonal gift wrapping jobs. As I mentioned earlier, the Christmas season is also about gifts.
And that's where stores make money. They charge a little extra from customers for gift-wrapping or sometimes, provide it free. However, they do require part-time gift wrapping assistants for the job.
Speed is very important if you wish to work as a gift wrapping assistant. Because every store will have many more shoppers during the season.
And some will buy several gifts and demand gift wrapping. You'll also require skills in handling wrapping material and labeling, where necessary.
This job can fetch you as much as $18 to $20 per hour and sometimes more, depending on the store.
9. List Your Room on Airbnb
Christmas season is also holiday season. And this translates as travel season. Millions of Americans wish to spend Christmas at new destinations to enjoy local festivities.
As a result, hotels and motels run out of rooms due to heavy bookings. This is where you can make extra cash for Christmas. List your room on Airbnb and welcome seasonal visitors.
Usually, people that don't wish to spend Christmas at hotels , they look for accommodations where they can enjoy the holidays with some level of peace and quiet. You can benefit from this demand and list a room on Airbnb.
10. Seasonal Tourist Guide
Seasonal tourist guides can make as much as $50 per day or even more, for working during Christmas.
That's because you'll have a flurry of tourists visiting your city to experience various Christmas attractions. And travel companies look for people that know about the city and its various Christmas attractions to guide tourists.
Knowing your city and its attractions isn't enough: you'll also require skills to respond to questions for travelers.
Usually, basic training in managing tourists will be given by the travel company. You may have to accompany regular guides and watch how they present a destination or attraction. And learn these tricks of the trade.
Closing Thoughts
You'll find countless suggestions such as online surveys, selling plasma, babysitting and many others for making extra cash during Christmas.
Most of these would be one-off ways that won't pay much. Others can cause immense stress and rob your pleasure of Christmas.
These 10 ways of making extra cash for Christmas would help you enjoy and become a part of the larger celebrations.