Have you ever heard of PrizeRebel before? Do you want to read about PrizeRebel review right from the person who has been working on this website from last 1 year?
If you answer is yes then do read this article.
PrizeRebel claims to pay you a decent income for the effort you put it. There are multiple ways to earn with PrizeRebel.
People who are looking to make extra income online and want to join PrizeRebel must read this review before they make a move.
What is PrizeRebel and how does it Work?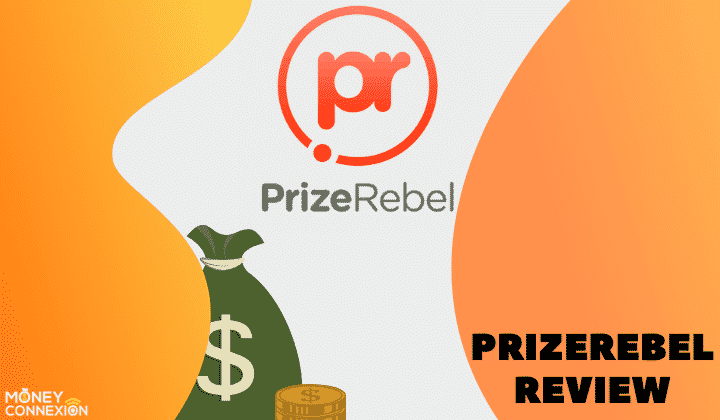 According to PrizeRebel they are a FREE membership rewards site partnered with various market research companies who are looking for your opinion on various products. You can also complete certain offers and micro tasks in PrizeRebel.
In return for sharing your feedback & completing offers and tasks, you earn points which can be later redeemed for gift cards and cash.
It means, there are multiple ways to earn money from PrizeRebel. You can get paid by completing surveys, offers, tasks and participating in various contests. After you complete certain tasks in a day you are rewarded with either cash or gift cards.
PrizeRebel works on Points system. For each point you make you earn 1 cent. So to earn $1 you need to get 100 points ($1 = 100 Points).
So to earn $$$ you need to basically earn points.
Join PrizeRebel First
Before you are allowed to make any money you got to join the PrizeRebel first.
Join PrizeRebel with this link and it's very easy as it is just one step process. Either you can sign up directly through Facebook or create a new account by giving your name, email and password.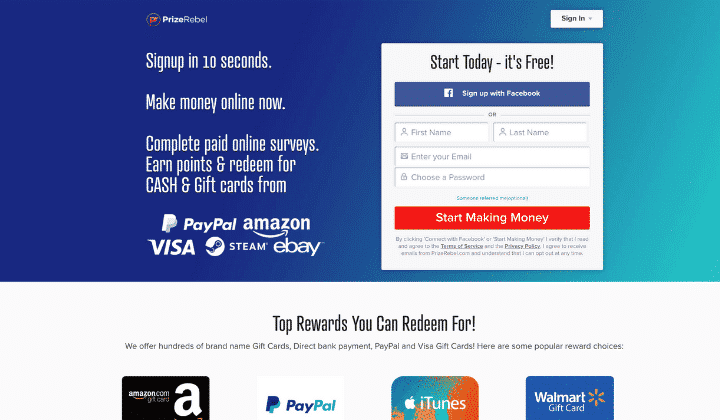 You will get an email from PrizeRebel, click on the link and activate your account. That's it.
You can go to Account Info page and learn all the details about My Info, Password, Payments, Update Profile etc.
Your Profile is very important. Later you will learn before giving approval survey companies are going to judge you on your profile page. So take it seriously.
4 Ways to Make Money With PrizeRebel
Now let us start making some money. As you know to earn more money you need to earn more points.
So there are 4 major ways to earn points.
1. Taking Online Surveys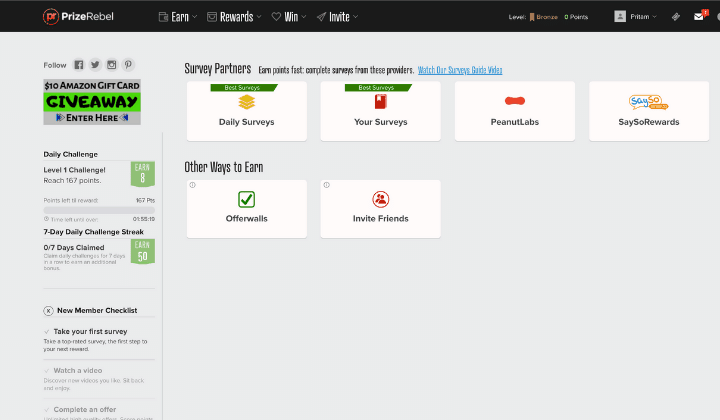 Surveys are very important because this is where you make most of your money.
First you need to complete profile questionnaires so PrizeRebel can match you with surveys in their database.
Choose a survey partner like YourSurveys or Samplicious (they got most surveys to choose from). Before taking up a survey you need to answer few more questions. If you are approved then you can go right ahead with the survey.
But if rejected then it means you were not the right match for the survey. So choose another survey.
Once you are being accepted complete the survey till you reach the thank you page. Once you've completed the survey successfully you will be rewarded with points. You can go and check in My Earnings History section.
For each survey you can earn 10 to 20 points. Out of 4 tasks surveys are where you can earn most of the money.
Few tips for choosing surveys
For higher payouts look out for surveys which are longer.
There are more surveys available on Weekdays than Weekends.
Don't delay accepting a survey. Survey companies accept limited responses. So longer you take to accept a survey, lower are the chances of getting accepted.
Keep your quality score high. Because once quality score decreases, it will get harder to get new surveys.
Always complete 1 survey at a time.
2. Joining Offers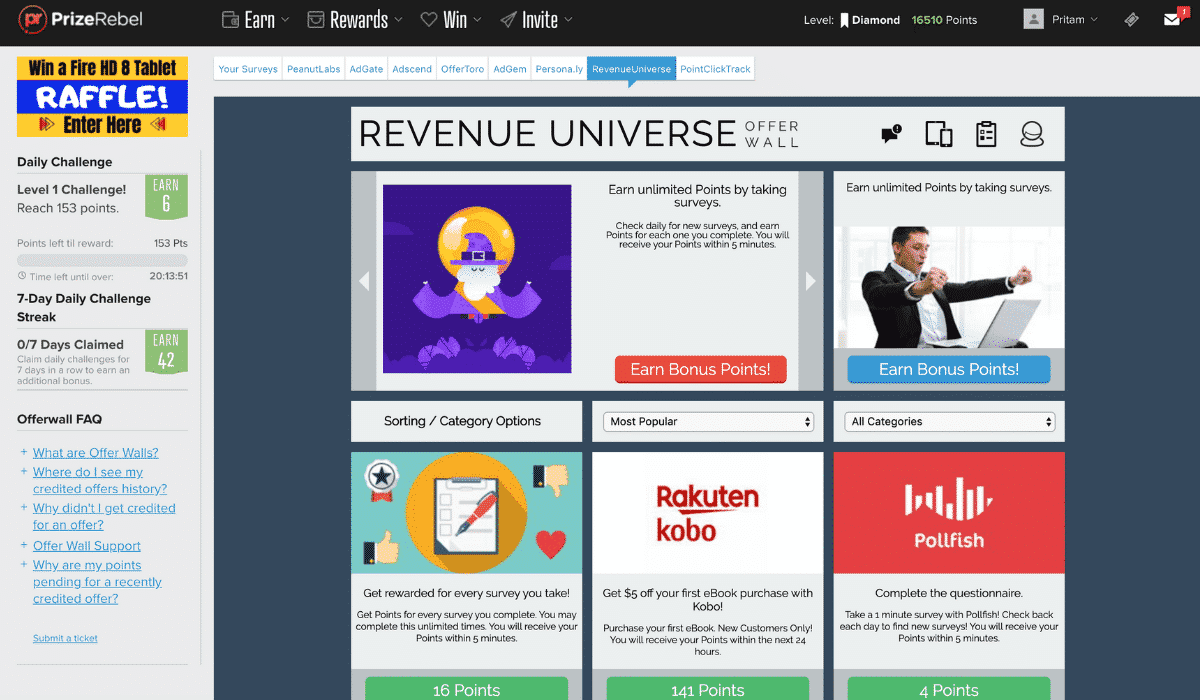 Offer Walls are simply extra bonus offers given by the partners of PrizeRebel. You can click on various tabs on the Offer Walls page to join an offer.
These bonus offers can include various tasks like Surveys, quiz, videos to watch, downloading and installing apps etc. But most of the time these offers are going to be Surveys.
Offer Walls gives you a great opportunity to earn extra points. If your daily quota for surveys has been exhausted then you can look out of these offers.
I've found that there are surveys which are willing to pay you up to 50 cents. So if you want to increase your points then do join these surveys.
3. By Winning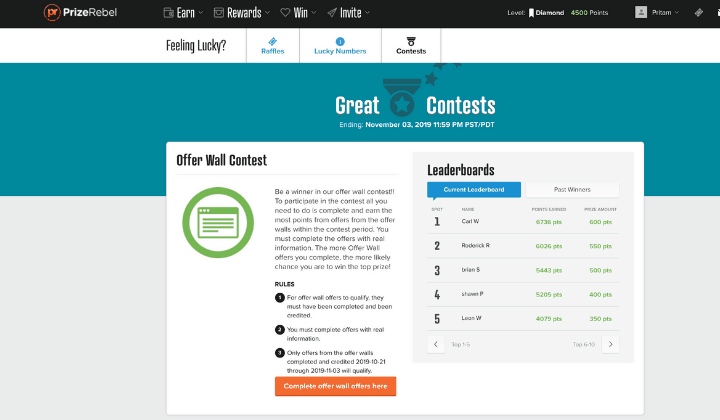 The most fun part earning points is by winning games and contests. However they are not free like the last two tasks.
There are 3 ways to make money winning games & contests. Let us see each one of them.
Raffles
Let us start with raffles!
In order to participate in Raffles you need to buy tickets using points you have earned. A Raffle can be a gift card wroth $5 – $50 from Amazon, Walmart, Target etc.
Buying one such raffle ticket can cost you 10 points. You can buy as many as 1000 such tickets. The winner is drawn randomly from all other raffle ticket entries. So your odds depend upon the number of total entries.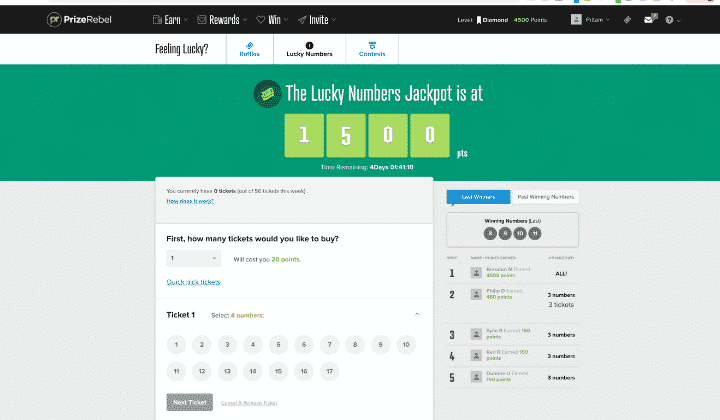 Lucky Numbers
Lucky Numbers is like hitting a jackpot. Here are the rules.
You buy more than one ticket to participate in this game. One ticket costs 20 points, so 2 will cost 40 pts, 3 will 60 pts likewise. You can buy up to 50 tickets.
For each ticket you buy you need to pick 4 numbers from 1 -17.
At the end of each week/month 4 numbers will be picked randomly and announced.
If your chosen ticket's numbers matches the number announced then you win points.
2 Ticket Match = Win 35 Points
3 Match = 150 Points
4 Match = Win a Jackpot, Jackpot can be up to 1500 pts
Offer Wall Contests
People who complete and earn points from offers from the Offer Walls can participate in this contest. More the Offer Wall offers you complete the more likely chances of winning the prize.
4. Referrals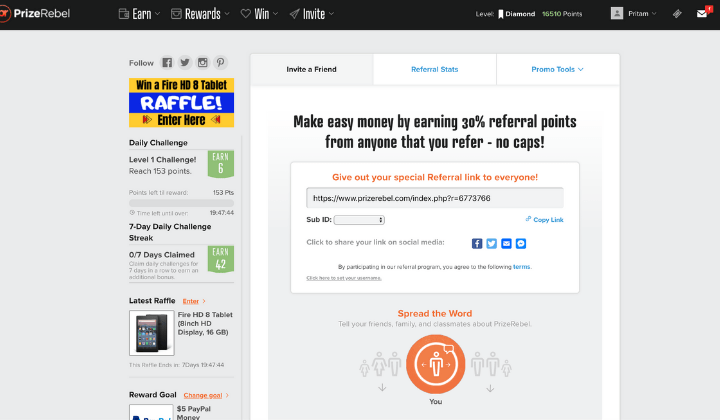 This can be one of the best ways to earn points with PrizeRebel if you have a website with a lot of traffic.
For referring one referral you can earn up to 30% of his points. If a guy named Joe that you referred earns 100 points a day then you get 30 pts automatically.
If you refer more such people more points you can generate.
Referrals can be the most profitable way to make money if you are a serious bloggers.
So these were 4 major ways to make money with PrizeRebel.
Various Account Levels to Reach
If you want to get higher % of referrals, special bonuses, prize discounts and automatic prize processing then you have to reach to the topmost level.
PrizeRebel ensures that the members who are serious and dedicated towards earning points must be counted differently from those who are less serious.
Hence they created various accounts level with benefits accordingly.
| | | | |
| --- | --- | --- | --- |
| ACCOUNT LEVEL | POINTS REQUIRED | REFERRAL % | SPECIAL BONUS |
| Bronze | 0 | 15% | 0 |
| Silver | 1000 | 20% | 0 |
| Gold | 4500 | 25% | 1% |
| Platinum | 10,000 | 25% | 2% |
| Diamond | 16,000 | 30% | 3% |
This was the table with breakdown of different account levels and their benefits.
How Much Money Can You Make with PrizeRebel?
Well the straight answer is it depends.
If you are new on internet without a website or a blog then surveys are the best way to earn points. You can earn 10 to 20 points for each survey you complete.
A new guy can earn up to $30 – $50 in a month completing surveys and other offers.
But if you are an experienced guy with a website then you don't have to depend upon surveys, offers etc.
You can earn most from referrals. If you refer people to join PrizeRebel then you can earn 30% points in commission of your each referral.
You have an opportunity to earn up to $300 – $500 if you are able to refer hundreds of new referrals each week.
A new guy joining PrizeRebel will find difficult to earn from referrals.
Ways to Redeem Your Points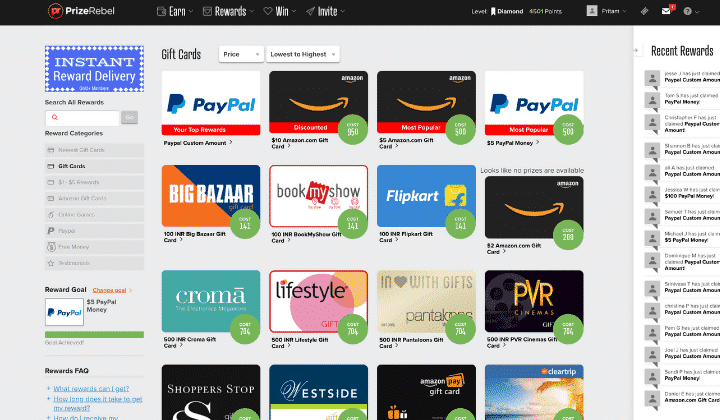 There are two ways to redeem your points. Either cash via PayPal account/direct bank deposit or gift cards also called Instant rewards.
Rewards like e-gift cards are delivered digitally to your email immediately once they are processed. Gift cards are offered by Amazon, eBay, Target, Starbucks etc
Physical rewards are sent to your home address within 7 – 10 days.
For cash rewards you need to have a PayPal account. The threshold income for cash reward is $5. Check one of my recent PayPal cashout from PrizeRebel.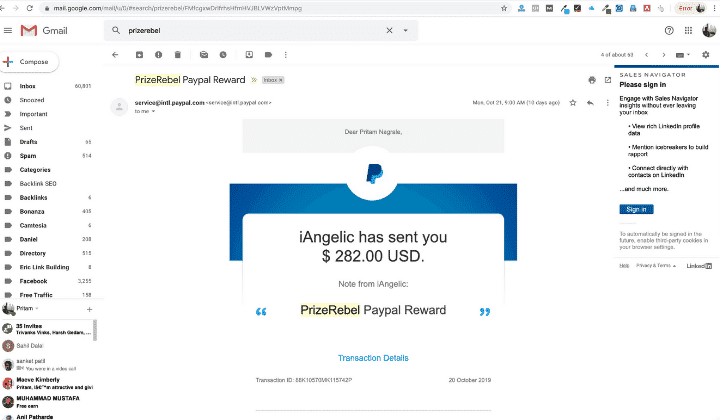 You can check all the earnings from different channels under Account Settings section.
An Honest Review
So this was all you need to know about PrizeRebel. I joined PrizeRebel one year back and earned over $1000 since then.
My most of the earnings came from referrals and not from other tasks like Surveys or offers.
So my point of view is yes PrizeRebel is a legit website where you can earn extra income in your free time.
However you need to know the nuances.
If you are a new comer joining PrizeRebel then don't expect much from it. At best you can earn $30 – $50 per month completing all the surveys and other tasks.
However experienced bloggers like me can earn up to $500 a month if they have a website with a huge traffic coming on to it. Referral income is way more than the income from completing surveys.
Unfortunately a newbie will find it very hard to make money from referrals. So initially he/she has to depend upon surveys.
Finally I will conclude by saying don't rely on PrizeRebel if you are looking for a job online that is going to pay you enough money to run your errands.