Black Friday, as anyone would know, is one of the busiest shopping seasons every year. You'll have definitely seen Black Friday sales at malls and department stores. Online retailers including Amazon and eBay also launch Black Friday sales.
Today, In this article we'll discuss about 20 amazing Black Friday shopping tips which will help you grab huge discounts on the products you want to buy.
Black Friday Shopping Woes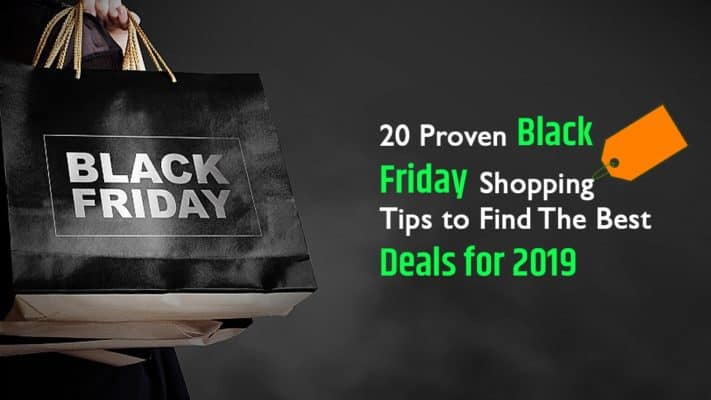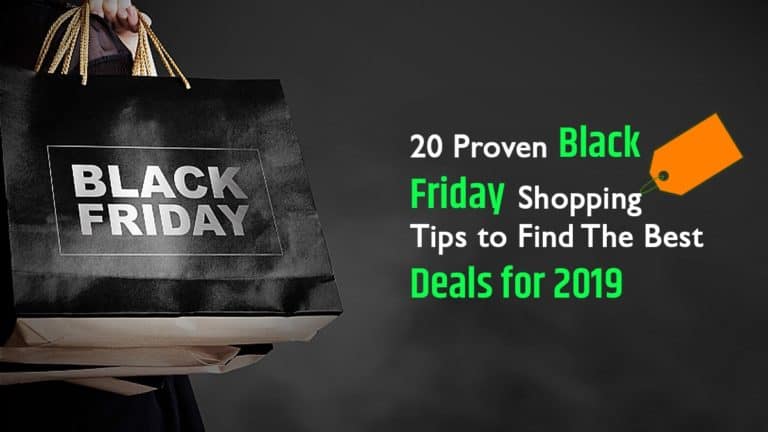 While you would definitely be enjoying Black Friday shopping, you might also have experienced some woes in the past.
As millions of shoppers start ticking off items on their shopping lists, it's quite likely you might find the stuff you want has gone off the shelf or no longer available at that very low price on popular online shopping websites.
And you would definitely be aware that making last minute changes to a shopping list takes some effort and can prove expensive as well.
To avoid such disappointments and extra expenses, I suggest you prepare well for Black Friday shopping.
Actually, it doesn't require much effort to prepare well. And preparing for Black Friday shopping can be an exciting experience as well.
Also Read:15 Biggest Online Shopping Mistakes & How to Avoid Them
Therefore, here're 20 Black Friday shopping tips to make full use of this once-a-year occasion and sale.
20 Amazing Black Friday Shopping Tips For 2019
These 20 Black Friday shopping tips might help you make the best of the season. While they'll definitely help save money, these tips also reduce the risk of the stuff you want getting sold out earlier.
1. Know How Much You'll Spend
Every brick-and-mortar as well as online store wants to attract you. They'll offer superb discounts during Black Friday sale.
Hence, it's quite easy to lose track of your spending. The first and most important tip therefore is to know how much you'll spend and draw your own limit. That means removing all unwanted stuff off that shopping list.
2. Draw Your Budget
Once you know how much you'll be spending on shopping, the next step is to draw your budget. And that can be pretty tough.
Because Black Friday sale has so much to offer that shopping on a budget means literally ignoring those superb discounts.
Yes, you might miss the discounts but not overspend. And that's why you need to draw a budget and stick to it.
3. Explore Lowest Rates
Before you begin Black Friday shopping, explore the lowest rates before. This may involve going through online stores as well as brick-and-mortar shops to find cheapest rates for anything.
Here I'm not talking about cheap stuff instead of what you want to buy. Instead, I'm talking about what you wish to buy and finding where it's available for the lowest rate.
That way to can scrape away a few Dollars off your Black Friday shopping bills.
4. Ask Bulk Discounts
One thing you shouldn't miss on are bulk discounts. Several online and offline stores have very special rates when you buy in bulk.
Check with friends or neighbors if they're planning on buying the same thing. If so, you can pool the money and place bulk orders.
That way, everyone gets a better discount. Sometimes, bulk rates are lower than wholesale prices.
5. Find Rewards Points
Black Friday is the time to gather all those reward points and redeem them for cash, shopping vouchers and freebies.
You might have rewards points from completing online surveys or even on your debit card. Check if your debit card or credit card has a loyalty program because you might have adequate points to redeem for a freebie.
Regardless of whatever loyalty and reward points, redeem as many as possible for Black Friday sale.
6. Check for Coupons
Surely you're aware there're coupons available online that offer fantastic discounts on seasonal shopping. Of course, these coupons would be valid for specific products at particular stores only.
One tip I can definitely provide you about coupons. Check what's on offer at lower price using coupons and spin your shopping list around such stuff.
7. Look for Local Discounts
The online shopping rush definitely puts brick-and-mortar stores at severe disadvantage. Often, they're unable to match lower prices available online.
Hence, they also give away hefty discounts on various merchandise during Black Friday sale. Keep eyes open for these local discounts since you might get something that's costs lesser than online store.
8. Free Delivery or Pick Up?
Asking free delivery or picking up things from the nearest fulfillment center or store can be a big question.
If you're buying something that comes with a huge discount, I'll suggest you pick it up to avoid shipping delays and sometimes, cancellation of your order.
When you opt for pick up, the seller has to ensure it's available when you go there to fetch it,
9. Use Prepaid Debit Card Balance
If you're one of those blood or plasma donors or have gift debit cards with small balance, Black Friday is the right time to bring them out.
You can collect all the small amount on a single card to spend for your Black Friday shopping. There're several place where you can exchange your gift cards for hard cash or transfer them to a single debut card.
10. Collect & Use Coins
According to various news reports, Americans throw away more than $62 million in coins each year.
The reason: Nobody wants to bother keeping away countless coins. However, you can collect these coins and use them for Black Friday shopping.
Ideally, you should collect coins for a few months so they add up to a good amount. You can pay for shopping with these coins or exchange them for cash on debit card.
11. Use Your Gift Cards
All of us receive physical and electronic gift cards during a year. Usually, we ignore these gift cards when theivalue isn't really significant.
Black Friday sale offers an excellent opportunity to use these gift cards while buying online or offline.
Though the value of your gift card is small, it does help lower your final bill online or at some store. If you're lucky to have several gift cards, you can save a lot of money.
Also Read: 25 Best Ways to Sell Amazon Gift Cards for Cash
12. Download and Use Apps
Ever heard about Field Agent and Gig Walk? If not, let me tell you what these amazing apps do.
They help you earn points that you can redeem for cash or gift cards. If the location mode on your smart phone is turned on, the app will indicate nearby tasks.
These can include taking a sneak peek into the nearest store or restaurant or something similar.
When you complete these small tasks as you shop on Black Friday, you collect points. You can redeem them later or immediately, depending upon how many points you have.
13. Create Shopping Schedule
Personally, I love mingling with crowds that wait for malls and large stores to open on Black Friday. After all, you're going to find crowds everywhere.
Hence, the best tip here is to create a shopping schedule. You can do all the online buying anytime. But create a proper timetable for visiting malls and other stores since you'll run into crowds.
Sometimes, the things you wish to buy may go off the shelf quickly. By creating a schedule, you lower the risk of missing real bargains.
14. Plan Shopping with Friends
Regardless whether you're shopping online or in-store, get your friends to participate. The first reason as I told you earlier is to bag bulk discounts.
The second is to divide tasks and grab the best discounts. Shopping with friends is particularly useful if you're planning on buying stuff from various stores in the city.
You can visit one mall to shop for friends and yourself. And your friends shop for you.
15. Check Facebook Marketplace
You can find some fantastic products and prices on Facebook Marketplace, provided you spend some time looking.
Since Facebook Marketplace operates only within a specific geographic location, these deals would be near home or work. And some sellers on Facebook Marketplace also offer online buying with shipping facilities.
16. Shop on Shopify & Etsy
Etsy is a very special marketplace for handcrafted and exquisite products. And Shopify allows anyone to open a marketplace for any goods.
As a result, you can find some superb things on both these websites.
Several sellers on Etsy and Shopify also offer Black Friday sale as part of their celebrations while others do that to compete with giant online retailers or even, create their own mark during the sale season.
17. Online v/s Offline
One of the hardest things to decide is how to split online and offline shopping. One of the tops that I would give you is to decide how and where you wish to shop.
Actually, online shopping works out better since you can bag some amazing discounts. In fact, Amazon has the very popular Black Friday sale every year.
At the same time, offline shopping has its own fun. Therefore, go to places where you know best deals are available after following some of the above tips. The remaining can be bought online.
18. Use Shopping Apps
Some Black Friday discounts are available only through shopping apps of online stores.
Hence, here's a small tip: download these apps well in advance before Black Friday sale begins. Compare discounts between in-app purchases and buying through website. You can save a little on select online apps.
19. Gift Wrap or Not?
While shopping for gifts, it's customary to have the item wrapped. However, you can skip this during Black Friday sale.
Though a store may offer free gift wrapping, waiting for your turn can take away a lot of precious time. Instead, you can have the item gift wrapped later for a few cents or do that yourself.
 20. Zero APR Shopping
Buying with a credit card usually attracts something known as Annual Purchase Rate (APR). This works on some kind of compounded interest design.
During Black Friday, you'll definitely come across some stores and credit cards that offer zero APR shopping for an extended period. For example, if you have 30-day credit, you may get an extension for say 45 days. But remember to pay off on time.
Wrap Up
Before concluding, I'll also add a word of caution. There're lots of scammers lurking on the Internet.
You might come across a website that offers unbelievable discounts. Never buy from such sellers before verifying their credentials. If unsure, the best thing is to avoid these sellers and opt for known ones.
Though you might not get that killer discount, you'll save yourself the hassles of identity theft and other scams.