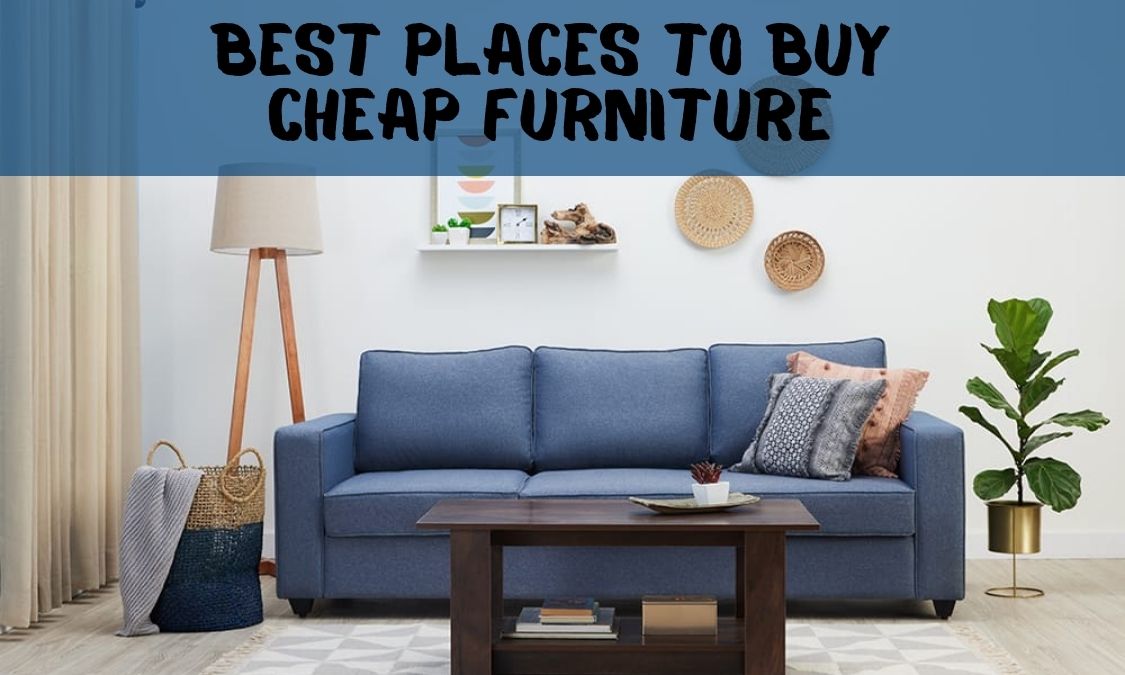 All of us require furniture for home and office as well as workshops and other places. If we're relocating, it might prove cheaper to sell old furniture to the homebuyer and instead, buy new ones that are cheaper.
But, where does one actually get cheap furniture? Many places in fact. In this article, I will be discussing the 27 best places to buy cheap furniture in 2023. Read this article till the end so that you can avail amazing discounts on the best furniture, according to your location in the US.
The stores that I include in this list of 27 places to buy cheap furniture also consist of some online sellers. That way, you can explore the entire market and find what suits your tastes and fits into your budget.
But first, let's look at various reasons to buy cheap furniture in the first place.
Table of Contents
Reasons to Buy Cheap Furniture
It's a well know fact that cheap furniture will look cheap and perform poorly as well. This could cause a major embarrassment if you're someone that hosts people frequently. Also, cheap furniture that cracks, breaks, bends or gets broken quickly signals a waste of your hard-earned money and a waste of time and effort too.
Therefore, the question arises: why go for cheap furniture? Here're some reasons that may convince you.
Why Go for Cheap Furniture?
Imported Furniture
One of the main reasons to look for cheap furniture is that you can find some very high-quality stuff. That's because a lot of American stores actually buy furniture from Asia and Africa at low prices. These are superior quality products but are sold cheap because of the difference in the currency exchange rates of the US Dollar.
Low Resale Value
Usually, conventional furniture has a very low resale value. That means, if you'll be selling the furniture, you can expect almost 20 per cent of the price you paid for the new one. And as if that's not less, you would also have to repair any damages to the furniture or sell it even cheaper because it needs some maintenance.
Regardless of whether you buy expensive furniture or cheap ones, the price you get from the sale of used stuff isn't really much. Therefore, it is better to opt for cheaper furniture in the first place.
Relocations
If you're relocating from one city to another distant one or even a foreign land, it's impossible to lug along all that heavy furniture. In fact, the cost of transporting it on trucks can prove more than buying new furniture itself. Therefore, if your job requires relocation or if you're planning on moving to another city, it's best to buy cheap furniture.
Therefore, if you would like to avoid buying expensive furniture and yet get the best comfort at the best possible prices, go through my list of 27 places to buy cheap furniture in 2023.
The list can not only help you save a lot of money and hassles but also ensure that you get the high-quality and very decorative furniture of your choice.
What is Cheap Furniture?
Before I proceed with the names of these 27 places to buy cheap furniture, let's understand what the term "cheap furniture" actually means.
According to Home Arise, the cost of furnishing a house in the USA in 2022 stands between $3,000 and $95,000. Obviously, this depends on the number of rooms in your house and the quality of furniture you will buy.
The median cost of furnishing a house of 2,000 square feet stands at about $16,200 in 2022. This breaks up as $4,200 for the living room, $3,000 for the dining room, and the balance of $12,000 for the three bedrooms at the house as well as any washrooms that may require furnishings.
A small house or a studio apartment can cost about $3,000 for furnishing. Luxury furnishings can cost as high as $95,000 or even more.
Therefore, in my opinion, cheap furniture is something that helps you to furnish a 2,000 square feet house for less than $16,200 in the USA in 2023.
Best Places to Buy Cheap Furniture
There're countless opinions about where and how to buy cheap furniture in 2023. Some home décor websites state that buying furniture online can help save a lot of money while others believe that it's better to shop around at different places- online as well as offline- to get the best rates.
And yet others aver that visiting furniture showrooms is the best way to get cheap ones. Then we also have people who affirm that buying used furniture is the best way to get it cheaper than market prices.
Therefore, in this article, I am writing about all these kinds of places where you could get cheap furniture. You can pick and choose any of these options, depending on your tastes, budget, and needs.
1. Facebook Marketplace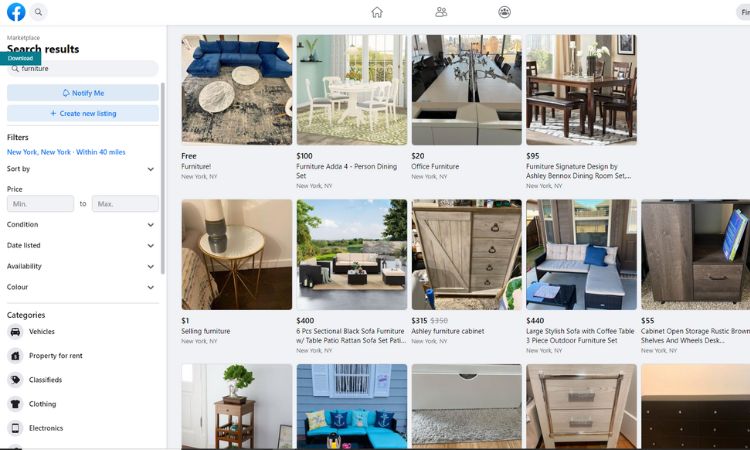 For many, the mention of Facebook Marketplace might come as a surprise. However, there's nothing strange about this. There're lots of small furniture sellers that offer excellent stuff through Facebook Marketplace. They use the social media portal to promote their furniture as it serves them as another point of contact with customers.
2. Amazon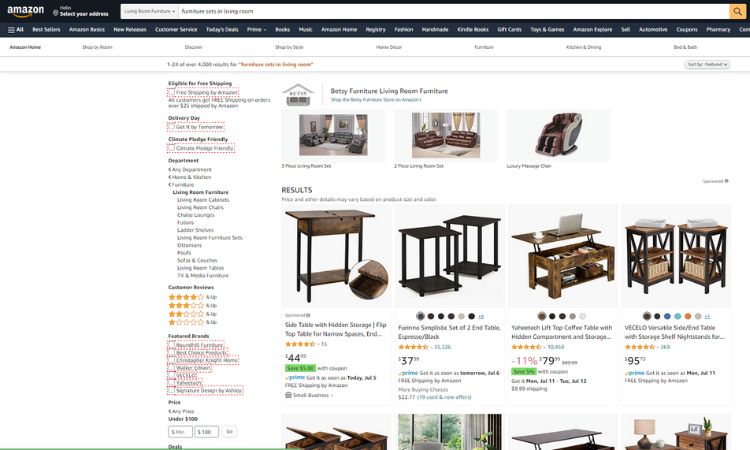 It goes without saying that Amazon, the largest online retailer in the world, also sells furniture. In fact, there are two different categories of furniture that you can buy cheaply on Amazon.
One is the regular, factory-made furniture that's all too common. The other is furniture from Amazon Handmade, which features a bit pricier yet affordable, and is made to specs by a craftsperson. You can also use amazon hacks to save money and get some free stuff.
3. eBay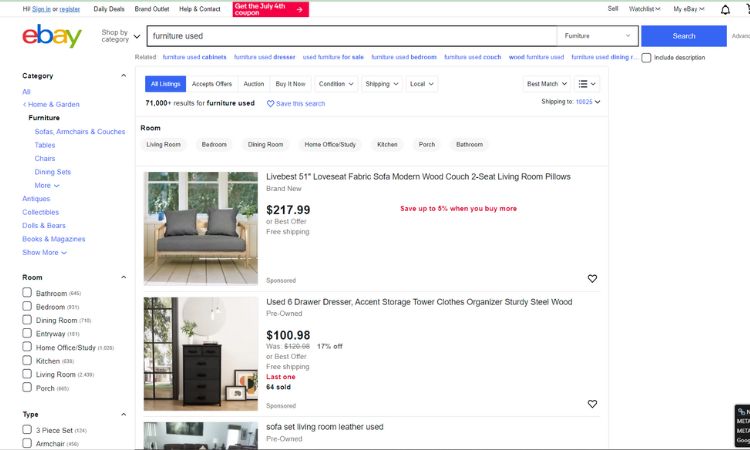 If you're looking for used or new furniture, then one of the best places to look is eBay. Here, you can find a vast collection of furniture of all kinds. As a matter of fact, you could land some excellent deals at the location where you're going with some used furniture or even a showroom selling newer ones, through eBay. They also have furniture auctions frequently.
4. IKEA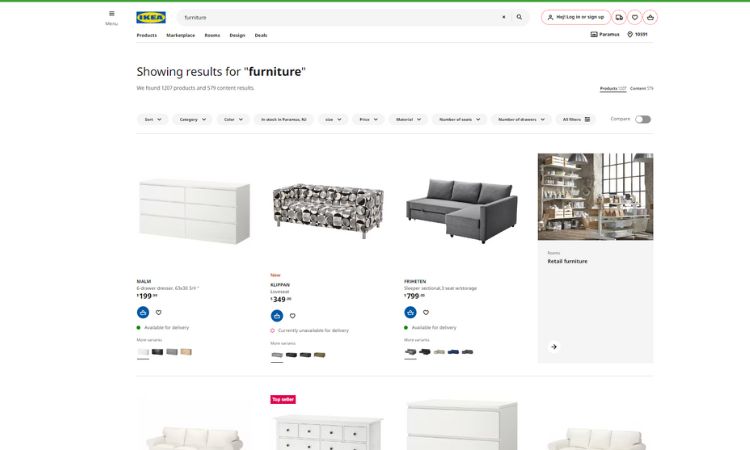 The Swedish brand IKEA is very famous around the world. And despite being from Sweden, IKEA furniture doesn't really cost as much as you might imagine. In fact, you can find some very attractive prices for a sofa or bedroom set on IKEA. Here, you have two options. You can shop from the IKEA online store or visit one of their showrooms near your place.
5. Shopify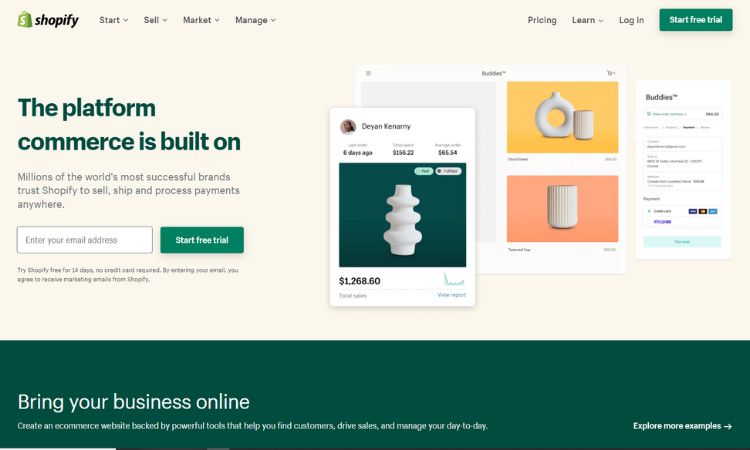 There're dozens of online marketplaces on Shopify where you can find some amazing and cheap furniture that's exclusive and high quality too. These are sold by smaller retailers that don't have an online presence, such as their own website. They provide excellent rates and free home delivery too. However, this option can take some time since it would involve browsing many such marketplaces to find what you need.
6. Craigslist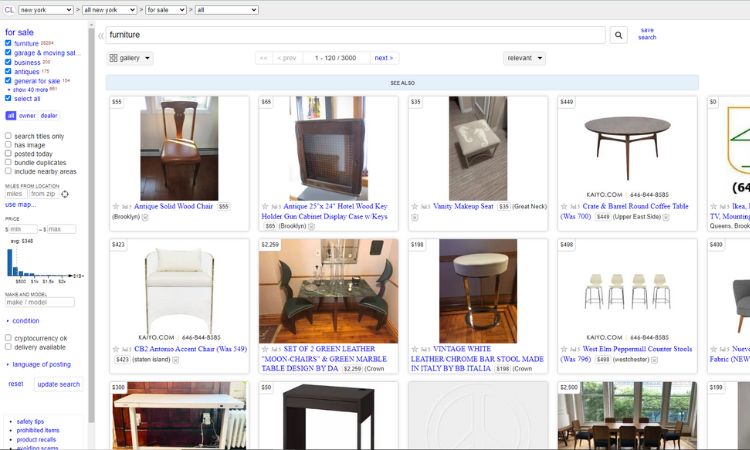 The largest free classifieds portal, Craigslist, is also a superb place to look for cheap furniture- both preowned and new. You can find some of the best deals in town on Craigslist if you care to spend some time and look. The reason is that lots of homeowners sell their furniture through Craigslist. Then we also have sellers of used furniture and smaller retailers that sell new as well as refurbished furniture from Craigslist.
Also Read:
7. Etsy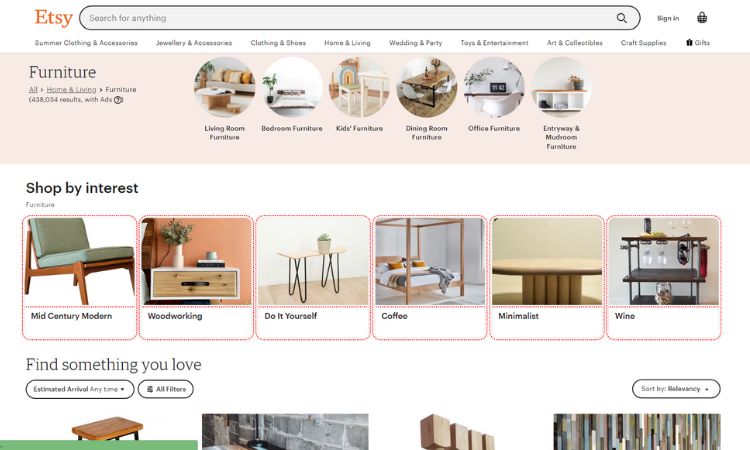 Etsy is also a portal where you can find dozens of marketplaces selling exclusive handcrafted furniture. Despite being exclusive and handcrafted, such furniture isn't very expensive. There're also craftspeople that you can contact on Etsy and have furniture made to your specs. As a rule, all marketplaces on Etsy are required to sell only unique and handcrafted stuff. Therefore, it is natural that you will find cheap furniture here.
8. Walmart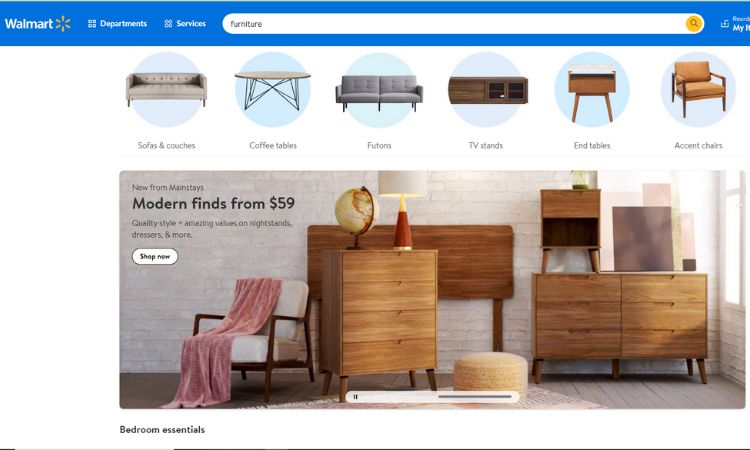 The largest chain of superstores, Walmart, also sells furniture. However, it is worth knowing that furniture is available at some of the larger stores only and not every branch of Walmart. They sell very economically priced furniture that's factory-made and often imported from Asia, Africa or South America. These items are relatively cheaper and of high quality, despite the price.
9. Target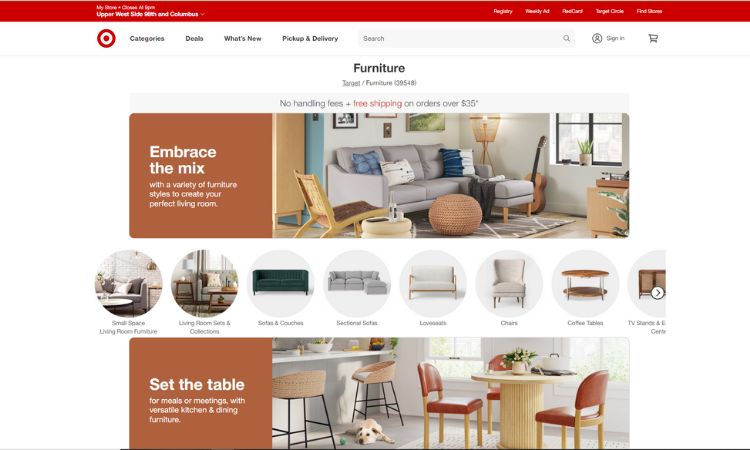 A smaller range of furniture can also be bought online as well as offline from select superstores of Target. They usually sell Do-it-Yourself kits of stuff such as small tables, racks, shelves, and other motley stuff such as plastic or fiber chairs and tables for garden and pool uses. You can also find a wide range of furniture for kids at some of the Target superstores across the USA. These are very reasonably priced and of high quality.
10. Home Depot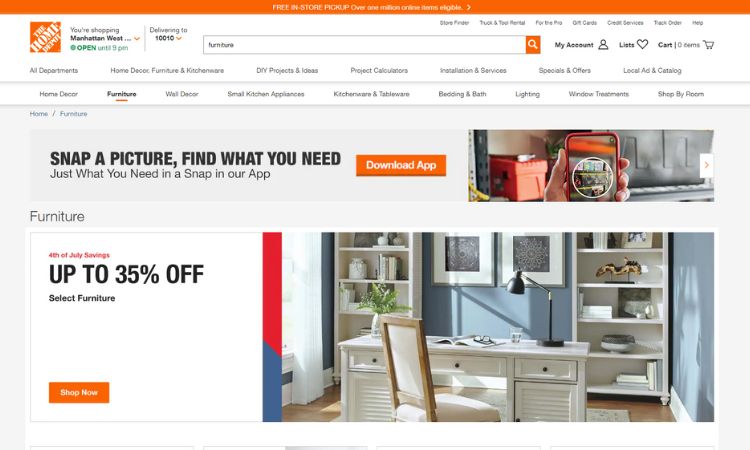 Perhaps the largest showrooms dedicated to furniture and home furnishings across the USA belong to Home Depot. This is a global brand actually. They have furniture to suit every taste and budget. All you need to do is go to your nearest Home Depot showroom and select the stuff you want. They also have a website where you can view and also buy cheap furniture. It's a company listed on the US stock exchanges.
11. Lowes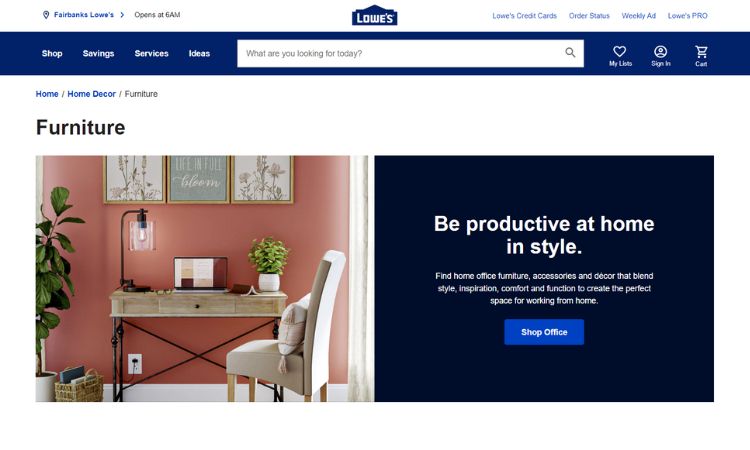 Yet another major brand in furniture is Lowes. This is also a company that's listed on the American stock exchanges and a large multinational corporation with operations abroad. As a result, Lowes procures furniture from different countries around the world and offers it at very reasonable prices in the USA. Visit your nearest Lowes showroom or their website to view prices and the things you wish to buy. They have a very large collection of furniture and furnishings too.
12. Salvation Army Stores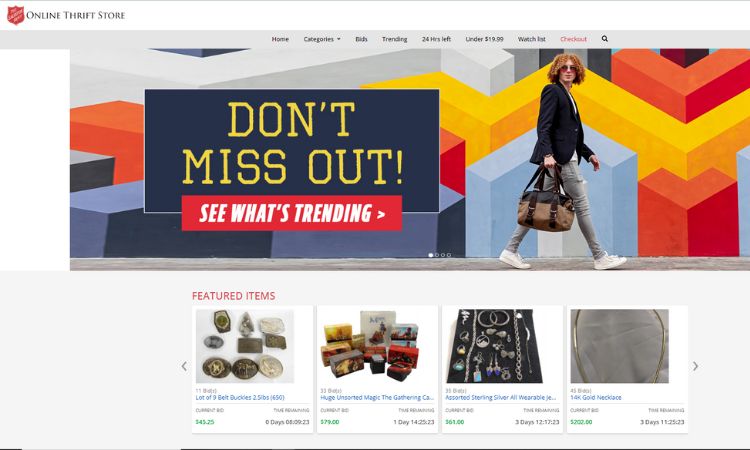 The Salvation Army Stores across the USA don't sell new furniture. Instead, you could find some very economically priced used furniture here. That's because the Salvation Army is a charity organization. They accept donations of used furniture and resell it to buyers.
However, be ready to spend a little more because the Salvation Army Store doesn't usually repair or refurbish any items before selling. This means you have to buy the stuff on an "as is" basis. Check the furniture carefully before buying. You also have to pay the transport charges.
13. Ali Express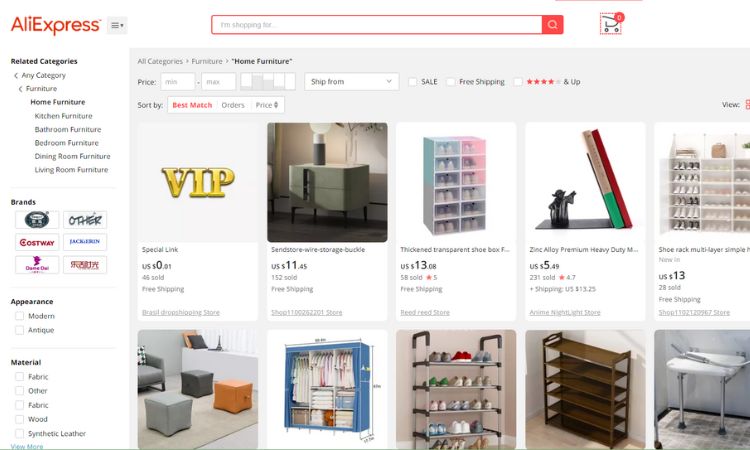 Ali Express is one of the best online shopping sites in China that specializes in very economically priced goods made in that Asian country. They have a large collection of furniture for homes and offices on their website. And they also have an amazing range of furnishings.
Ali Express delivers to locations across the USA through its partner logistics carriers in the country. Therefore, if you're looking for very cheap furniture from Asia, I would suggest you try Ali Express.
14. The Furniture Mart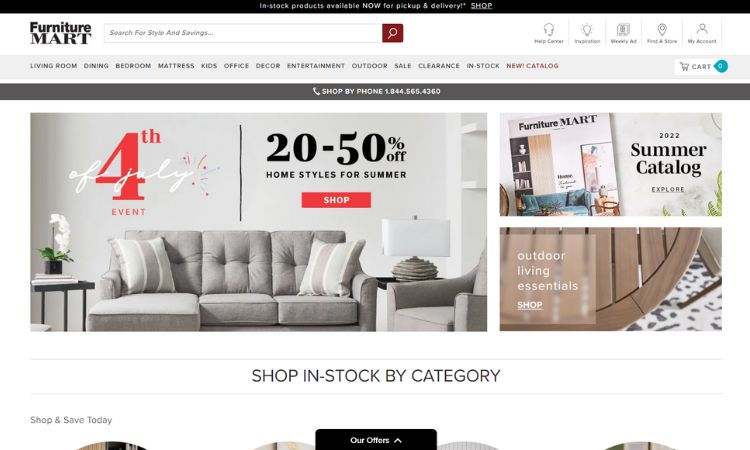 The Furniture Mart primarily operates in North Dakota, South Dakota, Minnesota and Iowa states, where they have brick-and-mortar showrooms. However, they also accept orders online for furniture, from various locations in the US. And, The Furniture Mart also has a seasonal sale, where they offer furniture collections from previous seasons at very low prices. You can find some of the top-quality furniture cheap at this store.
15. The World Market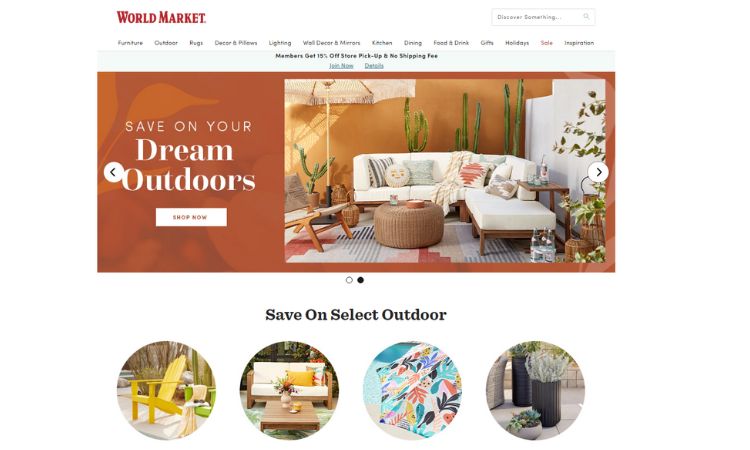 If you're looking for that Oriental look for your house, shop at The World Market. As the name suggests, they have reasonably priced yet high-quality and durable furniture from various Asian countries including India, Indonesia, Sri Lanka, Thailand and Malaysia, to name a few. Additionally, they also offer excellent quality furnishings with traditional Indian prints as well as Batik collections from Indonesia and Malaysia or Oriental patterns and lamps from China and Japan.
16. Bed, Bath & Beyond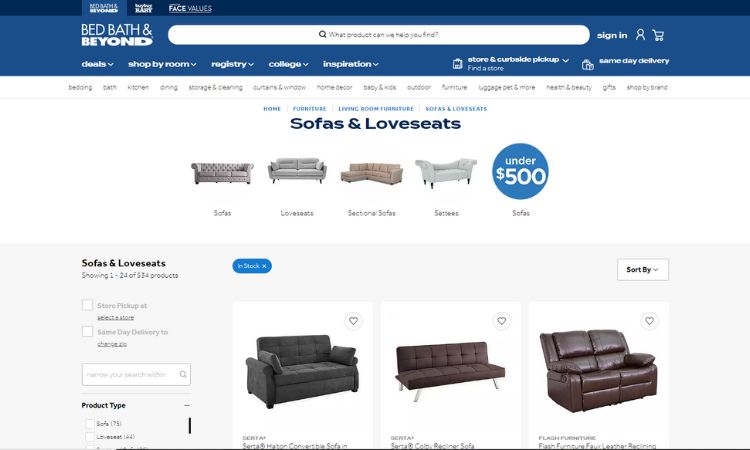 The name Bed, Bath & Beyond is apt for this store and website, which offers such a vast range of furniture and furnishings that it's impossible to ignore them in the least. They ship across the USA and also have showrooms at various places in the country, sometimes operated by local franchisees. Here, you can easily find furniture for your entire house without burning that proverbial hole in your pocket or going away from your budget.
17. Apt2B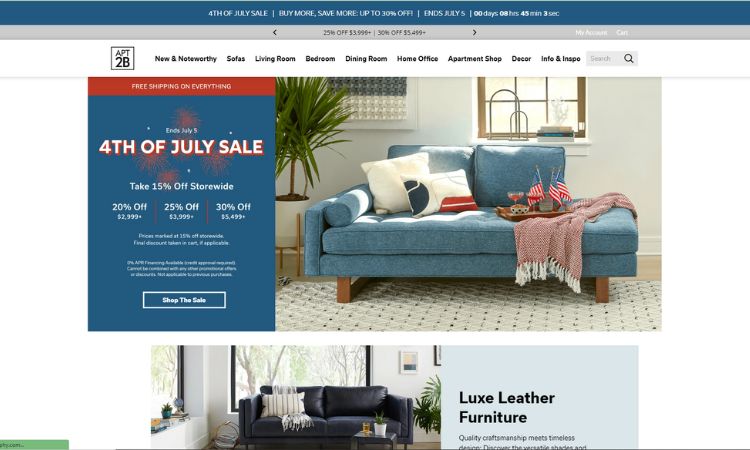 Apt2B is only for customers that are looking seriously for purely American-made furniture. That's because Apt2B outsources its furniture from various craftspeople and companies in America only. Yes, they do have a small collection of imported furniture too. The best part of Apt2B is that all their furniture comes with a limited warranty. This means you can return any item if you come across manufacturing or assembling defects, and Apt2B will replace it free of cost.
18. Sears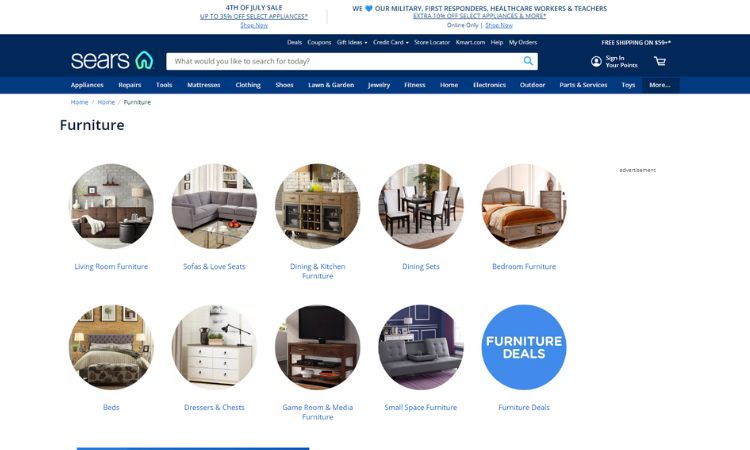 For some people, Sears is a household name because they also have an eponymous chain of department stores across the USA. And Sears also has a dedicated furniture division where you can easily find everything you need for your house under one roof or, rather, one website too.
Sears ensures that the furniture it sells complies with the best manufacturing practices and ensures that high-quality stuff is available to customers. You can find very reasonably priced furniture for an entire house from Sears if you look through their website or store.
19. Rakuten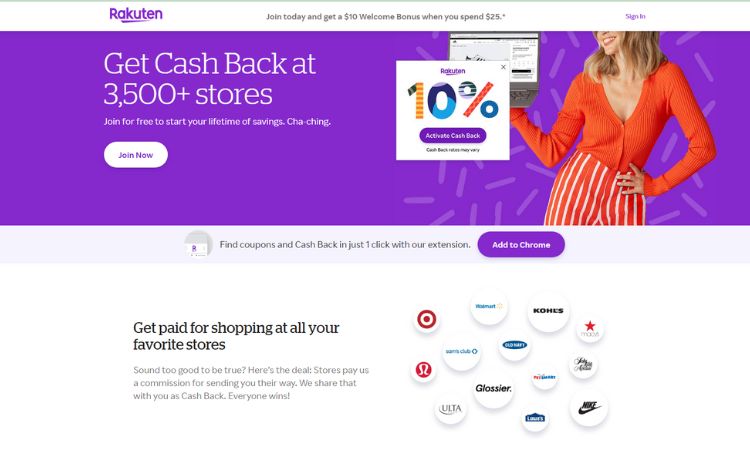 Owned by an eponymous chain of department stores in Japan, Rakuten now also operates in the US. They have a superb collection of smaller home furniture items, such as tables, chairs, desks, racks, and shelves, among others, that ship as kits and can be easily assembled at home.
These DIY kits come from Asia and the US or even other suppliers abroad. They also have some Asian-style furnishings that you can buy if you would like those kinds of patterns for your home or office.
20. Wayfair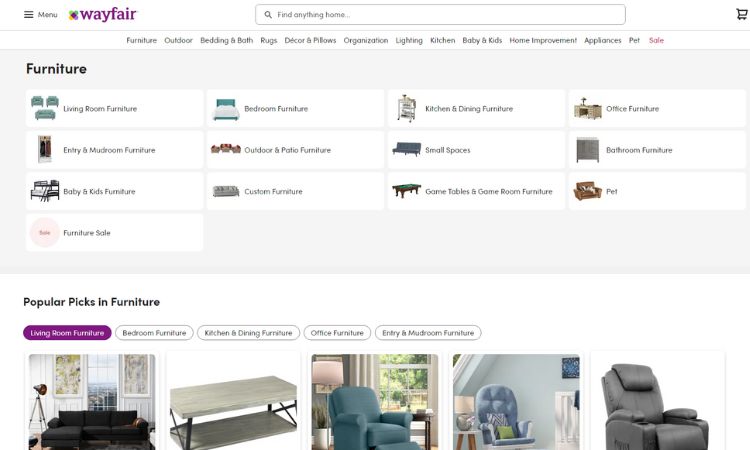 At one time, before the Covid-19 pandemic struck the world, Wayfair had a storefront in Kentucky. However, this has yet to open, though we're in mid-2022. Instead, Wayfair is now focusing its energies and resources on online sales only.
You can find some top-quality furniture for gardens and homes at Wayfair's online store. They ship orders to all 50 states of the US. Additionally, Wayfair also has seasonal sales and discounts around the year.
21. Crate and Barrel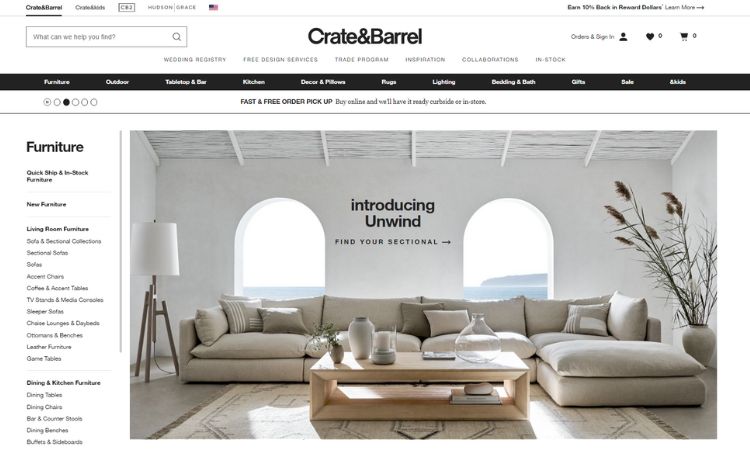 If you're looking for metal furniture for the home, office, workshop or industrial unit, Crate and Barrel might be an ideal choice. They sell readymade and customized metal furniture through their eponymous website. Crate and Barrel ships orders to all 50 states across the USA.
You can also have metal furniture made to your specs from Crate and Barrel, though the charges can vary depending on the type of material and dimensions of your order. However, this is an ideal place to buy durable metal furniture in the USA.
22. Costco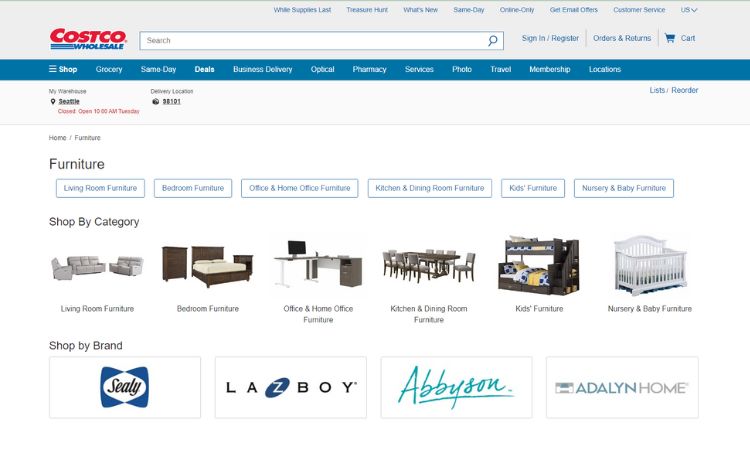 Another very famous American retailer, Costco, also sells home, office, and garden furniture. Costco operates through 829 outlets across America. Most of them sell home and office furniture that's priced quite reasonably and can help you save money on furnishing a home or office. You can also consider a Costco membership to slice off a few more Dollars on your spending for furniture from these stores. Costco also sells furniture from its website.
23. Knoll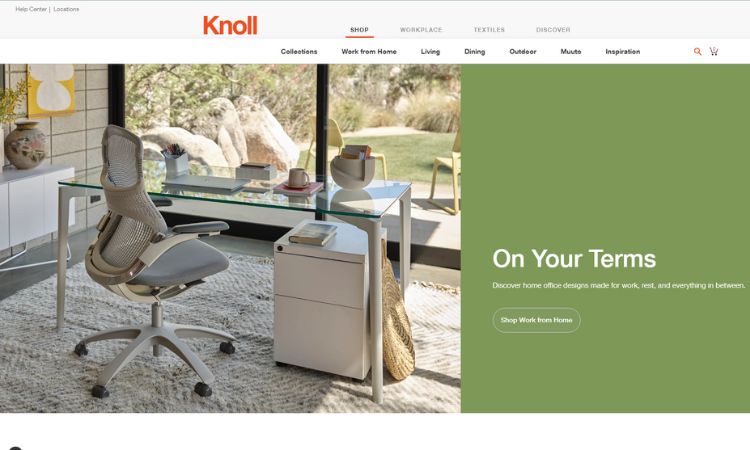 Knoll is located in Milan, Italy. This is a very prestigious company that sells home, office and other kinds of furniture that's very chic and modern. They have extensive operations in the US. You can visit their eponymous website and look at what's on offer at Knoll. Their international division looks after sales and after-sales support services in the US.
Though furniture from Knoll isn't exactly cheap, it would still fit into your budget of about $16,200, including all charges, such as freight and installations, where necessary.  The advantage of Knoll is that you get the best and latest styles of furniture for home and office here.
24. Kohl's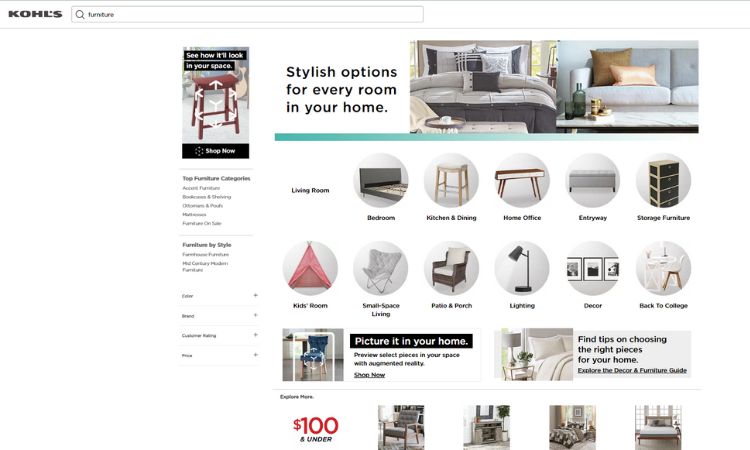 Round-the-year discounts are on offer at Kohl's. This is also one of the topmost superstore chains in the US. You can find home, office, garden, and smaller industrial-type furniture both online through their website and Kohl's stores across the USA. The Kohl's Epic Deals, as the company calls them, are available on furniture around the year. Hence, you don't really need coupons and other ways to get lower prices on furniture from Kohl's.
25. AptDeco.com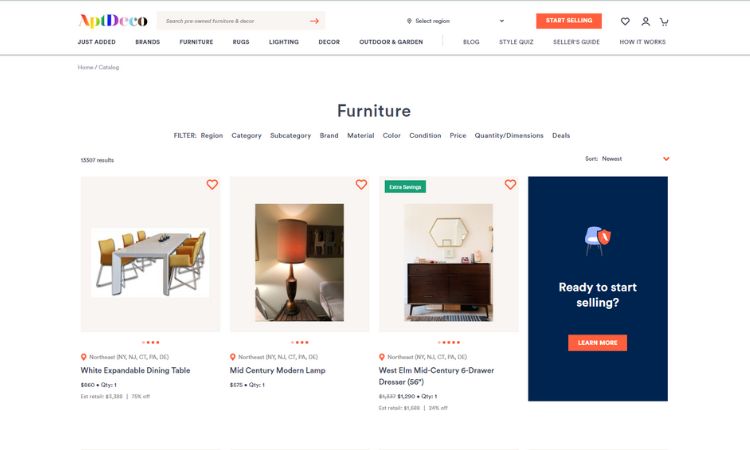 For those who wish to have vintage-style furniture but do not pay vintage furniture prices, AptDeco.com is worth considering. They have modern furniture or rather, factory-made furniture that is made with antique styles. This means you can give your entire house that feels of being decorated with antique furniture for just a fraction of the cost.
26. Macy's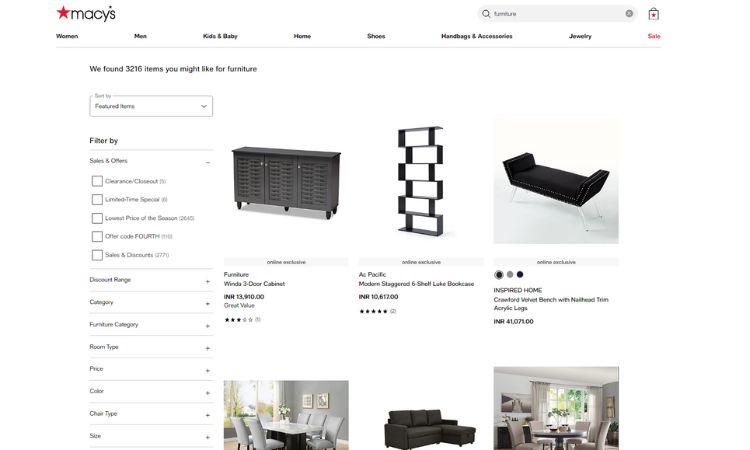 Another top name in department stores is Macy's. It has been around since 1853, which speaks well of the high quality of products and reputation of Macy's and its owners. Macy's also sells all kinds of furniture that are reasonably priced.
Though you might not come across very cheap furniture here, you can be assured that buying high-quality furniture from Macy's won't cause you to overstep your $16,200 budget for a house of 2,000 square feet. Instead, you might save some money by buying through Macy's either online or offline.
27. Nadeau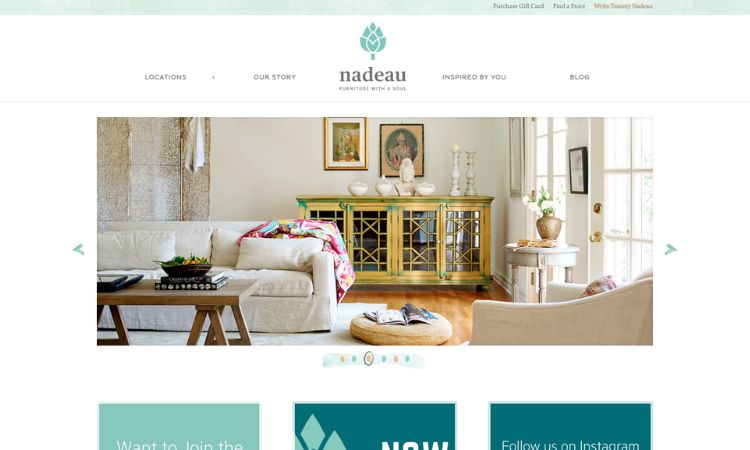 Nadeau has some 35 furniture showrooms and brand stores across America. As a rule, Nadeau doesn't sell online. However, if you walk to any of their stores and make a purchase, they will arrange for delivery anywhere in the USA either through their chain of logistics companies or other retailers. They don't sell very cheap. Yet, Nadeau is known for its amazing quality furniture available at affordable prices, which fits into the median of $16,200 for an average American home.
Buying from Abroad
Thousands of Americans buy cheap furniture from Asia and other places because of the price. This practice can help you to cut down costs of furnishing a home by at least 50 percent, due to currency exchange rates.
However, it is worth knowing that there are lots of risks involved in buying furniture abroad. You might end up receiving broken or damaged furniture or, sometimes, not getting anything at all, despite paying and arranging for transport.
Therefore, if you're tempted to buy abroad, make sure to buy from only large dealers that have a good reputation in the local and foreign markets.
Wrap Up
The US furniture market stood at $239.40 billion in mid-2022. These figures clearly indicate that furniture is a big draw in the USA as people and especially new homeowners buy it for their needs. However, it's a myth that good-quality furniture should be expensive. Instead, you can land some superb deals and bargains at these 27 furniture stores that I have listed.
FAQ
What is the best site for used furniture?
Craigslist and Facebook Marketplace are some of the best sites for used furniture. They offer a wide range of listings, easy to navigate and allow users to search by location and price. These sites are known for their user-friendly interface and efficient buying process, making it easy for buyers to find the perfect piece of used furniture.
Which website sells the best-used furniture?
Craigslist and Facebook Marketplace are the best websites for finding used furniture. Both offer a wide selection and great prices, with easy search options and a large user base.
Which site is the best for buying used furniture in India?
Quikr and OLX are the best options for buying used furniture in India. They have a wide selection of individual and professional sellers, offer location-based searches, and have buyer-friendly features such as filters, ratings, and reviews.