Getting account approval from Google AdSense is one of major issue among bloggers & internet marketers (oh yes for spammers too!) in India, Pakistan, China & other countries. Google is becoming more & more stricter related to the AdSense account approval & so people are not getting their account approved.
One of the biggest problem comes when Google says, your domain must be 6 months old to apply for AdSense. They have other guidelines as well which you can access here.
Although you will find many websites, who are selling AdSense account but most of these sites are fake. Many of them create the account through some illegitimate way & once you receive the account from such people, there is a big chance, it will be deactivated in next few days.
But you don't need to worry. If you are a genuine person who own a decent website with good traffic (I mean genuine traffic), then there is a way out to get your application approved from Google AdSense.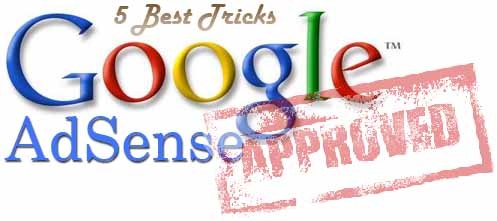 I am explaining here some of the AdSense approval tricks which work most of the time. Try one or other & I am sure, you will have your AdSense account in next few days.
Top 5 Tricks for AdSense Account Approval
Let's check all the 5 tricks one by one for getting your AdSense account approved from Google.
1. Create a Better Website
One of the best & highly recommended way is to create a good website. If you get the approval & no one visiting your website, then there is no meaning to your AdSense account. It won't give you any earnings.
You need to publish high quality contents on your website if you are looking to monetize your contents. People visit your website for your contents & not to make you money. If you provide them with good contents, your visitors will love them, share them & make a return visit for the new contents.
One of the best idea is, create your website on WordPress platform. If you already own a website, you must know what is WordPress. More than 25% website are created on WordPress only. Create a better WordPress blog with regular updated contents, design it properly with sitemap & navigation & then submit it on Google AdSense. I am sure, you don't need to use other tricks mentioned here for approval.
2. Buy an Old Domain
As I told you, you need to have a 6 month old domain in order to apply for AdSense account, you can buy an old or expired domain through various domain auction sites like GoDaddy, Sedo or NameCheap.
You can buy an expired domain for as low as $5. Then you can build a good WordPress blog on that domain, publish good contents on regular basis & then apply for AdSense account. This is another best tip to get your AdSense approval.
3. Apply with BlogSpot blog
Initially when Google started to decline AdSense application for new domain, BlogSpot was the sure shot way of taking approval from Google AdSense. Create a blog, write 1-2 post, apply for AdSense account & take approval but its no more the case.
Now Google is taking seriously all applications that comes through BlogSpot blog but still there is a trick for this. But you have to shell out around $10 for this. Its better than taking a fake AdSense account for $20 or more from AdSense account seller.
All you have to do is create a BlogSpot blog & buy a domain from blogger to use it for your blog. Now your BlogSpot URL will be https://www.yourdomain.com instead of https://yourname.blogspot.com. Now publish some good 5-7 articles & then submit your website for AdSense account.
If you buy a domain name from Blogger.com then you don't have to do any settings to use your domain with BlogSpot but if you are already have domain or buy it from outside then you have follow the guidelines mentioned here to point that domain to BlogSpot blog.
With Blogger, you have to pay $10 or more but if you buy from other service provider like GoDaddy, you can buy it for less than $5 for '.info' domain or by using some discount coupons.
This tricks works most of the time but if you don't get approval in first attempt then write some more useful articles & then apply. I am sure, you will get approval in few attempts.
4. Revenue Sharing Websites
Revenue sharing website are best trick to get approval from Google AdSense. All you have to do is register an account with a revenue sharing website & upload high quality articles on these website. You can use site like HubPages to write the contents. These are high authority sites in Google's eyes & if you write some quality stuffs, your sites will also receive traffic. After sometime, you can apply for AdSense account & there is a great chance, you will get the approval in first attempt.
5. Use Fiverr Service
This is not recommended but this one is also a trick for AdSense account approval. Many people sell AdSense account on Fiverr for just $5.
Many of them use the same technique as I mentioned about the fake account seller in the beginning but there is some difference between those & Fiverr sellers.
The charges those AdSense account sellers ask are very high & you will not find any review from the genuine customers. If there are any testimonials on the website, that might be fake. But in Fiverr, you will get the service in just $5 & the review Fiverr sellers receive, are from the real customers only.
I don't want to recommend any Fiverr seller here. Just visit Fiverr & search with keywords like 'AdSense account' or 'Google AdSense approval' & you will find many sellers. Once you find the results, click on 'Rating' tab so that sellers will be sorted with highest rating first. I hope you get a genuine account this way.
So these are some of the best tricks for Google AdSense account approval. I don't think, you will not get approval by using these tricks. Try them today!
I am a an old internet marketer & 6 year old AdSense publisher. I am making good money through AdSense & affiliate marketing. AdSense approval is one of smallest part in AdSense earnings. There are many secrets that you need to know about Google AdSense & of-course blogging.
People who make big money through AdSense never share such secrets. I conduct training in Google AdSense in Mumbai. You can visit this training link in case you need a successful training to make money from AdSense.
Share your thoughts & comments on how you think on these Google AdSense approval tricks & what you recommend to others for this.