As a child and teenager, one of my several hobbies was philately. Now, many of us might not exactly know what's philately. In simplest words, philately is the name of the hobby that involves the collection of postage stamps and other postal stationery.
Indeed, at the time, I was unaware that this innocent and harmless hobby could be worth a lot of money nowadays.
You might wonder, what's the relationship between collecting postage stamps as a child and making money? Actually, the two are closely linked. Because if you've been collecting postage stamps and other postal stuff as a kid, the collection could be worth a few thousand dollars or even a million dollars now.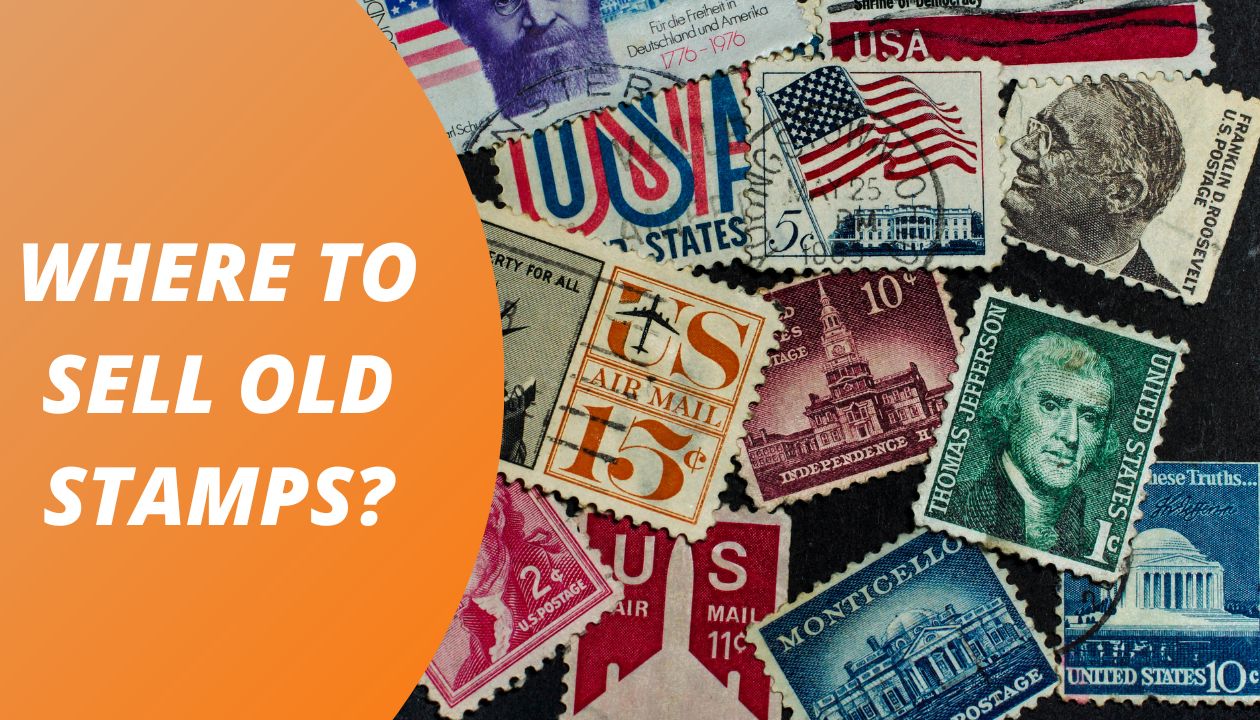 Million Dollars Stamps?
Yes, million Dollars. Because some postage stamps that you could have in your childhood collection could be very rare, these types of postage stamps can fetch over a million dollars at an auction. That's because collectors of rare postage stamps and also postal departments worldwide or museums buy them.
Obviously, not every postage stamp is rare. There're some reasons why one of them in your collection could be worth millions. I will be explaining that in this article too.
Therefore, if you're collecting postage stamps and other postal stationery, you would surely ask this questions: "Which are the best places to sell old stamps for cash near me? or Where to sell old stamps for cash?" In this article, I will guide you on where and how to sell your old postage stamps.
Here's my curated list of the best places that sell old postage stamps near you.
Best Places that Sell Old Stamps Nearby
Where to sell old stamps? Actually, there are several best places to sell old stamps near cash near me. Therefore, in this list, I will include some online places and offline ones too. That would help you to sell the stamps easily and make money almost instantly.
1. Sotheby's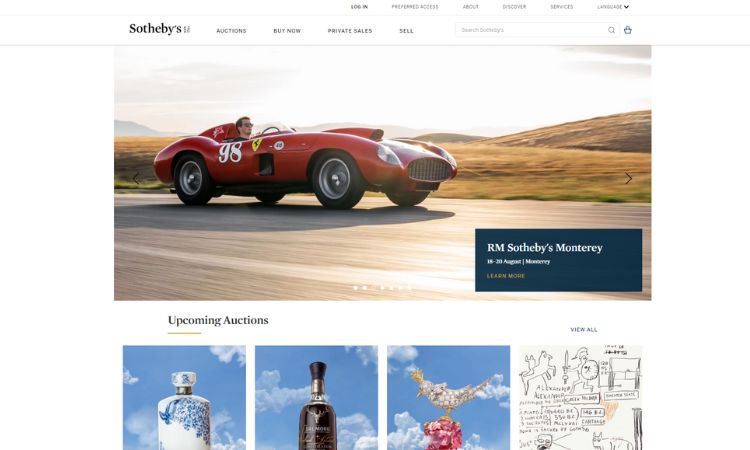 Sotheby's is one of the leading auction houses in the world. They operate in London in the UK and in New York in the USA. They also have operations in various places around the world. Additionally, Sotheby's is also present online and has a website where you can sell old postage stamps.
You can't get cash immediately from Sotheby's. Instead, your stamp will go for auction according to a schedule set by this large auction house. Once your collection or a single stamp goes under the gavel, you can get the money within a few days.
2. Christie's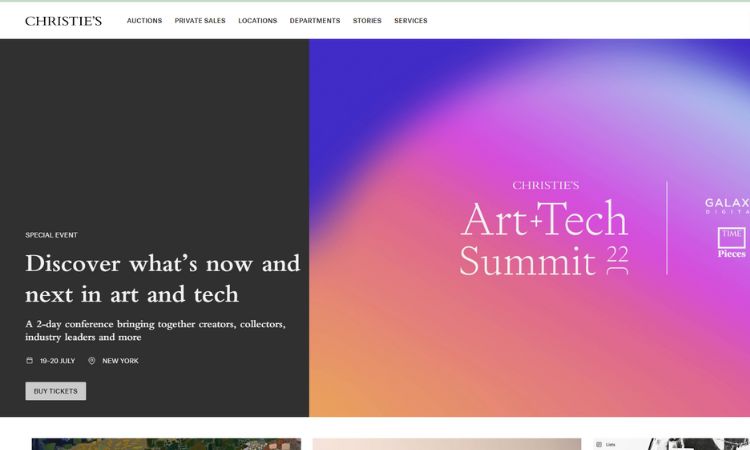 Christie's is also one of the topmost auction houses in the world. They're well known among collectors of all types for auctioning some of the most expensive paintings and sculptures in the world to collectors. You can also ask Christie's to auction one or more postage stamps for you if the ones in your collection are very rare.
Your collection of old postage stamps or stamps will be curated by experts from Christie's, who will then decide on the auction date. You can also sell your stamps online through Christie's. This auction house operates from London and has branches in New York and various European and Asian cities.
3. eBay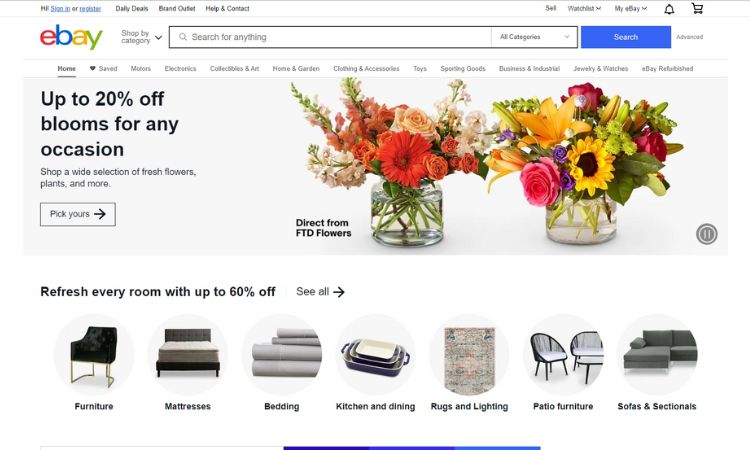 Indeed, eBay ranks as the topmost online destination for philatelists to sell their collections. That's because eBay attracts all sorts of buyers from around the world. If your stamps aren't rare and can't be sold at an auction or elsewhere, eBay would be the best place to look for buyers. And you can sell on eBay from the comfort of your office or home.
You must create a seller account to sell postage stamps on eBay. This facility is provided free by eBay. The next step is to write a superb description of your old stamps and upload the necessary photos.
You can sell these postage stamps singly or as a collection or by dividing them into thematic packages. Thematic packages mean dividing them according to the picture printed on these postage stamps- such as Christmas 2000, for example, or birds.
4. Etsy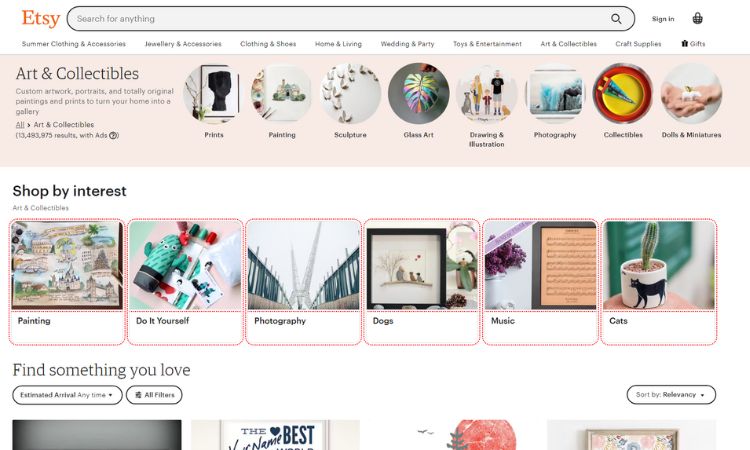 Wondering where to sell old stamps for cash near me? Try Etsy. That's because anyone can open an online marketplace on Etsy. The only condition to opening an Etsy marketplace is that you should be selling collectables and other exclusive stuff.
Obviously, if your postage stamp collection isn't rare but worth the money because of the sheer numbers or assortment of countries and themes, you can find collectors on Etsy.
Etsy doesn't really provide a free marketplace. That means you have to pay a small monthly fee to own one. You can try a marketplace on Etsy free for a week or sometimes three weeks, depending on their promotions.
Write attractive descriptions, upload amazing photos and mention your price. You can sell these postage stamps single or as collections on the basis of various themes.
5. Facebook Marketplace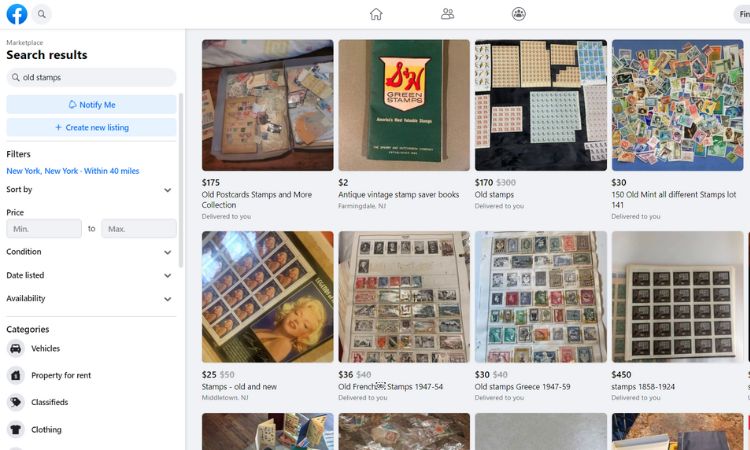 I have actually seen lots of students sell postage stamps and other items of philatelic interest and make money on Facebook Marketplace. The reason could be that Facebook Marketplace is free.
However, it comes with one major limitation. Every post on Facebook Marketplace will be seen only within a specific region that's somewhat 100 square miles from your location.
If you're looking to sell old stamps for cash nearby, then Facebook Marketplace might be just the place you need.
Furthermore, if your stamp collection isn't really worth curating because they're not rare or old, you can sell on Facebook Marketplace and save hassles such as membership fees and commissions from sales, among others.
The money from sales on Facebook Marketplace can be collected through PayPal or direct bank transfers.
6. United States Postal Service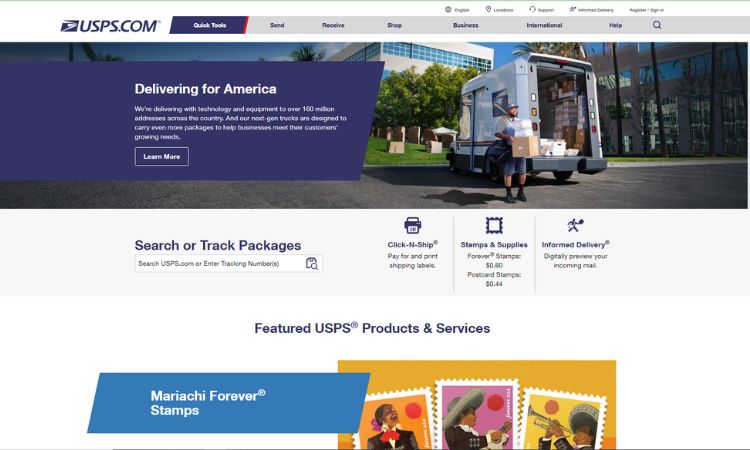 Yes, who else would be a better customer for your old stamps than the United States Postal Service (USPS)? As a matter of fact, the USPS has a full-fledged philately bureau which looks after some of the oldest and rarest stamps issued in America since the postal system came into existence. They're always eager to buy stamps that are of heritage value to the American postal service.
As a rule, though, USPS will buy only rare, old stamps provided they're not available elsewhere. They won't buy just any stamps from you. The USPS also has its own museums where they display some of these heritage postage stamps and other postal stationery. If you believe you have one such stamp in the collection, contact USPS online or write to them. USPS owns the National Postal Museum in Washington DC.
7. Local Philately Clubs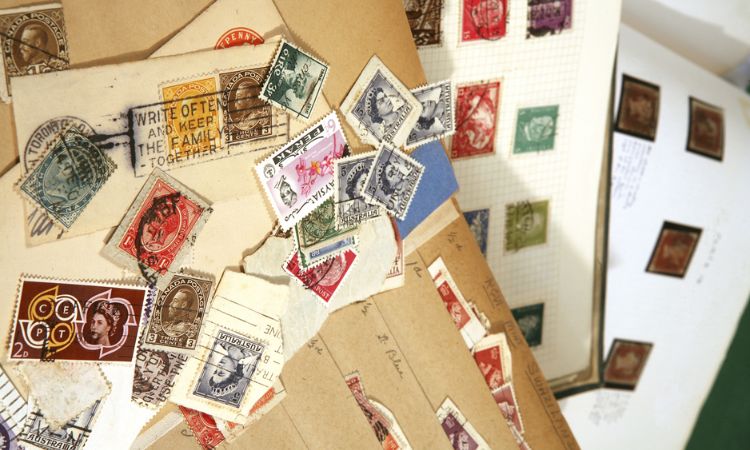 If you're very desperate for money and need to sell old postage stamps and postal stationery in your collection very quickly, try finding out a local philately club in your area. A philately club is where collectors of postage stamps and postal stationery meet. You can definitely find a buyer there.
However, the prices might not be what you expect because philately is usually an inexpensive hobby unless someone is collecting the priciest and rarest stamps. Some philately clubs buy stamps as part of their collection to display at exhibitions and shows to promote the hobby. You can get a few Dollars for your old stamps.
8. Stanley-Gibbons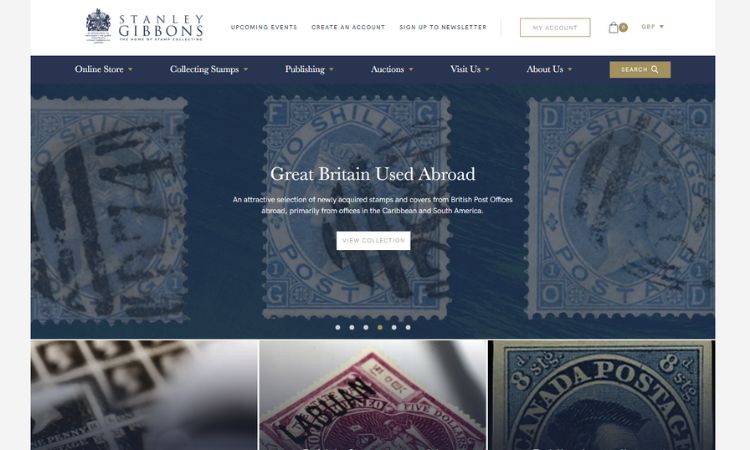 Stanley-Gibbons is one of the oldest places to buy and sell stamps. The only flipside is that they're located in the UK. However, they also buy and sell postage stamps and philatelic material such as first-day covers, rare franks and other stuff from foreign collectors such as the USA. You can write to them and enquire about your collection.
Generally, Stanley-Gibbons deals in old and rare stamps as well as new ones in mint conditions for their collectors worldwide. Therefore, your postage stamp collection has to meet their strict standards. They cater to discerning philatelists, and hence, your stamps should be saleable to such collectors.
9. Foreign Philatelic Bureaus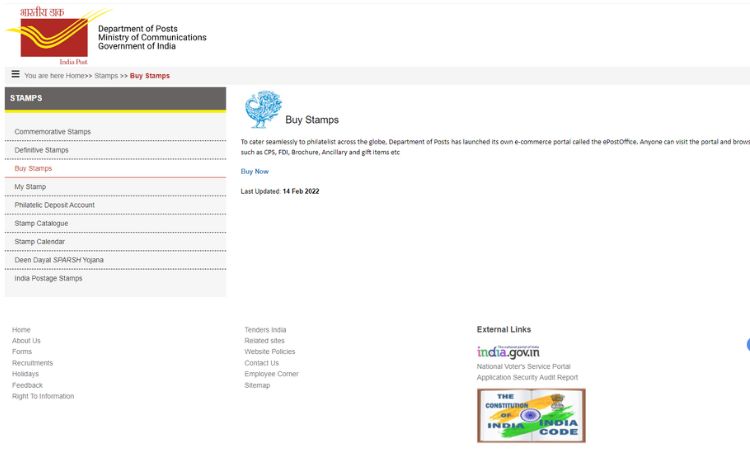 Postal departments of foreign countries also buy old postage stamps and collectables. That's because they have museums. For example, India Post buys a lot of old postage stamps from collectors. They look for postage stamps and related stationery that was issued before the country was liberated from British occupation in 1947.
India Post also buys stamps of various smaller "princely states" that existed in the Indian subcontinent before the country became a union and eventually a republic in 1950. Though not every stamp issued by Indian "princely states" or kingdoms is rare, you can still get some money from India Post or collectors in that country, with whom the state-owned postal department has ties.
10. Amazon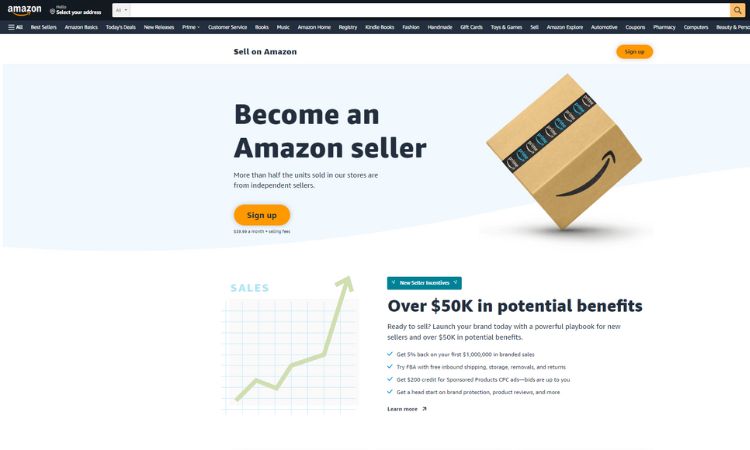 After all, what doesn't sell on Amazon? The world's largest online marketplace is also famous among philatelists. That's because lots of small businesses that sell newer and common postage stamps for collectors are also sold online through Amazon. These sellers are based in USA or abroad. You can also become a seller on Amazon to sell your collection of old stamps if they're not worth any serious or big money.
All you require is a seller's account on Amazon, which can be opened with ease in less than five minutes. Upon approval of your account from Amazon, upload excellent images and descriptions of your postage stamps and mention the selling price.
Remember to calculate the commissions charged by Amazon and the shipping fees too. That way, you can have your collection of old postage stamps seen around the world and get cash fast.
Also read: 20 Different Ways to Make Money on Amazon
11. Dr Bob Stamps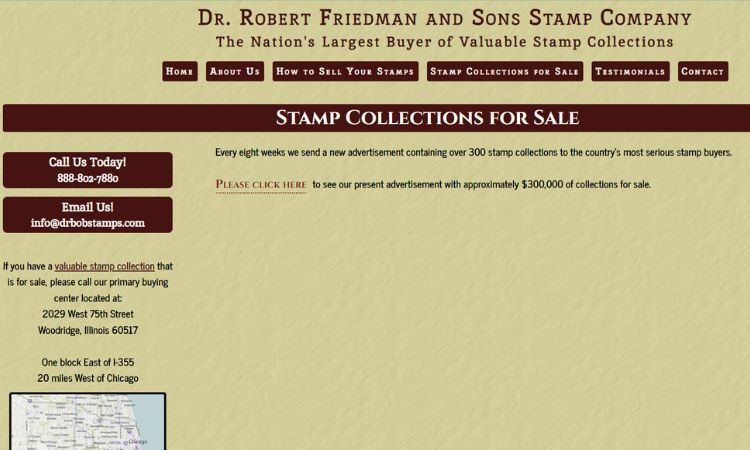 Dr Bob Stamps is a website where you can sell your old postage stamps and other postal collectables. The store is based in Chicago, Illinois. However, you can also buy or sell through their website. This company has been approved by the American Philatelic Society, one of the largest organizations of postage stamp collectors in the USA.
Selling old stamps through such websites, however, can take some time. Dr Bob Stamps' website says it sends its curators across America to check and buy postage stamps and postal stationery from collectors for the right price. Therefore, if you have a good collection and believe it's worthwhile to sell through them, approach Dr Bob Stamps.
12. Warwick & Warwick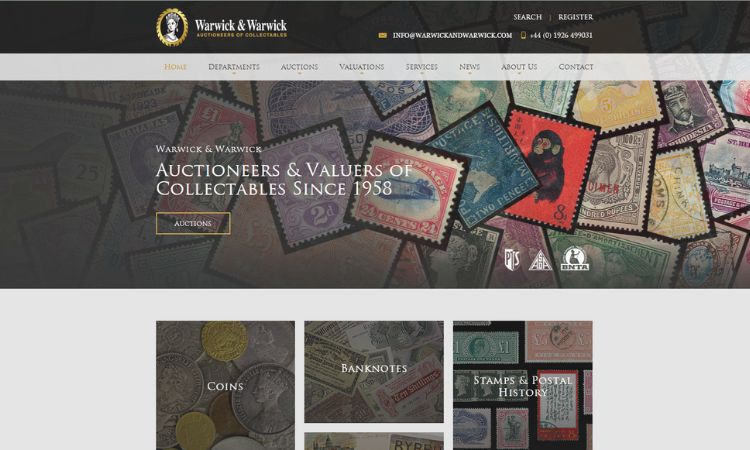 Warwick & Warwick is one of the oldest traders in collectable postage stamps and postal stationery. They're also based in the UK but buy collectable postage stamps from persons all over the world. This is one of the largest postage stamp-buying and selling houses in Europe. Hence, they cater to a very large but discerning group of collectors.
Generally, you can sell only old and rare stamps to Warwick & Warwick. Contact them through the form or email ID available on their website. If you're serious about selling older stamps, send them a good photo of what you wish to sell. This company responds in about a week at the most. If lucky, you can sell some of the not-so-rare yet older stamps for a few hundred dollars.
13. Apfelbauminc.com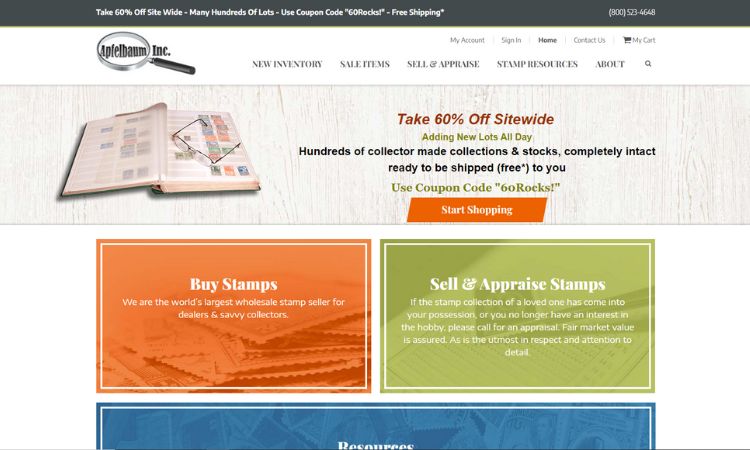 And if you don't wish to approach the large postage stamp trading companies of Europe, try something nearer home. There's a superb company known as Apfelbaum. They also have their own website. You can easily contact them by email or visit their partner stores to sell old postage stamps.
At Apfelbaum's, you can be assured of getting the best prices for your old postage stamps. However, since Apfelbaum resells stamps, your collection would have to meet their strict standards, that are generally used by veteran philatelists. This is one of the larger American companies for selling old postage stamps.
14. Mystic Stamps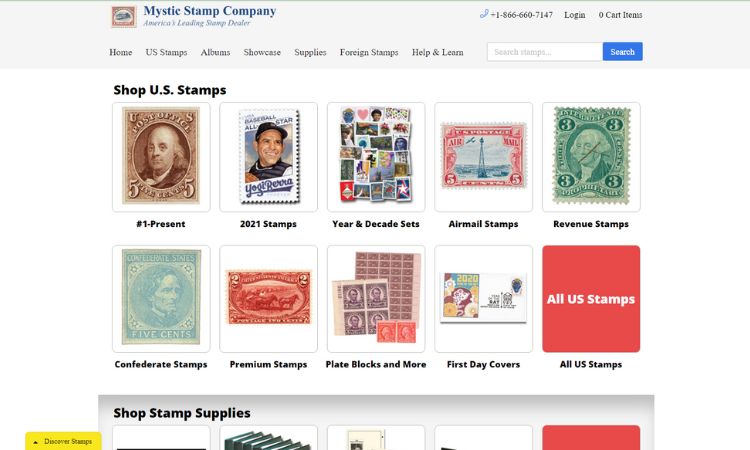 There's nothing really mystic about this company. Apparently, they call the company Mystic Stamps because they deal in old and rare postage stamps and stationery. As a matter of fact, Mystic Stamps also buys postage stamps of all kinds from collectors.
Generally, you can get a superb price if your collection is at least ten years old or more. That's because many collectors require such not-so-rare stamps to complete a series of collections. They approach companies such as Mystic Stamps for these postage stamps.
15. Stamp Collection Center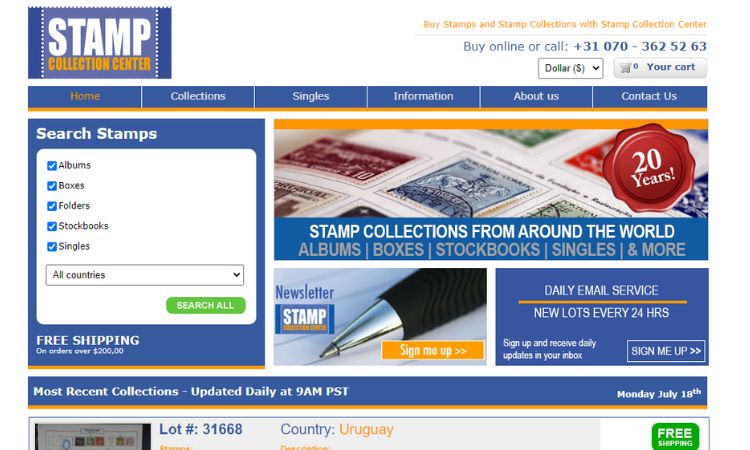 This name sounds too easy to be true, but there's actually a company based in the Netherlands that goes by this identity and buys your old postage stamps. In fact, the Stamp Collection Center has been around since 1944 and caters to philatelists worldwide, including the USA and Europe.
They have an online contact form which you can use to discuss the collection that you wish to sell. Again, the Stamp Collection Center caters to professional philatelists. This also means that your collection has to be good enough to interest aficionados willing to pay for collecting various postage stamps from different countries.
16. Shopify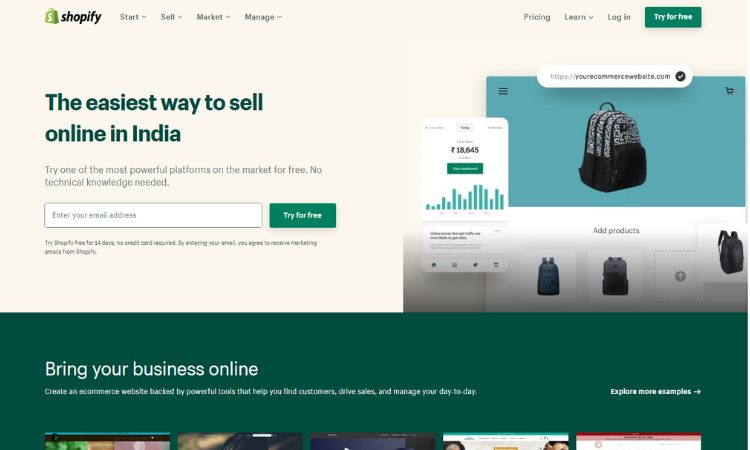 I wouldn't have included Shopify on this list. However, this portal also features a lot of individuals and small businesses that sell stamps. Therefore, if you have a collection of common stamps from the USA and foreign countries, you can also open a marketplace temporarily on Shopify and sell near you. The marketplace, however, is available on a subscription basis only, meaning you have to pay a nominal monthly fee.
Opening a Shopify marketplace can prove worth the expense if you have a large collection of old and used postage stamps that aren't worth auctioning or adding as collector items. Normally, you can sell the common postage stamps through a Shopify marketplace.
17. Local Schools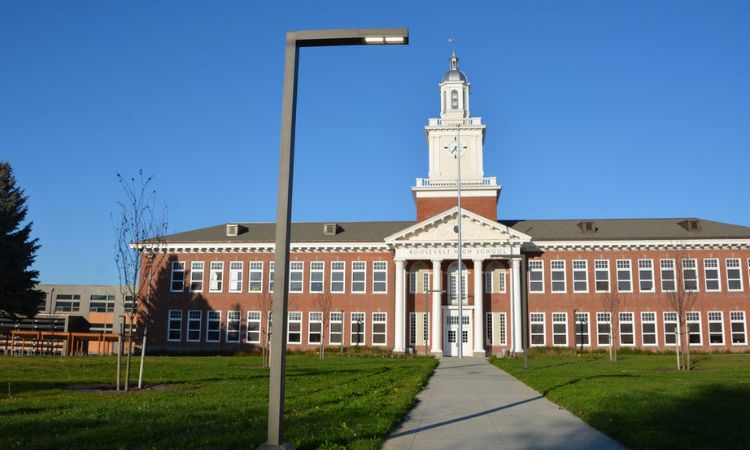 This might come as a surprise to many. However, it's worth checking at local schools if they're interested in buying your collection of old stamps.  That's because lots of schools continue to promote philately as a hobby among students.
As you would know, postage stamp carries images and lots of other information such as the issuing country's name and currency, among other details. Hence, postage stamps are a vital resource for teaching as well. In some cases, these stamps can become part of the school collection for displays on campus.
How Do Stamps Become Expensive?
Earlier in this article, I have promised to tell you how stamps become rare and can fetch a higher price, such as millions of Dollars. Here're some of the reasons. Read these carefully because you might have one of these rare postage stamps in your collection but might be unaware.
Misprint or Printing Errors
The most common reason why some postage stamps become rare is due to a printing error. This can mean the plate has moved during the printing process, causing the image to be blurred or details to be blurred.
In some cases, the share of a particular sheet of stamps could be different from the others. This sheet becomes rare while the other normal ones are treated as normal postage stamps. Another error is in printing the denomination or face value of the postage stamps.
Extinct Countries
Maybe you're unaware but lots of countries have become extinct over the last few decades. One such example is Neutral Moresnet, which existed between Germany and Belgium in the late 19th and 20th centuries.
The region is now part of Belgium, while Neutral Moresnet doesn't exist as a country anymore. However, the postal authorities of this country issued postage stamps while Neutral Moresnet existed as a sovereign land. There're also some places in the Arab world that don't exist anymore as independent states.
The same holds true for some parts of Germany, such as the Weimar Republic, which came into existence after World War 1. Then we also have places in other parts of Europe and especially what remains of Russia, where some countries have become extinct. In India too, princely states are extinct.
Rare Prints
In the earliest days of the postal system, all mail was carried by sea. Therefore, getting postage stamps to some colonies of imperial colonial powers was quite difficult. In such cases, there are instances where the local administration was forced to print postage stamps to keep the postal service running.
Some such postage stamps were printed on ordinary newsprint or didn't have the features that are necessary. Since such stamps were limited and printed on cheap paper, they have perished over the years. Whatever remains now is considered as rare and can fetch a few million Dollars.
Heritage Stamps
All countries have a postal heritage. This means they have a rich history and often an interesting one of how the postal system evolved over the decades. In such cases, there're often rare stamps that were sold in only one specific region of the land. These stamps aren't available since they were used only in a zone of say, 100 sq. km or so.
For an ordinary looker, these stamps may appear inexpensive and common. However, to a philatelist, such a postage stamp can mean that fortune. If you suspect having any such heritage stamp, get it evaluated by USPS or through a large company. They can provide you with fair details of the postage stamp along with its estimated price.
Third Country Stamps
You will find that postal history is very intriguing. For example, three countries in Africa- namely Kenya, Uganda and Tanzania shared postage stamps during the late 1900s. Therefore, you can find the names of all these three countries on a single postage stamp.
The same with some Indian postage stamps, which were used for mailing letters from the six countries in the Arabian Gulf region, including Saudi Arabia, Kuwait, Qatar, Bahrain, United Arab Emirates and Oman. In such cases, these Indian stamps were overprinted with the name of the place they'll be used.
You can find similar examples of postage stamps used in colonies of France, the UK and Spain too. These postage stamps carry the name of the colonial power but have an overprint of the region where they were used.
Unknown Places
Not many people know where the country Bhutan is located. It's a small country in Asia. Nor would people know there's a country called the Sahrawian Arab Republic in northern Africa. The postage stamps of these countries are very rare since nobody sends mail to the outside world.
Some parts of the world also don't have a sophisticated postal department and nor are people there sending or receiving mail from foreigners. Limited transport facilities and such impediments serve to make postage stamps from such countries rare. And these countries also don't issue postage stamps frequently.
Postage Stamps that Sell
You might ask me what kind of postage stamps that are not so rare or even rare would sell in the market. Actually, there're strict guidelines for the postage stamp trade, that you can get from any philately bureau or club.
However, here're some general guidelines.
Intact Perforation
This means the perforation on the postage stamp should be intact. None of the bits should be damaged because that would render the postage stamp useless for collection unless it's very rare. If you're selling ordinarily used postage stamps, take care to see that the perforation is clear.
Mint Stamps
Mint stamps are unused stamps. Often, mint stamps can get a higher price because their glue and features are intact. You can get more money if you have a sheet of such mint stamps. However, these stamps will get a good value only if they're out of circulation for long and no longer available easily, either as used ones or in mint condition.
Foreign Marks
This is a rather rare phenomenon. Some postage stamps issued by one country have a cancellation by another country. This can occur if the mail is redirected from one country to another. However, this is very uncommon. But if you do come across a postage stamp from some country that has postal cancellation marks of another, you can sell them too for a good price.
Accidents and Disasters
Postage stamps and postal stationery such as envelopes that were damaged in a disaster such as an air crash or sinking of a ship can also fetch a high price. In such cases, though, the stamp has to be sold with the envelope. Usually, the envelope will contain a marking that the item was recovered from a disaster and hence, gets a high value.
First Day Covers
A postage stamp fixed to a first-day cover is worth selling if it's not rare. That's because a first-day cover is issued only on the actual date of the stamp being sold to the public. A first-day cover carries a stamp that's been cancelled carefully to show all the features. The envelope also bears some story or legend about the image on the stamp, such as a special occasion.
Odd Shapes
There're postage stamps that are round, diamond-shaped, triangular or odd-shaped. These are usually rare and issued only for a specific purpose, such as commemoration. You can expect a higher price for such odd-shaped stamps if they're not damaged, even though they could be fairly common.
Type of Cancellation
If a stamp is completely defaced by the cancellation mark and none of the features can be seen, it would be generally useless to collectors. That's because nobody can discern the date, image and other details on the stamp. You can try and find if that stamp is rare, from a philatelic bureau, if possible, but most likely, it won't be.
Fake Stamps
Yes. There're lots of fake stamps being sold in the philately market. Some of them come from non-existent places and countries that never existed. These stamps have no value. Therefore, if you have such fakes in your collection, nobody would buy them.
Wrap Up
This complete guide on the best places that sell stamps near me should help you get the most money from your collection. I suggest that you approach a professional collector or philatelist and get your postage stamps assessed for value before selling. That way, you could get a fair deal.