Do you have a medical condition that can be treated only if a cure is found? Or, are you willing to volunteer for testing some medicine or medical product by working- temporarily of course- as a clinical trial subject? If the answer to any of these two questions is a firm "Yes," then you might wish to become a subject for a clinical trial.
Some of these clinical trials also pay a lot of money. Of course, just getting paid isn't the only purpose of participating in a medical trial. That's because your participation might inadvertently rob someone else that truly suffers from a medical condition, of getting that opportunity to get a cure.
Therefore, I will start by explaining what're clinical trials and who should actually participate in those. In the following paragraphs, I will be discussing some of the key elements of a medical trial. That could help you to decide whether you wish to take one of the highest paid clinical trials near you or skip them,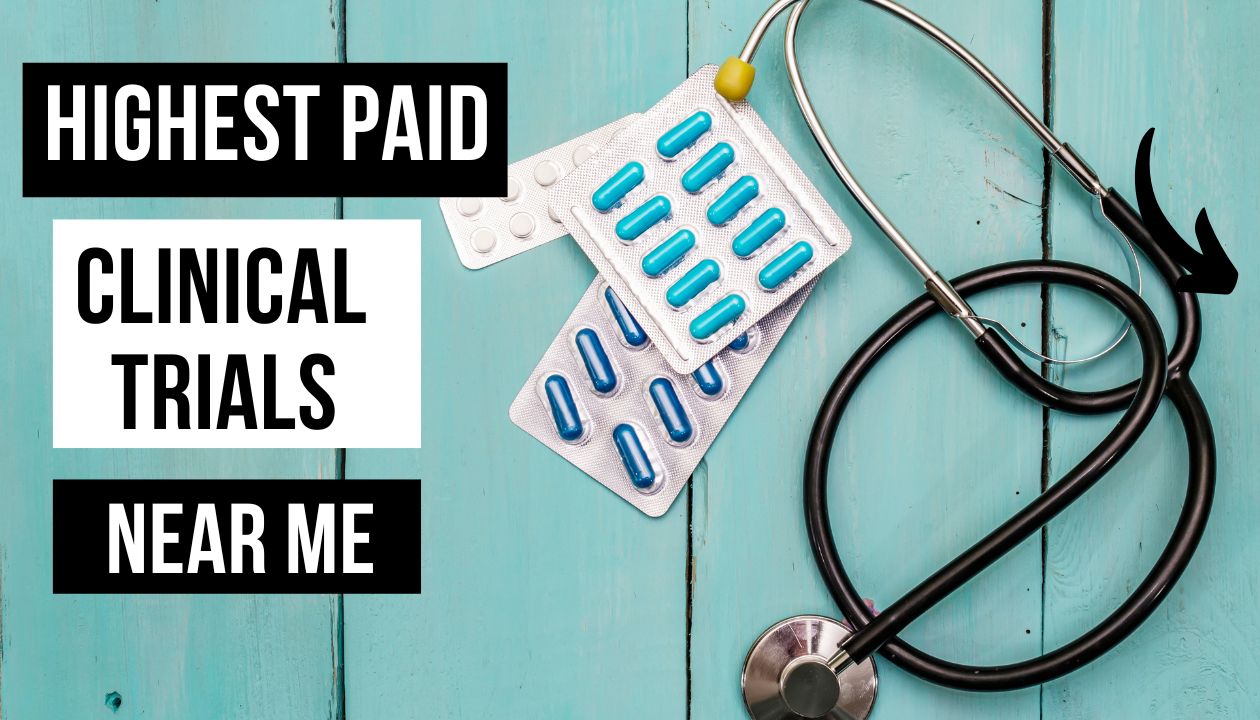 Understanding Clinical Trials
The US National Institute on Ageing (NIA) explains that a clinical trial is a medical research involving people. These clinical trials are conducted by medical companies or healthcare organizations or even the US military or government, trying to find a cure for some sickness.
A clinical trial is usually the last phase of the development of new medicine, device or therapy. Normally, any medicine, device or therapy will first be tested at a lab. The clinical trial can sometimes also involve animals. And the last stage involves testing on humans.
The reason is that every medicine or device or therapy is made for humans. Therefore, organizations spend millions or even billions of Dollars on developing them. Their aim is to find cures for sicknesses that are so far deemed incurable. Or, to make medical devices that could help people with a specific medical condition and help them lead a better life. Therapies are developed because existing ones aren't adequate.
Once all other types of testing are over, these organizations have to test their products on humans. Because the human anatomy is vastly different from those of any other living creature. Only when a medicine, therapy or device is found safe for humans, it can get approval from the Food and Drug Administration (FDA) for use or sale in the market.
Behavioral Therapy Clinical Trials
There're also clinical trials that are conducted to treat behavioural problems. These may or may not involve medication. Instead, they can include only living in a place, under the supervision of medical experts. Such places are selected by the organization, upon getting proper approvals.
In some cases, these behavioural therapies are also given at home. For example, you might have to try a particular device to try and get good sleep or help in relaxation or change your mood.
Clinical trials for behavioural therapies are generally conducted over a longer period of time. That's because a change in behaviour is often seen only after eight to 10 weeks of sustained therapy.
Compensation for Clinical Trials
Now that you have some idea about what clinical trials are all about, let's look at the compensation that persons who volunteer for these tests actually get.
This compensation has become a subject of hot debate between various medical organizations, medical experts, scientists and the Federal government as well as some consumer forums.
The reason is simple: any person that registers for a clinical trial is considered a volunteer. Legally speaking, a volunteer is a type of donor. A volunteer donates their effort towards a worthy cause. Therefore, a donor isn't legally supposed to be paid for their volunteering services.
However, most organizations pay some money to their volunteers participating in a clinical trial. This compensation is given to cover travelling expenses and other costs directly related to the clinical trial. As a matter of fact, volunteers in the clinical trials aren't paid much, as anyone would imagine.
Another and perhaps the most important factor that companies conducting clinical trials consider is the effort of these volunteers and the time they give for the tests. This compensation can be fairly high and hence, proves to be a major attraction for some persons who wish to participate in a clinical trial, though they might never have any medical problem or require prolonged treatment for any medical condition.
Medical experts are of the opinion that often, healthy volunteers participating in a clinical trial could sometimes deny a place- of course, inadvertently- to someone who suffers from a medical condition. However, there's also a debate whether as many people suffering from a specific medical condition would be available for any specific clinical trial.
Usually, most organizations give all details about the type of volunteers they need for a clinical trial. In some cases, healthy persons that have no medical issues are given preference.
Also read: 8 Legal Ways to Make Money With Your Body
20 Highest Paid Clinical Trials Near Me
This means you might qualify directly for a clinical trial. If you're healthy or have a medical condition, it's fair enough to expect some compensation for participating in a medical trial. Therefore, here's my list of the 20 highest paid clinical trials near me.
1. Parexel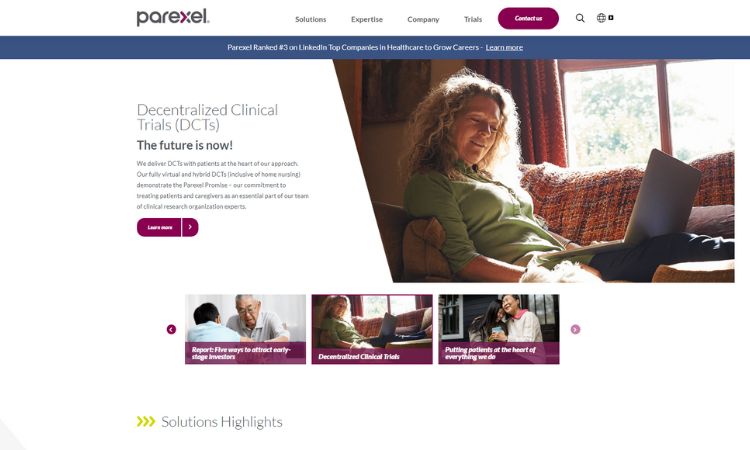 Parexel conducts a lot of clinical trials not only in the USA but in more than 50 countries across the globe for American companies. They have clinical trials of all types. You can visit their website and find out if they need any volunteers for a clinical trial.
2. PRA Health Services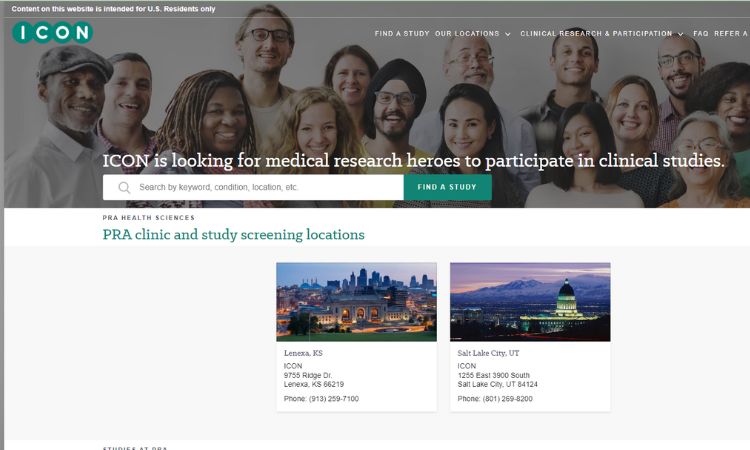 PRA Health Services is one of the largest clinical study organizations in America. They conduct clinical studies for various medical companies and other research-related organizations. They also enlist the help of volunteers for clinical trials.
3. PPD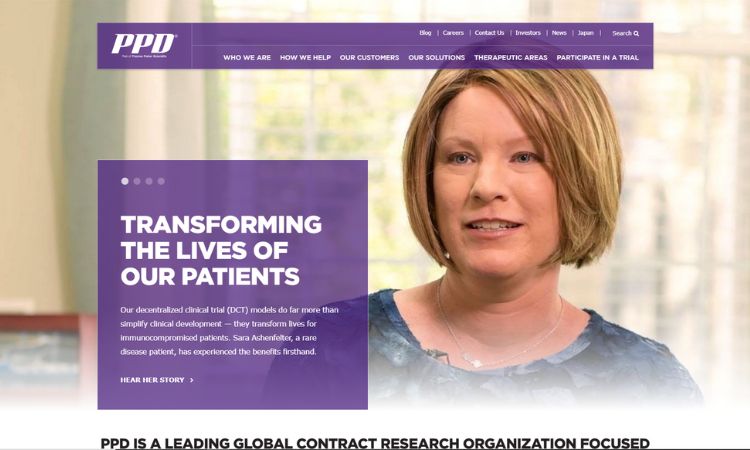 PPD helps in lab sciences, pharma trials and other similar clinical research projects that require human volunteers. Generally, they conduct clinical studies for medical companies and organizations as well as large universities and US government agencies, where needed.
4. Syneos Health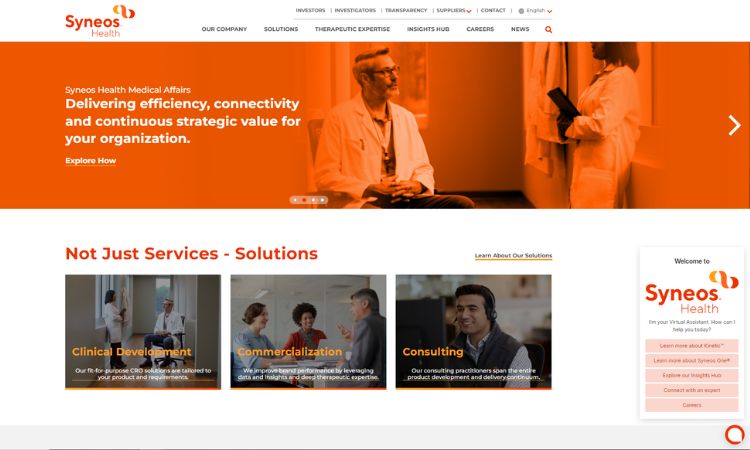 Syneos Health operates in some 110 countries and is a name associated with clinical trials in the biopharma fields. It's a very large multinational corporation. Most American and foreign medical companies take the help of Syneos Health for their clinical trials.
5. IQVIA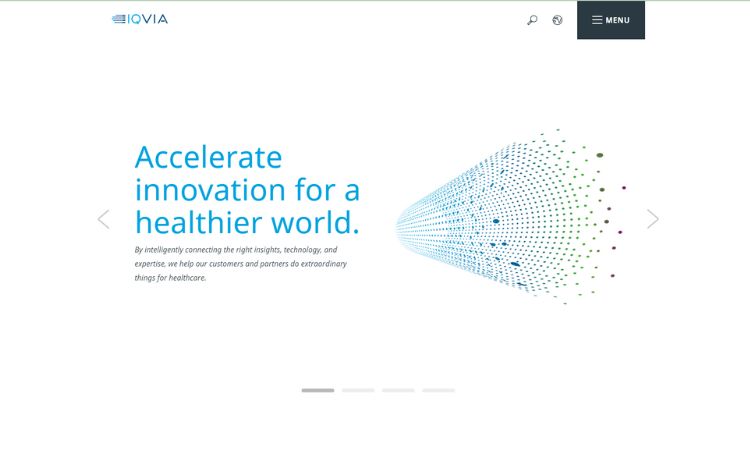 Another very big name in the clinical trial industry is IQVIA. They're present in more than 100 countries and conduct clinical research in the USA too. They are one of the oldest companies in the field. The company has been around since the 1980s and is very famous in its own right, in the field of clinical research.
6. Covance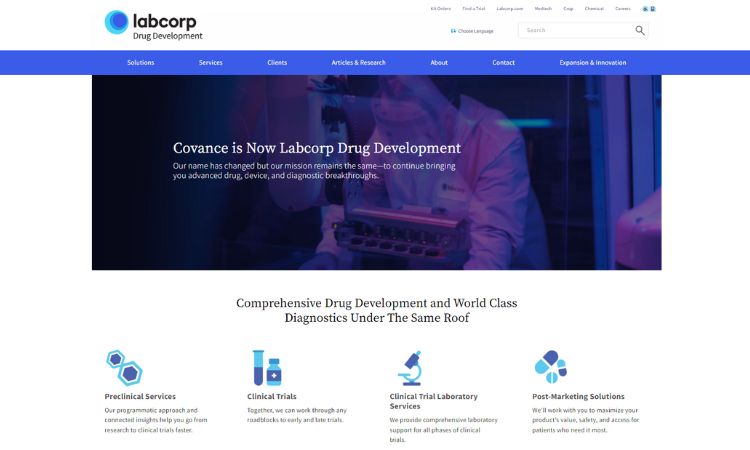 Covance, now known as Labcorp Drug Development is also one of the big guns of the industry and is present in more than 80 countries worldwide. They do clinical trials in medicine and behavioural sciences for various organizations in the US and abroad. Like every other major company, its portfolio of customers includes some of the biggest names in the pharma industry.
Then, we have several other organizations too in this field, Usually, these companies conduct clinical trials for medical companies and the healthcare sector, in general.
Other than these organizations that assist others in clinical trials in the USA, there're also other companies that you could try. These companies conduct medical trials directly.
Some of these are foreign companies but have extensive operations in the US. And for the American market, they conduct clinical research in the US. That's because it helps them to get a clearance from the US FDA faster for marketing their drugs and medical devices or therapies.
Who Qualifies for Clinical Trials
A lot of people wonder, who qualifies for clinical trials. Actually, every person qualifies, unless their health is fragile and they wouldn't be able to withstand the trial rigours. Or, they're minor in age and hence, participation in clinical trials is banned under American laws.
Here're some basic requirements.
Above 18 years of age.
Should have proper weight, unless required for obesity or weight-related clinical trials.
Below 80 years of age or as necessary for the clinical trial.
Have proper medical history and records.
Persons having a medical history of a disease.
Persons suffering from chronic medical conditions.
Persons suffering from incurable diseases.
Any person whose health won't be at risk due to clinical trials.
Persons living in the city of the clinical research or geographic area where the research covers.
Healthy persons who wish to volunteer for clinical trials.
However, all organizations clearly mention the requirements of volunteers when looking for persons for clinical trials. Always check these requirements. If you're healthy and the research requires someone with a specific ailment, don' volunteer because someone else would need the treatment desperately.
US Government Website
If you're seriously interested in participating in a clinical trial, I recommend you visit the US government website, www.clinicaltrials.gov. Here, you can find a lot of clinical trials nearby.
Additionally, you can also view the various clinical trials that are taking volunteers as well as their requirements. This website contains a lot of details about each trial. These trials are legit.
Compensation After Clinical Trial
Are you entitled to any compensation that can arise due to damages caused to your health after a clinical trial ends? This is also a question being hotly debated in the US. There're several angles to such compensation.
The person claiming compensation has to conclusively prove that it's an after-effect of the trial.
While seeking such compensation, the organization should have informed that post-trial payments can be made, if side effects are seen.
There's a time limit between the clinical trial and the emergence of side effects. You can't claim compensation several years after the clinical trial participation.
Getting compensation for any adverse reactions caused by clinical trial participation can prove to be a legal nightmare. It involves a lot of legal hassles.
Clinical Trials with and Without Grants
There're several clinical trials that are supported by millions of Dollars-worth of grants by the US government and its departments. They pay this money to medical companies to develop cures for a persistent problems. For example, in 2019 and 2020, the US paid millions of Dollars to medical companies to research and develop a vaccine for the dreaded Covid-19 virus.
Some clinical trials are sponsored by medical and healthcare firms. They enlist the help of colleges and universities for such trials. The research is then conducted by the educational institution on behalf of the company and the findings are shared.
Then we also have clinical trials that only an organization conducts with its own money and without grants. These are generally clinical trials on a smaller scale, where less than 1,000 people are necessary for a test.
Phases of Clinical Trials
Each clinical trial is conducted in four to five different phases. That's necessary because an organization doesn't want to expose too many people to health risks.
Phase-1: Involves less than 50 persons. That's because the organization doesn't wish to take risks with possible side effects.
Phase-2: Between 50 and 100 persons. This clinical trial phase is done only after a majority of people in the first phase emerge safely.
Phase-3: Between 100 and 500 volunteers. This phase involves testing a broader section of people, covering different age groups and medical conditions.
Phase-4: Covers up to 1,000 persons and is usually done over a broader geographical location. It also covers people of different walks of life and ages and people from various ethnicities.
Phase-5: In most cases, this phase is undertaken only if any doubts over the safety of the medicine, procedure, device or therapy linger, such as the Covid-19 vaccine. Here, anything from 1,000 persons to 100,000 persons are given clinical trials to study the effect on a mass scale.
Generally, most clinical trials conducted after the first two phases, are considered safe. That's because a test population of about 100 persons is sufficient to indicate the safety of a medicine, device, therapy or procedure.
All phases of the trial require proper clearances from the US FDA. The company or organization has to submit reports from every phase of the study before it can proceed further with the next phase or commercial launch.
Conclusion
Whether or not to go for a clinical trial as a volunteer is your personal choice. It depends also on whether you're going for a trial only for money or with the intention of helping medical science or because you suffer from an ailment. Weigh the pros and cons and the terms and conditions of the clinical trial carefully before you sign up.