Get ready for the Kaun Banega Crorepati 7 or KBC  7. Yes, now its official KBC season 7 registration is going to start on 27th of May 2013.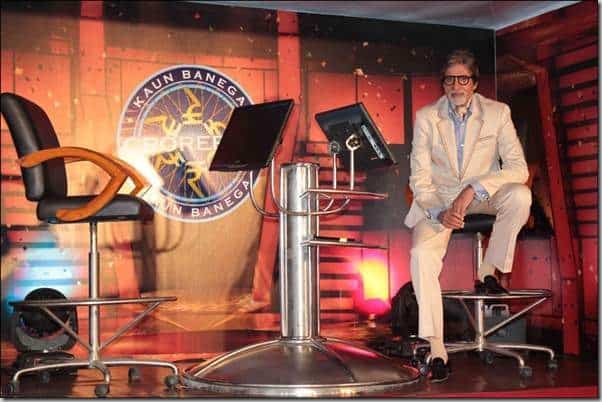 I know many of you would be excited, especially those of you who missed out in KBC 6.
KBC gives you yet another chance to participate and become a millionaire. If you have a dream that you are going to sit on the hot seat in front of Mr. Bachhan then keep reading this article.
You still have a chance to live your dream by participating in Kaun Banega Crorepati 7.
However, this is a reality that crores of people all over India want to sit on the hot seat and become millionaire. But only one of you would be successful.
So how do you become successful in KBC  7?
If you don't have a right strategy then you can never become a millionaire. Forget about becoming millionaire you cannot even reach to hot seat.
Hence, from registration to sitting on the hot seat you need to climb every single ladder before you take away million dollars.
In this article we shall start with how you can register or apply for KBC 7.
Then you need to know what questions they are going to ask and how do you prepare for audition and hot seat.
Therefore, we shall discuss every important step you need to go through.
Also read – Can Your Knowledge Earn INR 5 Crore in Kaun Banega Crorepati
Kaun Banega Crorepati (KBC  7 )
I think you have been watching Kaun Banega Crorepati since year 2000 and this is your 7th season. So you would be in touch of changes that took place between all these years.
However, if you are a newcomer then it is important to know the eligibility, format of the game and its rules & regulation.
So first we will see the eligibility of KBC 7.
Eligibility
Only two things you need to have for participating in KBC 7.
You must be above 18 years of age. For children special KBC announces its criteria but generally you must be above 18.
Secondly, you must be resident of India.
Just 2 things you need.
Game Format
From the previous year shows you must be familiar with the format as it is taken from UK reality TV show Who Wants to be Millionaire.
After you have registered successfully, passed audition and invited for KBC you will be allowed a date for the shooting.
Step1: 10 Aspirants would be selected for 3 episodes
Step2: Then would be asked to play fastest fingers. They have to arrange events in correct order of their occurring.
Step3: Finally 1 contestant would qualify to sit on the HOT Seat and play with Mr. Bachhan.
The minimum amount that a KBC contestant could win is Rs 5000 going up to Rs 5 crores.
So to win Rs 5 crore he or she needs to answer 13 questions.
Here is the chart of the money you earn answering questions from 1 through 13.
1st Question = Rs 5,000/-
2nd Question = Rs 10,000/-
3rd Question = Rs 20,000/-
4th Question = Rs 40,000/-
5th Question = Rs 80,000/-
6th Question = Rs 160,000/-
7th Question = Rs 320,000/-
8th Question = Rs 640,000/-
9th Question = Rs 1250000/-
10th Question = Rs 2500000/-
11th Question = Rs 5000000/-
12th Question = Rs 1 Crore
13th Question = Rs 5 Crores
Rules and Regulation
So you have to answer all 13 questions correctly to win Rs 5 crores. However, you must be aware of rules and regulations of the game.
Padao
First you need to understand "Padao"
Here you have to choose a question number if you reach there then you will get that much of minimum amount even if you gave wrong answer for the next question.
This is called your "Padao".
For example if your Padao is 8th question for Rs 6,40,000/- and you successfully reach there and then if you give wrong answer to any of questions coming after the 8th question then you are going to get Rs 6,40,000/- at least. That much money is secured.
Life Line
There would be total 4 life lines. Lifeline gives you a chance to find out right answer if you don't know it.
1. Audience Poll – Audience present in the studio could answer 1 question that you do not know. You can take their help. Results would be shown to you.
2. Expert Advice – In expert advice you take help from the experts appointed by KBC. These experts come from different field.
3. Double Dip – Instead of 50-50 from last season KBC has introduced double dip. Here, you can give 2 answers of a question if one is wrong then you can go with the other one.
4. Phone a Friend – This is an old lifeline where you can call your friend and ask an answer. You would be given 30 seconds to ask a question and get answer from your friend on the phone.
So you would get total four lifelines in entire game of 13 questions. Thus, use it wisely and try to exhaust all your lifelines.
Rs 5 Crore Prize
I assume, if you won Rs 5 crore then you have to give 30% to 40% as a tax to income tax department. That means if you won Rs 1 crore then at least Rs 30 lakhs to Rs 40 Lakhs would be deducted. You get only Rs 60 lakhs to Rs 70 Lakhs.
So you never get the full amount of your prize money.
Registration Process
Now the most important part is how to get registered for KBC 7.
Registration would start on 27th May of this year.
Registration would be done by only two ways first is by sending SMS and other way is through by calling on KBC phone number IVR.
Your registration process is easy but it is very competitive because crores of people are going to apply.
Hence, it would be very difficult for a person to get selected for KBC – 7 hot seat.
Ø First you have to answer a question correctly by IVR (interactive voice response) or by sending SMS.
Ø If you are lucking enough they you will be called by KBC for the audition.
Ø Once the date of KBC 7 is announced you can try your luck.
Sending Answers to Registration Questions
The question that you have to answer through IVR or SMS would be very easy and universal. Anyone who is connected to this world could answer this question.
Questions would be multiple choice and you have to chose any one from a, b, c and d.
For example who won the cricket world cup in 2011. A) Australia B) England C) India D) Sri Lanka
KBC 7 First Idea Pass Round Question
It is going to be at 27th May 2013 at 8.30 pm. The question would come at your television set.
This round is exclusively for KBC 7 aspirants who are subscribers of Idea network. Users of other network carriers would not be allowed to take part in this round.
If you do not have IDEA SIM card then get it now.
How Idea Users would register?
You need to send your answer in the format KBC<space>A/B/C/D. The format was actually used in KBC 6.
Right now for First Idea Pass Round the question is not yet out.
Second Registration Question
From 28 May 2013 the second registration question of KBC 7 would come out on television.
If you missed the first registration then you would get a second chance.
This is for network carriers of Airtel, Vodafone, Reliance, Tata Docomo etc.
Phone Number for IVR and SMS Registration
You need to send answer of the question declared on 27th May 2013 and 28th May 2013 to the following numbers.
You could choose your network providers and send the answer through IVR or SMS.
Idea
Only Idea subscribers could participate and send your answers through both ways SMS and IVR.
For Idea IVR Number
52525 01 for Answer A or 554567 01 for Answer A
52525 02 for Answer B or 554567 02 for Answer B
52525 03 for Answer C or 554567 03 for Answer C
52525 04 for Answer D or 554567 04 for Answer D
For Idea SMS
KBC<space>ANSWER<space>AGE<space>Gender and send it  to 52525 or 554567
BSNL
For BSNL users no SMS service only IVR.
5052525 01 for Answer A
5052525 02 for Answer B
5052525 03 for Answer C
5052525 04 for Answer D
Call Rates: 20 paise/pulse. 1 Pulse = 20 seconds
Airtel
You can send only through SMS not through IVR.
Type
KBC<space>ANSWER<space>AGE<space>Gender and send it to 52525
Vodafone
Only through SMS no IVR service
Type
KBC<space>ANSWER<space>AGE<space>Gender and send it to 52525
Docomo
Same here only SMS no IVR facility.
Type
KBC<space>ANSWER<space>AGE<space>Gender and send it to 52525
Reliance
Only SMS not through IVR
Type
KBC<space>ANSWER<space>AGE<space>Gender and send it to 52525
Aircel, Uninor
Send through SMS no IVR
Type
KBC<space>ANSWER<space>AGE<space>Gender and send it to 52525
How to Prepare
After you have send the right answer through the SMS or IVR of your network provider mentioned above then you have to wait for the call from KBC.
If got a call from KBC you will be asked to come for audition.
Although audition venue for KBC 7 is not declared but it would be same as it was for KBC 6.
Audition
Now how do you prepare for the audition?
You try to get as much as of information possible. Read books about history, social science, world affairs, geography, politics, sports and bollywood.
Collect all the information about things going inside India.
You need to work on your general knowledge. You could also buy books which are designed for cracking KBC quiz.
Hot Seat
If you are lucky enough then you will be selected from the audition to play with Amitab Bachhan.
You will only reach the hot seat if you play fast and answer questions correctly.
Now you know everything, you will be selected from 10 other contestants to reach the Hot Seat and play with Mr. Bachhan.
So get knowledge as much as you can and here luck also matters.
I hope you would reach to hot seat and win a lot of money up to Rs 5 crores.
The Game is about to begin!
So Best of Luck!
If you are not selected for the audition or you are selected but not able to reach the hot seat then doesn't get disappointed as you will get another opportunity next year. Don't lose your heart.
If you have any doubts then leave a comment below. We will be quick to send a reply.