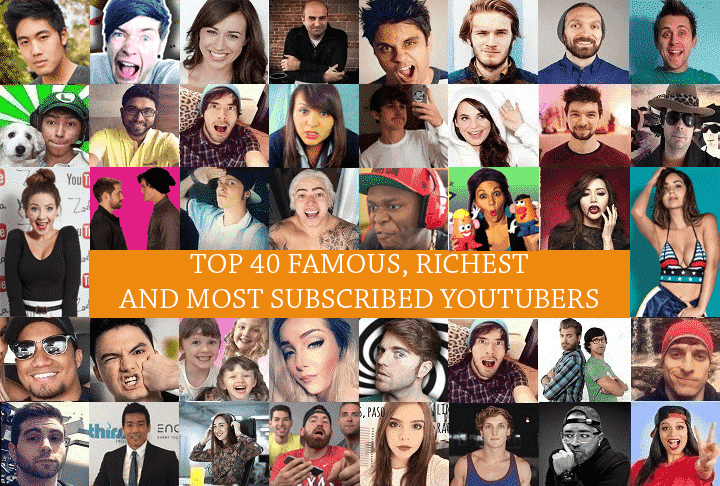 YouTube is the world's second most popular website. It has over one billion users, has a presence in 88 countries in 76 languages, the YouTube website states. Over one billion hours of videos are watched on YouTube daily.
YouTube's website says: "the bulk of its videos are watched by women and men aged between 18 years and 34 years".
But the great news is, YouTube allows people to create their own YouTube-channel free. They can post videos that are of interest to the general public or a niche audience. And lots of these YouTube videos go viral.
YouTube channel owners also get the opportunity to become highest paid YouTubers. People around the world- women, men and as well as kids- have become YouTube Millionaires.
Here is a list of 40 topmost YouTubers of the world, with their estimated current net worth.
Top 40 Richest & Popular Youtubers
Here is the list of top 40 most subscribed YouTubers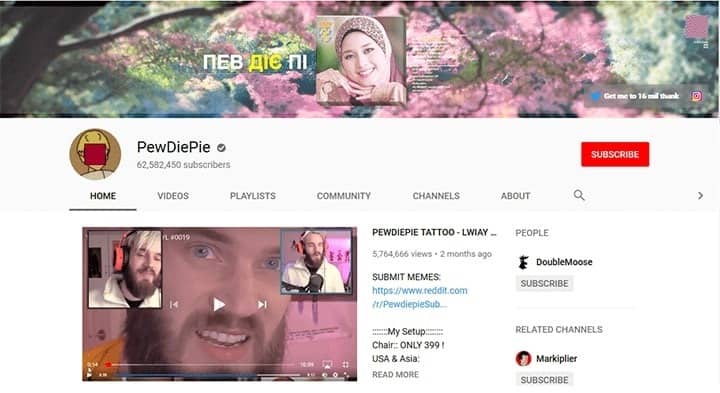 PewDiePie is a YouTube channel operated by Felix Arvid Ulf Kjellberg. It is the world's most viewed YouTube channel. PewDiePie is a comedy channel where Felix posts satire about real-life situations.
The channel has made Felix one of the youngest and richest YouTubers of the world: At the age of 28 years, his net worth is estimated at US$20 Millions.
Subscribers: 62.60+ Millions.
HolaSoyGerman is operated by German Alejandro Garmendia Garanis one of the biggest YouTuber, a citizen of Chile. Translated into English, the name of his YouTube channel means 'Hello, I'm German'.
He is a comedian, singer, musician, and sometimes, deals with serious issues. At the age of 28 years, German is also a YouTube Millionsaire, with estimated net worth of US$13 Millions.
HolaSoyGerman is the world's single most subscribed Spanish YouTube channel.
Subscribers: HolaSoyGerman- 33.78+ Millions & Juega German- 26.19+ Millions.
Konrad Kunhas Dantas is a Brazilian entertainer. He composes and sings his own songs with a music group.
His unique and amateurish style of singing and entertainment took Brazil by storm when he opened the YouTube channel, Canal KondZilla.
It is the third most subscribed YouTube channel in the world. At the age of 29, his net worth is estimated at US$3 Millions, which put him in league with top 10 YouTubers of the world.
Subscribers: 33.18+ Millions.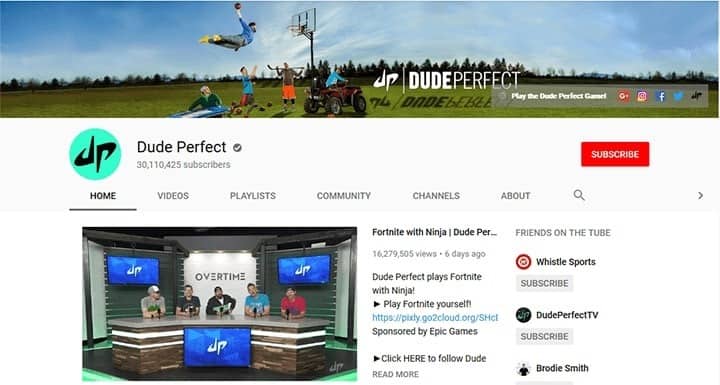 Ranking at No-5 on the world's most popular YouTube channels is Dude Perfect from the USA.
This is a sports and comedy channel launched by a group consisting of Tyler Toney, Coby Cotton, Cory Cotton, Cody Jones and Garrett Hilbert, who were school basketball players and roommates at Texas A&M University.
The group has several mentions in the Guinness Book of World Records. The group has estimated net worth of US$20 Millions.
Subscribers: 30.13+ Millions.
ElRubiusOMG is the world's second widely subscribed Spanish YouTube channel and third worldwide.
It was launched by Ruben Doblas Gundersen -a funniest YouTuber- who was born in1990 to a Spanish father and Norwegian mother. Ruben states his YouTube channel focuses on game-plays and comedy.
His net worth stood at US$5.5 Millions, Ruben's videos are in Spanish, Norwegian and English language too.
Subscribers: 29.22+ Millions.
Whinderson Nunes Batista's YouTube channel, Whindersonnunes is all about comedy, songs, and movie reviews.
Whinderson creates his own lyrics and comically presents them. The channel provides content in Portuguese with some videos in Spanish and English.
At the age of 23 years, Whinderson Nunes Batista's net worth is estimated at US$ 3.5 Millions. It was the topmost Brazilian YouTube channel before being ousted from the position a couple of years ago.
Subscribers: 29.06+ Millions.
Luis Fernando Flores Alvarado runs the popular YouTube channel, Fernanfloo. Luis is from the small South American country, El Salvador.
In fact, the channel Fernanfloo has more subscribers than the total population of El Salvador. Fernanfloo makes game-plays on Twitch that makes him very popular YouTuber in the Latino community.
At the age of 24, he is one of the richest YouTubers in the world, with a net worth estimated at US$7 Millions.
Subscribers: 27.89+ Millions.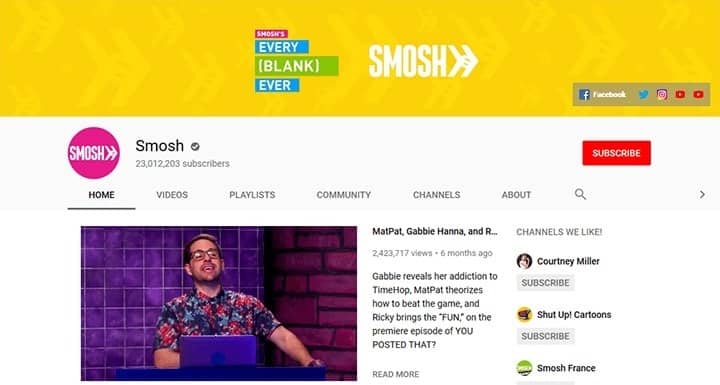 Americans Ian Andrew Hecox and Daniel Anthony Padilla launched Smosh. The YouTube channel is now run by Hecox only after Padilla left in 2017 to begin his own venture.
Smosh began as a sketch comedy channel but diversified into cartoons and animations, music and game plays, among others in recent years. Smosh has a Spanish version too, Elsmosh with over three Millions subscribers. Smosh is the only channel that has its own sitcoms.
A short film titled 'Smosh- the movie' was recently launched online on the channel. Hecox and Padilla have estimated net worth of combined US$12.2 Millions.
Subscribers: 23.01+ Millions.
Evan Fong of Canada launched VanossGaming. Through this YouTube channel, Evan Fong and his associates post content on playing various video games, commentaries and gaming information.
They are clips of video games played by people with commentaries from other parties. Evan Fong has also tied up with some video game producers to post commentaries and reviews of their products through VossGaming channel.
The 26-year old Evan Fong has a net worth of US$12 Millions, mainly though VossGaming channel.
Subscribers: 22.88+ Millions.
Vegetta777 is all about video games, tricks, and tweaks to win, commentaries and reviews. It is operated by Samuel de Luque of Spain.
Samuel describes Vegetta777 as a YouTube channel best suited for people who love to play with aliens, monsters, and unicorns.
Though this topmost YouTube channel is primarily in Spanish, some videos are subtitled in English. The 29-year old YouTuber, Samuel de Luque has a net worth of US$10 Millions.
Subscribers: 22.29+ Millions.
11. Yuya (Mexico)
25-year old Mexican vlogger, Mariand Castrejon Castaneda runs the YouTube channel Yuya. She was given the name Yuya by her uncle, based upon a Mexican TV show. She ranks as the topmost video blogger or vlogger in the beauty and style category in the world.
Yuya began vlogging at the age of 16 on style and beauty for women. Yuya is an extremely famous channel among Latina women.
Yuya posts fresh videos every Monday and Friday on her YouTube channel. Her net worth is estimated at US$3 Millions and earns up to US$1 Millions annually.
Subscribers: 21.28+ Millions.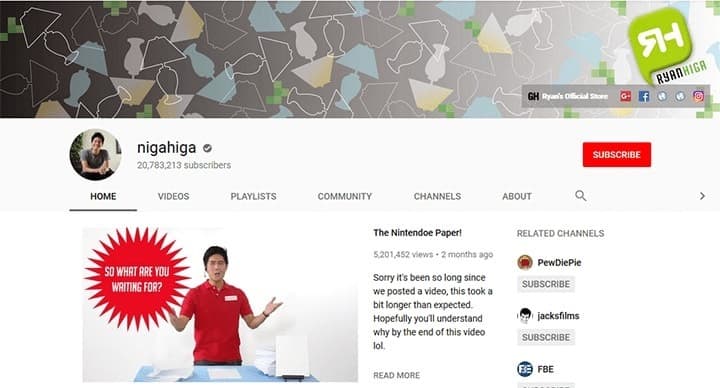 Ryan Higa is an American YouTuber known for his comedy, presented through videos posted on his YouTube channel NigaHiga.
Ryan Higa and his companions began the YouTube channel by lip-syncing singing popular songs. The channel became a hit till YouTube suspended the channel and asked Higa to remove a lot of content it claimed was infringing copyrights.
To prevent future suspensions of the channel, Higa began making exclusive videos of songs and comedy.
He also features in Hollywood movies that celebrate the channel. Ryan Higa is also one of the youngest Millionsaires and has a net worth of US$2 Millions.
Subscribers: 20.79+ Millions.
Felipe Neto Rodriguez Vieira runs an eponymous YouTube channel.
He is a very famous YouTuber from Brazil and focuses on movies, celebrities, comedy, parody, and other commonly liked entertainment topics in his native country.
In 2011, Felipe Neto launched Paramaker, the first network company for Brazilian YouTubers, which was later bought by a French media company WEBMEDIA.
One of the youngest YouTube Millionsaires, Felip Neto has a net worth of US$7.5 Millions.
Subscribers: 21.17+ Millions.
Mark Edward Fischbach is one of the best YouTuber from the USA, commonly known by his channel name, Markiplier.
"Here you'll find some hilarious gaming videos, original comedy sketches, animated parodies, and other bits of entertainment" says Markiplier about his YouTube channel.
Markiplier is renowned in the online game community as the commentator that often loses his composure, screams and yells- a feature that makes him famous.
The 29-year-old Markiplier has a net worth estimated at US$9 Millions.
Subscribers: 20.37+ Millions.
Trap Nation is the brainchild of Andre Willem Benz, who began making YouTube videos from the age of 15.
He describes Trap Nation as: "YouTube's number one channel for a unique and diverse taste of trap music".
Andre also calls upon viewers to inform him about their preferences to enable posting what they like.
His other channels include Bass Nation, Indi Nation, Chill Nation, among others. His net worth is estimated at US$10 Millions.
Subscribers: 19.83+ Millions.
5-Minute Crafts is based in Cyprus and owned by a group of entrepreneurs.
This YouTube channel features various Do-It-Yourself videos, from stitching back a button to preserving vegetables, gardening and vehicle repairs, among other topics.
It is a one-of-its-kind YouTube channel and is loved by DIY aficionados worldwide, as will be evident from its subscriber base.
Subscribers: 19.74+ Millions.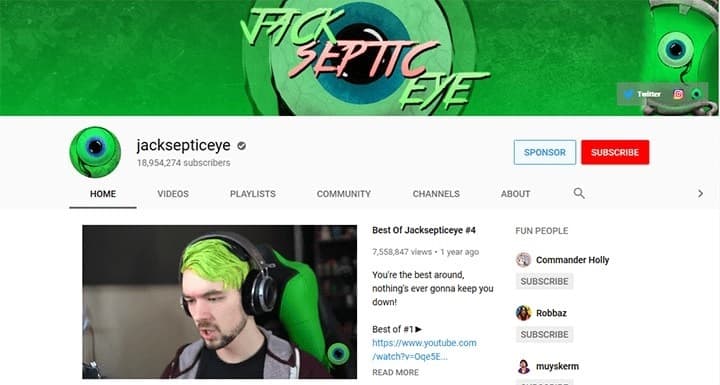 Sean William McLoughlin of Ireland is better known online by his name Jacksepticeye. His YouTube channel Jacksepticeye.
Sean posts daily videos on the Jacksepticeye. His videos are generally on Let's Play series and video games. Jacksepticeye is very famous among English speaking gamers. His frequent swears during commentaries make these videos fun to watch.
His net worth is estimated at US$9 Millions.
Subscribers: 18.96+ Millions.
Daniel Robert Middleton of UK owns the famous YouTube channel, DanTDM. The YouTube channel covers several video games, especially Minecraft.
Daniel has two entries in the Guinness Book of Records- one for scoring the highest goals in the game Rocket League in a match between two players and second as the YouTube channel that has generated most views for Minecraft videos.
His net worth is estimated at US$16.5 Millions.
Subscribers: 18.83+ Millions.
19. KSI (UK)
Olajide William Olatunji runs the famous YouTube channel, KSI. It carries videos of online football games, boxing matches, songs and some comedy.
KSI had several controversies but has also won several accolades. KSI has also featured in movies, makes his own songs and has won online games against other YouTubers in the same category.
He finds mention in Guinness Book of Gamers for having scored the highest goals in an online football game.
In March 2018, KSI's net worth was estimated at US$4.5 Millions.
Subscribers: 18.66+ Millions.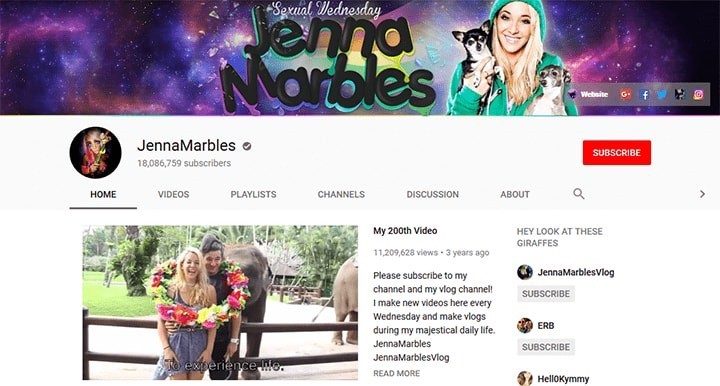 Jenna Nicole Mourey is a very popular female YouTube personality from New York.
She made waves with her first video titled 'How to Trick People into Thinking You're Good Looking' which attracted over 53 Millions views.
Her YouTube channel, Jenna Marbles features. She posts new videos on Jenna Marbles channel twice every week.
Her net worth in 2018 is estimated at US$ 2.9 Millions.
Subscribers: 18.08+ Millions.
21. FBE (USA)
FBE stands for Fine Brothers Entertainment, a very popular YouTube channel launched by brothers Rafi and Benny Fine.
FBE carries videos of interest to people of all generations. The brothers upload videos daily, with schedules of updates available on their FBE's 'About' page.
Additionally, FBE has two supporting channels, REACT dedicated to online games, reviews and gaming while FBE2 is all about podcasts and behind-the-scenes action.
The two brothers have estimated net worth of US$10 Millions.
Subscribers: 17.22+ Millions.
WatchMojo was launched by Ashkan Karbasfrooshan, Raphael Daigneault, and Christine Voulieris.
The founder, Ashkan, wanted to provide unique content that would keep viewers engaged. The trio launched WatchMojo in 2005.
The trio now has a team that produces content for this popular YouTube channel. Their videos are on various themes including anime, automobiles, gaming, music, business, space, studies, among others.
Fresh videos are uploaded daily on this channel.
Subscribers: 17.29+ Millions.
23-year old Logan Paul began making amateur videos at the age of 10. He rose to fame by sharing videos on a now-defunct platform, Vine.
After his stint on Vine, Logan Paul began making short videos and presentations to upload on his channel Paul Logan Vlogs.
Logan Paul, like several other YouTubers of the generation, also ran into controversy. In February 2018, Google suspended earnings of his YouTube channel for allegedly posting objectionable content.
However, the income stream, estimated worth over a Millions dollars per month was later restored.
Subscribers: 17.33+ Millions.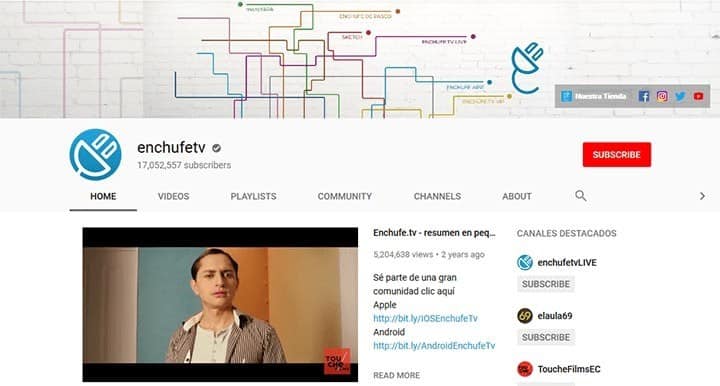 Enchufetv is the product of a discussion between four TV producers Leonardo Robalino, Christian Moya, Martin Dominguez and Jorge Ullua, about the state of shows on Ecuador's TV channels.
They decided to create a newer way of entertaining people, using the Internet as the medium. The quartet began making short serials and uploading them on a YouTube channel, which they named Enchufetv.
The channel is very popular in Ecuador as well as in other countries in South America.
TV channels in that country also telecast a lot of its content.
Subscribers: 17.07+ Millions.
Chu Chu TV is the largest YouTube channel in India to be launched by a private entity and the third most widely watched in the country.
It is also a very famous channel in the US and elsewhere. The YouTube channel was born in 2013 when Vinoth Chander posted the first video based on his daughter who was nicknamed ChuChu.
This video, titled 'Chubby Cheeks' attracted 300,000 viewers in two weeks, prompting Chander to rope in partners.
After experimenting with videos aimed at kids for about two years, he formally launched ChuChuTV, the YouTube channel.
It contains videos of nursery rhymes, short stories and other stuff for children and families.
Subscribers: 17.11+ Millions.
Pedro Alfonso Rezende, a 21- year old Brazilian runs the famous Portuguese YouTube channel, RezendeEvil.
It carries how-to's and commentaries on various online and video games, mainly from the Minecraft genre. This YouTube channel was launched in February 2012, and the first video on Minecraft appeared in November that year.
RezendeEvil features among the top 10 Brazilian YouTube channels launched by an individual.
According to information available from various sources, Pedro Alfonso Rezende has a net worth of US$3.6 Millions.
Subscribers: 16.96+ Millions.
Roman Bernard Atwood is an American YouTuber who describes himself as comedian, satirist, and prankster.
His YouTube channel RomanAtwoodVlogs is updated daily. This YouTuber posts videos of his daily life, with comical narrations. He also plays a lot of harmless pranks that keeps viewers regaled.
His prank videos have won him the highest number of followers has netted him as many as 1.4 billion views.
Roman Bernard Atwood has estimated net worth of US$13.5 Millions.
Subscribers: 14.50+ Millions.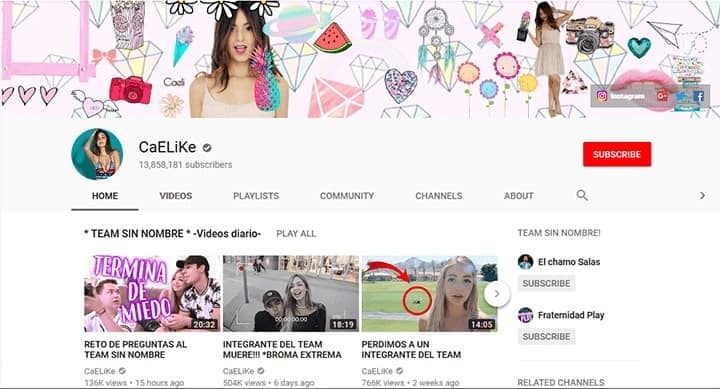 Patricia Caeli Santaolalla Lopez is a female YouTuber from Mexico. She makes videos on various interesting topics, all in her native language, Spanish.
CaELiKe is also working with other famous YouTubers and has collaborations with various studios to create content for YouTube channel.
She ranks among the topmost YouTubers of South America and the top in her genre of entertainment.
Subscribers: 13.86+ Millions.
Canadian YouTube personality IISuperwomanII is a female of Indian origin. In 2017, she a ranked as the 10th highest paid YouTube star with a net worth over US$10 Millions.
Her videos are mainly based on the culture of India's northern state Punjab. She presents common problems and complains of people from that region in comedy and satirical manner, with heavy Punjabi overtones.
Lilly Singh claims, she has a symbol 'S' on her chest which leads her to believe she's a Superwoman and hence can do anything.
She also has another YouTube channel, SuperwomanVlogs.
Subscribers: 13.63+ Millions & 2.48+ Millions.
Rhett James McLaughlin and Charles Lincoln (Link) Neal III are American YouTube stars and comedians.
The duo has a number of YouTube channels, main among these being Good Mythical Morning and Rhett & Link.
Other channels include The Mythical Show, and This Is Mythical. The two have some 13 Webby, Streamy and other awards to their credit.
Both Rhett and Link are estimated to have a net worth of US$8 Millions each.
Subscribers: 13.48+ Millions & 2.48+ Millions.
Angel David Revilla, a Venezuelan national by birth operates the popular Spanish YouTube channel Dross Rotzank.
This YouTube channel is all about ghosts, unnatural phenomenon, spooks, vampires, aliens and other stuff that is bound to scare any viewer while thrilling horror movie aficionados.
Revilla now lives in Argentina due to continuing political and economic strife that has afflicted his homeland. His "man in the shadows" videos shot Dross Rotzank to fame.
His net worth is estimated at US$2.5 Millions.
Subscribers: 13.33+ Millions.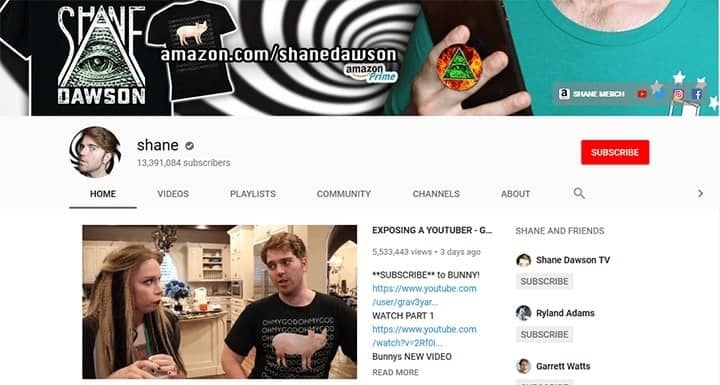 Shane Dawson describes himself as an actor, comedian, musician, author, songwriter and film director.
He shot into fame for parodies of famous Hollywood actors and actresses posted on YouTube.
He runs three different channels, ShaneDawsonTV, ShaneDawsonTV-2, and Shane. He often collaborates with other renowned YouTubers to create videos jointly or joins them in content they create.
Shane Dawson's videos cover numerous other genres too. His net worth is estimated at US$4 Millions.
Subscribers: 13.40+ Millions.
British YouTube personality Zoe Elizabeth Sugg is better known by her online name, Zoella.
She runs two YouTube channels, Zoella and More Zoella. Her first channel, Zoella carries videos about beauty tips, fashion and dress styles. It is very popular among teenagers worldwide.
The second channel, More Zolla focuses on her daily life, their experiences and her personal interpretations about various situations.
Prompted by the success of her first channel, she now has a range of body and beauty products sold under the brand Zoella.
She is one of the topmost under-30 beauty products influencers of Europe and has estimated net worth of US$15 Millions.
Subscribers: 12.09+ Millions & 4.89+ Millions.
The ownership of famous YouTube channel FunToys Collector remains obscure.
It is believed to be a parent or a group of adults who review toys from Disney and Pixar among others.
Their eponymous YouTube channel carries the following description: "I review toys n dolls from Disney, Pixar, Nickelodeon, Play-Doh, Claymation and much more! Subscribe to watch more daily videos".
The channel is estimated to earn US$3.3 Millions per year.
Subscribers: 10.30+ Millions.
Ray William Johnson is described as an American YouTube personality who is an actor, comedian, producer, writer and rapper, all rolled in one.
He runs an eponymous YouTube channel. His most famous YouTube videos are of the Equals 3 series (=3), which became hit for the resemblance of the logo to male genitals.
Other popular series include Booze Lightyear, a parody identity of Buzz Lightyear from animation movie, Toy Story.
His net worth is about US$5 Millions.
Subscribers: 10.01+ Millions.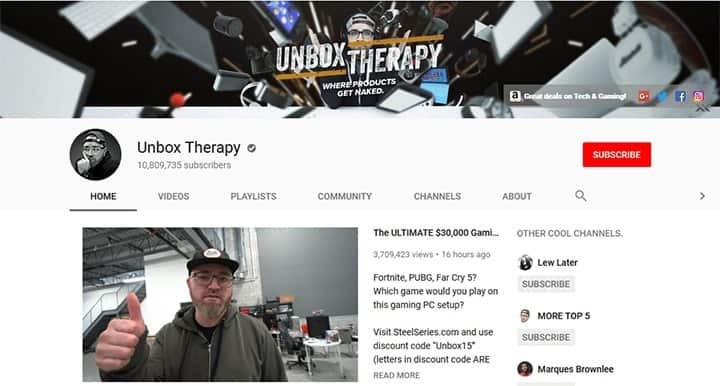 Unbox Therapy is a YouTube channel that reviews all types of stuff, from smartphones to the latest electronic gadgets, home appliances, and toys, among others.
Though ownership of Unbox Therapy remains unknown, the channel's 'About' page says, those who want their stuff reviewed on the YouTube channel can send it to Lewis Hilsenteger, based in Newmarket, Ontario, Canada.
Famous reviews of products include latest entrants and rare to find types.
Subscribers: 10.84+ Millions.
Rosanna Pansino is a female YouTuber from the US described as a baker, actress, and author. Her most famous baking show is Nerdy Nummies.
Each episode is about a new theme on nerdy baking. She has won several awards in the cookery category for YouTube from Streamy.
Rosanna Pansino also invites other famous YouTubers to participate in her shows. She has authored a recipe book titled The Nerdy Nummies Cookbook.
Her net worth is US$9 Millions.
Subscribers: 9.92+ Millions.
Fun Family Three is a unique YouTube channel: it features three children, Ava, Isla and Olivia reviewing toys from Disney, Pixar and Lego among others.
The channel was earlier called The Disney Toy Collector. Manufacturers of toys send their stuff for reviews by these kids.
These toys are later donated by the YouTube channel to charities for underprivileged children. The net worth of these channel owners is still unknown.
Subscribers: 9.59+ Millions.
Voice actress, make-up artist, and entrepreneur Michelle Phan runs an eponymous YouTube channel since 2007.
The make-up and beauty tips of this American-Vietnamese YouTuber gained immense popularity, which led several top brands to designate her as their official reviewer.
She is perhaps the most successful YouTuber of all times: Following her success with Michelle Phan YouTube channel, she launched Ipsy, a cosmetics and beauty products reviewing agency.
This company is estimated to be worth US$500 Millions.
Subscribers: 8.96+ Millions.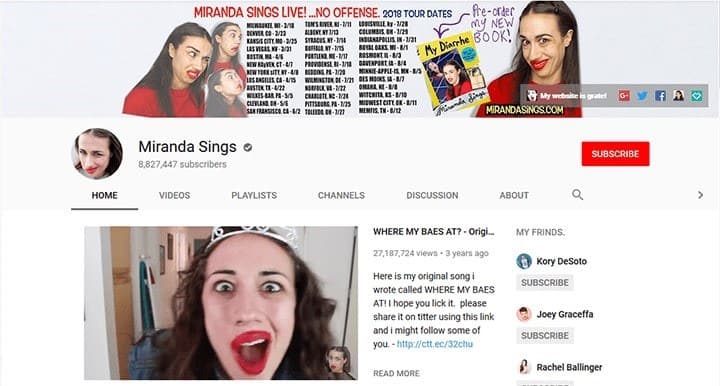 American YouTube personality Coleen Ballinger is a comedian and actress who portrays herself as Miranda. She owns two YouTube channels, Miranda Sings, and Psychosoprano.
The character Miranda is a mix of bad and egoistic singers who believe they can succeed despite adverse comments from haters.
The channel depicts Miranda singing in comedy style. The two channels are famous worldwide despite having the largest following in the US.
He latest net worth estimated at US$8 Millions.
Subscribers: 8.82+ Millions & 5.53+ Millions.
In Conclusion
Above examples clearly highlight these YouTube personalities were not professionals of any field. All they did was follow their hobbies such as singing, playing video games and presenting their interpretation of daily events through comedy. Their efforts paid rich rewards as most of these YouTube personalities have featured on various Forbes List of YouTubers as young Millionsaires.
Their examples are sufficient to stimulate anyone to make YouTube videos to become rich and famous YouTuber.
Before concluding, it is worth remembering that opening a YouTube channel is free: to maintain it and gain widespread popularity needed intense passion and dedicated hard work. Anyone armed with a good camera that offers excellent quality video and audio features can make videos for their YouTube channel. Ingenuity decides its success or failure.